Are you planning to go camping in cold weather? If so, you may be considering buying an electric tent heater. In spring and fall, the days may be warm, making it a great time to explore the great outdoors. At night it will start to get cold, and it's a good idea to invest in an electric tent heater to keep you and your family warm and cozy. This article will look at the best electric tent heaters and will tell you what to consider when buying a tent heater.
Best Electric Tent Heaters:  Our Top Picks
A great alternative to a tent heater is just using a tent made to handle extreme cold.
Top Pick One: Mr. Heater F215100 MH4B Little Buddy 3800-BTU Indoor Safe Propane Heater, Medium
Heater's Portable Little Buddy Propane Heater is a great product that will keep you warm and cozy while camping. It can also be used in garages and workshops. This product has many built-in safety features, including a low-oxygen shut-off pilot system and accidental tip-over shut-off.
It's adjustable, which allows you to control the temperature. This heater is perfect for camping as its lightweight and easy to carry.
Pro's
Can be used in tents, garages, cabins and camper vans

Shuts off if oxygen levels become low or if it falls over.

Can be run for a maximum of 5.6 hours.

Provides emergency heat when camping
Con's
There have been some reports that the starter button gets stiff after it's been used for a while.
Top Pick Two: Mr. Heater F274800 MH18B, Portable Propane Heater
This heater has been voted the best portable heater in North America as it's perfect for heating small spaces. It has a fan that increases its heating capacity. The heater is very easy to light and is excellent for camping.
Safety features include a carbon monoxide sensor, and it will also shut-off if accidentally knocked over. This heater is durable and long-lasting; it will help you to create a warm homely feeling when camping.
Pro's
Can be used both inside and outdoors

Includes a shut-off mechanism for it's it's knocked over, or low oxygen levels are detected.
Con's
The heater may not work if you're at altitudes of over 7,000 FT above sea level.
Top Pick Three: Comfort Zone CZ707 1500 Watt Compact Utility Heater
This heater is very easy to use; it lets you conveniently heat small spaces and is perfect for camping. The heater is portable and has two different settings, as well as an adjustable thermostat.
This heater also has a fan that can be used to cool down your tent in warm weather. The fan-forced function will allow you to spread warm or cool air throughout your tent quickly. Another great thing about this product is that as it heats and cools you won't need to buy two units. This will save you both money and space.
Pro's
This heater is very energy efficient

It's designed to be compact and portable

There are three different temperature settings

Has an adjustable thermostat so that you can find the perfect temperature.

Includes tip-over and overheating safety features

Hardwearing and portable
Con's
Top Pick Four: MH9BX Buddy 4,000-9,000-BTU Indoor-Safe Portable Propane Radiant Heater
This heater is perfect for heating enclosed spaces such as large family sized tents. It's been very well designed and is durable and long lasting. This heater has a fold down handle, which allows it to be carried easily. It also has safety features such as a carbon monoxide detector, and it will automatically turn its self off it if tips over.
Pro's
Made from steel, plastic, and nickel which makes it very durable and long lasting

Approved for use indoor and outdoor

Safety features

Has a fold-down handle which allows it to be carried easily

Can be used for three hours at a time
Con's
The shut-off valve is likely to stop the heater from working at high altitudes.
Top Pick Five: AmazonBasics 500-Watt Ceramic Small Space Personal Mini Heater – Black
This small personal heater is an excellent option for those on a budget. It works well even though it's tiny. The great thing about the size of this heater is that its lightweight and easy to carry, which is great for camping. It allows you to make your tent very cozy.
The heater has fast-heating ceramic coils, which will provide an even flow of heat.
Pro's
Very compact, lightweight and easy to carry

Great value for money

Heats up very quickly

There are four color options

Turns off if it tips over
Con's
Gets very hot if left on for too long
The Best Electric Tent Heater Buying Guide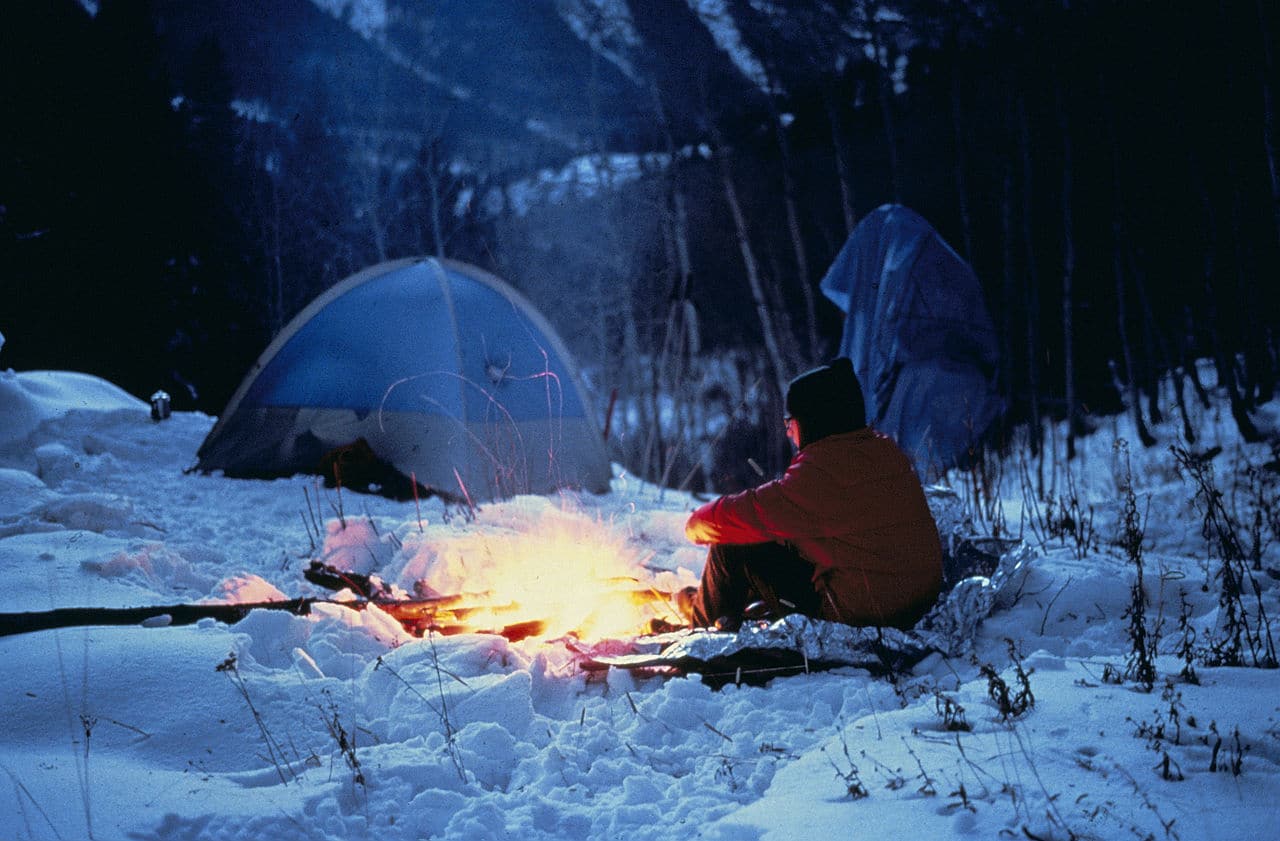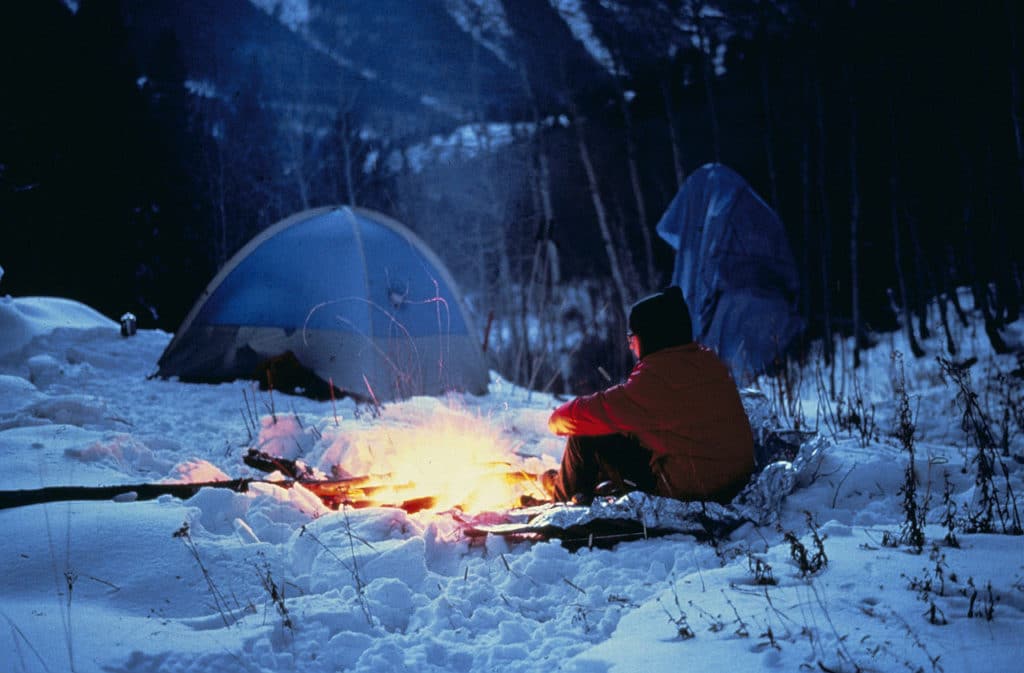 Most people wouldn't consider camping during the winter, and some also avoid spring and fall due to the cold weather. If you put off camping until the summer but would like to be able to enjoy the great outdoors all year round, the solution may be to invest in an electric tent heater.
An electric tent heater will allow you to efficiently warm up your tent and keep yourself cozy, even on freezing nights. There's a selection of different electric tent heaters on the market, and you should think carefully about which type and size you need.
Things to Consider When Buying an Electric Tent Heater
Tent heaters have been designed especially for use when camping, and the right heater will make you more comfortable. It's essential to buy a tent heater as these are small, portable, and suitable for use under canvas. Don't take a heater you've got at home when camping as this could be dangerous, instead choose a tent heater.
Before choosing an electric tent heater, you'll need to consider what size of heater you want. You can do this by measuring your tent to determine how much space you have for a heater. If you are planning to carry the heater in your backpack, you should choose one that's small and lightweight.
You'll also need to make sure that you're going to a campsite that has power sources that can be used in your tent. Many campsites across the states allow you to run an electrical cable to your tent, which you can use for devices such as heating, lighting, and air conditioning.
You'll also want to consider the functionality of the heater. There are many brands of tent heaters that can also be used to provide air conditioning in the summer. If you camp regularly throughout the year, it may be advisable to invest in a product that can provide both a cooling and heating element.
Conclusion
When camping with an electrical tent heater, you must use it safely. Place the heater away from the sides of the tent so that they don't overheat and potentially cause a fire. When booking a campsite, you should ask the owners whether there's a power supply available with each tent. Also consider how far you'll have to carry your gear when deciding on an electric tent heater. It's a good idea to buy a multi-purpose heater that can also be used to provide air conditioning in the summer. This is particularly useful if you plan to go camping all year round.
The above five heaters can be used as a guide for buying the best electric tent heater. You can also read Amazon reviews to see what others are saying, as this will help you to choose a product that's functional and will effectively meet your needs.
Here's to staying warm and cozy during winter camping!
Last update on 2022-10-23 / Affiliate links / Images from Amazon Product Advertising API