Are you planning to go camping during the winter months? Perhaps you're planning an epic adventure that involves camping in the snow? If so, you'll need a tent and sleeping gear that's outstanding quality and has been designed specifically for extreme temperatures. This article will look at the best extreme cold weather tents and will also tell you what to look for when buying a tent for winter.
In a Hurry?  Top Picks
Picture
Best For Most Situations
Best Small Tent
Make/Model
Snugpak Scorpion 3 Tent, 3 Person 4 Season Camping Tent,...
ALPS Mountaineering Tasmanian 2 Person
Best For Most Situations
Picture
Make/Model
Snugpak Scorpion 3 Tent, 3 Person 4 Season Camping Tent,...
Best Small Tent
Picture
Make/Model
ALPS Mountaineering Tasmanian 2 Person
Best Tents for Extreme Cold Weather:  Reviews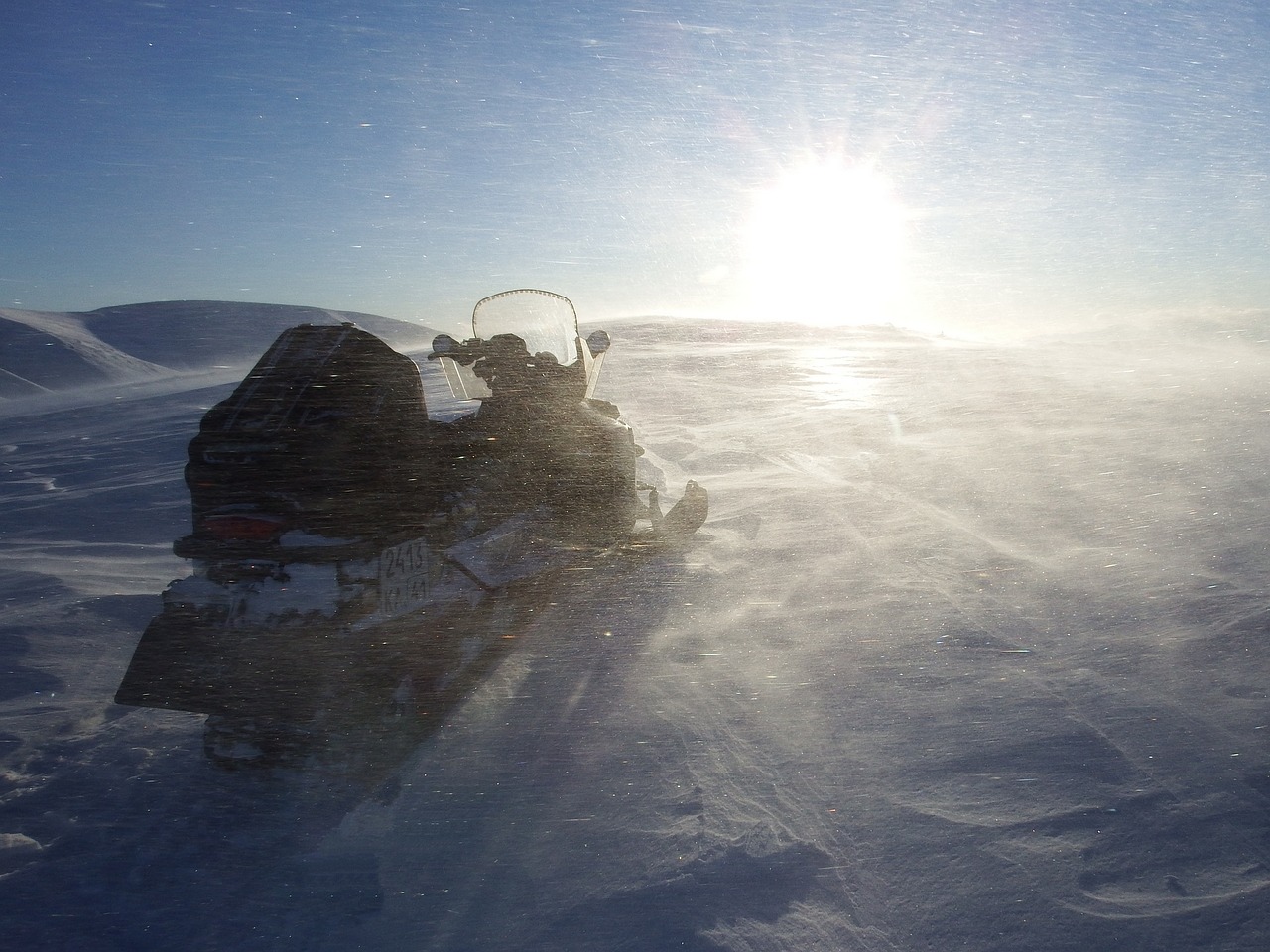 Here are our picks for the best tents for extreme cold.  If you are looking for a great tent for the the summer or rain and wind, check out the linked guide.
Top Pick One: Luxe Tempo 2 Person 4 Season Tent
Luxe Tempo 2 Person 4 Season Tents Freestanding for Camping...
Inner Tent is constructed from a LARGE PANEL of 210T highly breathable polyester for great cold-weather performance and fine weather views;Mesh roof and DOUBLE-LAYERED doors for HIGH-LOW cross ventilation and greatly reduces...
This tent is designed to deliver years' service;FULLY TAPED Rip-Stop rainfly with outstanding performance in rain;BATHTUBE tent floor and carefully welded corners keeps you and your gear intact
Multi-functional MESH GEAR LOFT not only offering handy storage for essentials,but also helping diffusing the light to create a comfortable and even glow through the whole tent when its empty;REINFORCED TENT CORNERS can sustain...
2 VESTIBULES provides ample gear storage space;vestibule doors can be affixed to fully closed or partially open for ventilation and sun shade while maintaining gear coverage; Mesh layer of the doors can be opened ONLY FROM INSIDE...
Mesurements:Floor,55.1 * 82.6 in.;Peak Height,43.3 in.;Vestibule:8.7 sq.ft+6.8 sq.ft; Packed Weight:5.7 LBs; Accessories:2 guylines,12 aluminum stakes; FOOTPRINT is a must-have to increase a tent's life ;Best Use:Car...
The Luxe Tempo tent has been created for extreme weather. Its construction makes it suitable for use in heavy rain, wind or even snow. It's made from a large piece of breathable polyester, which will protect you from the elements. This tent has a mesh roof and a robust outer layer. It also has double layered doors so that you won't experience any drafts. This tent offering comfort and outstanding warm-weather performance, it also has ventilation, which helps to reduce condensation.
This tent has two vestibules that will provide you with plenty of space to store your gear. Another great feature is that the door on the mesh layer can only be opened from the inside. This provides extra security and will keep you safe from intruders. There's also plenty of head height, so you'll be able to sit up straight.
Luxe Tempo Pro's
This extreme weather tent has been thoroughly tested to stand up to the elements.

It has a water-resistant, fully taped rainfly that's made from 3000mm PU

There are a mesh gear loft and two vestibules, so you'll have plenty of storage space.

The floor measures,55.1" by 82.6"

Height,43.3" with extra Vestibules which are 8.7 sq.ft and 6.8 sq.ft

The tents weight is 5.7 LBs

Comes with all accessories:2 guylines,12 aluminum stakes
Luxe Tempo Con's
Top Pick Two: Camppal Professional 1 Person Extreme Space Saving Single Bracket Tent, 4 Season Mountain Tent
Sale
camppal 1 Person Tent for Camping Hiking Mountain Hunting...
[Professional 1 Person Tent]: Size: Inner tent(L8.2ft x W2.95ft x H2.95ft), Outer tent: L8.2ft x W(2.95ft +1.31ft) x H3.11ft, 3500~4000mm Water Resistance. Fire Retardant Standard/CPAI-84. This 1 person camping tent is very light,...
[Waterproof and Stable]: Outer tent with the water proofing value of 3500mm, seam taping on the zipper, velcro wrap with PVC & seam taping, 4 bottom corner with seam taping, which are high and good enough to prevent the water from...
[Extended Length - 8.2ft]: This single person tent is long enough to enable the taller person to sleep in the tent comfortably; The longer tent also provides with extra space for the personal belongings like luggage, backpack,...
[3 Minute Quick Setup]: Super easy to set it up! It takes only just 3 minutes to pitch tent even for a beginner, and we have specially made the longer and bigger carry bag for the end customer even to pack up the tent loosely and...
[No-Risk Purchase]: Camppal offer unconditional 30-day money back guarantee and limited lifetime warranty to make it an absolutely risk-free purchase. If you have any question about the tent, Pls just email us, 24/7 customer...
This is a professional mountain tent, which is great if you love hiking and want to be able to go camping in winter. The tent sleeps one and is lightweight, making it easy to carry with you. It is water-resistant and fire retardant. This tent is easy to set up as it has just one single ridge pole.
Camppal has created a very warm and waterproof tent; it has a coating on the outer fly, which provides extra waterproofing to 3500mm. It's also designed with stability in mind and has strong aluminum poles. The material is an anti-tear, rip-stop fabric that will stand up to storms.
Camppal Pro's
Great for hiking as it weighs just 1.7Kg

Comes with a storage bag

Easy to set up

Camppal has been in business for 15 years and has a reputation for creating good quality products.
Camppal Con's
There's only one mesh storage pocket; two would be more convenient.

There's no upper ventilation, so condensation may be a problem.
Top Pick Three: Snugpak Scorpion 3 Tent, 3 Person 4 Season Camping Tent
Snugpak Scorpion 3 Tent, 3 Person 4 Season Camping Tent,...
Inner tent dimensions are 87 inches long, 69 inches wide, and 43 inches tall; built to accommodate 3 people, or 2 people and their gear
Compact pack size is 17 inches long by 8 inches wide; trail weight is 6.46 pounds, pack weight is 7.5 pounds
Equipped with DAC Feathlerlite NSL anodized aluminum poles with press fit connectors; features tape sealed seams
Flysheet is 210t polyester RipStop with 5000 millimeter waterproof and windproof polyurethane coating; suitable for all 4 seasons
A basic repair kit is included; contains metal pole repair sleeve, tent guide rope tensioner, spare cord, elastic loop, patch materials, and a storage bag
The snugpak scorpion tent is spacious and designed to sleep three people or two people with extra space for backpacks. It folds down into a compact size, which makes it easy to carry when hiking. The tent is also lightweight and has Feather lite aluminum poles.
This tent has been designed for extreme weather; it's made from a breathable waterproof fabric and has tape sealed seams, which make it more durable. It also used Rip-Stop technology and has a polyurethane coating, which makes it great for all four seasons.
Snugpak Pro's
Great for cold weather, the tent is very snug

Sleeps, three people

A basic repair kit is included with your purchase

It has adequate ventilation as three vents help to reduce condensation.

Measures: 87" by 69" by 43" tall inside
Snugpak Con's
There have been reports that the poles aren't strong enough.
Top Pick Four: ALPS Mountaineering Tasmanian 2-Person Tent
ALPS Mountaineering Tasmanian 2 Person
There's no assembly frustration with our Tasmanian Tent series, this aluminum, free-standing pole system is ideal for a quick setup
Polyester fly will resist water and UV rays while adding two vestibules for extra storage
Easy entry and great ventilation with two doors, both with zippered mesh windows
Fully equipped with #8 zippers mesh storage pockets gear loft aluminum stakes and guy ropes
Base Size: 5'2 x 7'8, Center Height: 46", Total Weight: 7 lbs. 10 oz. , Minimum Weight: 6 lbs. 11 oz. , Color: Copper/Rust
The ALPS Mountaineering tent is excellent for hiking and backpacking. It's very quick and easy to set up, which will allow you to get out of the cold quicker during the winter. ALPs have created an aluminum free-standing pole system, which makes set up a doddle.
There's also a durable polyester fly that's water-resistant and hardwearing, as well as two vestibules for extra storage.
ALPS Pro's
Available in two different color schemes

Very simple to set up

Comes with a good quality polyester fly which repels water

There are two doors and ample ventilation.

Has storage pockets and a gear loft

Measures 5ft 2" by 7ft 8", the center height is 46″

Weight 7 lbs

Color Copper/Rust
ALPS Con's
Sometimes it's challenging to get this tent back into the storage bag. It's not impossible, but it does take time and patience.
Top Pick Five: Ferrino Lhotse 4 4-Season Tent, Orange, 4-Person
The Ferrino Lhotse four-person tent offers maximum comfort will camping during the winter. It's uniquely designed to provide space and comfort, and this is combined with strength, ventilation, and heat insulation. The outer flysheet has thermal insulation, which will keep your tent cozy. It's made from a 3000 mm polyester, which is water repellent and breathable. All seams have been reinforced to add to this tent's strength and durability.
This tent is very easy to set up as it has color-coded poles. There are also two vestibules for extra storage and two entry doors.
Ferrino Pro's
Built to last has high-quality construction.

Comes with a repair kit

Has two vestibules

Designed for winter use and is well insulated to keep the heat in
Ferrino Con's
More expensive than similar products, but the quality more than makes up for this.
Best Tents for Extreme Weather Buying Guide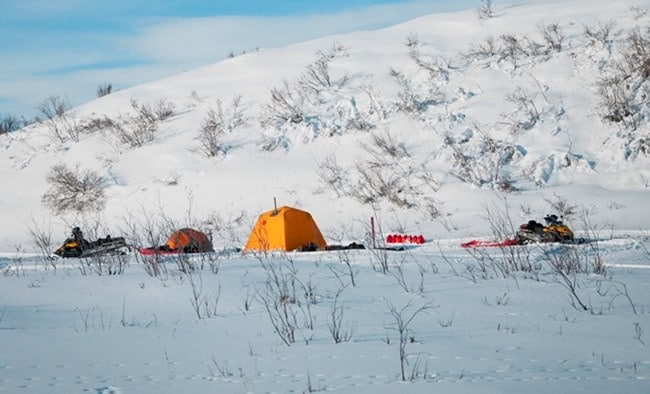 If you're the adventurous type, who doesn't want to let a bit of cold weather stop you going camping. Or you want to go camping in the snow; imagine waking up in a beautiful crisp white landscape, you'll need a tent for extreme weather.  You can also get a tent heater to decrease your misery.
When looking for a winter tent, there are many things that you'll need to consider. The first is the tents seasonal rating; you'll need a tent that's been specifically designed for winter, and these tents are known as 4-season tents. If you currently have a two or three-season tent, this won't be adequate for very cold weather. These have been designed to withstand heavy downpours and strong winds but won't keep out the cold. If you're camping during the winter, a four-season tent is a requirement.
Why Four Season?
A four-season tent will protect you from the elements; this includes extreme cold. There are many different 4-season tents on the market, and these vary in how good they are when used in extremes. If you plan to go hiking in the mountains, it's a good idea to find a mountaineering tent. It's also wise to invest an adequate amount of money on a winter tent, as well as sleeping gear such as a sleeping mat and sleeping bag. Winter tents are made from thicker, more durable materials that are likely to cost more then 3-season tents. They are also more versatile and will keep you warm in all weather.
Before going camping during the winter, you should also consider the weather conditions of the location you plan to camp at. Is there likely to be snow? Or are you going somewhere that has milder weather?
If you purchase a cheap tent that isn't correct for the conditions, this could be dangerous to your health. Camping in cold, damp, or even freezing weather will, in the best cases, cause discomfort and a sleepless night. The worst-case scenario is that it can cause injury, illness, and in some cases, even death. Conditions such as frostbite and hyperthermia are a risk if you're camping in icy conditions without the right equipment.  If you are camping in such extreme conditions, you may want to consider a satellite phone.  It could save your life.
Things to Consider When Buying a Winter Tent
When choosing a tent for extreme weather, the material it's made from is vital, as this will be the difference between spending the night comfortably or not. You'll need a tent that's made from a heavy-duty, thick fabric. Choose a tent that's made from polypropylene or nylon, as these are waterproof materials. Look for a tent that's been treated with a waterproof coating such as silicone or polyurethane. The wind is often a problem during the winter months, so choose a tent that's made from a thick fabric as this will prevent icy winds from coming in.
A dome or A-shaped tent is best for winter as these encourage the snowfall or rain to slide off the sides instead of collecting on top, as it would if you choose a flat-topped tent.
You should also look for a tent with poles that are lightweight but made from a strong material. Choosing a tent that has more poles will make it stronger and will provide greater stability. You should also choose a 4-season tent that has double walls as this will make it warm and cozy. The outer layer will keep out the elements.
When choosing a winter tent, it's a good idea to find one that's spacious because if the weather gets too bad, you're likely to have to spend a lot of time inside. If you choose a tent that's too small, you may start to feel claustrophobic. It is, however, essential to choose a tent for the correct number of people. Having a massive tent for two people isn't sensible as it won't retain your body heat or keep the inside of the tent warm.
Conclusion:  Best Tent for Extreme Cold
When choosing a winter tent, the material its made from and its construction are the most important points to consider. Look for a four-season tent as these have been designed especially for use in the winter and will keep you warm and comfortable even if the weather is icy or there's snowfall.
As with choosing any type of tent, you'll also want to take into consideration what you want to use it for and the number of people you are going camping with. If you plan to go hiking, you'll need to carry your tent with you and should, therefore, choose one that's lightweight.
The above five tents are great for extreme weather and should be used as a guide when choosing a tent that meets your requirements.
Last update on 2022-10-23 / Affiliate links / Images from Amazon Product Advertising API