As a sport that involves shooting people for fun, paintball is now a worldwide phenomenon and is steadily rising in popularity. It's basically a shooter video game, but in real life! You even get to suit up, pick out your gear, and plan tactical attacks on your opponents.  $300 should never be parted with lightly, so we've put together this guide to the best paintball gun under $300 to help you get your money's worth.
Today, we're reviewing the top 5 paintball guns under $300 and presenting you with a detailed buying guide to make sure you get the right paintball gun for your needs.
In a Hurry?  Here are our Quick Picks
Pic
Best Overall Choice
Compact Choice
Make/Model
Tippmann Cronus Paintball Marker Gun Player Package
azodin KP3.5 KAOS Pump Paintball Marker (Black)
Best Overall Choice
Pic
Make/Model
Tippmann Cronus Paintball Marker Gun Player Package
Compact Choice
Pic
Make/Model
azodin KP3.5 KAOS Pump Paintball Marker (Black)
Top Paintball Guns Under $300
Tippmann Cronus Paintball Marker Gun Player Package
Tippmann Cronus Paintball Marker Gun Player Package
Tippmann Cronus .68 Caliber Paintball Marker Package
THE BEST CHOICE FOR ENTRY LEVEL PAINTBALLERS! High performance, low maintenance, reliability, and incredible durability make it one of the most popular paintball markers across the globe. Built with the paintballer in mind, the...
TIPPMANN CRONUS MILSIM STYLED .68 CALIBER SCENARIO PAINTBALL MARKER - Semi-Automatic - Adjustable from 250-325 FPS - Barrel Thread: A5 - Proven, In-line Bolt Design - Internal Gas Line - High-Impact Composite Body - Multiple...
INDUSTRY STANDARD PAINTBALL ACCESSORIES - Kit Includes: GenX Stealth Anti Fog Paintball Mask, 200 Round Gravity Fed Loader, Maddog 20 Oz. CO2 tank (Shipped Empty), 6+1 Paintball Harness w/ (6) Standard Paintball Pods
TAKE THE PAIN OUT OF PAINTBALL! Maddog Bundles the Best Paintball Accessories in the Industry For An EASY, ALL-IN-ONE, Complete Package! Fill Your Tank, Add Some Paint, and You're Set! Tippmann's Cronus Paintball Marker comes with...
Kicking off our list with a highly regarded paintball brand in the industry, the Cronus Paintball Marker is manufactured by Tippmann and has hundreds of players across the country, swearing by its performance and durability.
This paintball gun features a high-impact composite construction with a soft molded rubber grip, an in-line bolt design, and an internal gas line. It's sturdy yet lightweight, providing enhanced maneuverability and control for an awesome shooting experience.
It's equipped with Picatinny rails to accommodate a scope, a laser aiming module, a sight, night mode gadgets, and more. This grants you a wide range of customization so you can adapt to any situation throughout the game. Moreover, it has a reliable Mock silencer with a front sight, and high-performance ported barrel.
Available in 3 colors: basic black/tan, tactical black/tan, and tactical olive/tan, the Tippmann Cronus comes as part of an attractive, high-quality paintball package that includes a GenX stealth mask with visor and anti-fog lens, 200 round gravity fed loader, Maddog 20 oz carbon dioxide tank (empty), 6+1 paintball harness, as well as 6 standard paintball pods.
As you can tell, this is a comprehensive kit that offers everything you need to jump right into the action for a good game. Not only is the Tippmann Cronus a breeze to carry and a pleasure to operate, but it's also a great bang for the buck.
What we like:
Great value for money

Includes paintball essential items

Easy to set up

High accuracy

Suitable for beginners

Reliable backup for intermediate and advanced players
What we don't like:
The hopper's cap can be tricky to open/close
Tippmann TMC MAGFED Paintball Marker
Tippmann TMC MAGFED Paintball Marker
Tippmann's latest MagFed Extremely Authentic Milsim Styled Tactical Paintball Marker
THE MOST REALISTIC MILSIM SCENARIO PAINTBALL GUN ON THE FIELD! Dual feed option: Go MagFed or Traditional Loader and Get the Best of Both Worlds in One Awesome Package! Perfect for Close Quarter Battles, Tactical Games, Woodsball,...
TIPPMANN TMC MAGFED .68 CALIBER SCENARIO PAINTBALL MARKER - Semi-Automatic - Adjustable from 250-325 FPS - Includes (2) 20 Round Spring Driven Magazines - Dual Feed Option: Hopper or Magfed Design - 12" High Performance Barrel -...
Tippmann's TMC MAGFED Paintball Marker comes with a 1-Year Manufacturer's Warranty, not to mention, Tippmann's DEDICATED Cerfified Technical Support Department Available as a Resource For You and Your Marker All Year Long!
Another great option from Tippmann is the TMC MAGFED Paintball Marker that delivers all the features you'd need in a marker to ace your next game. Many players seem to appreciate the high-quality construction of this paintball gun, as well as the outstanding versatility the unit offers.
The Tippmann TMC MAGFED provides you with the chance to accessorize and tweak your marker using unique options to suit the type of game at hand. You can choose between magazines and hoppers to operate your marker. The package arrives with the hopper adapter to make sure you can swiftly install it without issues.
Additionally, you don't have to worry about finding spare parts if something breaks because they're available almost everywhere. Besides having easily replaceable parts, the unit is also equipped with a quad rail, so you can freely install a scope, a flashlight, or any other extra device.
The Tippmann TMC MAGFED adopts an ergonomic design complete with a soft rubberized handle and a fully functional built-in charging handle, making this paintball gun a real pleasure to work with.
It also features a powerful in-line bolt system to deliver superior performance, as well as a collapsible stock that you can adjust for a more personalized experience.
What we like:
Versatile operation

Highly customizable

Ergonomic design

Authentic AR look and feel

Easily replaceable parts
What we don't like:
The included sights aren't height-adjustable
Action Village Tippmann US Army Alpha Elite Foxtrot Paintball Gun Package Kit
If you're looking for a durable paintball gun to give you a remarkable performance without breaking the bank, then the Action Village Tippmann US Army Paintball Gun may be the last stop in your search.
This marker comes with an extensive kit that includes every item you'd need to ace a game of paintball, such as a red dot sight, a 20 oz carbon dioxide tank, a carry handle, 4+1 paintball harness, GXG 200 round loader, four 140 round paintball pods, a black GXG XVSN paintball mask, and an Action Village Pull Through Squeegee.
Besides the comprehensive bundle of accessories, this semi-automatic paintball gun is actually manufactured by the distinguished company Tippmann as one of the more powerful units under the $300 mark.
Additionally, the Action Village Tippmann US Army Paintball Gun is quite easy to clean and maintain. You can use the provided squeegee to quickly and effectively clean out your gun. As for accuracy, this unit delivers a highly satisfying performance that you can further enhance via the included red dot sight.
Thanks to its aesthetically pleasing design, the Action Village Paintball Gun is a pretty solid option for military simulation games.
What we like:
Lots of handy accessories

Aesthetically pleasing design

Easy to clean

Impressive accuracy

Durable construction
What we don't like:
Maddog Tippmann A-5 .68 Specialist Paintball Gun Package
Maddog Tippmann A-5 Specialist CO2 Paintball Gun Marker...
ALL-IN-ONE PAINTBALL GUN PACKAGE! Tippmann A-5 .68 Caliber Paintball Gun Marker with Maddog's Specialist CO2 Paintball Gun Accessory Package. CO2 Accessory Starter Kit Includes: Industry Standard 20 Oz. CO2 Paintball Tank (Tank...
MILSIM READY TIPPMANN A-5 PAINTBALL MARKER - 10 NEW Upgrades + More Reliable, Accurate, & Easier to Maintain - The A5 is the most popular scenario paintball gun ever produced. Built with a durable aluminum body, inline bolt...
New Cyclone Feed System feeds up to 15 balls per second without batteries - New External Selector switches easily from safety to firing mode - New Larger Front Grip has a better feel and upgrades are easier to add - New Stock...
INDUSTRY STANDARD PAINTBALLING ACCESSORIES - High-Quality REFILLABLE 20 Oz Aluminum CO2 Tank for approx. 800-1100 Shots Per Fill (Tank Ships EMPTY - Must Be Filled Prior to Use. Brand/Color May Vary). Coiled Remote Line, Safety...
TAKE THE PAIN OUT OF PAINTBALL! Maddog Bundles the Best Paintball Accessories in the Industry For An EASY, ALL-IN-ONE, Paintball Package! Fill Your Tank, Add Some Paint, GAME ON! Tippmann's A-5 Scenario Woodsball Paintball Marker...
Last but not least, we're making one more stop at Tippmann to check out their amazing A-5 Paintball Marker, which is highly praised for its sleek design and sturdy build. This paintball gun has a rugged aluminum body, finished off with a smooth black coating, so it's not just durable but also a sight for sore eyes.
Similar to most paintball guns manufactured by the reputable Tippmann brand, the A-5 paintball marker offers plenty of customization options for more versatility, depending on the game type. The unit allows for easy installation of different components, so it's very flexible when upgrading your marker.
One particularly impressive feature of the Tippmann A-5 is the capability of firing at a rather fast rate, approximately 15 balls per second, doing so without the need for any batteries.
Moreover, this paintball gun features a smart mechanism to accommodate such an intense firing velocity and deliver reliable performance every game. You can easily switch between the safe shooting and the firing mode by tweaking the built-in 2-position selector located externally on the body.
The Tippmann A-5 is equipped with a premium-quality driven barrel, sized about 8.5 inches, as well as a handy low-profile hopper. There's also a reinforced cyclone feed system among multiple other useful features.
What we like:
Sleek aluminum body with a smooth black finish

Many customization options

Speedy firing rate

Includes a reinforced cyclone feed system
What we don't like:
Azodin KP3.5 KAOS Pump Paintball Marker
Saving one of the best paintball markers for the final spot on the list. If you've been around the paintball scene enough, then you've probably stumbled upon the name "Azodin".
They're excellent paintball gun manufacturers that are popular for making quality paintball markers for a highly affordable price.
This paintball gun is the 3rd generation of the successful KP series. Azodin made sure that they keep all the great features of the gun and refine its design for the maximum level of performance in the arena.
The paintball gun rocks a new design both internally and externally. For example, the ZeRO Assembly and Acoustic Bolt features. These two features help in lowering the operating pressure of the gun to 230 psi.
One of the best things about the Azodin KP3.5 KAOS is that it comes in a wide variety of colors. This enables you to color-match your squadmates or even style your paintball gun to your likings.
The air is supplied to the regulator through a streamlined on/off ASA. Other highlights, such as the pull-pin release bolt and aluminum clamping feeder neck, make the paintball gun ready to play straight from the box.
That's why If you're looking for an extremely reliable paintball gun that lies under the $300 mark, then the Azodin KP3.5 KAOS definitely fits the bill.
What we like:
On and off ASA

14-inch barrel

High pressure of about 230 psi
What we don't like:
Users claim that pumping the gun twice might break the balls.
How to Choose the Best Paintball Gun Under $300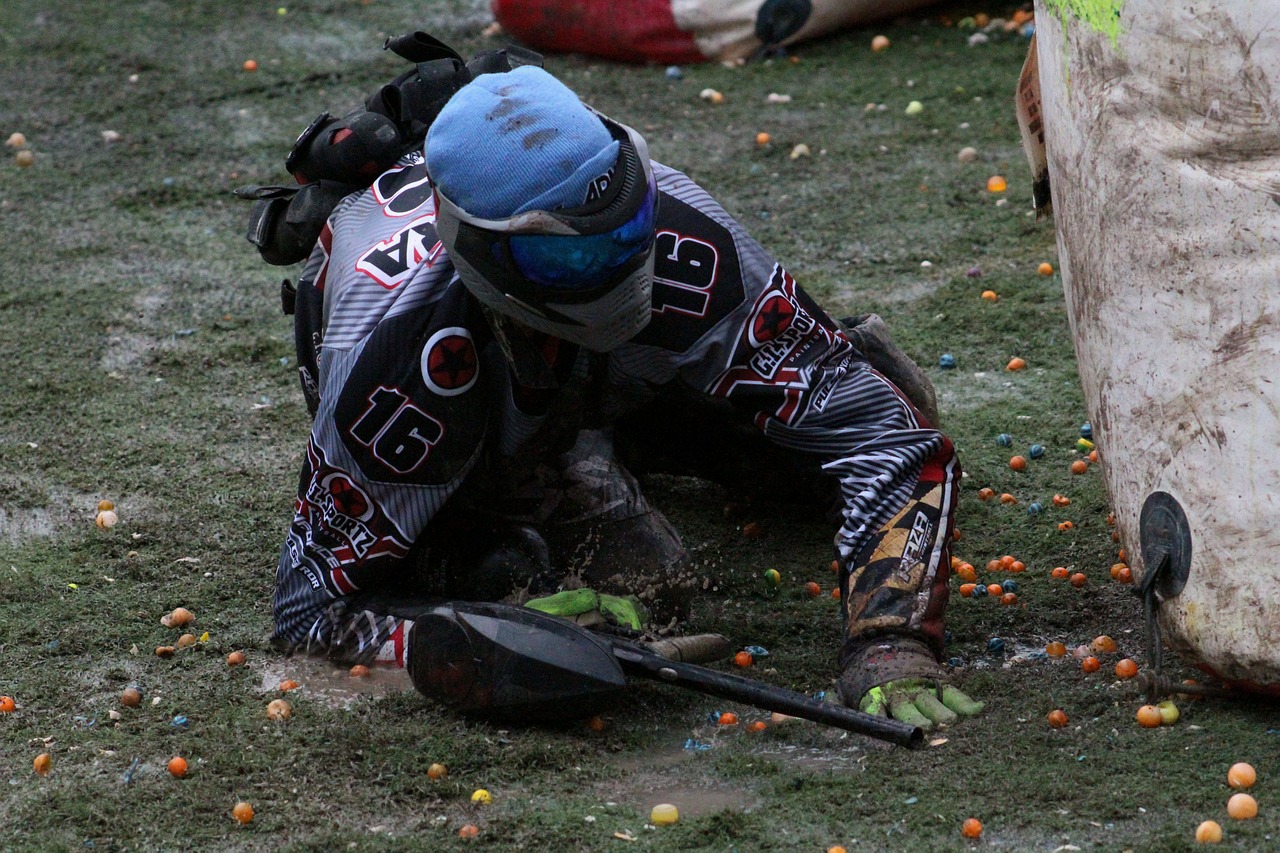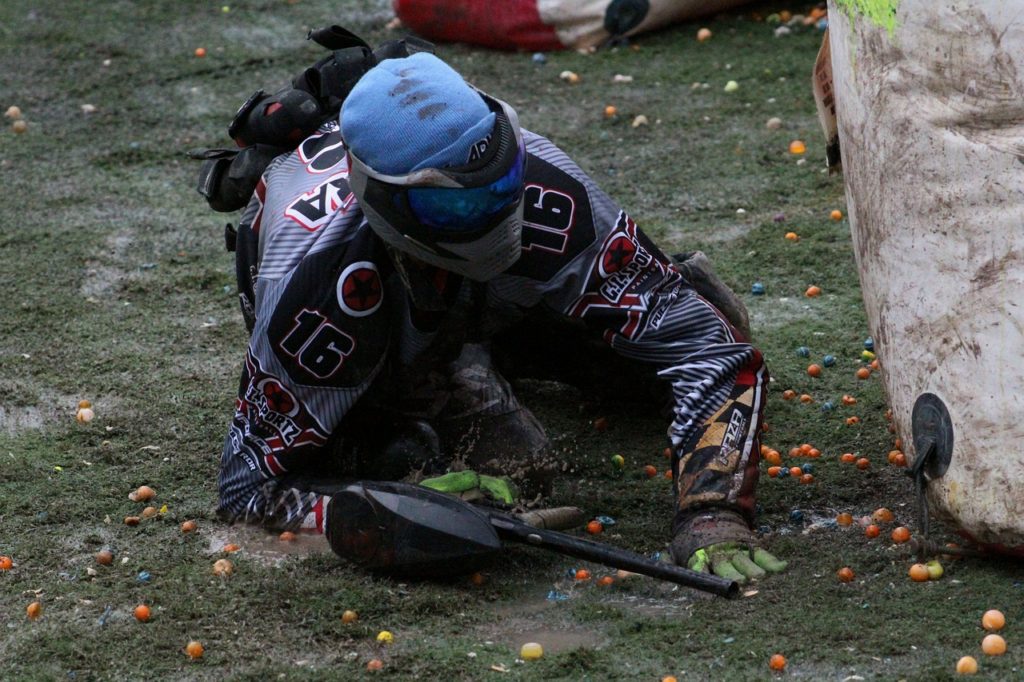 Just because you're on a budget, it doesn't mean your choices are limited. In fact, there are plenty of good options for a paintball gun under $300, which is why you should be shopping with a decent knowledge of the important features to look for in the best paintball gun under $300.
The following is a guide to help you make a smart, well-informed decision.
Style
First things first, you need to get yourself familiar with the different types and styles of paintball guns available for less than $300 so you can decide what category you're focusing your search on.
For example, there are guns suitable for woods ball that bear a straightforward design with mechanical operation and large size.
This paintball gun is often accurate and efficient, withstanding long games and providing long shots. You can use such a paintball gun to play a game in a speedball, the woods, or an organized field.
There's also the speedball gun that's typically designed for high-speed games to fire several shots in a single round. But if you're playing in a scenario game, you should consider a pick gun thanks to its evident similarity to real weapons.
Material
The material used in manufacturing a paintball gun is a major factor in determining the unit's overall quality. Most budget paintball markers incorporate plastic and metal in their construction process to produce a durable yet lightweight gun.
It's crucial that the materials used aren't too heavy so you can easily move around without having your gun blocking your movements on the field.
Shooting Power
Decent shooting power is something you shouldn't give up in a paintball gun, no matter how affordable it is. Consequently, you want to make sure you choose a marker with such a feature.
You also want to keep an eye out for the accuracy level of the paintball gun, as well as how quickly it shoots.
Customization
One special feature of paintball guns is how they can accept various add-ons to accommodate the unique needs of different players. This is why you should look for a marker that offers enough customization capacity to serve you in any scenario within the game efficiently.
Number of Rounds
Make sure to check for the number of rounds that your paintball marker can fire in one minute.
The best paintball gun should be capable of firing several paintballs per minute, not less than 12 rounds every minute. This is to give you an advantage when facing several opponents at the same time.
Aesthetics
Having a paintball gun with a cool, attractive design is always a plus, especially if you go with a tactical look. Not only will you feel as if you are in a war game, but the tactical colors can help you camouflage your position during the game.
Wrap Up:  Paintball Guns Under $300
Choosing the best paintball gun under $300 can get pretty confusing, especially with all the features and specs floating around. This is why we made sure to include only the top-performing options on our list, so you'll end up with a great deal no matter what!
That being said, we do recommend the Tippmann Cronus Paintball Marker as today's winner because it's sturdy, reliable, and comes with a comprehensive kit.
The Tippmann TMC MAGFED Paintball Marker is also an excellent choice if you're looking for something with plenty of room for customization.
Last update on 2022-10-23 / Affiliate links / Images from Amazon Product Advertising API