Are you planning a camping trip with friends or family this year? If so, you're probably wondering which tent to buy. If you're worried about the weather, you'll want to find the best tent for rain and wind. Camping during the spring or fall can be nice, but the weather may be slightly less predictable, so you'll need a durable tent that has good quality waterproofing. This article will look at the best tents for rain and wind.
In a Hurry?  Here are our Top Picks
Pic
Best Overall
Best Budget Option
Make/Model
ALPS Mountaineering Aries 3-Person Tent, Copper/Rust
Eureka! Tetragon HD 3 Person, 3-Season Waterproof Camping...
Best Overall
Pic
Make/Model
ALPS Mountaineering Aries 3-Person Tent, Copper/Rust
Best Budget Option
Pic
Make/Model
Eureka! Tetragon HD 3 Person, 3-Season Waterproof Camping...
Best Tent for Wind or Rain:  Reviews
Here is a list of our vetted best tents for camping in the rain or wind: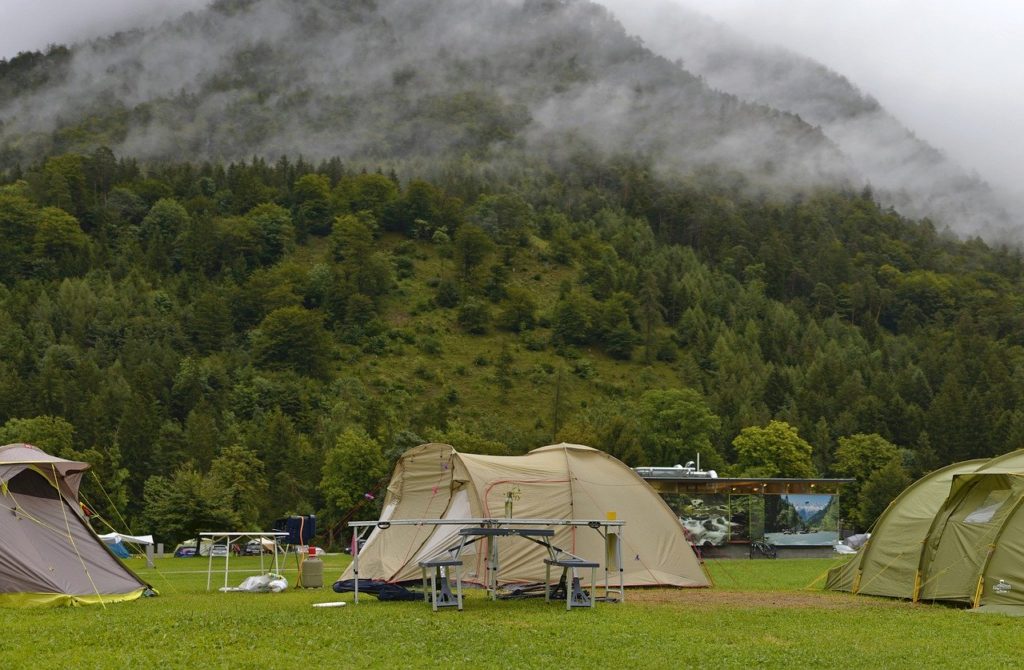 Top Pick One: ALPS Mountaineering Aries 3-Person Tent
ALPS Mountaineering Aries 3-Person Tent, Copper/Rust
There's no assembly frustration with our Aries Tent series; this aluminum, free-standing pole system allows for quick setup
Polyester tent fly resists water and UV damage while adding two vestibules for extra storage space
Great ventilation and star-gazing opportunities with mesh roof and walls
Fully equipped with #8 zippers, mesh storage pocket, gear loft, aluminum stakes and guy ropes
Base Size: 6'9 x 7'4, Center Height: 50", Total Weight: 7 lbs. 4 oz., Minimum Weight: 6 lbs. 7 oz., Color: Copper/Rust
The ALPS Mountaineering Aries 3-Person Tent is made from good quality polyester. It has a mesh inner layer, which will keep insects out and allows for ventilation, which is excellent in hot weather. It also has a rugged, water-resistant outer layer, which makes it waterproof even if there's a heavy downpour.
You won't be frustration by putting this tent up as ALPS have created an easy to use freestanding pole system, which allows for simple setup. This tent is also resistant to UV damage and has a window in the roof that can be opened to allow for stargazing. There are also two vestibules which create plenty of extra storage space.
Pro's
Available in two colour choices: Rust or grey/navy
Made from high quality polyester
Has mesh storage pockets
Comes with aluminium stakes and guy ropes
Base Size: 6'9 x 7'4
Height at center: 50 inches
Weight: 7 lbs. 4 oz.
Con's
Some people have found that they have to sleep with their head facing the door to fit three people in.
Top Pick Two: Eureka! Tetragon HD 3-Season Waterproof Camping Tent
Eureka! Tetragon HD 3 Person, 3-Season Waterproof Camping...
Eureka!'s freestanding, two-pole dome architecture includes a fiberglass frame with clips and ring/pin corner assemblies to ensure fast, easy setup.
A large main door provides easy access to the interior, while the no-see-um mesh roof and side panels maximize air circulation.
Protect your camping companions from the elements with the waterproof rain fly, bathtub floor, and fully seam-taped construction.
The tent includes the exclusive E! Media Center in-tent entertainment hub for quiet time or rainy days, plus two storage pockets and a gear loft.
Sleeps three people; measures 7 feet by 7 feet (floor) and 4 feet 4 inches tall at peak; weighs 6 pounds 7 ounces. Limited lifetime warranty.
Eureka! has created a fantastic freestanding dome tent that has just two-poles. It's very fast and easy to set up and can be put up quickly by one person. This tent has a large front door, a mesh inner layer, and side panels, which allow the air to circulation, making it great for summer camping.
There's also a durable waterproof rainfly, which is easy to attach and makes the tent completely waterproof. This tent has been created with reinforced seams that make the construction strong.
This tent also includes an exclusive Eureka! Media Center, which is an in-tent entertainment hub that's great for a rainy day. There are also two storage pockets, as well as a gear loft, so you'll have plenty of space for personal items.
Pro's
Different size options available: can be bought as a two, three, or five-person tent.
Lightweight
Easy to assemble
Has a robust outer rain fly.
Con's
The color: this is a white tent which is prone to getting dirty. It can, however, be easily spot cleaned with a damp cloth and some soapy water.
Top Pick Three: Kelty Late Start 4 Person – 3 Season Backpacking Tent
Sale
Kelty Late Start 4P - Lightweight Backpacking Tent with...
SUPER FAST SETUP: Kelty's quickcorners make setting up fast and easy – as it should be. Pole sleeves at the tent corners matched with pre-bent aluminum poles for a formidable frame, Shark Mouth stuff sack for EZ packing up in...
RUGGED + ROOMY: Durable 68D polyester fabrics in the tent bathtub style floor, flysheet are waterproof and built to last – roomy interior sports a peak height up to 56 inches within a simple single door design
WATERPROOF POLY FLYSHEET: full coverage rainfly in 68D Polyester / 1200 mm / C0. Additional guyouts provide ample air flow even in rough conditions while keeping your buns (and gear) dry and safely nestled inside
PROTECTING NATURAL SPACES: Kelty is 1 of 4 founding members of The Conservation Alliance, and has always strives to protect wild spaces. All tents are made with DWR/PFC Free fabrics and coatings, reducing waste and negative...
NITTY GRITTY: 1 door 1 vestibules (lots of gear storage with inner gear pockets to boot) featherlight stakes, 2 pole setup. 1P model: 20.6 sq. ft., 37 in peak. 2P model: 30 sq. ft., 40 in peak. 4P model: 56 sq. ft., 56 in peak
Named the late start tent because it's so easy to put up that you can finish work and get to your campsite late and still have time to put it up before dark. This tent has been designed and constructed to make it very simple to erect, even by one person.
This tent has a vestibule for extra storage space. Two of the aluminum poles have been pre-bent to create more space inside the tent. The floor and rainfly have been made from a sturdy 68 denier fabric which makes it hardwearing, long-lasting and water-resistant to 1800 mm.
Pro's
Available as a one, two or four-person tent
68D polyester, 1800mm floor and rain fly
Easy to set up, uses quick corner technology.
Spacious
Great for backpacking
Con's
No vent in rainfly, which could cause condensation if you're camping in a scorching climate.
Top Pick Four: TETON Sports Mountain Ultra Tent
TETON Sports Mountain Ultra Tent; 3 Person Backpacking Dome...
STAY DRY Waterproof rainfly with a 360degree ventilation system for optimal air flow that allows a cool, comfortable night's sleep; 1 to 4 person camping tents available
ROOM WITH A VIEW Get away from the city lights and enjoy a full view of the Milky Way; Full dome mesh top allows for an amazing stargazing experience
EASY TO SET UP Lightweight tent packs down tight for backpacking hiking and camping; Micro mesh inner tent with perfect fitting waterproof rainfly
PACKS UP EASILY When it's time to head home the Mountain Ultra Tent is a quick hasslefree take down
TETON SPORTS PROMISE Reach out to our AMAZING product support team if you have any questions or concerns; YOU CAN COUNT ON US to get you taken care of and back OUTDOORS with TETON Sports
The TETON Sports tent has a fantastically designed stay dry system while at the same time offering adequate ventilation for a comfortable night's sleep. This dome tent has a mesh top which allows you to view the Milky Way. It's very lightweight and easy to set up, making it perfect for hiking and backpacking. It comes with a fully waterproof rain fly.
Pro's
Available in a variety of sizes to sleep between one and four people
Built-in ventilation system
Fully waterproof and wind-resistant
Has a gear loft and storage pockets
Very simple to set up
Con's
Not much room for gear, other than small personal items.
Top Pick Five: Hyke & Byke Zion 1 and 2 Person Backpacking Tents
Hyke & Byke Zion Hiking & Backpacking Tent - 3 Season...
2 Person Tent for Kids and Adults: This cold weather tent comes with a waterproof PU5000 poly ripstop rainfly, bathtub floor and tent footprint; Keeps you safe and dry from harsh weather conditions
Camping Gear and Equipment: Our 55 x 90 x 42.5 in ultralight tent packs to a compact 16.5 x 6 in carrying bag making it a great addition to your backpacking gear; Spacious and versatile 3 season tent
Dome Tent Accessories: Included in this set is a footprint floor cover, aluminum tent stakes, stake press, removable gear loft, reflective guylines and convenient storage bags for every component
Leisure Time: Whether you're thru-hiking or taking a long road trip you can always choose what to bring along; Minimum trail weight (rainfly, poles, footprint) of our outdoor tent is only 3lb 12.8oz
Hyke & Byke Sleeping Bags: USA-based brand offers premium quality camping gear collection of adult & kids sleeping bags, camping tents & sleeping pods for all your adventures in the great outdoors
Small, lightweight, and perfect for the adventurous backpacker or hiker. This tent is easy to carry whether you're biking or hiking. It's available in a selection of fun bright colors, is fully waterproof, and made from high-quality materials.
There have been reports that the tents pretty small, the plus side is that its light and easy to carry. The tent is durable, waterproof, and comes with a lifetime warranty. A fantastic tent to take with you if you're planning an epic adventure.
Pro's
It comes with a PU 5000 rainfly and a bathtub floor.
Has taped floor seams which will keep the rain out, even in stormy weather.
Easy to assemble, only has one pole.
 Packs down very small which is great for backpacking
Con's
A bit small, but the benefits more than make up for this.
The Best Tent for Rain and Wind: Buying Guide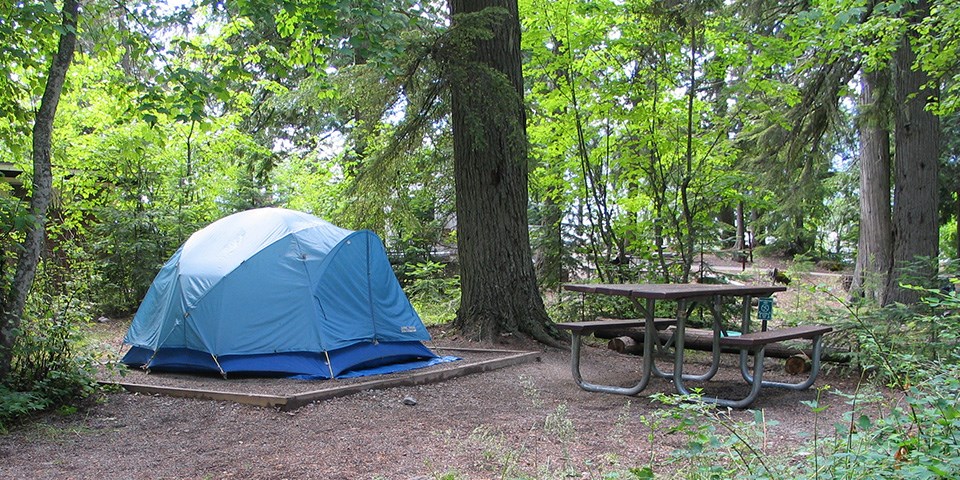 If you're looking for a tent that will efficiently stand up to rain and wind, it's a good idea to buy a three seasons tent. These types of tents have been designed for winter, summer, and rainy season. They have been designed with extra features such as double layers and treble stitched seams to make them stronger and more water-resistant. You'll want to buy a tent that has an outer layer that repels water rather then soaks it up.
Three season tents are the most versatile tents and are the best value for money. They are able to stand up to heavy rainstorms, but they are also ventilated enough for summer camping. You can even use a three-season tent in winter if the weather is mild, but if you plan to do this, you should make sure you have the right sleeping gear; otherwise, you'll get very cold.
If you're looking to buy a tent that will withstand heavy rain look for one that has a rainfly. Buying a three-season tent, rather than a one or two-season tent, will mean that your tent has been designed to withstand heavy rainstorms and high winds. They should have firm, reinforced poles that will stay up even if it gets windy.
What to Consider When Buying a Tent
So now that you've decided you need a three-season tent, there are some other things you'll need to take into consideration before choosing a tent that's perfect for you. The first is the tents size. How many people are you planning to go camping with? Tents range from one man to large family tents which sleep ten or twelve. You'll also want to think about what you want to use the tent for. If you are hiking, you'll need a tent that's light and easy to carry. If you're planning to drive to a campsite the tent's weight won't be such a problem.
There are two main types of tents, and these will all be available as three-season tents that will withstand rain and wind. These are backpacking tents and family tents. You may also see ultralight tents, but these usually have one layer of fabric and are best for summer camping when no showers are forecast.
Backpacking tents tend to be small, light, and easy to carry. They usually sleep between one and three people. They are perfect for traveling or hiking as they are lightweight. If it happens to rain during the night, it won't be a problem as the tents are usually made of strong, water-resistant materials.
Family tents sleep larger numbers of people, generally between six and ten. They are made from hardwearing materials and are very spacious. Most of them even have standing room and separate rooms for sleeping.
See Also:  Best Tent for Summer Camping and Hot Weather
Conclusion
The above five tents are perfect for camping during the spring, summer, and fall. They have been designed to withstand heavy rain and windy. If you're planning on going camping in a climate where rain is likely it's best to buy a three-season tent.
This article can be used as a guide when selecting the best tent for rain and wind. You should carefully consider what you plan to use your tent for and how many people you want it to sleep before deciding which tent to purchase.
Reading past customer reviews is also a good way of finding out how the tent has performed in real life, especially during rainy and windy weather. This will help you to decide if it's the right product for you.
Happy camping!
Last update on 2022-10-23 / Affiliate links / Images from Amazon Product Advertising API