Redbuds have a delightful reputation of being showy landscape plants, with a magical transformation of color as the season progresses. If you're looking for a native US tree that can produce flowers in the shortest possible time, the redbud is a solid choice as it only needs four years to mature.
In case you're wondering, when do redbuds bloom? We'll tackle that below.
---
When Do Eastern Redbuds Bloom?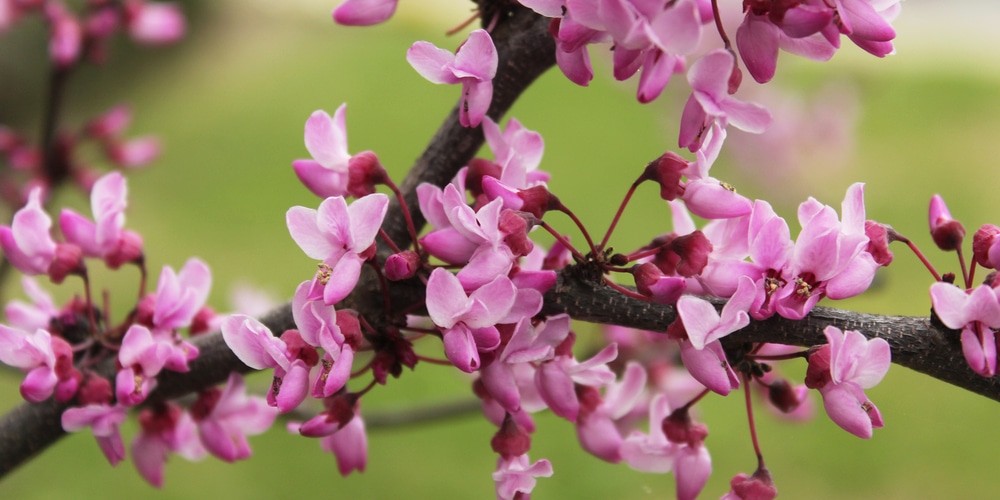 The Eastern Redbud tree or Cercis canadensis is a small tree that grows throughout the eastern part of the US. You can immediately tell an eastern redbud specimen by its pink-lavender flowers that show up in spring.
What's curious about the Eastern Redbud is that the deciduous shrub produces flower buds first before foliage after the winter season has passed. In early spring you'll be able to spot the buds as they form clusters around the branches.
It's worth noting that redbuds are ramiflorus, which means they can survive without producing leaves and tend to make fruits and flowers before anything else.
The buds then bloom in mid to late spring from March to April and stick around for a couple of weeks. The Eastern Redbud will then come alive, with colorful pea-like flowers that are rose pink with a hint of purple for two to four weeks before any new leaf appears. In summer, the flowers will have become seed pods, and the tree will have its wide green leaves.
The Eastern Redbud thrives in zones 4 through 8 and is relatively easy to grow. It doesn't take much to force a tree full of deep pink and red flowers in spring, but how it's exposed to the environment plays a large part in the bud-forming process.
To get maximum blooms it's recommended that you allow the redbud to experience the winter season unprotected and plant it where it can get full sun throughout the day.
Eastern redbud plants can grow in a variety of soil types, but a slightly acidic and organically rich medium works best. You can fertilize with a well-balanced mix at the start of its growing season to give it a nice boost. Water more during its early years and allow nature to take over.
---
When Do Forest Pansy Redbuds Bloom?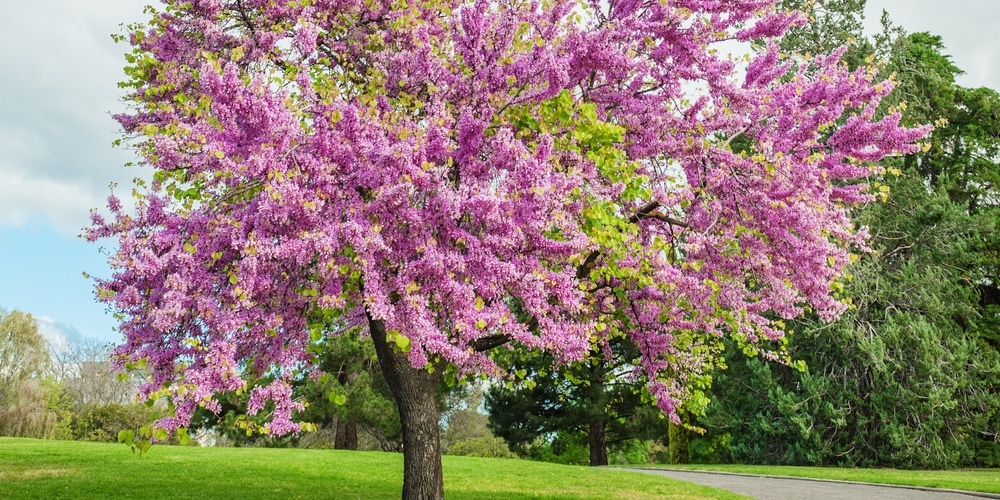 The Forest Pansy is a type of eastern redbud that behaves pretty much the same as the common redbud species. The cultivar has several subspecies, including the 'Royal White', 'Heart of Gold' and 'Covey', which sports white, spotted green and white, and golden yellow blooms and foliage.
This type of Eastern Redbud also has buds forming as soon as spring comes, which turn into small and tightly packed clusters of pink flowers. However, instead of the requisite lavender-pink, this cultivar has a white-pink pattern that resembles cherry blossoms.
As for the flowering season, Cercis canadensis 'Forest Pansy' begins in March or early April and extends two to three weeks after that. However, the show isn't over yet- you'll witness stunning two-toned foliage of purple and orange that turns into olive green and burgundy from summer through fall. The transformation is magical and one of the reasons why people choose it for planting in their yard rather than the common redbud.
The Forest Pansy redbud can grow without problems in USDA zones 5 through 9 and thrive in virtually any soil type. You'll want to give it a well-draining medium and adequate watering, as well as regular fertilizing so the tree can look its best. As far as location is concerned, Forest Pansy redbud is adaptable and can grow in partial shade to full sun.
Pruning should be done regularly while the redbud is still young and within reach. As the tree grows you'll find it more difficult to shape or remove unwanted branches at the top. Healthy redbud specimens are less prone to pests and diseases, and it's best to avoid overwatering or getting the leaves overly wet to prevent fungal issues and root rot.
The Redbud 'forest pansy' is an excellent yard specimen because it shows interesting colors starting from spring through summer and fall. Unlike the common redbud that has yellow leaves in fall, you get a burgundy and green combination that serves as an interesting contrast to the usually earth-toned landscape.