If you have a property with a large yard, a riding mower is a must. There are many different ride-on lawnmowers on the market, and it can be tricky to decide which to choose.  If you are comparing the the Scag Cheetah vs the Turf Tiger, you are comparing two fantastic mowers.
Scag has manufactured two popular riding lawnmowers; there's the Scag Cheetah and the Turf Tiger. But which one's the best? And how do you decide which to invest in?
Both the Scag Cheetah and the Turf Tiger are great machines that are powerful and robust. They are both perfect for mowing large lawns, orchards, or areas of grass. Each of these riding lawnmowers has its own unique features that make them stand out. If you're looking to buy a riding mower, read on. This article will compare the Scag Cheetah vs. Turf Tiger!
---
Scag Cheetah vs Turf Tiger Full Comparison
The Turf Tiger is a fantastic riding lawn mower that is very powerful. It's excellent for thick grass but will likely set you back an extra couple of thousands of dollars to buy one. The Scag Cheetah is said to be the fastest zero-turn mower available and allows you to cut your grass quickly and easily. Let's look at the features and qualities of the Scag Cheetah vs. Turf Tiger!
The Scag Cheetah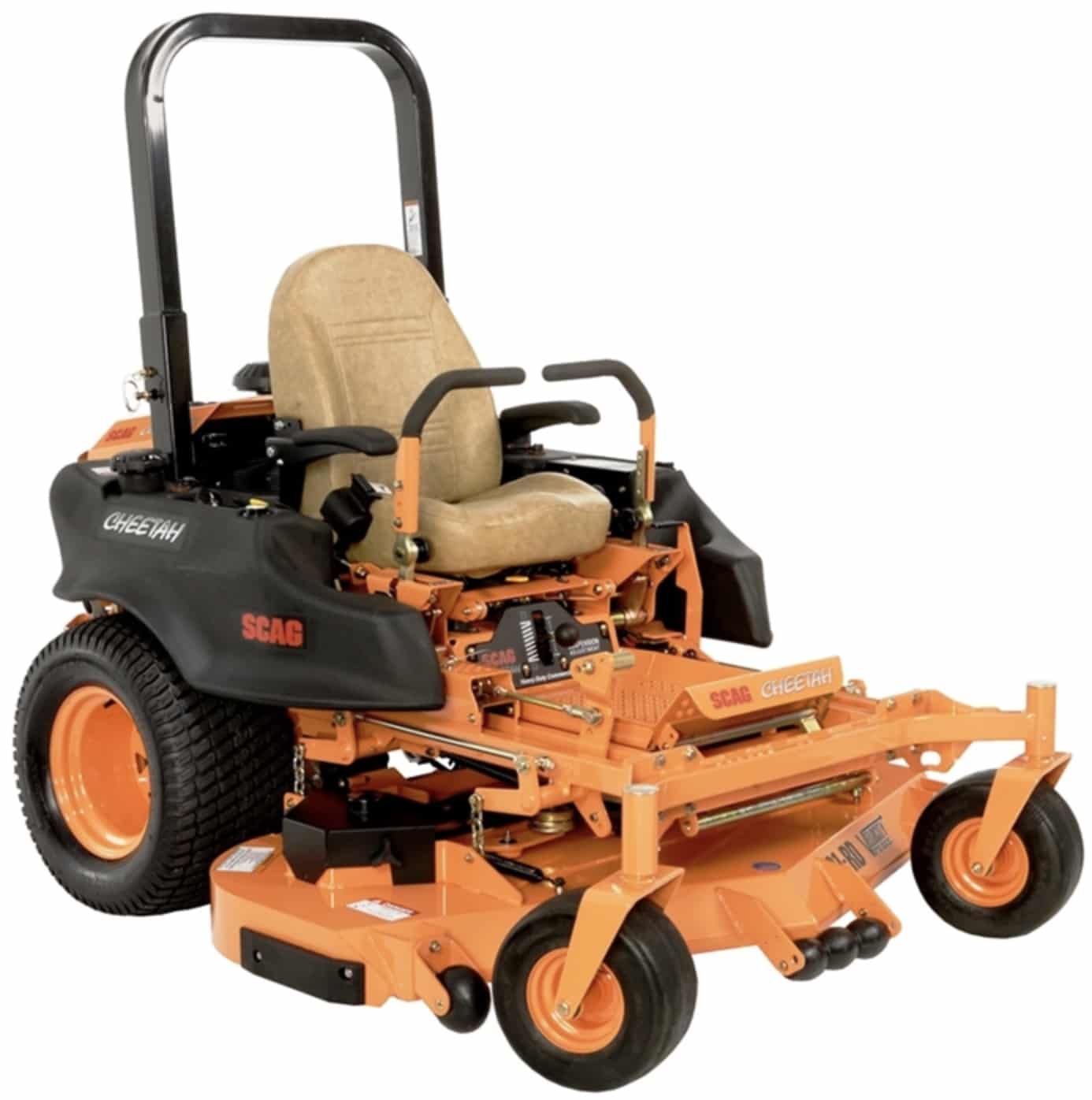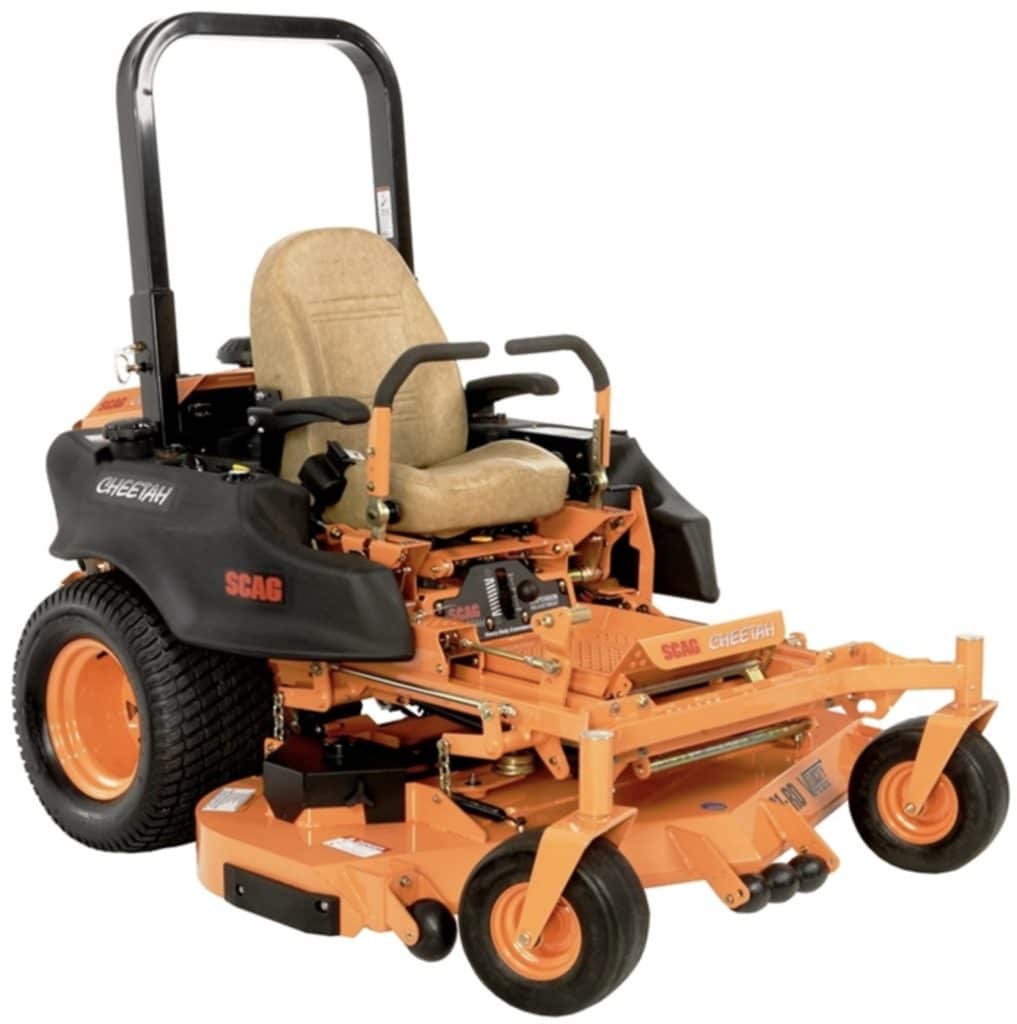 The Scag Cheetah is a very popular riding lawn mower as it's the fastest zero-turn mower available. This machine will make mowing large areas of grass effortless and straightforward. It's also fun to operate and can be ridden at high speeds when set to transport mode. This is an excellent feature if you need to travel between different locations that need cutting.
The Scag Cheetah has a very high horse-powered engine which is better than most other riding mowers on the market, including the Turf Tiger. It has a Kawasaki FX921 31hp engine which allows it to power across fields and mow up hills. It also has large 24-inch tires, which provide excellent traction. The front of the lawnmower is fitted with caster tires which are 13×6.5-6, allowing the mower to be driven uphill with ease.
The Scag Cheetah is available in two different variations; you can choose either a 61" and 71" deck depending on your needs. Both versions have Hydro-Gear ZT-5400 Transaxles, which are smooth when running the mower. Overall, the Scag Cheetah is very easy to use and is also a comfortable ride. It has many built-in comfort and safety features, including a suspension seat and suspension platform. This helps create a smooth ride even on the bumpiest of ground.
The Scag Cheetah has an excellent fuel capacity; it has a 15-gallon tank, which is larger than the Turf Tiger and other Scag riding lawnmower models. This will allow you to cut large areas of grass without having to worry about refueling.
It's also straightforward to control the Scag Cheetah as it has a low and high range, and the speed can be adjusted without hassle using a level. The low-speed range lets you drive at twelve miles per hour which is an excellent mowing speed. You can then switch to the high range setting that allows you to travel up to 16 miles an hour in transport mode.
Scag is an excellent manufacturer that produces high-quality lawnmowers and other machines. The scag Cheetah is designed to be durable and long-lasting. It comes with a choice of warranties; either a two-year warranty with unlimited usage hours or a guarantee that lasts four years with 400 usage hours.
Last but not least, the most critical thing about a lawnmower is how well it can cut the grass. The Scag Cheetah won't disappoint, as it's one of the best machines in the industry; you'll get a high-quality cut.
The Turf Tiger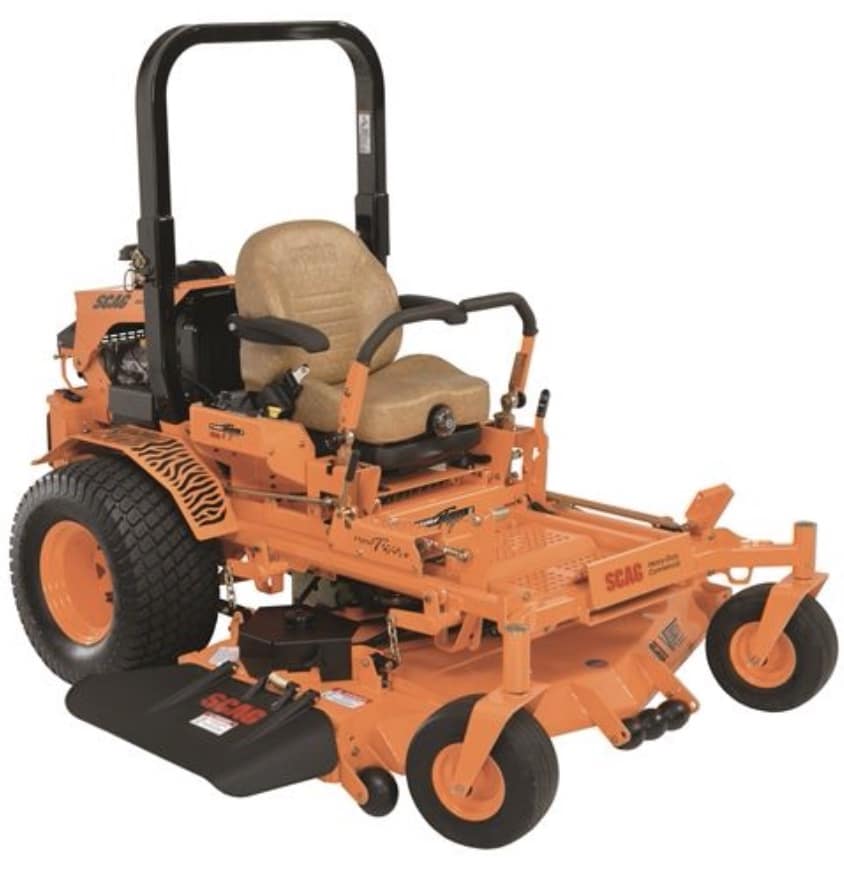 Like the Scag Cheehta, the Turf Tiger is also built to be durable, long-lasting, and provide an excellent cut. It comes with a two years manufacturer's warranty with unlimited usage time or a five years warranty with 1,200 hours usage time.
It also offers excellent value for money and is as powerful as many top riding mowers on the market. The Turf Tiger is available with a range of engine options, from the 25hp Kubota diesel engine up to a 35hp engine. The engines are available with a choice of being liquid or air-cooled. If you choose a Turf Tiger with a liquid-cooled motor, this will prevent your lawnmower from overheating even if it's been in use for long cutting periods.
The Turf Tiger is also a powerful machine that can be used to cut long, dense grass and that can handle hills. It's versatile and can also be used for mulching, and can handle large areas of land, including golf courses and school playing fields. The Turf Tiger's main disadvantage is that it's not the most comfortable riding lawn mower on the market. The Scag Cheetah is definitely a more comfortable ride as it has better suspension and a high-quality seat. The Turf Tiger does have a suspension seat, but you may feel some bumps, and it's a bit uncomfortable going uphill.
---
Conclusion:  Turf Tiger vs Scag Cheetah
Scag has created two amazing riding lawn mowers; the Scag Cheetah and the Turf Tiger. They are both durable and high-powered, and while the Turf Tiger is robust and suitable for any situation, it does have a slower maximum speed and less comfort.
Like the big cat, it's named after the Cheetah, is very fast and can travel at up to 16 miles an hour which is great for traveling between locations. The Scag Cheetah is a very professional machine that has added features that make it more comfortable. It has an excellent suspension and good seating.
A Scag Cheetah will cost between $12,417 and $14,009; it has many unique features which aren't found on similar riding lawn mowers. On the other hand, the cheapest Turf Tiger model cost about $13,300, and the price can increase to $18,000, depending on the type of engine you choose and whether you go for any additional optional features.