If you're looking to create a thick, dense lawn, there are many things to consider, from choosing the right grass seed to mowing your lawn correctly. It's essential to mow your thick grass down to something manageable.  Choose an ideal lawnmower with the correct blade that will allow you to cut your thick grass to the right height.
Even professional landscapers find choosing the best lawn mower blade for thick grass challenging. There are many different technical variances involved in selecting a lawnmower blade. A good quality lawn mower blade will help you cut your grass efficiently and also be long-lasting and durable, which will reduce your maintenance cost.
Let's look at how to choose the best lawn mower blade for thick grass.
The Best Blade is Probably the One You Own
While buying a new blade can save you the trouble of sharpening it, there are many independent mower shops around the country that would be more than happy to sharpen your current mower blade.  The best blade for sharp grass is a SHARP BLADE.
If the mower blade is bent, you'll need a new one.  But, if it is straight and hasn't met the business end of too many rocks, you'll probably be ok with just having it sharpened.
Bagging and Mulching Thick Grass
When the grass is really thick, it can be really tough on mulching blades, even when they are sharp. So, take your time if the mower keeps bogging down.  Or, consider a side discharge or bagging solution.
If the mower keeps bogging down in the thick grass, a sharper blade may help.  Or, it could just be a matter of needing a higher-powered mower.
---
The Best Lawnmower Blade for Thick Grass
There's a large selection of lawn mower blades available, perfect for grass varieties that grow to be dense and thick. You'll need a good-quality blade to cut thick grass. Here are our top picks, which are all available on Amazon.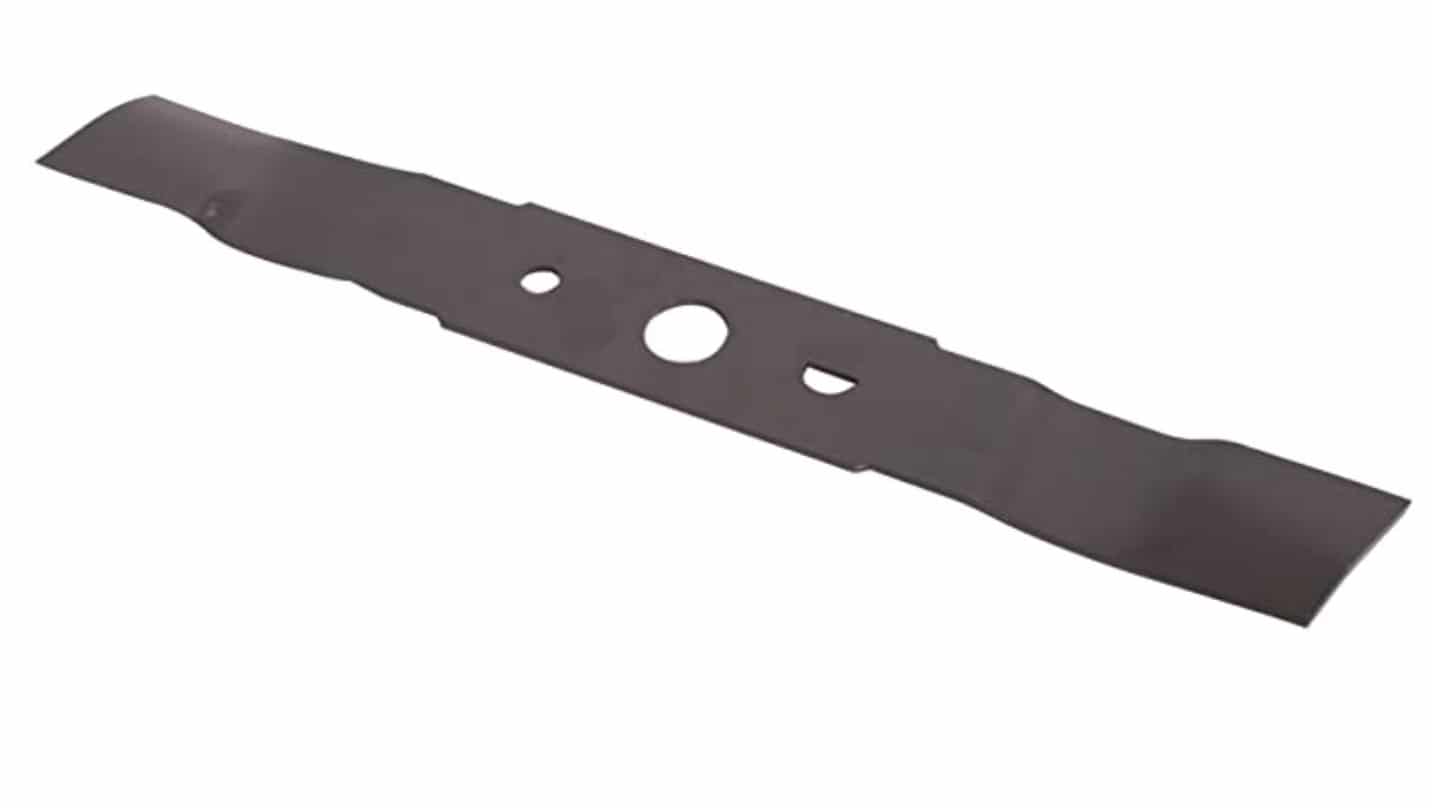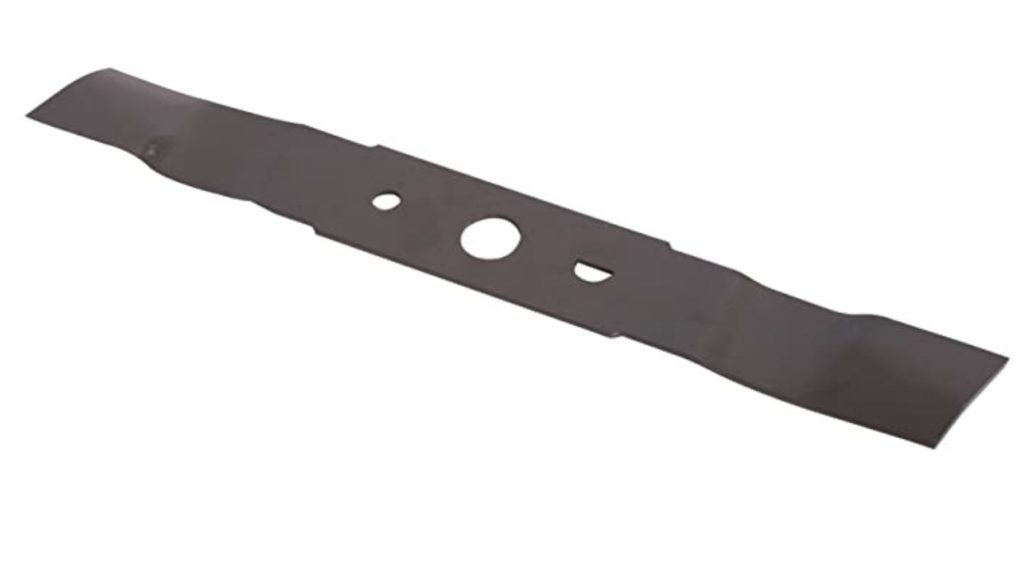 The Greenworks 16-inch is manufactured using high-quality coated steel. It has a very common fitting and is compatible with Greenworks mowers and many other lawnmowers brands.
This blade is excellent value for money and, for most people, is likely to be a better option than trying to resharpen a blunt lawnmower blade. The blade has been coated to make it resistant to moisture and to stop corrosion. This makes it long-lasting, although the blade is susceptible to stone impacts as it's made from a softer metal. You can sharpen this blade if it becomes dull.
Simple to fit and change
Compatible with most lawnmowers
Very easy to sharpen
Resistant to moisture
Non-corrosive
---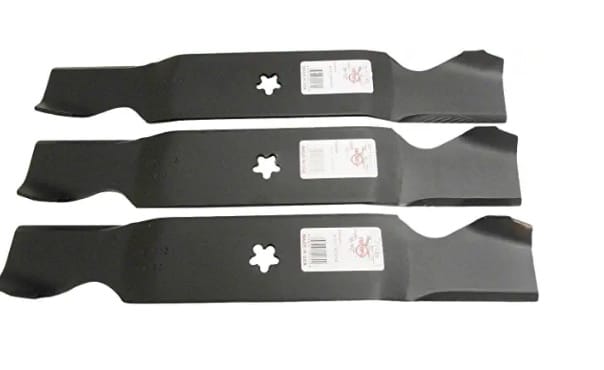 If you have a large yard and need to use your lawnmower a lot, it may be worth buying blades in bulk. This set of three high-quality blades is great value for money. These blades have been designed to fit a wide range of lawnmowers and are very durable. The edges won't dull quickly and can cope with stones and other debris compared to other blades on the market.
Outstanding quality
durable, thick blades
Long-lasting as they don't dull quickly
Isn't a good mulching blade
---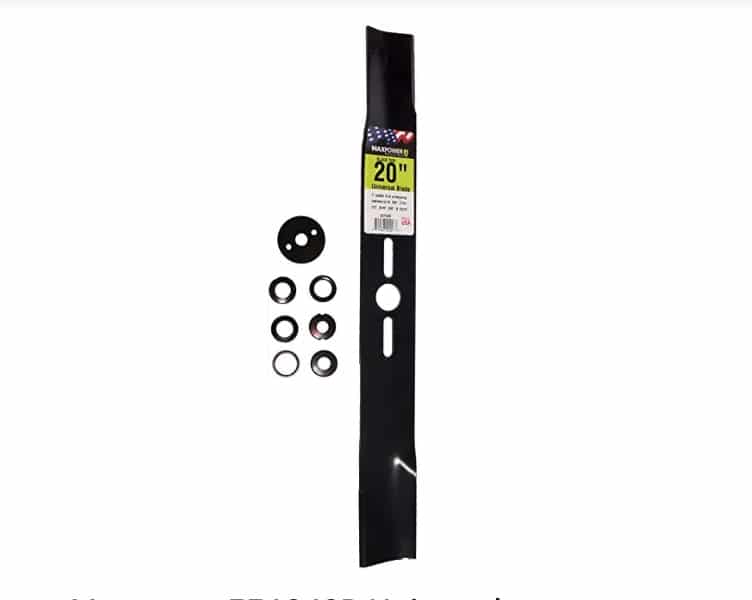 Maxpower has created a strong, long-lasting twenty-inch replacement blade. One of the best things about this blade is that it is a universal fit, making it compatible with a large selection of lawnmowers. It comes with an adapter that will allow you to fit the blade into any lawnmower.
Some people find the installation slightly tricky as it does take some adjustments. However, this isn't likely to take too long. This blade is very high quality and also great value for money. It's suitable for all types of small to medium-sized lawnmowers.
Universal fit
Pack includes adapters
A durable, heavy-duty option
Long-lasting
Great value for money
A twenty-inch blade
---

The brand Husqvarna is generally associated with high quality. This lawnmower blade is well made, and you can buy it with confidence, as it's backed up with a one-year warranty.
The blade is very versatile, which means it's good for mulching or for bagging. It's a popular choice for many homeowners as it's compatible and will fit all Husqvarna lawnmower models as well as lawnmowers from other brands.
The blade has been manufactured using high-quality metal and doesn't dull easily, even if you hit stones or other garden debris. It's also well balanced, will give you a good cut at any height, is suitable for thick grass, and is very simple to install.
High compatibility
Easy to install
Excellent quality
Perfectly balanced
A 22-inch replacement blade
Replaces 406713 blades
Can be used for mulching
---
Things to Consider When Choosing the Best Lawnmower Blade for Thick Grass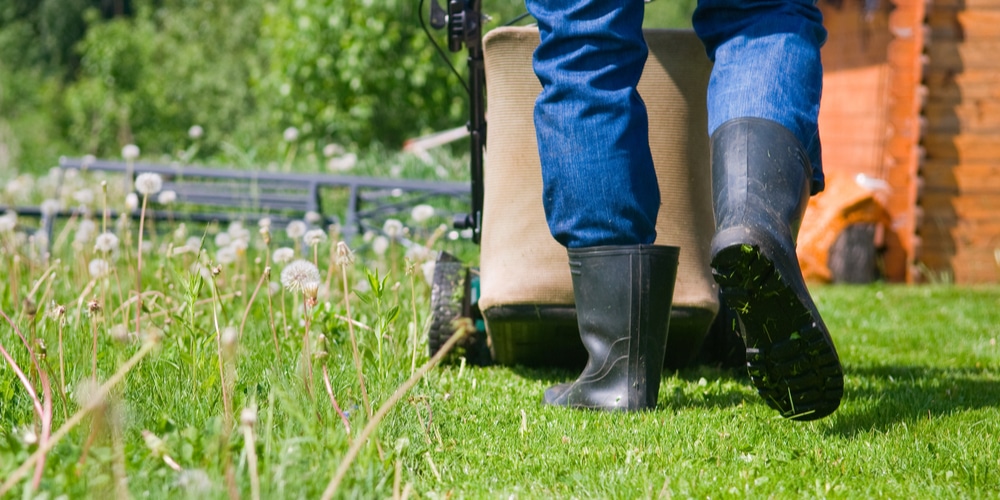 When choosing a lawnmower blade, it's vital that you find one to match your lawnmower and lawns requirements. First, identify the size and type of blade to fit your lawnmower. Here are some useful things to consider before choosing the best lawn mower blade for thick grass:
Size of lawnmower blade
The first thing to do before purchasing a lawnmower blade is to check the exact requirements of your lawnmower. Lawnmower blades come in various shapes and sizes to fit different machines, so it's vital that you choose the correct blade. You can do this by checking your current blade; consider the size, number of holes, and shape of the blade. These factors will allow you to replace the blade successfully.
Length of lawnmower blade
You'll need to choose a blade that's the correct length. If you choose one that's too long, it won't fit your lawnmower. One that's too short will give you less mowing coverage.
Lawnmower blade number
You may also like to read the lawnmower user manual to ensure you get the correct size of the blade. Many lawnmower blades have a manufacturer number which is either engraved or printed on the blade. Finding out which blade number fits your lawnmower would allow you to find the exact replacement.
Engine Power
Thick grass needs more engine power.  If you are having a hard time cutting the yard after replacing or sharpening your blades, you may need to buy a mower with more power.
Obviously, nobody wants to spend a bunch of money on a new mower.  You can cut the grass more frequently.  This can make up for the fact that the mower lacks power.
---
Conclusion
The good thing about blades for lawn mowers is that they are generally relatively cheap. In fact, you can pick up a lawnmower blade for between $10 and $30 each. The above blades are of good quality, and while each blade has its benefits and disadvantages, you'll be able to find the right one based on your needs and preferences. Many blades are adaptable and have been designed with universal fittings, which means they can be installed on various machines. If you're unsure which blade to choose for your mower, it may be a wise idea to choose one with high compatibility.