Take your backyard to the next level by installing lighting on your gazebo! And if you need some gazebo lighting ideas, look no further.
Here, you'll find our favorite options for decorating your outdoor space and making it elegant, romantic, rustic, or comfy (or a mix of that!)
---
Gazebo Lighting Ideas
After all, you should be able to spend time outdoors any time of the day. And is there something better than relaxing under a comfy structure and reading a book or having conversations with your friends and family under a cozy vibe?
You might be surprised, but adequate lighting can make a considerable difference in how you feel about your gazebo.
We recommend choosing warm and atmospheric gazebo lights over bright bulbs to create a pleasant background.
Simple but Elegant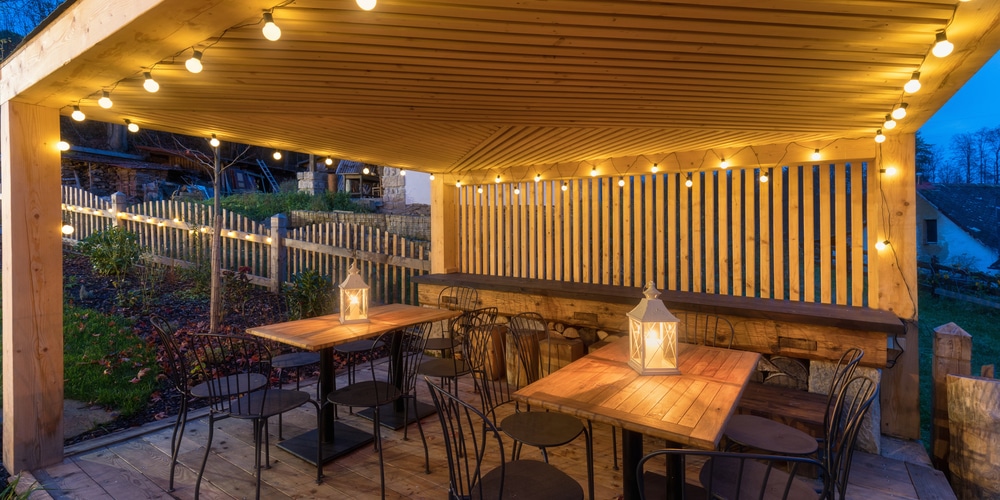 Sometimes keeping things simple can be your best solution. Get some string lights and avoid overdoing it: instead, opt for a minimalistic style that will keep your backyard elegant without looking kitschy.
You can focus on the outer part of your gazebo for an aesthetic effect or pay attention to the inside to recreate a cozy atmosphere.
Consider mounting string lights across the ceiling and bring attention to the center, where your sofa or table is. Depending on your preferences, you might want to choose string lights with large light bulbs to achieve bolder looks.
You can be creative with string lights: these solutions are versatile and allow you to shape them as you wish. To make a statement and produce intimacy, we suggest you hang them around the ceiling. Don't forget to select LED strings to save some money on your electricity bill!
Fancy Chandeliers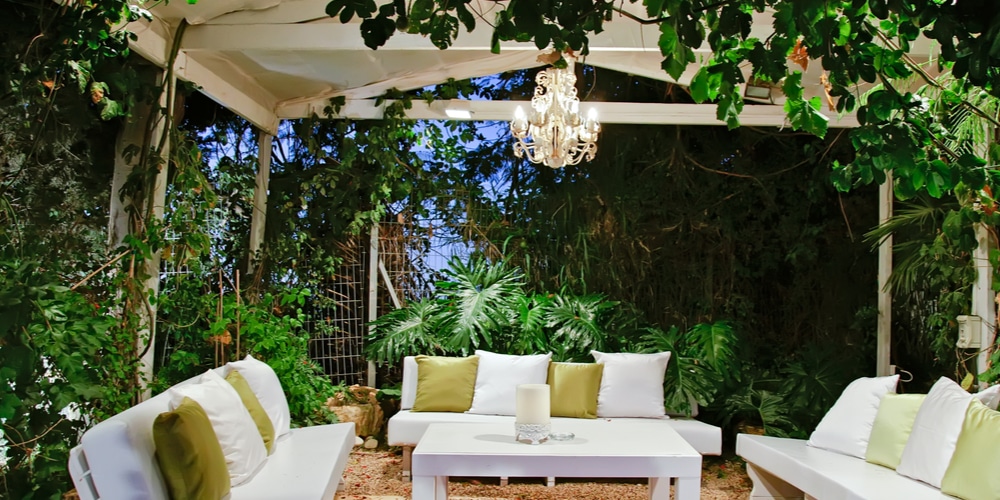 String lights aren't the only option for gazebo lighting ideas. Consider adding a fancy chandelier to emphasize the center of the space and create a sophisticated vibe. You can use vintage lamps to make it Boheme.
Contrast that with the industrial-chic style for an even fancier result. If your gazebo holds on to a metallic frame, adding a chandelier will make your outdoor space chic, elegant, and modern at the same time.
Chandeliers works wonder when you pair them with creamy drapes and tents: it gives a vintage feeling that makes the ambient more pleasant. Add pillows and a couple of vase plants for a boho touch: pay attention to the details.
Add Curtain Lights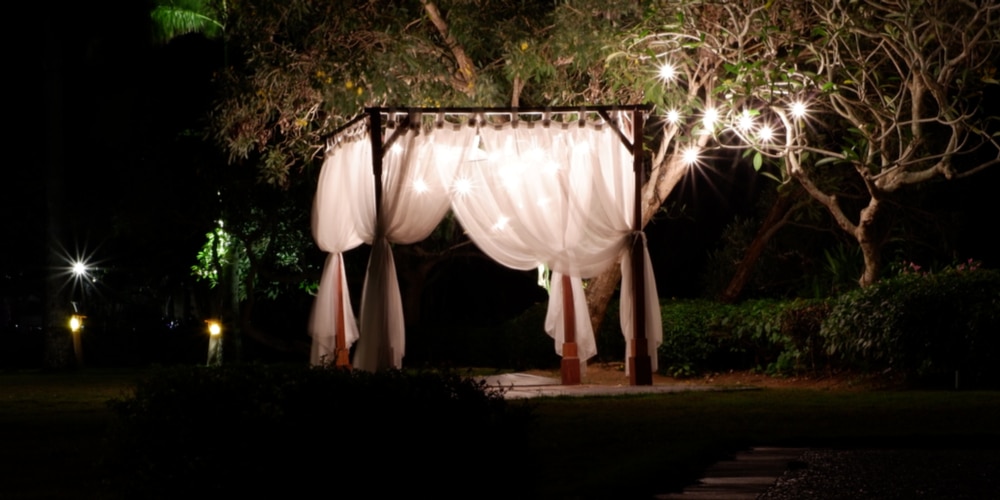 If your gazebo has a simple design, you could make it more attractive at night by adding curtain LED lights. The effect will be a lighting wall that can make your backyard bright and romantic.
You can attach them only to the side of your gazebo to create a stunning draping effect. Or you can hang the curtain lights over a bush or a nearby fence to illuminate a darker side of the space. You can add lanterns and oil lights to make the atmosphere chic and elegant.
Modern Design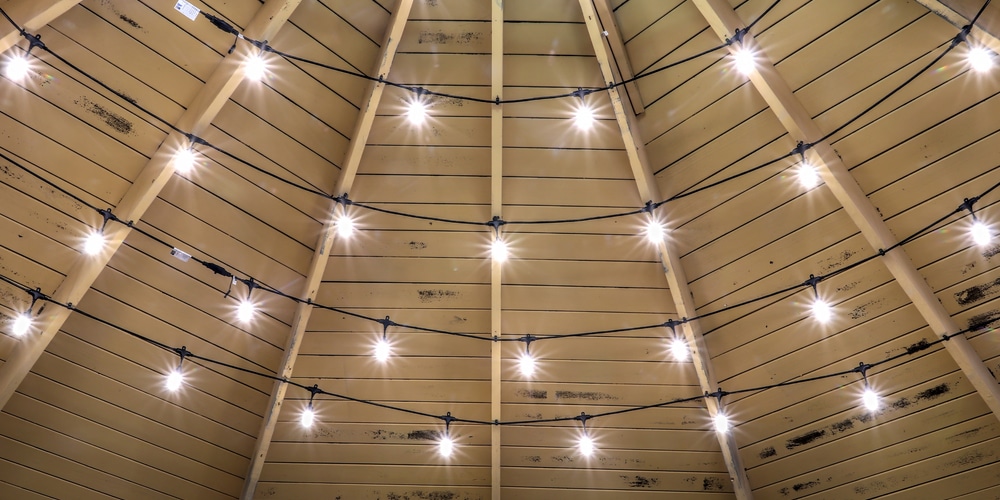 You can use ceiling lights on your gazebo to complement your exterior design with a modern touch. If you decorate your gazebo with minimalist furniture, adding ceiling lights will ensure proper lighting to the setting and bring about a stylish vibe.
Focus on Illumination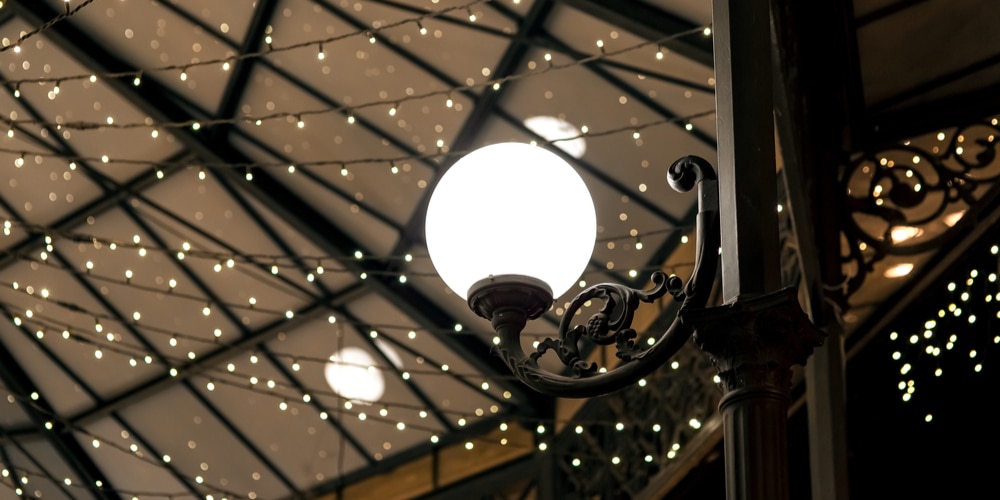 You might have to mix and match different styles to get the most out of your lighting. For instance, you can install a hanging bulb in the center of the ceiling and decorate the rest of your gazebo with string lights to add a fancy vibe and create a romantic atmosphere in your yard.
Add comfortable sofas and cushions to transform your gazebo into your favorite living room.
Or you can use later lights to add an "oriental" touch to your yard. To make the results more appealing, hang them on the corners to enhance the looks of your structure.
And if you have a large yard, consider adding lights on the path to the area: the effect will surprise you! It will make your garden look glamorous (with little effort). You can use solar lights to be more energy efficient.
Make it Rustic but Cozy!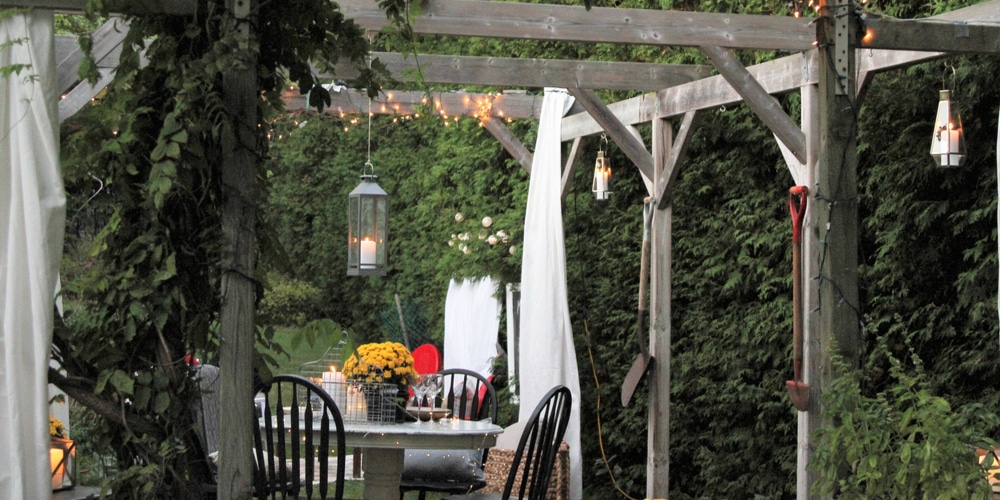 If you need a welcoming space to spend your summers in your yard, making your gazebo rustic but cozy might be your best solution. Lighting can help you achieve that. Add a central chandelier and play with the materials: contrast metal with wood to highlight the rustic feeling.
Some string lights to the center of the ceiling will enhance illumination and make the environment cozier. Make a table and a couple of comfortable chairs the focus of the space.
If you can, consider a stone fireplace to make the most out of your gazebo! Trust us: you won't want to spend your free time anywhere else!
Chic Lanterns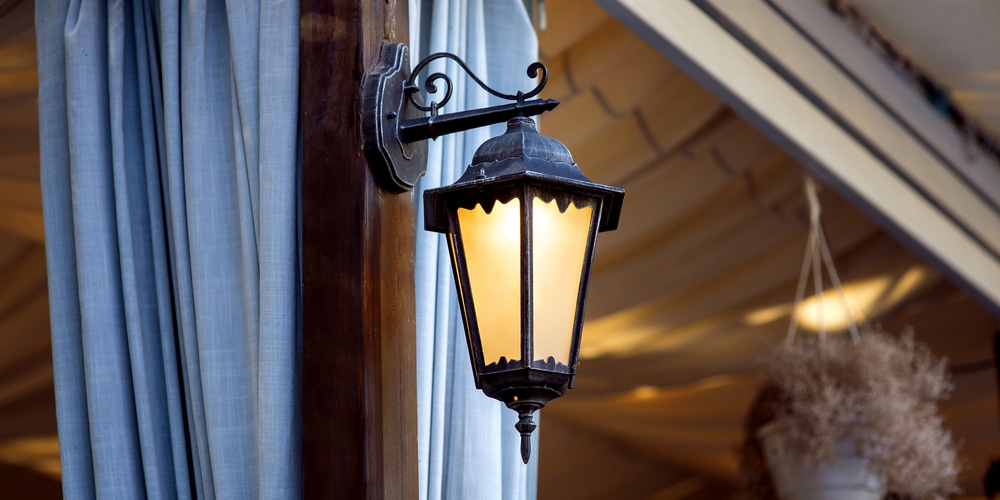 We talked about lanterns, but what about making them the center of your gazebo lighting? You can install pendant ones at every corner to create an elegant vibe. Such a solution will work well if you have a natural stone gazebo: the results will be stunning!
You can set torches or fire bowls to add other light sources to create a natural atmosphere in your garden.
Minimal Lighting
If you love minimalism, you might not want to add a couple of string lights or a bunch of lanterns. Instead, consider adding a simple string of LEDs under the perimeter of your gazebo. It will make your space look magical with little effort. Don't forget that with minimalism, quality plays a crucial role.
---
The Bottom Line: Gazebo Lighting Ideas
As you can see from this essential guide, there are plenty of ideas to take some inspiration. Don't forget to adapt the suggestions you find to your backyard's conditions and style.
For instance, if you don't like having open flames (setting torches or fire bows), consider getting LED torches to create a similar atmosphere (without the safety hazard).
Also, mix different intensity lights instead of a single powerful bulb to make the environment cozy and pleasant. If you live in a hot and humid region, you might struggle with bugs (especially mosquitoes).
If that's the case, consider enriching your gazebo with mosquito nets. Doing it the right way will add an elegant and luxurious touch to your outdoor space!