Spending time in your yard can be extremely pleasant. And if you can add a place where you can unwind and get away from the stress of your daily life, you should do it. If you are looking to create a space where you could spend quality time with your family and friends, shelter from the sun, or peacefully read a book, you should consider one of these ideas for a gazebo.
Gazebos have solid roofs that protect them from the elements, making them stable and attractive outdoor spaces. Despite all falling under the same category, gazebos can have different looks.
Once popular, these stunning structures are now coming back in decor style and landscaping. If you are one of those people who always wished to have one in their garden, you can rejoice.
The best thing about gazebos is their versatility: with the proper stylistic choices (and materials), they can complement any decor, from traditional to modern.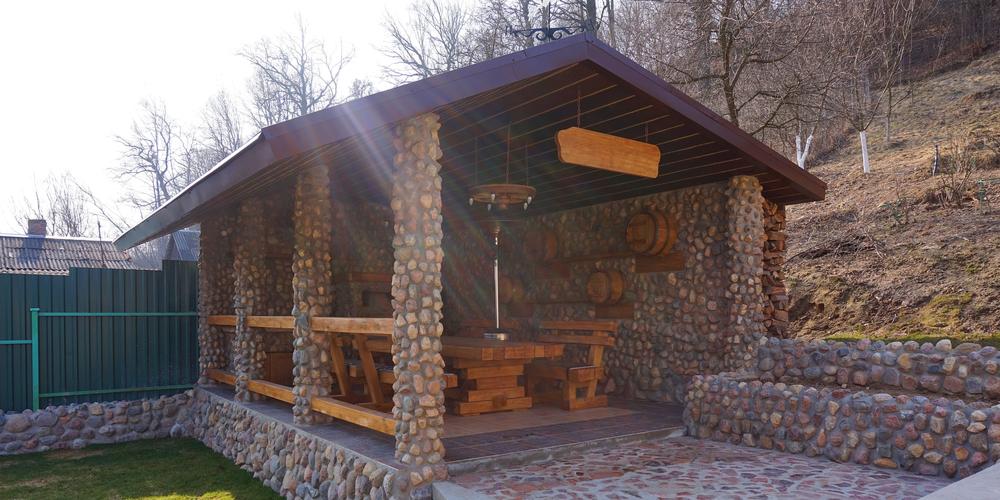 You can use them for various purposes: to host dinner parties, events, or gatherings or create an intimate space for meditation or reading. The proper choice of furniture and decorative elements will help you achieve your goals.
But if you don't know where to start, don't worry: we are here to help you! In this essential guide, we included our favorite ideas for a gazebo.
Follow our recommendations and pick the style that best suits your preferences (and your needs)! However, keep in mind that you might need a permit to build one. Ensure you check your local regulations before going all-in with this project.
---
Ideas For A Gazebo
Gazebos can meet many needs. To increase the aesthetic appeal of your backyard, we suggest you take full advantage of the nature surrounding your garden. There are several ways to do so.
The result will depend on what you have around. For instance, you might take advantage of your rock garden and add a wooden structure to complement the looks of your yard.
Consider adding drapes hanging on metal curtain rods for a more elegant effect. Complement your yard by using the natural setting and enhancing it through your gazebo.
Modern Style Gazebo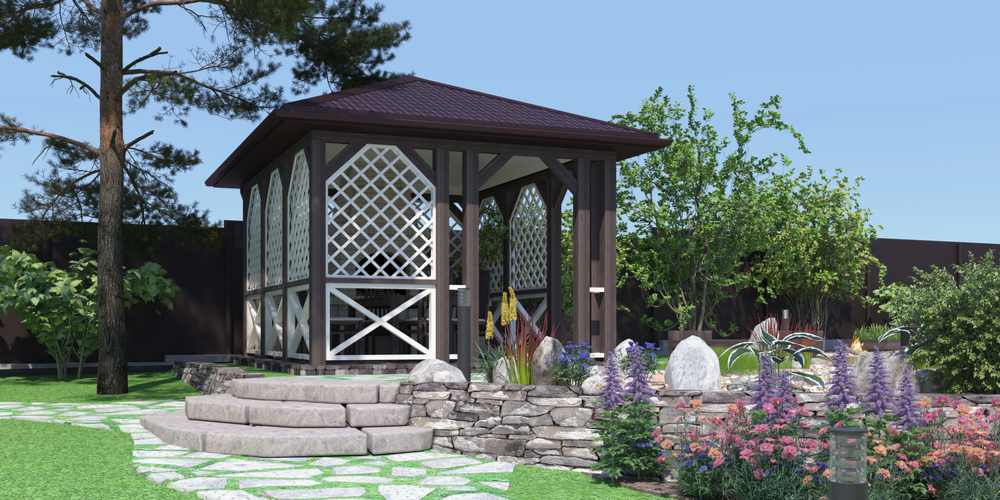 Add a modern-style gazebo with clear lines and minimalistic furniture to complement your plants and lawn. Consider making the space cozy but functional at the same time: avoid loud colors or patterns to keep the natural balance in place.
If you want to modernize your yard, consider planning your gazebo following an all-black theme: black frames with sleek corners, dark-colored tables and furniture, and a couple of plant vases can make a considerable difference.
Contrast that with pastel-color flowers and white cushions to add further elegance to your outdoor space.
Rustic and Glam Meet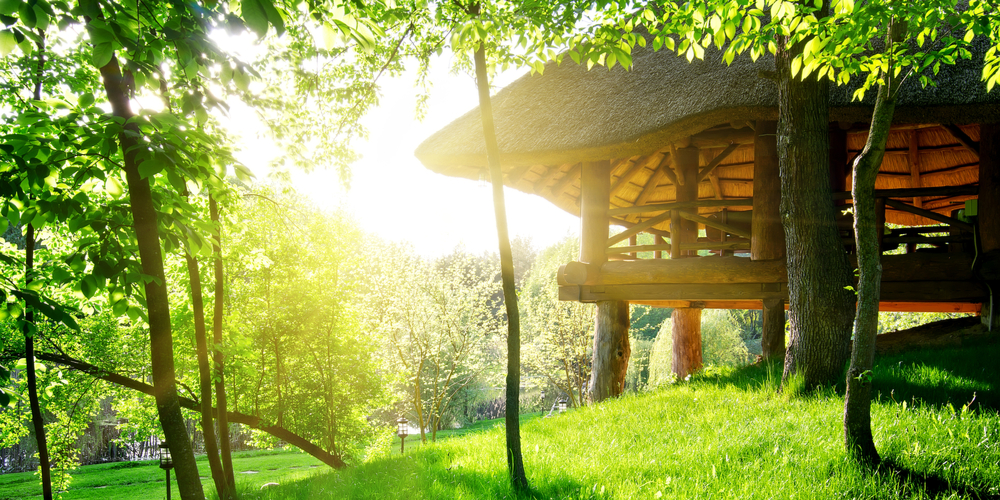 We all know that not everyone is into the modern style. Don't worry: you can keep things more natural using wood to make a cozy but glam gazebo. Keep the design simple and add some yellow string lights to add a "romantic" vibe to your structure.
After all, you should enjoy your gazebo at all times! For an even more elegant effect, consider installing plank flooring levels.
Doing so will add a cozy vibe and turn your outdoor space into your favorite place in your house.
Don't forget that gazebos should not only stay in the yard: you can complement your home's deck by adding comfortable furniture and making enjoying the shade more comfortable.
Make it Tropical!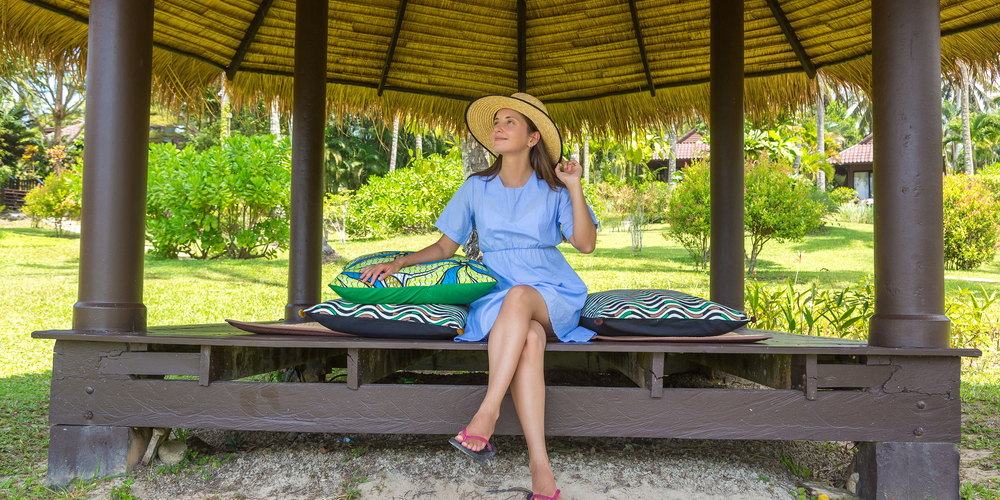 Depending on where you live, you might have a suitable setting to create a "tropical-looking" gazebo. Use flowy drapes and a straw-textured roof to get on vacation mode every time you set foot on this part of your yard.
Don't forget to add a comfortable sofa with lots of cushions to transport you (and your family) back to summer when you need a reminder of the good times.
Classic and Stylish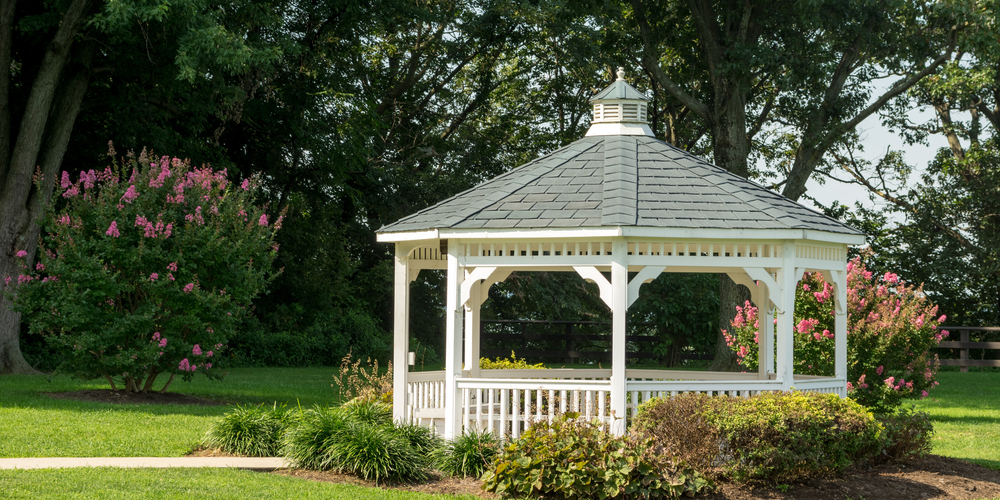 If you have a lush lawn in your yard, consider adding a gabled roof to your gazebo. Use a wooden structure to make it welcoming and add comfortable sofas. Outdoor rugs and floor lanterns are a plus, but they can make a considerable difference.
Alternatively, make an octagonal (or oval) gazebo and paint it white with a grey or blue roof. It is probably the first image that comes to your mind when thinking about gazebos.
And this traditional look can increase the appeal of your yard if you know how to do it.
Industrial Chic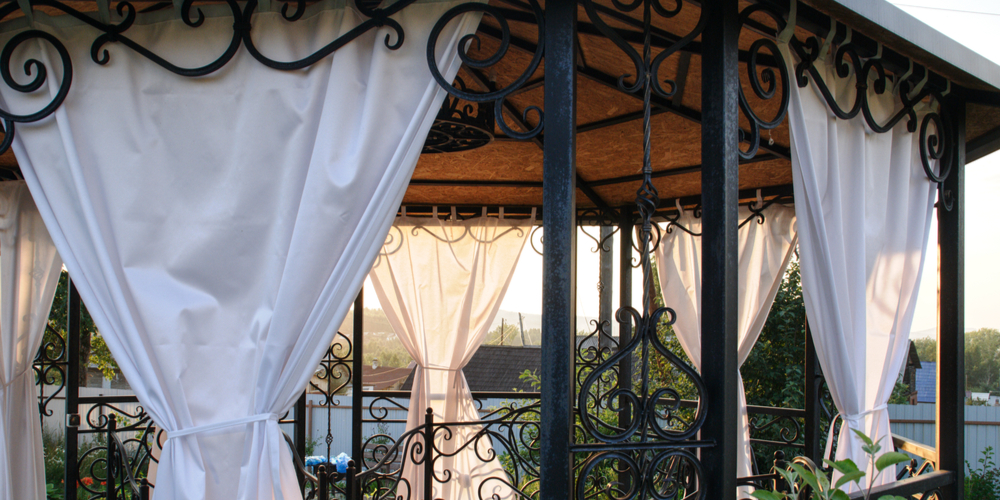 Industrial Chic is a decor style that gained traction over the past few years: it provides an appealing contrast to the natural environment. Plus, you can make it cozy and stylish.
Use heavy-duty aluminum to create your structure, and add hanging pots for a stunning effect.
Complement the space with grey and comfortable furniture. If you like a minimalistic style, use the industrial framework to your advantage and keep decorations simple.
---
Gazebo or Barbecue?
You don't necessarily have to choose between the two. With the proper planning, you should be able to transform your gazebo into a functional kitchen where to spend time with your friends and family while enjoying delicious food.
Consider including seating areas in your gazebo design. A stone-like structure with minimalist furniture will make the place elegant but cozy. If you like spending time cooking, this might become your favorite place to create delicious dishes for your family and friends.
Luxurious Enclosed Gazebo
Adding an enclosed gazebo might be an exciting idea. You might have seen the design already (if you read decor magazines or take your inspiration from Pinterest): this structure is stunning and luxurious. It ensures superior privacy and protection from the wind, sun, and bugs.
There are many ways you can enjoy such a gazebo. Consider getting window panels and installing a sliding door for an even more dramatic effect. For a modern and sleek appearance, use aluminum and polycarbonate to create the structure.
Consider adding plants and hanging pots to make it even more appealing.
---
Ideas For A Gazebo: The Bottom Line
This "Ideas for a Gazebo" essential guide should have opened your eyes to the many available options. Use our recommendations but accommodate them to your preferences.
Consider adding a large seating area or tapestry to spice up the decor. Play with plants, fences, gates and patterns (if you like) and consider taking advantage of the space surrounding you.
Elements like lights and natural materials can make a considerable difference in the final landscaping results! Be creative, and don't be afraid of experimenting: the ultimate goal is to enjoy your backyard as much as possible!