Any plants growing between pavers would be considered weeds since you don't want anything growing between your paving slabs. Killing weeds between pavers or around pavers edging can be done in various ways. You can use a knife to cut the weeds from between pavers. This method is the most environmentally friendly but is time-consuming, and the weeds will likely grow back each year.
A more effective solution may be to use a post-emergent product such as Roundup, which will kill existing weeds. Pre-emergent herbicides can also be used at the beginning of the growing seeds. These do not kill existing weeds but prevent new weeds from growing. Let's look at the best weed killer for pavers.
---
Things to consider before choosing the best weed killer for pavers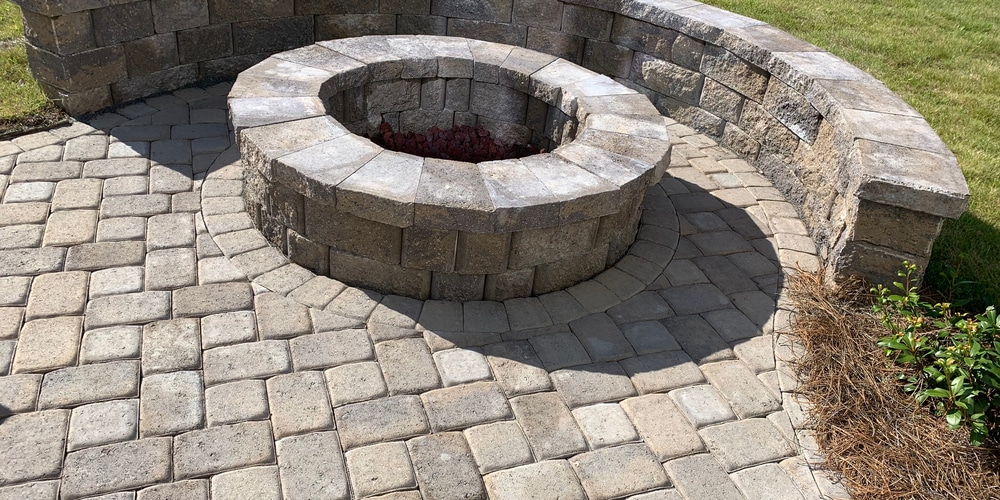 You should consider the other plants in your garden before using weed killer if you have desirable plants that herbicides may damage. You can use either a pre or post-emergent herbicide to kill weeds. Post-emergent is more effective on existing weeds that are growing between paving slabs.
Pre-emergent herbicides
Pre-emergent herbicides control weeds between pavers by preventing weed seeds from sprouting in the first place. Pre-emergent herbicides can be used around pavers in the early spring before weeds begins to grow.
The herbicide coats the weed seeds and prevents the seeds from germinating and growing into weeds. These types of products are best applied in the early spring or late fall. The exact timing will depend on your local climate and whether you want to control summer or winter weeds between pavers.
Post-emergent herbicides
If there are existing plants between pavers, then post-emergent herbicide can be used. Post-emergent herbicides are best applied after rainfall and can be used any time during the growing season. Post-emergent herbicides work by killing existing weeds and preventing new ones from sprouting up between pavers. Most post-emergent herbicide products have labels that specify how to use them around pavers.
Roundup is one of the most common post-emergent herbicides used by homeowners. It contains chemicals such as glyphosate, which is non-selective, which means they can damage desirable plants if you apply them incorrectly. For best results, spray the weeds whenever they are growing actively and before the weed seeds are released into the air. This is when the herbicide is most effective.
---
The Best Weed Killer for Pavers
Here are our two favorite weed killers to help you get rid of weeds growing between your paving slabs.
To pick one: Ortho GroundClear Weed & Grass Killer
Ortho GroundClear Weed & Grass Killer Ready-to-Use - Grass...
Acts on contact—see results in 15 minutes
Ortho GroundClear Weed & Grass Killer works on all types of weeds and grasses
OMRI listed for organic gardening
Rainproof in 2 hours (upon drying)
Use on hardscapes, landscape beds, and around vegetable gardens (apply directly to weeds)
Ortho ground clear weed and grass killer is fast-acting, and you'll see results after just fifteen minutes. This product can be used on all types of broadleaf weeds and grasses and is also suitable for use on patio pavers.
It's best to use the product on a dry day, but it becomes rainproof 2 hours after drying. It's also listed as organic and can be used for various purposes, including on hardscapes, landscape beds, and in vegetable plots.
Pros
Can be applied directly to weeds
Fast-acting
Rainproof after 2 hours
Suitable for use on pavers
Certified for organic gardening
Top pick two: Roundup Ready-To-Use Extended Control Weed & Grass Killer
No products found.
Roundup is one of the most popular products amongst gardeners. This product is a dual-action formula that is fast-acting. It can be used in various situations, including to kill weeds between pavers. The formula kills mature weeds to the root so that they don't regrow. It also contains a pre-emergent that will stop seeds from germinating and prevents weed growth for up to four months after use. The product is very easy to use and comes in a spray bottle.
Pros
Fast-acting
Kills weeds to the root
Can also be used on grasses
Easy to use spray bottle
Dual action formula; contains both pre and post-emergent herbicide
---
Conclusion
If you want to kill weeds on your paths or patio, then the best weed killer for pavers is post-emergent herbicide. Post-emergent herbicides are best used when you already have existing weeds between pavers. They work by killing the existing weed plants, but they do not prevent new weeds from sprouting up between pavers.
Roundup is popular among homeowners because it works on most types of weeds and is readily available from hardware stores. Roundup is a post-emergent product that can be used on mature weeds between pavers.
Related:
Last update on 2022-10-23 / Affiliate links / Images from Amazon Product Advertising API