Bermuda grass is an excellent warm-season grass that is tough and resilient. 
It looks great and is the perfect option for people who use their yards regularly as it can cope with lots of traffic. If you have kids and pets, Bermuda grass may be the right option for your yard.
Bermuda grass is fast-growing, and you'll require the correct type of lawnmower to keep it in check. Let's look at the best lawn mowers for Bermuda grass.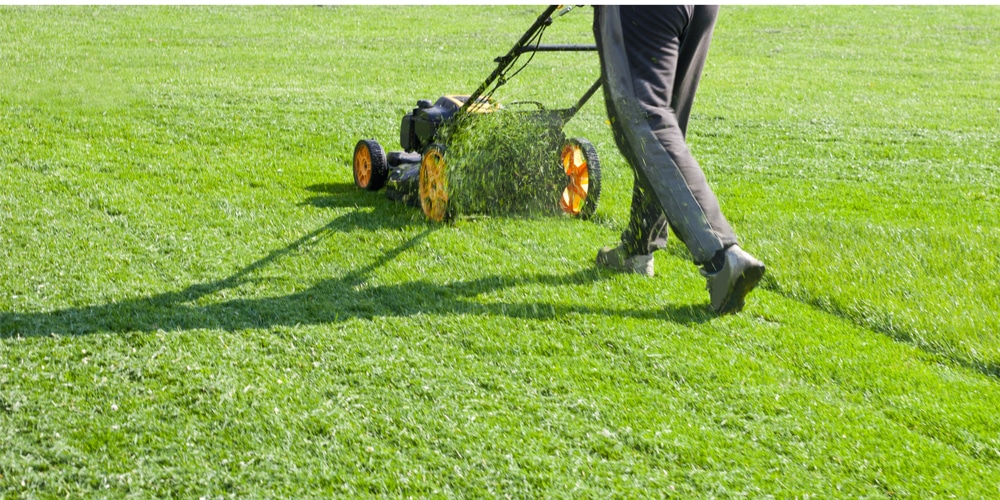 Bermuda grass is a warm-season grass that was imported to America from Africa in the 18th century. It's incredibly resilient and can cope with hot summers and cold winters. It can tolerate the scorching sun, drought, and frost and can grow in various soils. 
Bermuda grass is an excellent choice for lawns, particularly in the southern states, where temperatures soar in the summer. It can also withstand heavy use and is popular with families. 
Bermuda grass can grow rapidly and needs to be mowed regularly, especially in summer. This will help to keep it neat and tidy. 
Let's look at some of the best lawn mowers for cutting Bermuda grass. Whether you're looking for a riding mower, a push mower, or a rotary mower, we have the perfect picks for you.  
Best Riding Mower for Bermuda Grass
A riding mower can make cutting Bermuda grass a lot easier, especially if you have a large area to cut. Bermuda grass is dense and thick, and using a riding mover will allow you to cut your grass more efficiently. 
A disadvantage of using a riding mower is that they can compact the soil, which may cause your Bermuda grass to develop thin patches. To resolve this issue, you can try aerating your lawn as this will help with the flow of nutrients, air, and water and allow your yard to remain in good health. 
Husqvarna YTH24V48 48 in. 24 HP Briggs & Stratton Hydrostatic Riding Mower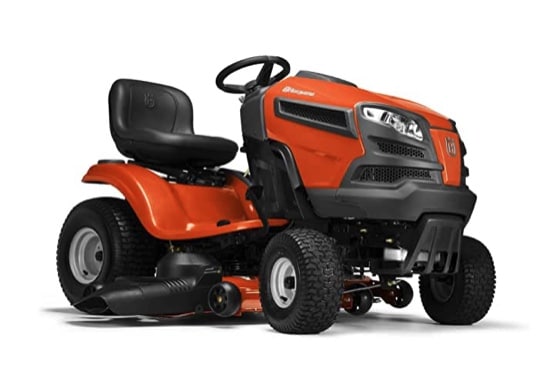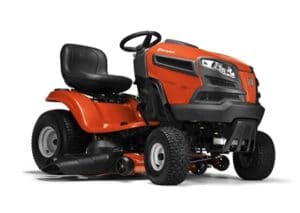 The Briggs and Stratton 24 HP riding lawn mower features a powerful twin-engine, which is very easy to start. It's operated with a foot pedal which allows you to change speed and direction easily. You'll be able to maneuver around obstacles such as washing lines, stones, and fences while keeping both hands on the steering wheel.
This riding lawnmower also has cruise control, allowing you to maintain a consistent speed even on rough terrain. The electric cutting deck engagement will allow you to mow in tight spaces effectively. This riding mower has a 48 in. triple blade and a reinforced cutting deck. It uses air induction mowing technology and has four anti-scalp wheels. 
Simplicity 2691337 Broadmoor Mower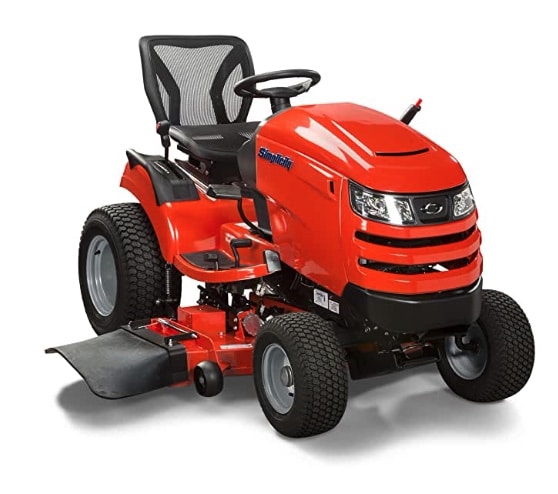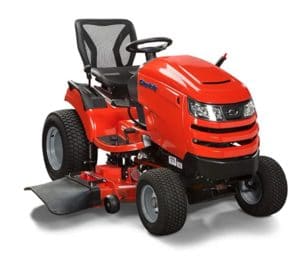 The Simplicity Broadmoor mower is very well made, durable, and long-lasting. It's made from high-quality components and has a rear suspension for added comfort. 
This riding mower is fun and easy to use. It has a selection of mowing speeds and an ergonomic mesh seat, which will help keep you cool and comfortable.
This riding mower can be used to cut Bermuda lawns, and it will create an even scalp-free cut. It has full-width rear rollers to help you achieve a smooth finish. The Broadmoor mower is very easy to control as it's automatic. 
Troy-Bilt Pony 42X Riding Lawn Mower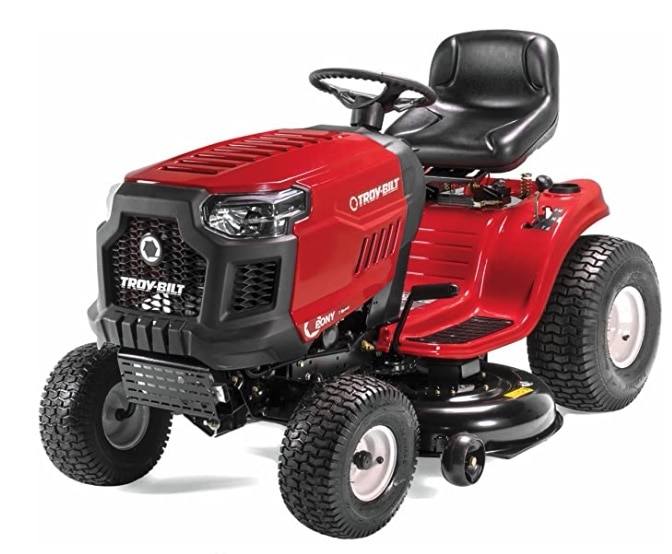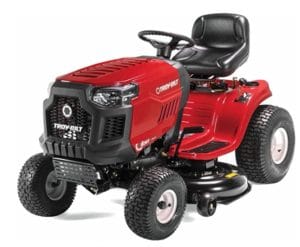 The Troy-Bilt Pony Riding Lawn Mower is great for cutting large Bermuda lawns. This lawnmower has an excellent 420cc Troy Built engine which is powerful. It's straightforward to use and can be driven at a choice of seven speeds.
This riding mower is very comfortable as it has a padded seat; it's also durable and long-lasting as it's been manufactured with a durable steel front axle. You can even use this riding lawnmower to mow in reverse if necessary.
Best Push Mower for Bermuda Grass
There are various push lawn mowers on the market; some are electrical, others powered by gas or petrol. There are also cordless push mowers that are powered by an electric battery. Push mowers are generally easy to use. 
Reel mowers are also commonly used to cut Bermuda grass as they won't damage the lawn. They have a bed-knife that pinches the grass and cuts it using a scissor-like action. Reel mowers are great for low-cut lawns and often have at least seven blades that move vertically. 
Greenworks G-MAX 40V 16'' Cordless Lawn Mower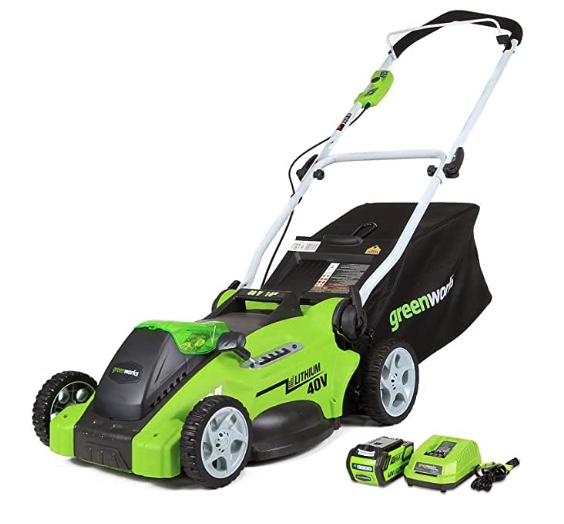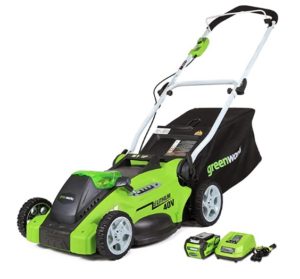 This Greenworks cordless lawn mower is an excellent push-along mower that will effectively cut Bermuda grass. It has a G-MAX 40V 4Ah Li-Ion rechargeable battery that can also be used to power other Greenworks garden tools.
You'll be able to change the cutting height with this mower as it has a five-position height adjustment lever which allows grass to be cut to between 1-1/4 inch and 3-3/8-inch. This makes this mower perfect for all types of grass.
The Greenworks lawnmower has a rear bagging or mulching options. It also has a 16-Inch cutting deck that allows you to maneuver around objects and through small spaces. 
Craftsman M105 140cc 21-Inch 3-in-1 Gas Powered Push Lawn Mower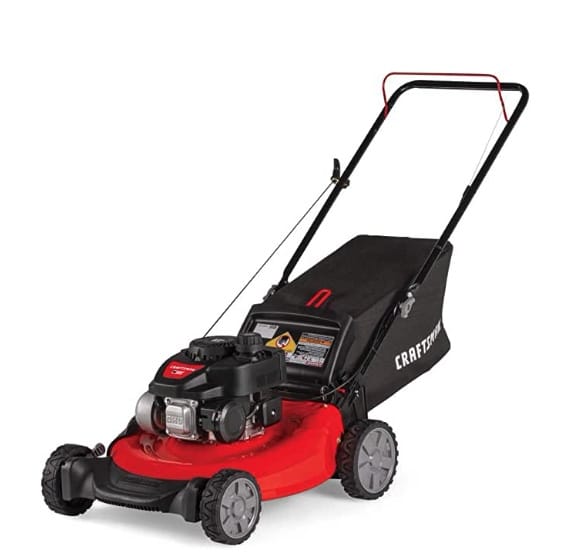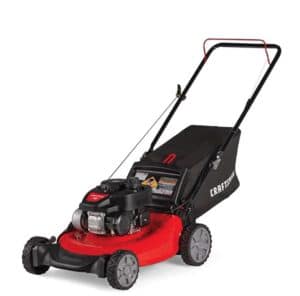 The craftsman push-along lawnmower is gas-powered and has a width of 21 inches. It's perfect for cutting Bermuda grass and has a minimum cutting height of 1.25 inches and a maximum of 3.75 inches. 
It also has a choice of side discharge, rear discharge, or mulching capabilities. This mower is lightweight and easy to use. Its also made from high-quality components and is durable and long-lasting.
Best Rotary Mower for Bermuda Grass
Rotary lawnmowers have blades that rotate very fast and cut with a machete-like action. Rotary lawnmowers have one blade which spins horizontally parallel to the ground. These types of mowers suck the grass as they cut and are great for cutting Bermuda grass.
Rotary mowers are powered by either gas or electricity and can be push along or riding mowers. Self-propelled varieties are the most popular as they are very easy to use as well as being practical and fun. 
American Lawn Mower Company Push Reel Lawn Mower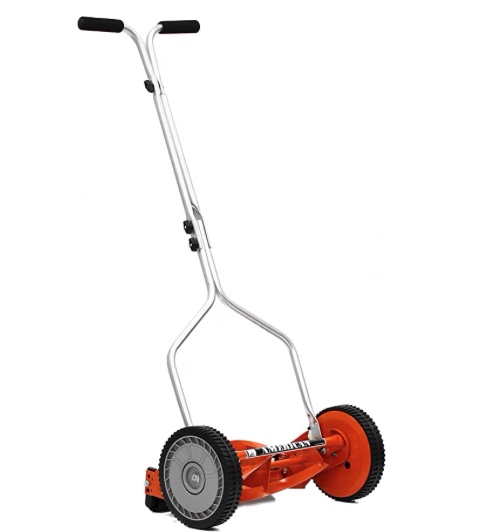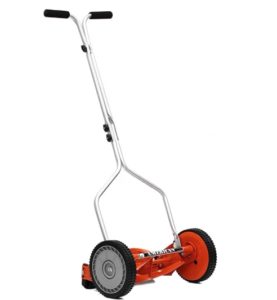 The American Lawn Mower Company has created a fantastic reel lawn mower which is great for cutting Bermuda grass. Reel mowers are often used on golf courses where Bermuda grass grows. 
This lawnmower has a four-blade reel, is easy to push along, and has a cutting width of 14 inches. It can be maneuvered around objects and turned easily. This mechanical lawn mower also has an adjustable blade so that your grass can be cut between 0.5 inches and 1.75 inches. 
Reel lawn mowers are an environment-friendly alternative to electric or gas-powered lawnmowers. They are pollution and noise-free, and relatively low maintenance, as well as being lightweight and very easy to use. This lawnmower can even be used to effectively cut longer grass that's up to four inches tall.
LawnMaster MEB1116K Electric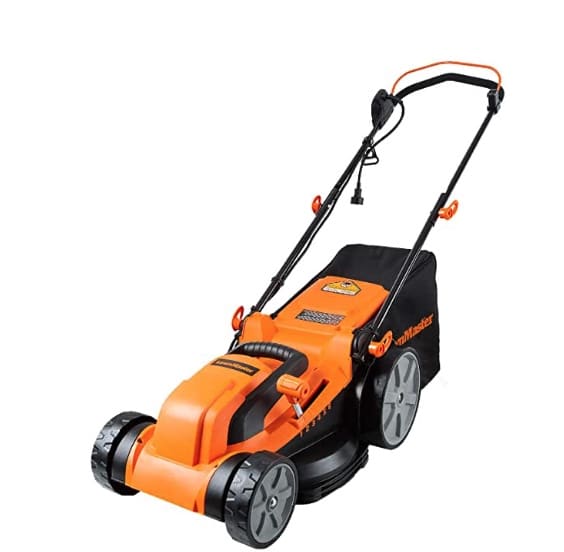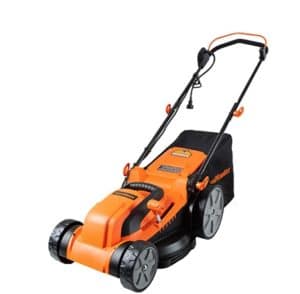 The Lawnmaster electric lawnmower has a 6-INCH Cutting Width and an adjustable cutting height of between one and three inches. It comes with a durable steel blade and a powerful motor. The handle is also adjustable, making this lawnmower very easy to use. 
This lawnmower is easy to use and control. Its lightweight can be used to cut small to medium sized lawns.
What is the best mowing height for Bermuda grass?
The best mowing height for Bermuda grass depends on which variety of Bermuda is growing in your yard. Common Bermuda grass has a height of between 1.5 to 2.5 inches and a coarse texture. It's a good idea to regularly cut your grass to keep it at around this height. If you let your grass grow very tall, it may be harder to cut. Bermuda grass is brown with a green tip, so if you don't keep on top of your grass cutting, you could end up with a brown looking lawn.
There are many different Bermuda grass hybrids available such as the Tifway 419 variety. This grass has a much more delicate texture, and it's recommended that it's cut slightly closer to the ground. Keeping Tifway 419 Bermuda grass at a height of 0.5 to 1.5 inches is best.
What is the best way to cut Bermuda grass mulch or bag?
It's best to start mowing your Bermuda lawn in early spring when the grass begins to turn green. The first time you cut your grass each year, cut it short as this will help to get rid of the dead growth. 
You should mow your lawn regularly throughout the growing season, from April to September. It's a good idea to mulch Bermuda grass. Letting the cut grass rot down into the soil will help your lawn grow.
When cutting your grass, make sure that your lawnmower blades are very sharp and straight.  A bent lawnmower blade will cause the grass to cut unevenly.
This will protect the grass blades from becoming discolored or damaged.  
Choosing one of the above best lawn mowers for Bermuda grass and cutting your grass regularly will help you achieve a thick, green, healthy lawn.  Here's our guide to making Bermuda thicker.
It often comes down to personal preference which lawnmower you choose. 
Some gardeners love rotary mowers, while others swear that reel lawn mowers are the most effective. Whichever type of lawnmower you select, ensure that your blade is sharp so that you can effectively mow your Bermuda lawn.