If you're looking to add some spice to your life and some color to your garden, you may be considering planting a pepper plant that has purple fruit. Purple peppers are a great addition to any vegetable or ornamental garden as they are vibrant and unique. They produce beautiful little flowers which later grow into fruit.  Many types of purple pepper are super hot.
Hot purple peppers can be added to many dishes, including salads, salsas, and sauces. Peppers are rich in vitamin C and are also an excellent source of antioxidants. Let's look at some of the most popular purple super hot pepper types.
---
Purple Cayenne Pepper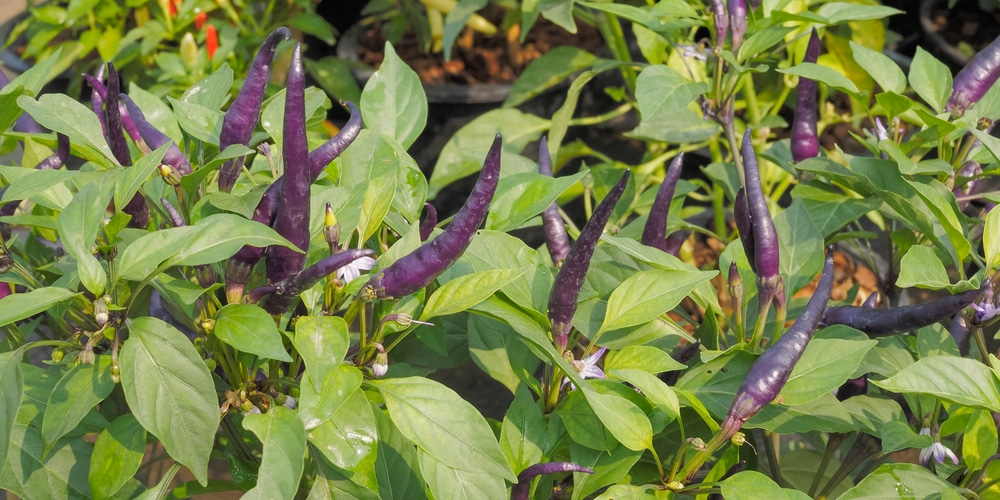 Perhaps one of the most well-known and popular purple pepper plants is the Purple Cayenne Pepper. This plant is relatively small and can be grown in a pot in your yard. It's also one of the hottest cayenne pepper varieties available, so be warned!
The purple Cayenne plant produces beautiful purple flowers, which cover the entire plant and develop into small, slim, and tapered chillis. The chilies are a dark-violet color and are excellent in sauces and hot chili dips.
---
Purple Prince Pepper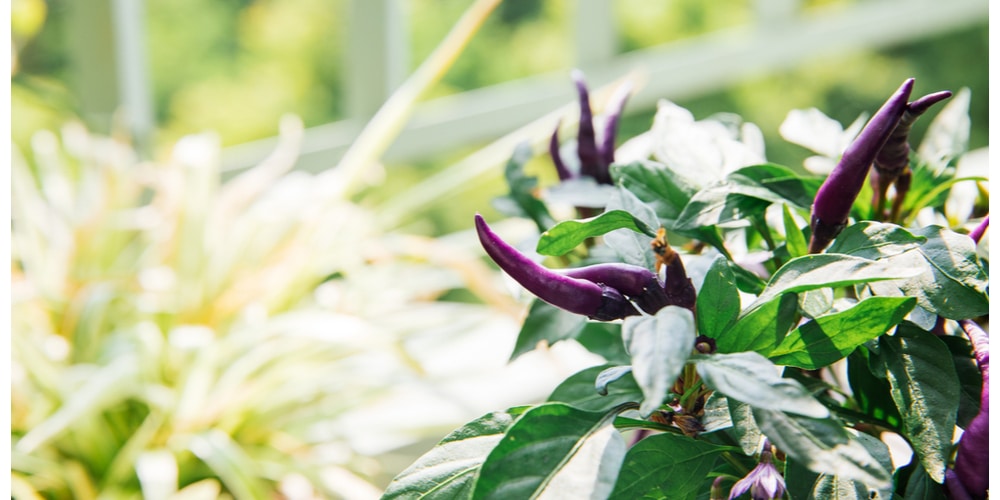 The Purple Prince Pepper has gained the nickname 'pretty in purple' due to its lovely purple fruit, purple leaves, and stems. This plant is small in stature, growing to just two feet in height. It also looks great and produces a large crop of pretty hot peppers. This pepper plant's fruit starts off purple and turns orange and then crimson as they mature and ripen.
---
Purple Bhut Jolokia Ghost Pepper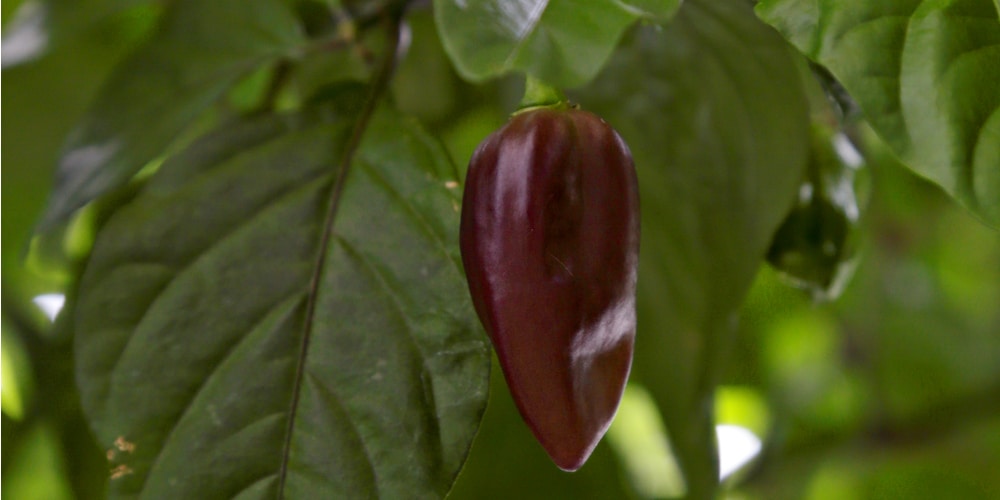 The Purple Bhut Jolokia Ghost Pepper was once regarded as the hottest pepper globally, as it is rated as having a Scoville heat scale of over 1.3 million. That is about 300 times hotter than a jalapeno pepper, so it is not for the faint-hearted.
These hot pepper plants were initially grown in northeast India. This variety of pepper plant grows best in a hot and humid environment. They have a long growing season, and if cared for correctly over the winter, the plant can live for years.
---
Purple Jalapeno Pepper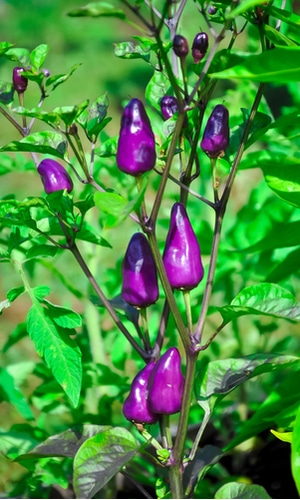 Purple Jalapeno Peppers are sweet yet super hot and have a Scoville heat range from 2500 to 8000. These peppers are edible if you dare and have a sweet and spicy flavor. They are popular throughout the world. Many people grow the Purple Jalapeno Pepper as an ornamental plant as it adds color to your garden. During the first stage of growth, these peppers are green. Over time they will ripen and turn purple and then red.
The purple jalapeno pepper plant can have fruit in different stages of development at the same time. This means that the plant can have chilies that are green, purple, and red.
---
Purple Cluster Pepper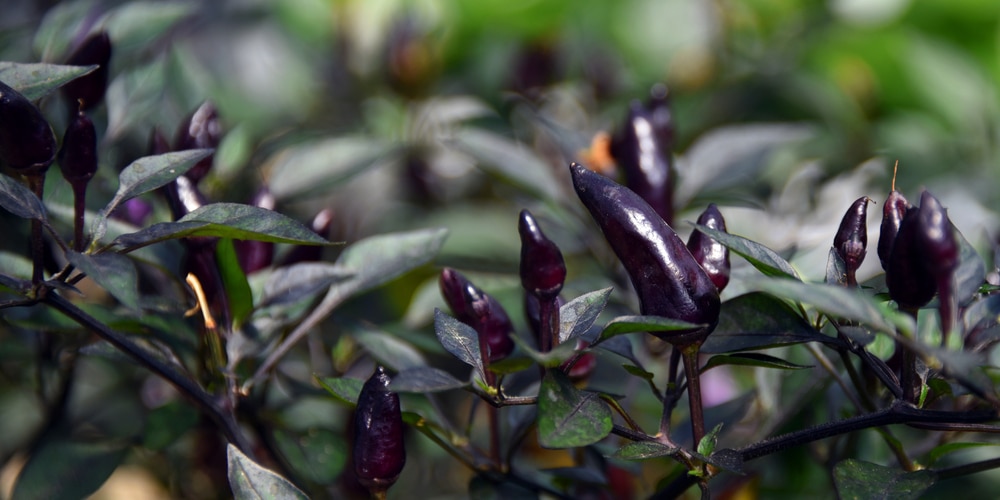 The Purple Cluster pepper is too hot for most people to eat, as it has a Scoville heat range of between 5000 and 30,000. The plants are grown for their ornamental value, as the fruits look stunning as they mature and turn from purple to red.
Purple Cluster peppers are a tall pepper variety that can reach two feet in height and takes approximately eighty days to reach maturity.
---
Peruvian Purple Pepper
As you've probably guessed, The Peruvian purple pepper plants are native to Peru. It's very spicy and has a Scoville heat range of up to 30,000. The plants bloom from July to September with beautiful tiny purple flowers.  It's one of the hottest purple pepper types.
The color of the plant's leaves will also darken during this time due to exposure to sunlight. This pepper variety is unique due to its dark purple stems and leaves. After flowering, the plant will produce peppers that have an eye unique cherry-like shape. It takes about ninety days for the fruit to grow and ripen.
---
Mr. Purple Hot Pepper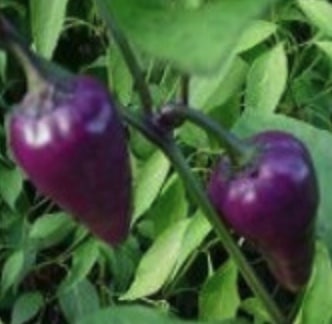 Mr purple hot pepper is an excellent plant to grow indoors on a sunny windowsill as it's small in size and isn't too spicy. These chilies are mild and can be used in various recipes, and are often used in salads and pickles. The pepper plant has green stems and light green leaves that look slightly purple in places. The peppers are purple and later turn red as they ripen and mature.
Mr. Purple Hot pepper has light purple flowers which have a white center and look attractive. They flower throughout the summer before producing fruit.
---
Purple Tiger Pepper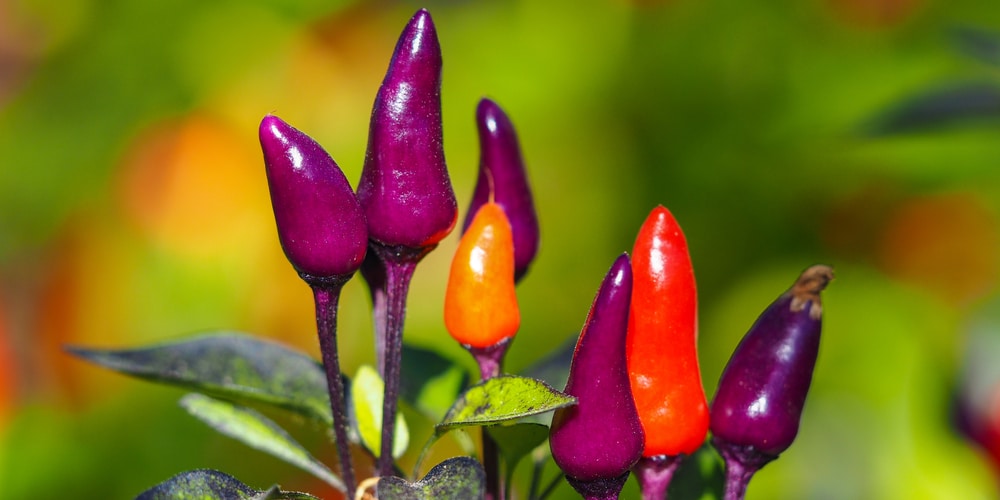 The beautiful Purple Tiger Pepper plant has tri-colored foliage, making it a popular plant and a great addition to any yard. These plants remain relatively small and spread like a bush. They take ninety days to reach maturity, producing purple fruits which will turn red if not harvested at the correct time.
---
Pretty Purple Pepper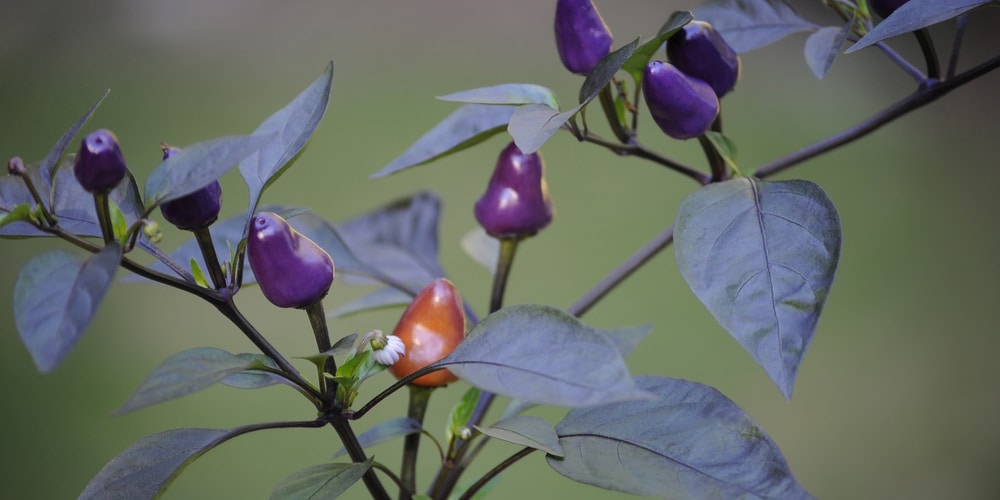 The pretty purple pepper is a medium-sized perennial that grows to about two feet in height. This pepper variety produces purple tear-shaped fruit, which turns red when ripe. The variety also has light purple flowers and a slight purple tint to the foliage.
---
Bolivian Rainbow Hot Pepper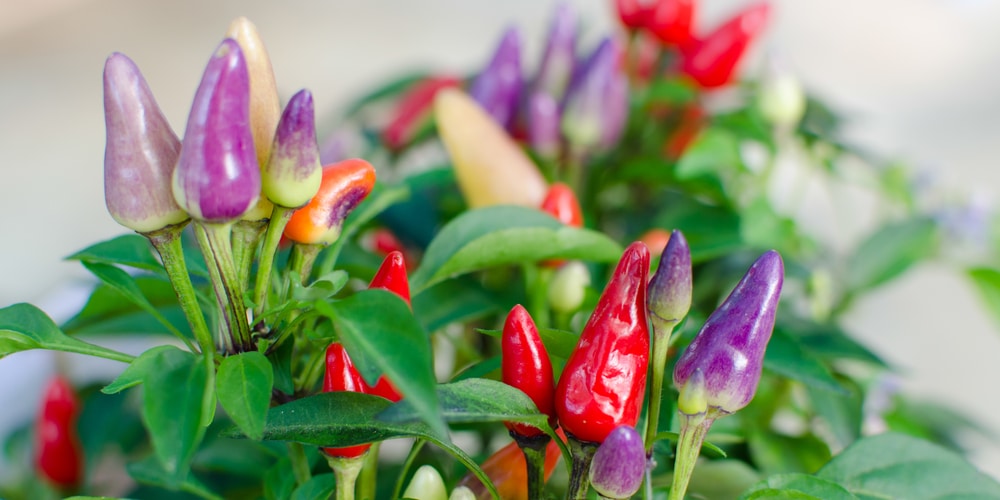 The Bolivian Rainbow Hot Pepper originates from Bolivia and other South American countries. These plants produce a high yield of scorching peppers that are small in size. Although spicy, the chilies are edible and are used in many traditional Bolivian dishes.
The Bolivian Rainbow Hot Pepper likes to be planted in strong direct sunlight and is fast-growing, reaching a height of up to four feet. The chilies are purple turn red when they ripen. This plant also has a purple hue to its stems and leaves.
---
Conclusion
Purple pepper plants make a great addition to any garden as they produce lovely flowers and attractive fruit throughout the summer. Some people grow purple pepper plants to decorate their yard rather than for eating, as many of them are super hot.  Pepper plants do not do well in the cold, so start them early and inside if you live in an area with four distinct seasons.
Most of the above super hot pepper plant types produce purple fruit that will turn red as it ripens. If you want to use the peppers when they are purple to add color to a dish, you can harvest them before they start turning red. Frequent harvesting will also encourage your plant to produce more flowers and fruit.