Fancy the color of royalty in your indoor space? Succulents with purple flowers are your answer. Here are 9 of them you can take home right now:
1. Sempervivum 'Raspberry Ice'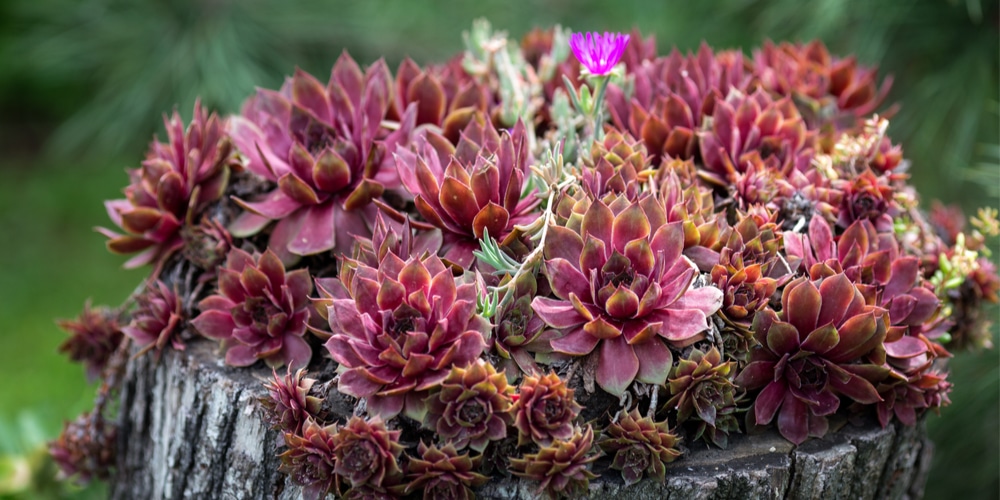 Forget for a moment that a Sempervivum practically lasts forever- at first glance, you'll immediately fall in love with the green-purple color combination dancing on the leaves!
And if that's not enough for you to buy it immediately, there's the snow-like effect that earns it the nickname 'Raspberry Ice.' Get the conditions just right, and you'll be rewarded with bunches of bright purple flowers with emerald green centers.
Caring for a Sempervivum is easy enough. Just put your succulent in a spot where it gets plenty of sun. Water occasionally, then sit back and enjoy the bee- and butterfly-attracting blooms.
---
2. Pachyveria Powder Puff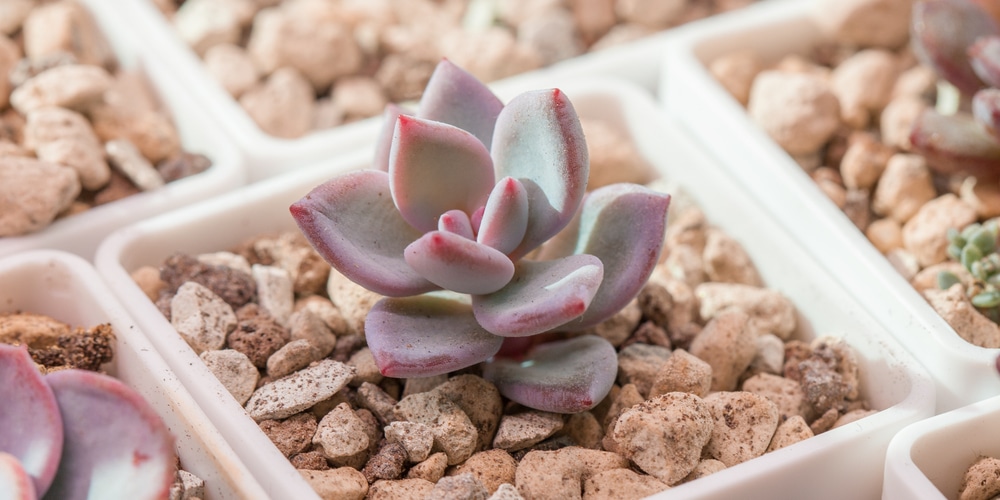 This succulent is as cute as its name and sports subdued yet striking pastel tones that are marvelous to watch. One of the best parts of owning a Pachyveria Powder Puff is experiencing a cluster of tiny purple flowers blossom like there's no tomorrow!
It only grows up to a maximum height of 15 centimeters and looks like a tiny shrub come adulthood. If you can't wait for the purple flowers to show up in summer, you can place your plant in a sunny spot where it's relatively cool and watch the leaves develop a violet accent.
---
3. Tradescantia Pallida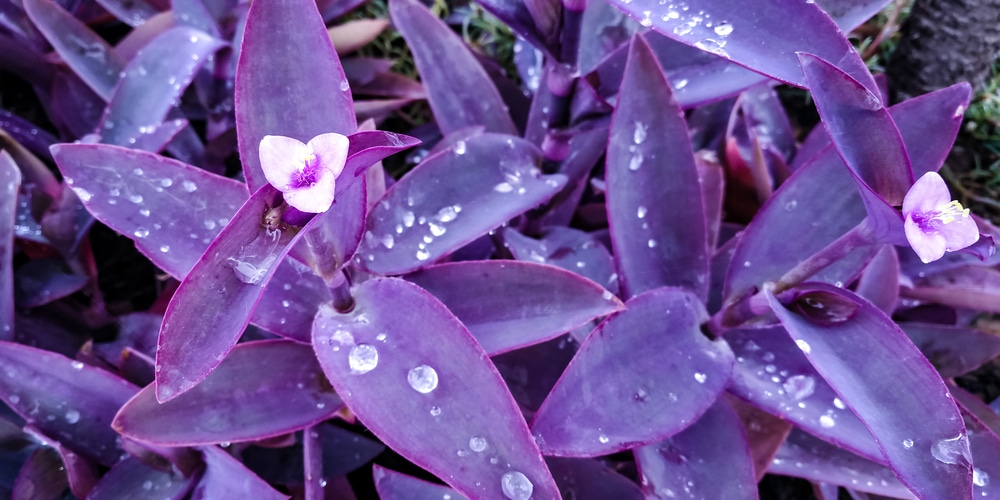 One of the few succulents that don't look like a succulent, the Tradescantia Pallida sports long and broad leaves and works great as a ground cover.
At first, the leaves are green by default. Over time and with constant exposure to bright light and sun, the leaves take on an intense purple hue. This makes the light purple flowers arranged in a tri-leaf formation stand out even more!
The only thing a Tradescantia Pallida doesn't like is cold, so make sure to put it in a place that's free from cold drafts and spells.
---
4. Graptoveria 'Debbi'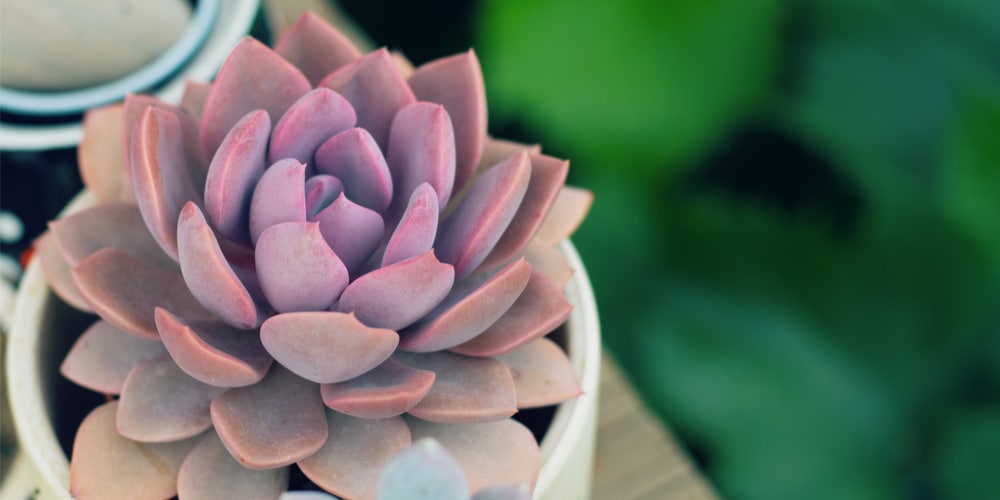 'Graptoveria' is actually an amalgam of two species, the Graptopetalum and the Echeveria. You can say that it's the best of both worlds when it comes to being easy to care for and looking absolutely marvelous no matter the season.
'Debbi' is a special mention as it's one of the best succulents with purple flowers. However, you should also take note of its rich and gradient purple leaves that vary in intensity. The more sunlight you give the deeper the shade.
Graptoveria 'Debbi' sends out a long stem, and along those are mini versions of itself, but in flower form. So get ready for a fast grower that can brighten up any space when you buy this hardy succulent!
---
5. Sedum Dasyphyllum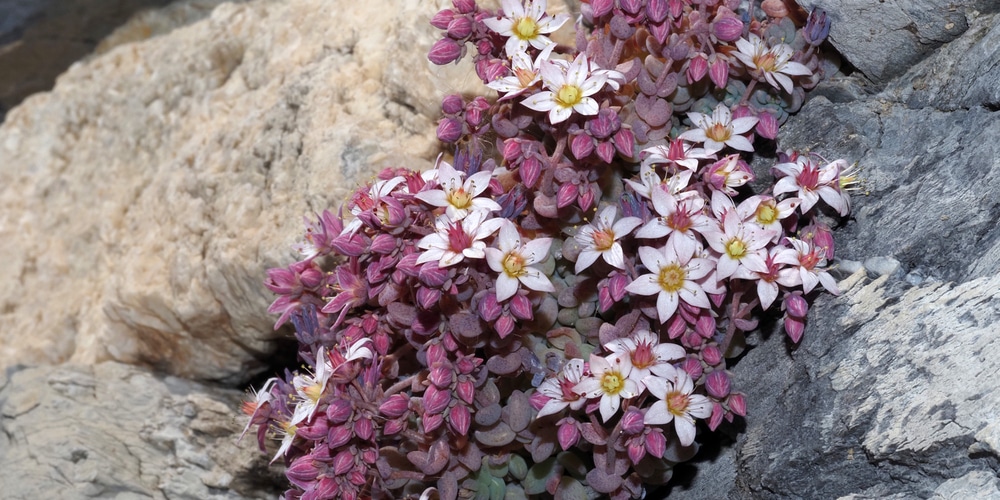 You'd be forgiven to think that the Sedum Dasyphyllum is a green raspberry- after all, it has the same size and form as the fruit. Instead of trying to eat it, though, you can set it down in the soil and enjoy dainty and cheerful purple flowers in the months of June and July.
The 'Corsican Stonecrop' is a native plant in the hot and dry Mediterranean regions and thrives better in the outdoor environment rather than indoors. Sunlight plays a vital role in turning the succulent's normally green leaves to an attractive purple hue.
If you want your succulents small and cute, then the Sedum Dasyphyllum should be on top of your list. Nurture it and you'll be rewarded with a tough plant that stays around for years.
---
6. Ghost Echeveria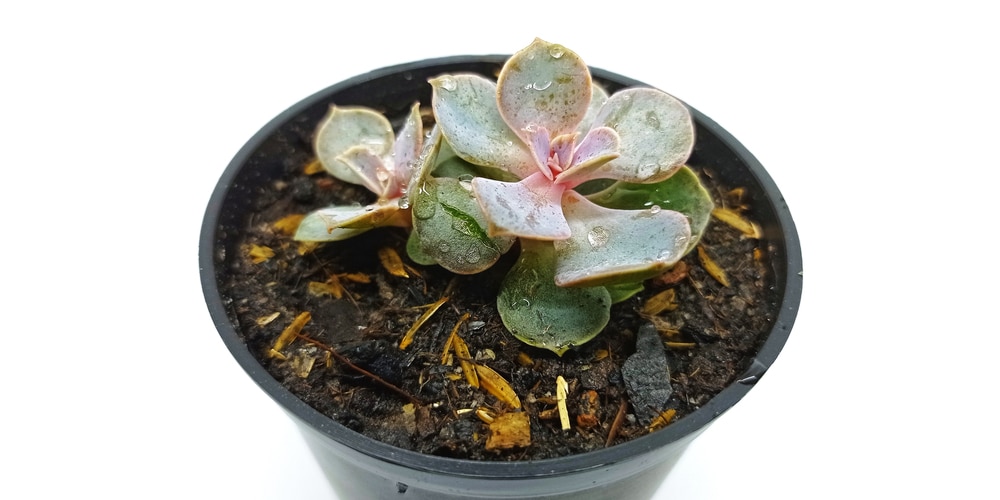 No, this isn't a succulent that will haunt you at night. The reason why it's called as such is the almost-whitish rosette leaves that take on a familiar silhouette.
Ghost Echeveria, otherwise known as Echeveria Lilacina, is a beautiful and graceful succulent. By itself, the silver-grey hue foliage gets a pink tinge at the edges when exposed to strong sunlight, and you'll love how they are arranged in an artistic pattern.
As the plant matures, it will start sending out thin and pointed purple leaves, and soon bright red and purplish flowers emerge. As for its needs, you just have to put it in a bright and sunny location, and it will be perfectly happy.
---
7. Graptoveria 'Bashful'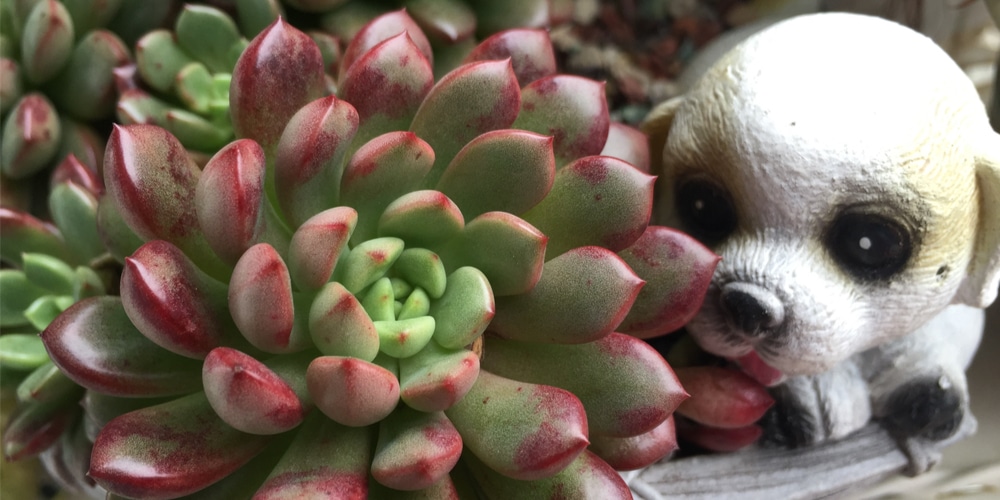 'Bashful' is an apt description of a succulent that goes from pastel green to rose red in a matter of weeks. The secret to its transformation is, you guessed it- sunlight, which the succulent should definitely get in copious amounts.
Instead of stems, this hybrid puts out thick spoon-like leaves that branch out everywhere. Flowering is a rare occurrence for Graptoveria Bashful, but when it does, it's a sight to behold and lasts a bit longer than the others.
The succulent can usually be seen outdoors, but they don't like the cold. During winter, it's best to put them inside, so they continue to live.
---
8. Echeveria Black Prince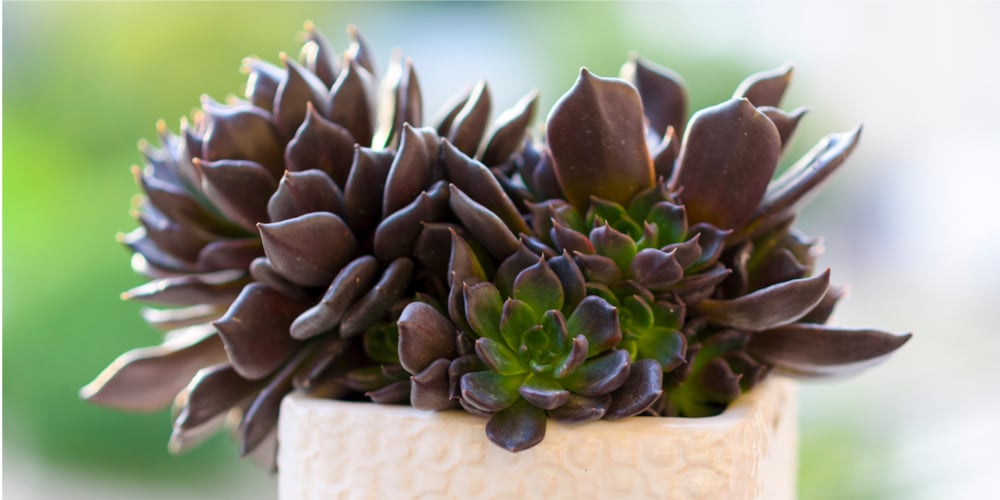 The Echeveria Black Prince is regal, proud, and definitely one of the most eye-catching succulents out there.
Its leaves sport black licorice-like colors and are similar to that of a black M&M candy. If that's not enough to make you want to take it home, peek closer and you'll see fresh green hues smack dab in the middle of the plant.
When it's happy you'll soon see thick green stems giving way to black mini leaves, and at the top are purplish-red clusters of flowers. A fitting crown for a princely succulent indeed!
---
9. Echeveria Perle Von Nurnberg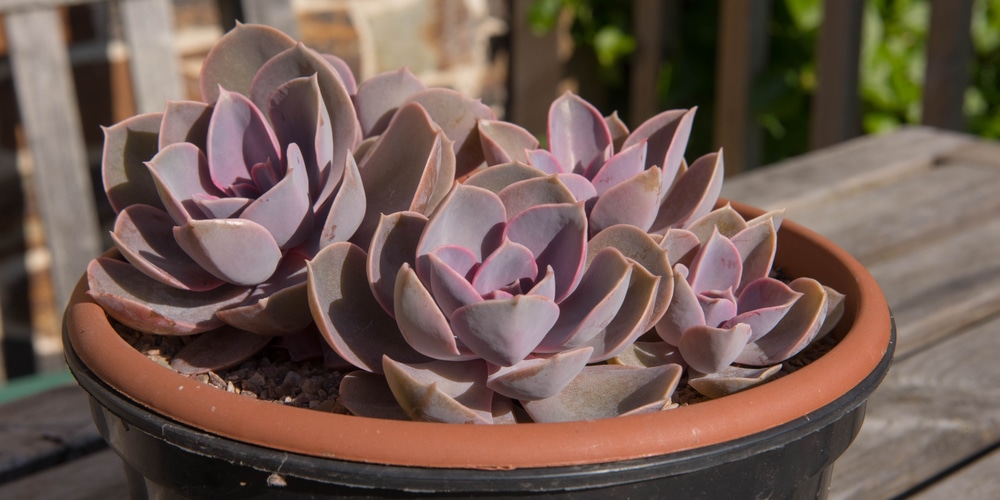 Perle von Nurnberg will definitely appeal to your senses- it has an ethereal combination of hues that range from purple to pink, depending on how much light it gets every day. In addition, you'll love how active it is during the growing season as it puts out leaves and flowers very easily!
The succulent has a gray base that quickly changes hues depending on the environment. Come summertime; the Perle Von Nurnberg sends out long stems and tiny purple and pink flowers with thick petals. Care is only a matter of putting the plant in the sunniest part of your house.
---
Conclusion: Succulents with Purple Flowers
There are many great succulents with purple flowers. Or, you could check out our article on Hibiscuses with purple flowers.
You may also like:
​​​​​​