Houseplant fertilizers are available as a liquid concentrate, slow-release pods, or in granular form and provide plants with the essential nutrients they need. The best houseplant fertilizers will help your plants thrive, produce new growth, and look great.
Many homeowners struggle when it comes to choosing the best kind of fertilizer for their plants. There's so much choice available. Do you go for an all-purpose liquid plant food or something more specific? Chemical-based or organic? Here's a roundup of the best houseplant fertilizers to help your plants thrive. We'll also look at what to consider when choosing a product that's right for your plants.
---
The Best Houseplant Fertilizers
Houseplant fertilizer provides nutrients, vitamins, and minerals to your plants. You must regularly fertilize your plants because they don't have a supply of organic matter as outdoor plants do. Here are our top five houseplant fertilizers:
Miracle-Gro Indoor Plant Food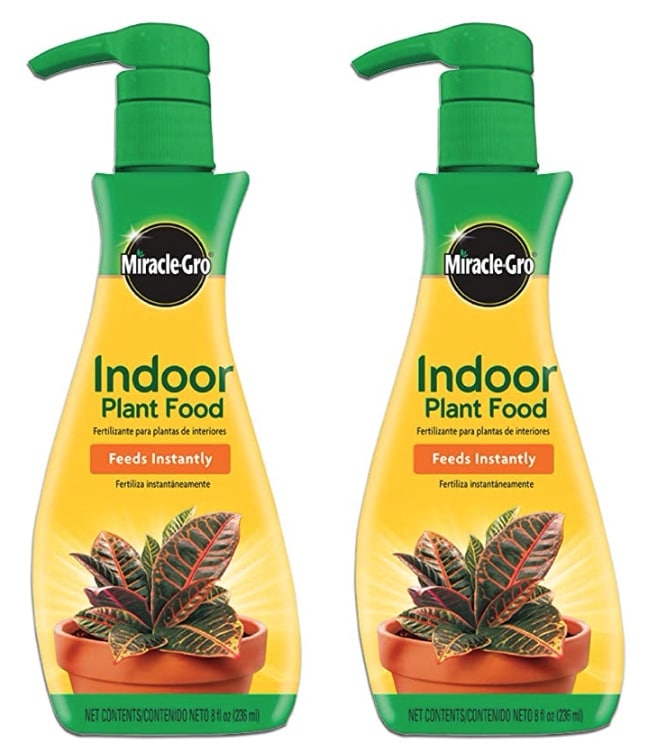 Miracle-gro is an excellent plant food that is suitable for all types of houseplants. It can be used on succulents, tropical plants, and aloes, to name a few. You can also use this effective fertilizer when growing edibles indoors, such as herbs (herbs you can plant together) or pepper plants.
The miracle-gro solution is fast-acting and feeds plants instantly. You'll notice results in just a few days. This product helps plants thrive, appear greener, and put on new growth. The solution can either be mixed with water or can be applied directly to the soil. You can use the product as regularly as once a week.
Fast-acting
Suitable for all types of houseplants
Can also be used on edibles
Creates a greener, healthier appearance
Suitable for regular use
Easy to use: can be mixed with water or applied directly to the soil
See Latest Price on Amazon
---
Espoma Indoor! Liquid Plant Food
Espoma Indoor! It is a liquid plant food that will benefit the health of your plants. It's great if you want to promote new growth and make your plants look green and healthy. This product has been formulated to suit all types of houseplants. It contains beneficial microbes and is made from organic ingredients.
Espoma Indoor! Has been approved for organic gardening. It's also straightforward to use and fast-acting. You'll need to mix the concentrated liquid with water, but there's no measuring involved due to the inventive bottle lid. All you need to do is turn the bottle upside down and then the right way around again, and a pre-measured dose will be contained in the cap of the bottle. You can then add the liquid to your watering can. This product isn't messy and can be used on houseplants every two to four weeks.
Improves plant health
Suitable for all houseplants
Contains beneficial microbes
Formulated using organic ingredients
Easy to measure
Fast-acting
See Latest Price on Amazon
---
VitaSea Organic Indoor Plant Food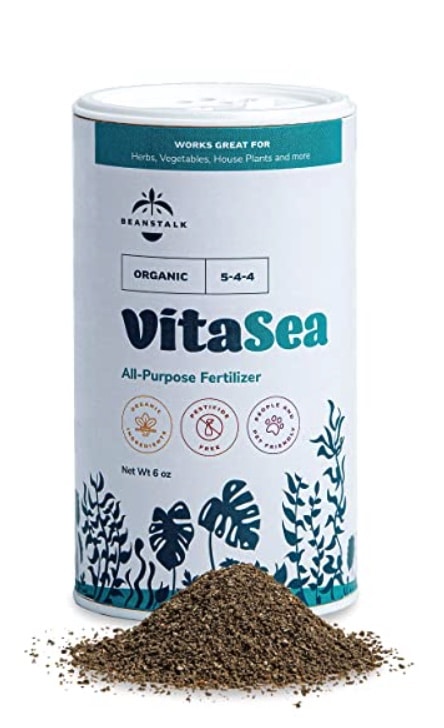 Vitasea is an organic product that's manufactured using sustainably harvested seaweed. The solution contains nutrients, minerals, and organic microorganisms to help houseplants thrive.
This product is very simple to use; it's an all-purpose organic fertilizer that can be used on all types of houseplants.
Vita spa is also formulated to be non-toxic and child and pet friendly, so you won't have to worry about your kids or furry friends. This formula also helps plants grow strong root systems.
Made from organic ingredients
Very straightforward to use
Works well on all types of houseplants
Non-toxic and Pet friendly
Promotes strong root growth
See Latest Price on Amazon
---
Miracle-Gro Indoor Plant Food Spikes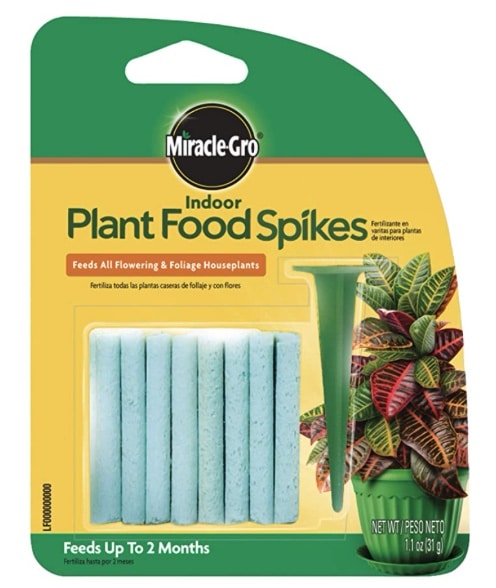 Here's another effective product from miracle gro. These food spikes slowly release fertilizer which will feed plants for up to two months. They are easy to use and can be pushed into the soil. The product works well for all types of houseplants, including ferns, pothos, spider plants, and croton.
Miricle-gro Indoor plant food spikes help houseplants thrive. They can be used year-round and help make your plants look green and vibrant. This product is excellent for anyone who keeps forgetting to fertilize their plants. The food sticks can be used in homes and offices for a variety of plants.
Easy to use
Suitable for a large selection of houseplants
Slow release, feeds plants for up to two months
See Latest Price on Amazon
---
Jobe's Fertilizer Spikes

Jobe's Houseplant Fertilizer Spikes comes in a pack of 50 and proves your houseplants with slow-release 13-4-5 Fertilizer. The fertilizer is fast-acting as its fed to the roots of plants to nourish them. This product is made in the USA and is suitable for all houseplant varieties. It feeds plants for up to 2 months.
Large pack of 50
Feeds houseplants at the roots
Easy and safe to use
No mess, spills, or smells
Provide slow-release nutrients
See Latest Price on Amazon
---
Things to Consider When Choosing Houseplant Fertilizer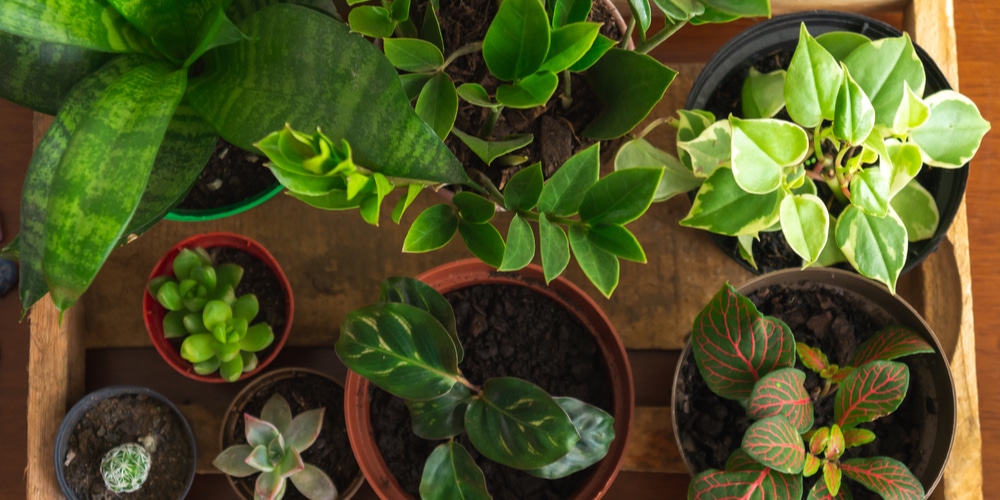 Houseplant fertilizers provide nitrogen, phosphorous, and potassium to your plants which help them to grow green and healthy. Plants get the nutrients they need from the soil, so it's important to use good quality soil and feed your plants regularly throughout the growing season. Here are some things to consider when choosing the best fertilizer for your plant:
Type of houseplant
There are many products available that have been formulated for use on a wide variety of plants. The above products can be used on all types of indoor plants, from tiny succulents to large monsters. They are also specialized houseplants fertilizers available that have been designed for particular plants. A common example is a tropical houseplant fertilizer.
Type of Fertiliser
There are three main types of fertilizers to choose from; liquid, granules, or sticks. Liquid fertilizers can be applied directly to the soil or come in a concentrated form and need to be mixed with water before use.
If you're searching for a slow-release fertilizer that will feed a plant for a couple of months, you may like to use granules or a plant food spike. These can be added to the topsoil and will slowly dissolve, giving your plants the nutrients they require to thrive. Plant food spikes feed plants at the roots, which makes them fast-acting.
Chemical-based or organic
There are many fantastic organic fertilizers that have been formulated using seaweed and other organic matter. If you want to protect the environment and improve the health of your plant, organic options are great.
---
Conclusion
As you can see, there are many great houseplant fertilizers on the market. Whether you choose a liquid fertilizer, granules, or sticks, these products will help your plants thrive. Plants that are regularly fertilized grow well and produce more new growth throughout the growing season. When using fertilizer, always follow the manufacturer's instructions by reading the label. This will help you avoid issues such as fertilizer burn, which can be caused by over-fertilizing.
Related:
5 10 10 Fertilizer
Last update on 2022-10-23 / Affiliate links / Images from Amazon Product Advertising API