In Mississippi, finding the ideal trees to plant might be a challenge. Many can't withstand harsh climates, while others are difficult or impossible to grow at all. It is possible to cultivate various trees in humid subtropical climes, such as Mississippi, that are not available in other areas of the United States. Below are some of the best trees to plant in Mississippi. You can consider planting these in your yard as they flourish in humid subtropical temperatures.
Flowering Dogwood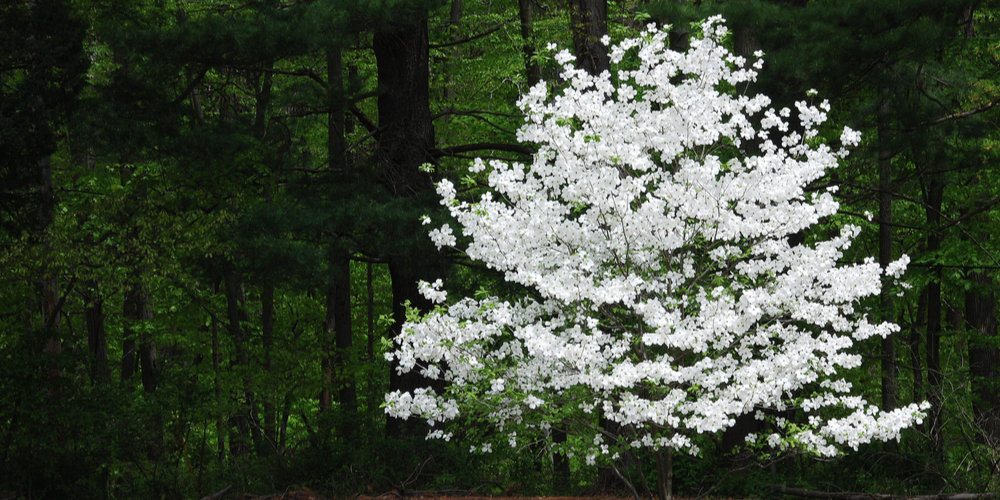 Flowering dogwoods are beautiful and valuable for their ability to change throughout the year. During the early spring months, the flowering dogwood is covered with tiny blossoms that range from pink to red to white. The foliage becomes a stunning shade of purple throughout the autumn months. Furthermore, in the wintertime, dogwoods are adorned with vivid red berries, which are a welcome sight.
The flowering dogwood thrives in the Southern Hemisphere. They grow swiftly, growing a foot in height per year, making them an excellent choice for planting in your yard if you want to cover your yard with trees quickly. Aside from that, dogwood trees are intended to be undergrowth trees, meaning that they thrive when planted beneath larger trees because they require some shade to grow and flourish.
Crepe Myrtle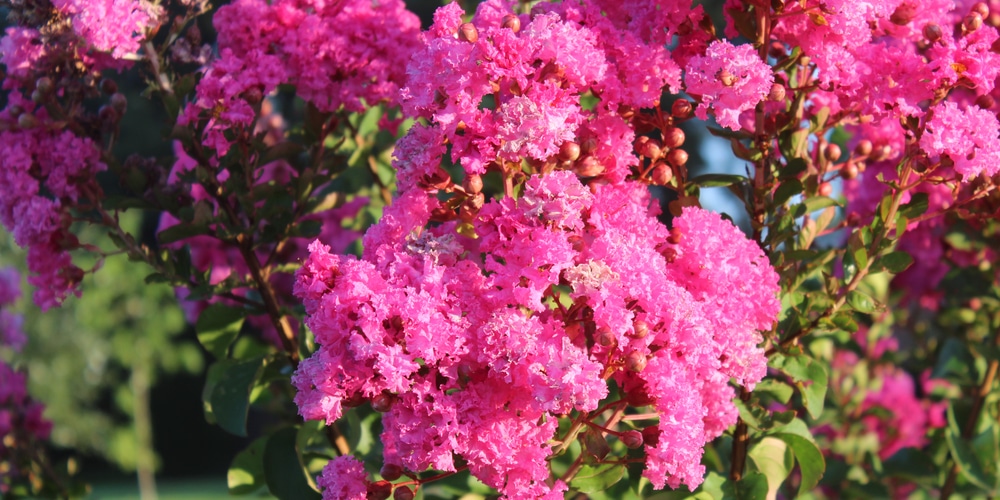 The Crepe Myrtle is a popular tree in the southern United States. Beautiful blossoms in various pink tones cover the crepe myrtle tree's branches during the summer months. During the summer months, the bark of crepe myrtle trees naturally peels back from the trees, which is a distinctive feature of the species.
To survive, crepe myrtle trees require a lot of sunlight and do not do well in wet soil. As a result, you must ensure that your crepe myrtle trees are planted in well-drained soil. Once planted, one of the most attractive characteristics of crepe myrtle trees is their ability to withstand drought conditions.
If you choose to plant crepe myrtles in your landscape, try to keep the amount of pruning to a minimum. Additionally, treat your crepe myrtle trees using insecticidal soap to deter insects such as aphids from nesting in them.
Southern Magnolia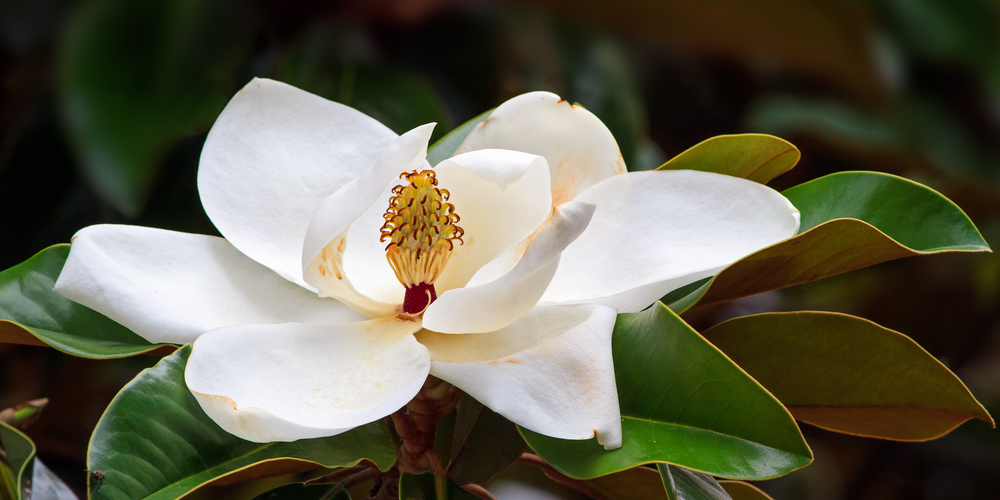 Mississippi's state flower, or southern magnolia, has been designated as such for good cause. Its big, stunning white blossoms, which may be as large as a foot in diameter, are characteristic of the southern magnolia. The southern magnolia tree alone can grow to be extremely enormous, reaching heights of at least 80 feet and widths of up to 40 feet.
If you really want your southern magnolia to produce numerous flowers, make sure to plant it in full sunlight. You will still get blossoms from a southern magnolia tree if you plant it in partial shade, but they will be fewer in number.
Mulch should be used to protect the shallow root system of southern magnolia trees before they are planted. A wide range of soil types, from sandy to clay, is suitable for the growth of Southern magnolia trees. When it comes to weather conditions, the southern magnolia can resist both flooding as well as drought.
Royal Poinciana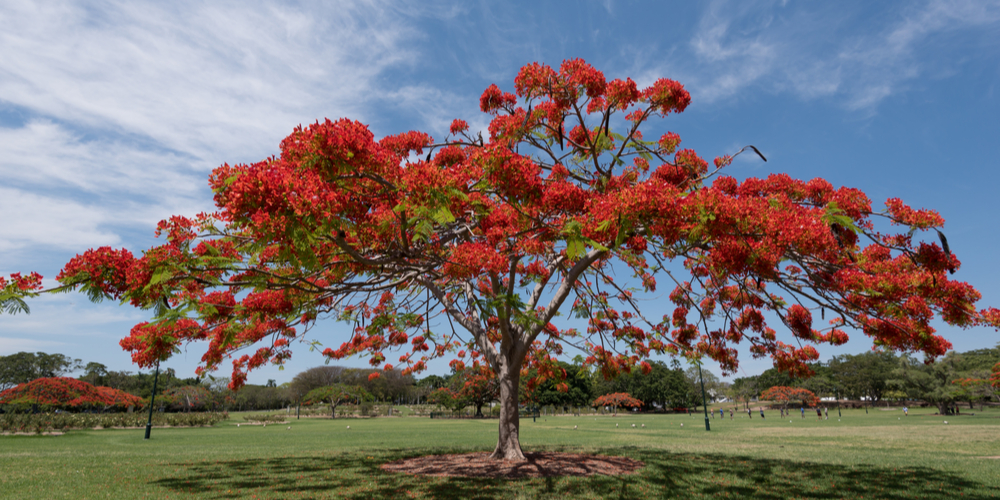 Royal Poinciana trees are decorative trees that do well in subtropical areas because of their vigorous growth. Its leaves resemble ferns, and its blossoms are highly spectacular and vibrantly colored, varying in hues of red, orange, as well as yellow depending on which variety of royal Poinciana tree you choose to plant in your yard.
As a result, the Royal Poinciana tree grows up to 40 feet tall and anywhere between 40 and 60 feet wide, providing you with plenty of wonderful shade in your yard. Royal Poincianas are relatively low-maintenance plants. Simply plant them in a sunny location in your yard, water them regularly when they are young, and cut away lower limbs to enable the tree to grow tall in your garden space.
Oak Tree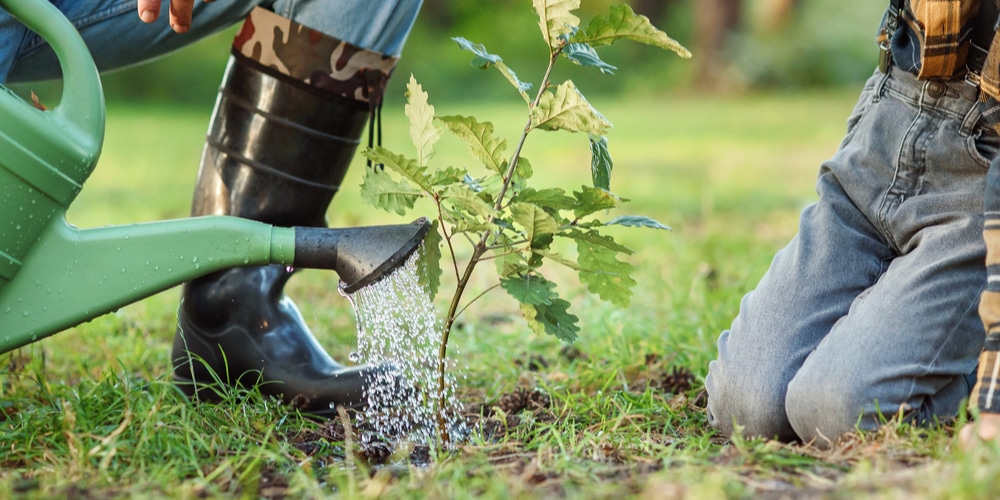 One of Mississippi's most rapidly growing trees is the oak tree (Quercus robur). When fully grown, it can reach up to 80 feet in height, as well as provide shade for your yard in a few years. One of the easiest trees to grow in Mississippi is the oak tree, which requires little to no upkeep once established. It has the ability to grow in practically any sort of soil, can withstand pollution, and can thrive in both extremes of heat and cold temperatures.
Growing oak trees is a great way to brighten up your yard during both the summer and fall seasons. During the fall, expect to see gorgeous colors of orange, red, and brown. Pests love young oak trees because of their vulnerability to attack. Oak trees are particularly vulnerable to attack by sawflies, caterpillars, oak worms, but also borers.
In addition, young oak trees are particularly vulnerable to a variety of diseases, thus proper safeguards must be taken. Chlorosis as well as hypoxylon cankers are two of the diseases that can directly injure your oak tree.
In the event that you are concerned about the strong subterranean roots of oak trees damaging the foundation of your home, you should avoid planting them. Because of the danger of large branches falling, you should avoid planting an oak tree close to your home.
---
Best trees to plant in Mississippi
As you can see there are many varieties of tree that thrive in the Mississippi climate!
Related Article: How Much Does a Dogwood Cost?