Plants take in carbon dioxide and release oxygen, thus creating the air we breathe. Human life needs plants to survive, and some plants produce more oxygen than others. Some plants not only produce oxygen but also help eliminate toxins from the environment. Therefore, it's beneficial to have house plants and a variety of outdoor plants in your yard. Plants not only look great and create a nice landscape, they are also helpful for the environment.
If you're wondering which outdoor plants generate the most oxygen read on. This article will discuss the outdoor plants that produce the most oxygen.
---
Outdoor Plants That Produce the Most Oxygen
If like most people, you immediately think of large trees when pondering which plants produce the most oxygen, you'd be wrong. In fact, the plant that's able to create the most oxygen is a tiny Phytoplankton. This one-cell plant is a marine plant that grows near the surface of the ocean. Research shows that phytoplankton can supply the world with between 50 to 85% of its oxygen needs.
Everyone on earth is dependent on oxygen from marine plants to survive, even if they live far from the ocean. This is because a large surface of the planet is covered with water.
If you're a gardener, you're likely more interested in leafy plants than marine algae. Trees, plants, and shrubs all release oxygen into the air through their leaves.
Leaves create approximately five milliliters of oxygen every hour. If you're looking to grow oxygen-producing plants, choose species that have larger leaves and more leaves. A tree or plant with an abundance of large leaves will produce more oxygen than a plant with sparse foliage.
So, which outdoor plants produce the most oxygen?
If you're looking to do your bit for the environment, you may like to fill your yard with air purifying and oxygen-producing plants. Choose plants that are right for your climate so that they will thrive. All plants produce oxygen, but choosing larger varieties and plants with large leaves will help increase oxygen production. You may like to consider the following plants:
Peace Lily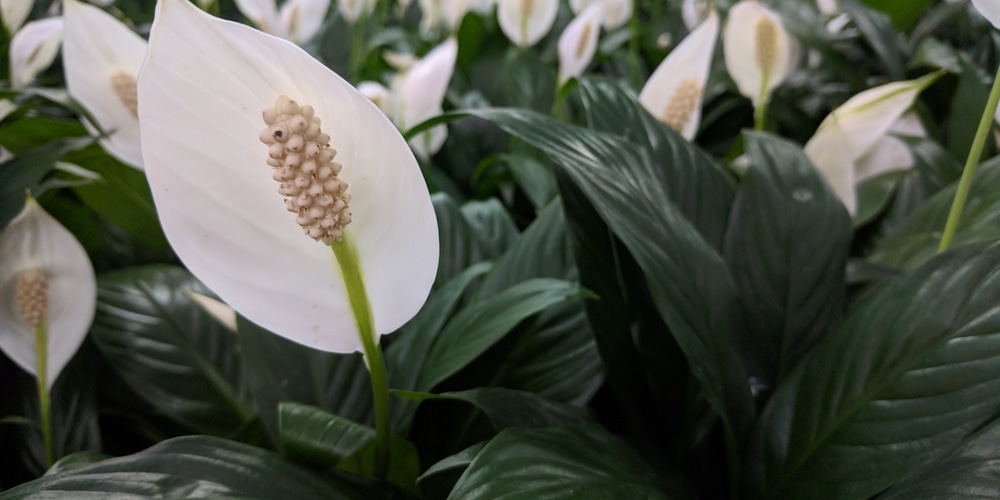 Peace lilies are lovely plants that are common house plants. They can be grown outdoors in the right climate. If you live in a warmer region that doesn't get too cold in the winter, you can plant peace Lilly's in your flower borders, and they will grow quite large.
Peace Lilly's are easy to grow and also have lovely flowers throughout the year. These plants like shady areas but can also be grown in partial sun. They have large green leaves which are glossy and produce lots of oxygen.
Costa Farms Peace Lily Plant, Live Indoor House Plant with...
LIVE INDOOR PLANT: Bring home a beautiful Peace Lily to add a relaxing, calm feel to any space. These houseplants are natural air purifiers that help keep your indoor air fresh and clean. Easily fits tabletop, shelf, living room,...
GREAT DECOR FOR ANY SPACE: Whether you're looking to spruce up your home office or add a touch of greenery to your living room, indoor plants have a timeless appeal. Peace Lily is a unique statement piece that instantly infuses...
FRESH FROM FARM: Flower pot features a drainage hole that promotes healthy plant growth by preventing water from accumulating, excess water can be easily removed by placing a dish below
ELEVATE MOOD & WELLBEING: Plants make us happy. They give us life, fresh air and a sense of calm - all of which have the ability to lift your mood and improve your wellbeing. NASA studies show having plants improves mood,...
PLANTS MAKE GREAT GIFTS: Plants can be delivered to your loved ones for any occasion, including birthdays, anniversary, and housewarming. Enjoy peace of mind that every plant is well packaged, farm fresh, and ready to impress with...
Bamboo Plant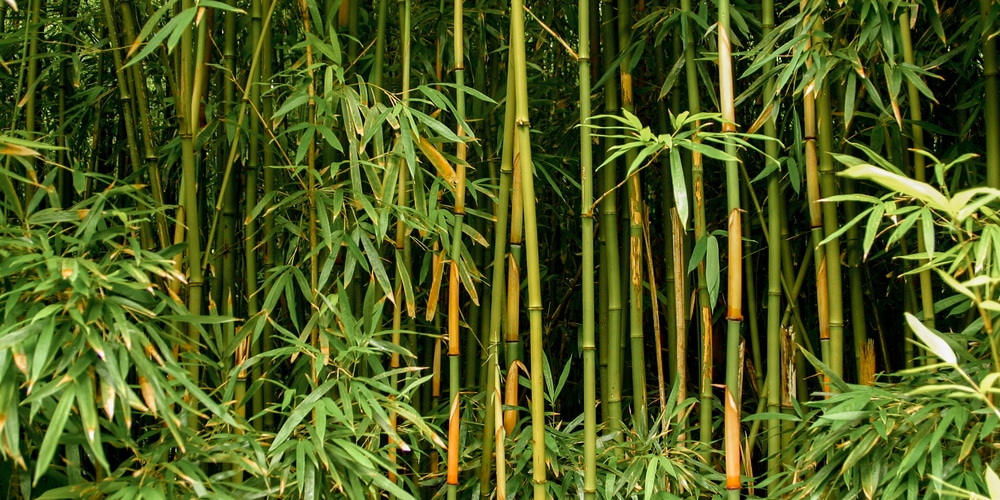 Bamboo is an excellent plant as it helps to purify the air and can also be used to create shade. Bamboo loved to grow in sunny areas and needs to get enough sunlight in order to thrive. It can grow very tall and will typically grow to between four and twelve feet at maturity.
Bamboo will also attract birds to your yard as this plant has leaves that are great for nest-building materials.
Jmbamboo- Live 8 Braided Style Lucky Bamboo Plant...
10-12'' inch live plant.
Brings good luck and fortune.
Grows in water like cut flowers, but will last for years.
Will include crystal soil. Vase is 3.5x3.5x3.25'' inches.
Imported from Taiwan. Handmade by jmbamboo
Boston Fern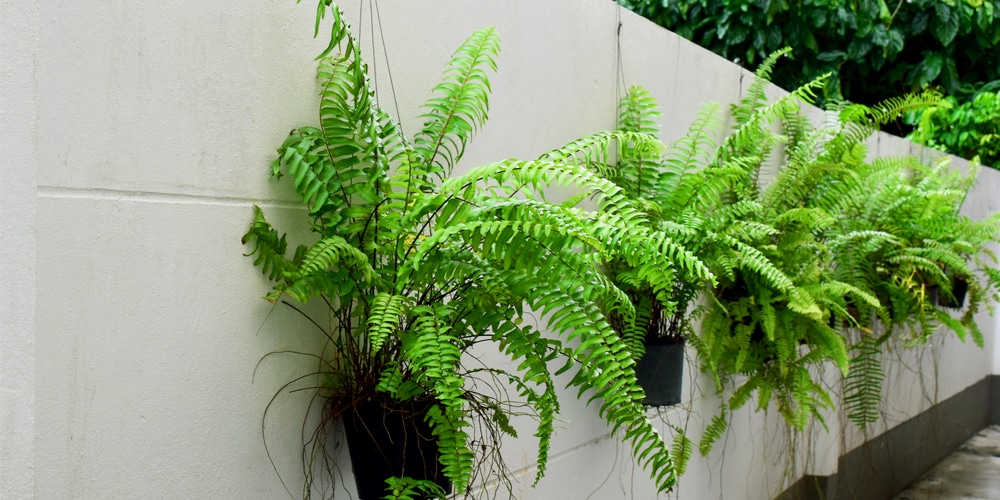 The Boston fern loves to grow in bright sunny areas and thrives in direct sunlight. It has lovely leaves which are able to produce a lot of oxygen and can also remove toxins from the environment. If you decide to plant Boston Fern's you'll need to take good care of your plants and keep the soil moist.
Sale
Nearly Natural 40in. Boston Fern (Set of 2), Green
Plastic
Imported
Sword-shaped fronds with shallow toothed pinnate gently curve down to gracefully hang 40". The Boston Fern is a classic houseplant overflowing with evergreen tiny leaves giving the plant a full and luscious look. Place up high on...
Shop with confidence knowing our collections "looks so real, they're Nearly Natural!" Pioneers in our industry; Nearly Natural is the first artificial floral company to hire head designers with years of experience in the live...
Overall Product Dimensions: 40 In. W x 40 In. D x 15 In. H. Measurements are from the bottom of the pot to the furthest extended flower or leaf on the arrangement. Width dimensions are also calculated from each furthest...
Areca Palm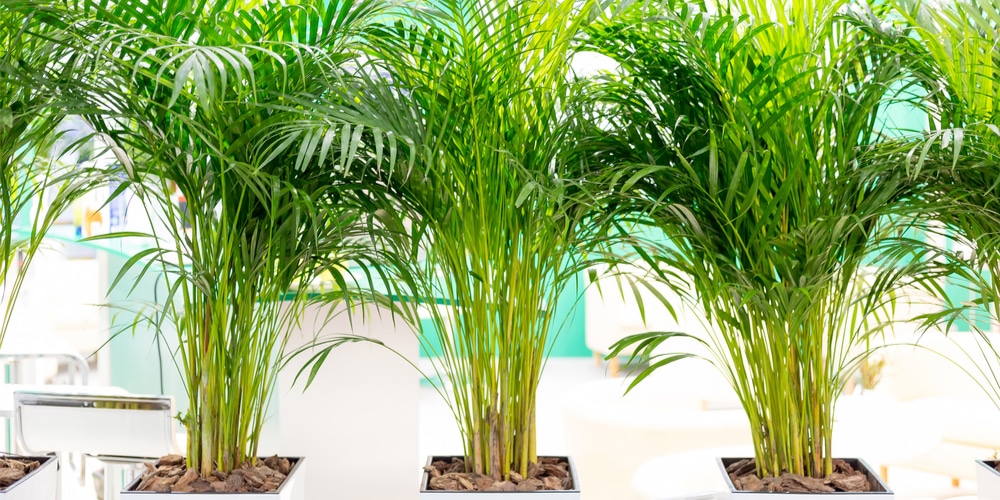 The areca palm produces oxygen and can also remove pollution from the air that is dangerous to human health. These plants generally grow very tall and can get as tall as twelve feet tall in the right conditions.
If you're thinking of buying an areca palm, look out for a plant with a broad and healthy-looking trunk. Sometimes, areca plants are sold with thin or undersized trunks, which can cause them problems as they grow. A thin trunk won't be able to support a tall, healthy palm.
Sale
Costa Farms Majesty Palm Live Plant, Indoor and Outdoor Palm...
LUSH, TROPICAL BEAUTY: Majesty Palms bring a touch of exotic beauty and a tropical vibe to any indoor or outdoor space. With their graceful fronds and tall stature, they create a statement and add a touch of luxury to your home or...
EASY TO CARE FOR: Despite their elegant appearance, Majesty Palms are relatively low maintenance plants. They thrive in bright indirect light but can tolerate lower light and require moderate watering, making them suitable for new...
INSTANT VISUAL IMPACT: Majesty Palms are quick to grow, allowing them to quickly fill a space and transform home or office decor immediately. They are popular choices for living rooms, offices, patios, or poolside areas, adding...
READY TO GIFT: Majesty Palms make a thoughtful and unique gift for plant lovers, new home owners, nature enthusiasts, or anyone who appreciates the beauty of greenery. Durable and visually captivating, they stand out from a crowd...
AIR-PURIFYING: In addition to its graceful tropic appeal, Majesty Palm is a live plant that may improve indoor air quality by filtering toxins and producing oxygen, promoting a healthier living environment
Dwarf Date Palm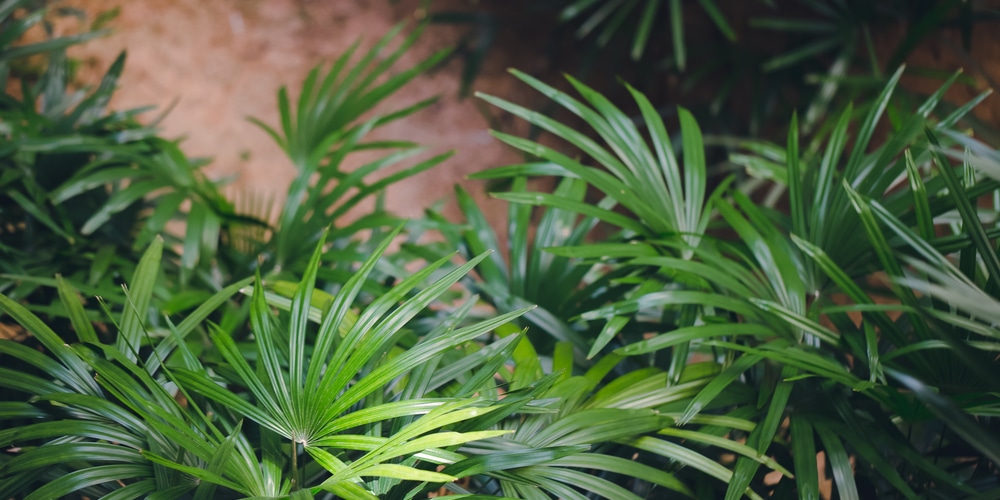 Another lovely palm tree is the dwarf date palm which is long-lasting and gives a tropical feel to any yard. These plants like to grow in an area of semi-direct sunlight and don't like the cold weather. Dwarf date palms are excellent at producing oxygen and removing chemicals from the atmosphere. They are great at getting rid of xylene from the air.
It's also worth noting that the dwarf date palm has sharp spines located at the base of the plant's leaf stem. It can be sore if you touch these spikes, so it's best not to get a dwarf date palm if you have children or pets.
---
Things to Consider Before You Buy
Outdoor plants can be bought from your local nursery. It's essential to do your research before purchasing plants. Check what size the plant is likely to grow to at maturity to determine whether you have enough space in your yard. It's also wise to consider the light levels in your home. You don't want to buy a tree that ends up getting very large and then blocks the light out of your home.
You can also do some research on plant care and particularly irrigation, before choosing plants. Some plants like to be in the full sun, while others like shaded areas or partial shade. They also have varying needs when it comes to soil type and pH range.
---
Conclusion
There are many different plants that produce large amounts of oxygen. Choosing a plant with lots of large leaves will help add oxygen to the atmosphere. Some plants not only produce oxygen but also remove toxins from the air.
It's wise to research your plants carefully before you buy, as some plants will struggle in certain climates. Ensure that you know how big the plant is going to get when mature, especially if you're buying trees. Plants also have varying care requirements that can be researched before purchasing.
If you are looking for plants for the office that produce a lot of oxygen, check out our guide to plants that can survive in a windowless office.
Last update on 2022-10-23 / Affiliate links / Images from Amazon Product Advertising API