If you're searching for an effective fertilizer to use on pasture grass, organic products are best. Horses and cattle require plenty of grass, and the cheapest way to feed them is to improve the quality of your pasture. Choosing an organic product will help improve your grass and be better for the health of your animals. Let's look at the best types of fertilizers for pasture grass. We'll also discuss why organic products are best.
---
The benefits of choosing organic fertilizer for pasture grass
Choosing an organic fertilizer is beneficial for improving depleted pastures that have been chemically abused in the past. Organic fertilizers are sometimes better than chemical alternatives and contain the nutrients grass needs to thrive, even when it's being trampled by hooves.
1. Helps grass establish a good root system
Organic fertilizer can help your pasture grass establish a good root system. This will allow the grass to recover well after it grazed. Be careful not to over-graze your pasture as this can destroy the grass. Organic fertilizers contain microbes that help to rebuild the soils profile and de-compact the earth. They can also help create a strong pasture that's more resistant to pests and disease.
2. Reduces soil compaction
Soil compaction is common in pastures due to large animals, and this impacts the growth of grass. Grass will be unable to put down roots if the soil is compacted. The grass's roots will grow sideways, which means your pasture will be less healthy and more prone to disease and sunburn. Less water will be available to the grass as any moisture will quickly evaporate in the sun.
An organic fertilizer will add microbes to the soil, which will live in the pores between tiny soil particles. The microbes help to aerate the soil and allow water to flow around the plant's roots. The grass will be able to grow a deeper root system and will be stronger and healthier.
3. Healthier for animals
You may also find that the health of your animals improves if you use an organic fertilizer. Your pasture grass will no longer contain harsh chemicals that could impact the health of horses or cattle. Organic fertilizers can help balance the soil's pH range, improve soil compaction, and re-build the soil and grasses' health. Your pasture will be more drought-tolerant, and you'll have a better crop of grass for your animals to graze.
---
Best Organic Fertilizer for Pasture Grass
There are many benefits of using organic fertilizer for pasture grass. Overall organic products are better for the environment, for your animals' health, and improve the quality of grass. Here are some of the best organic fertilizers available from Amazon:
Organic Worm Tea Concentrate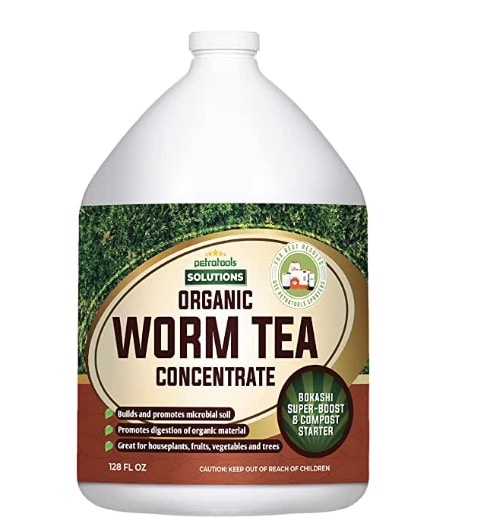 This organic worm tea concentrate is easy to use and adds helpful bacteria to your soil, beneficial for grass growth. It's made from 100% organic materials and extracted from worm castings. The product is brewed using organic methods to retain its nutritious value.
Made in the USA
100% organic
Made from worm castings
Brewed using organic methods
Available in a variety of sizes
See Latest Price on Amazon
---
The Andersons 7-1-2 Innova Premium Organic Fertilizer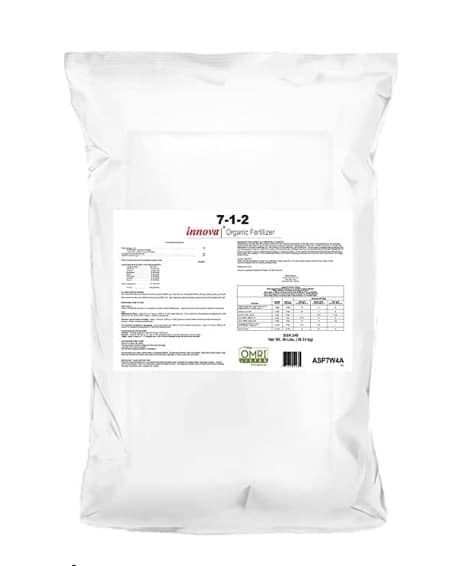 Andersons 7-1-2 organic fertilizer is plant based and safe for use around animals. It's also environmentally sensitive and can be used near waterways. This product doesn't contain manure, animal parts, or composted waste products. It provides plants, vegetables, and grasses with the nutrients they need and contains nitrogen, phosphorus, and potassium, as well as amino acids. This slow-release formula will feed your pasture over extended periods, and you won't risk burning the grass. The product is also very easy to apply and is dust-free. It can be used on all types of grass and in all climates.
100% plant-based
Safe for use around animals
Good for the environment
Easy to apply
See Latest Price on Amazon
---
Conclusion
As you can see, there are many benefits to using organic fertilizer for pasture grass. The above products will improve the health of your grass, and this will have a knock-on effect on animal's health. Organic products contain essential nutrients and also improve the soil ph. range and can increase the quality and quantity of grass grown.  If you want to go really natural, you can get some chickens and use their manure as a fertilizer.
Last update on 2022-10-23 / Affiliate links / Images from Amazon Product Advertising API