Roses are one of the most versatile plants. Most varieties can grow in all climates. However, for the best results, you need to pick species proven to do well in your climate. It's also advisable to pick rose species that are tougher than others if you are searching for zone 10 roses.
Now, this may sound unrealistic since most older roses are a challenge to grow. But, breeders have constantly been working to make hardier and tougher roses that can survive in all weather conditions.
Therefore, you can easily find various options for growing roses in zone 10.
---
Zone 10 Challenges for Roses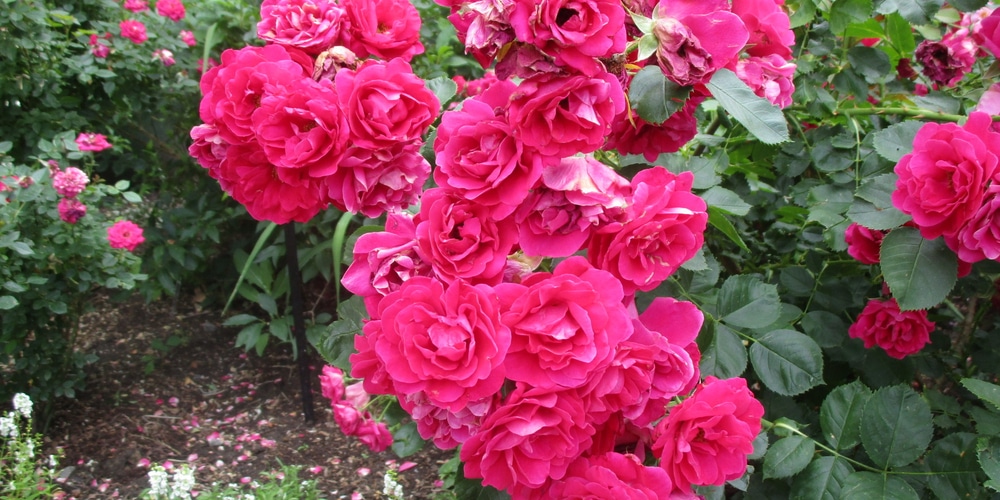 Zone 10 experiences a hot climate. So if you are growing in this area, your plant needs to handle low temperatures between 30 degrees F to 40 degrees F.
Thankfully, some roses can handle the heat. But, they generally prefer hot and dry conditions instead of humid and adopt winter dormancy in extremely low temperatures.
They need a minimum night temperature of 10 degrees F and warmer temperatures during the day of 18 to 25 degrees F. So, as you can see, this temperature range is within the zone 10 temperatures. That said, here are the best zone 10 roses.
---
Roses for Zone 10
1. Bukavu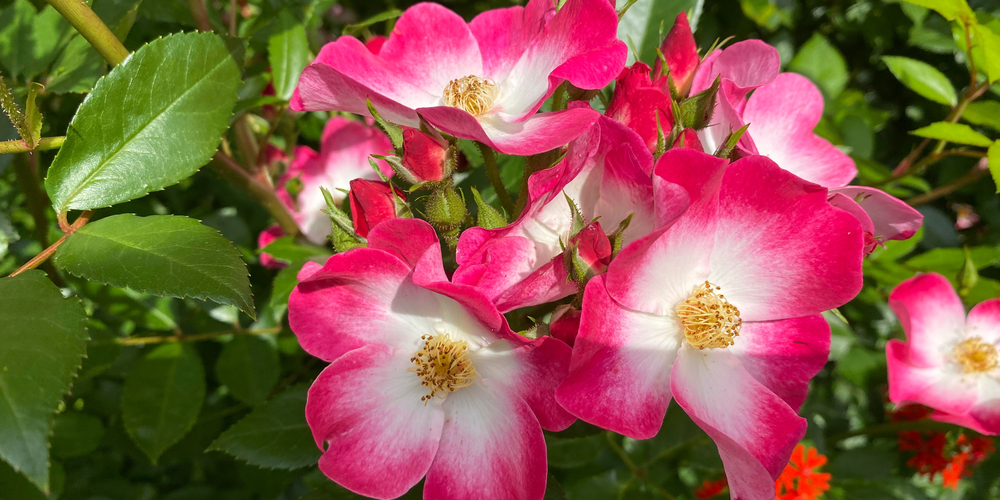 Bukavu is a hybrid rose known for its pest and disease-resistant properties. But besides that, it is beautiful and gives a gorgeous blossom. The plant grows like its arching, and sometimes, you may not see the underneath foliage.
It has flowers with carmine red and snowy white colors on the edge and center. The single blossoms give between 4-11 petals. It can mature to a height of five feet, and it is also weather resistant.
Therefore, extreme heat, freeze, or humidity will not phase it.
2. Antony Meilland' Rose
There is something about yellow flowers that makes them attractive. That is why this rose species is loved by many. It is a deep plant and gives a rich yellow shade that doesn't fade. Therefore, even under the shade, your plant will still grow.
This rose species is also a hybrid plant that produces bushy blossoms. It is perfect for borders, hedges, and individuals who practice mass planting.
The plant can grow and mature to a height of 2-4 feet and requires full sun to part shade for better blossoms.
3. Distant Drums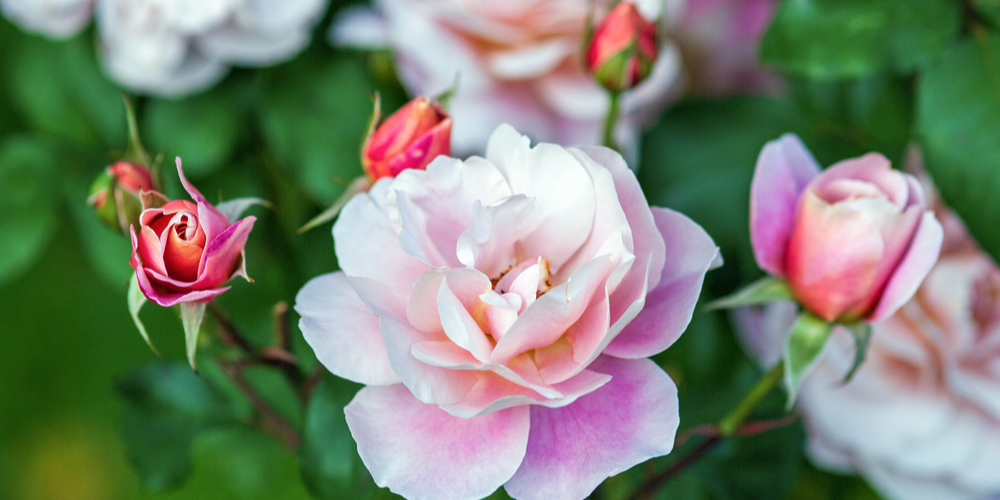 As beautiful as this buck rose is, it is also tough. It's a hybrid of The Yeoman and September Song, all loved and beautiful plants.
The plant produces double full and frilly blossoms and gives a strong fragrance like frankincense. Besides the scent, the color is another outstanding feature of this plant.
The flowers have a copper center that fades gradually outwards to leave a lavender color on the outer petals. Therefore, if you want a display plant, you'll not regret having this rose.
It is also disease resistant and can tolerate both heat and humidity well. It remains compact while growing and matures to a height of 4 feet.
4. Ballerina Rose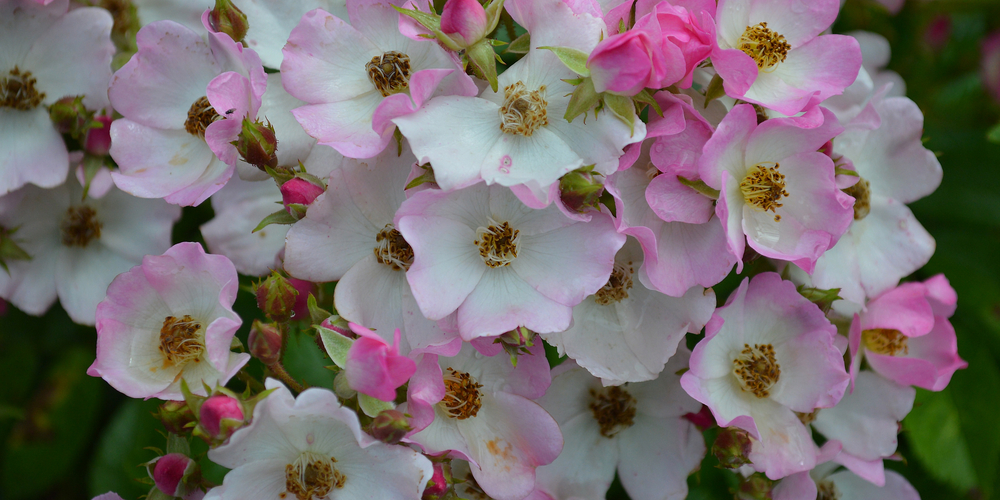 The plant is characterized by pink and white blooms. It contains petals, and flowers grow in clusters. It is one of the oldest roses as it has been with us since 1937.
It is a hybrid plant that resists pests and diseases. It also offers a lovely fragrance and can tolerate shade. Ballerina Rose usually blooms into the fall and grows with attractive hips. You can also train your plant as a small climber.
5. Lavaglut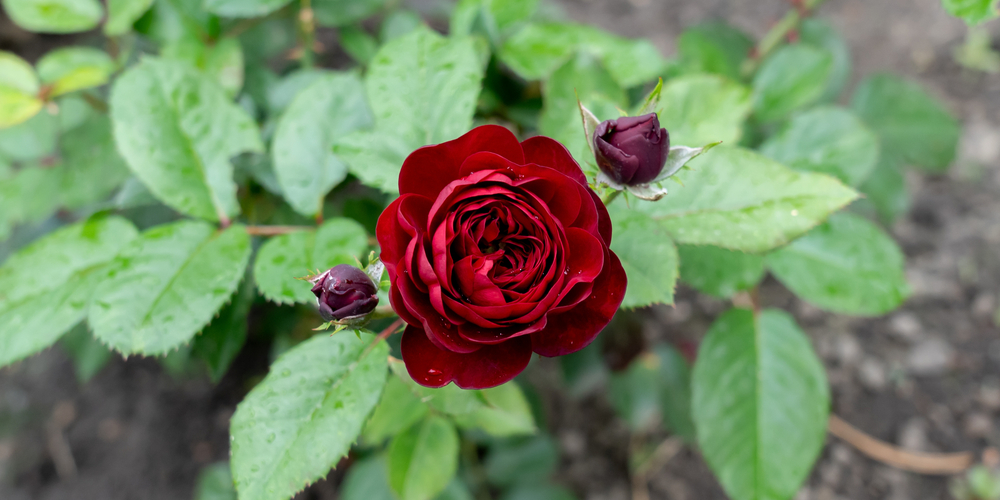 Also known as Lavaglow, this is an excellent floribunda to have in your zone 10 garden. It produces red flowers that look like smoldering embers. The plant features a shrub-like growing habit. However, you can train it into a tree form.
Lavaglut can resist mildew, rust, black spot, and insects. It grows to 3 feet tall and can tolerate heat and drought well.
6. Mary Rose
If you are looking for a beautiful, tough plant, this is the best catch. It produces dark pink buds which blossom to pale pink rosettes. The plant smells fantastic, giving a soft honey fragrance.
Mary Rose is great for gardeners practicing repeat flowering. It is shade tolerant and can resist diseases. It's a hybrid plant that grows up to 4-5 feet. It forms a bushy shrub and requires full sun to part shade.
---
The Best Climbing Roses for Zone 10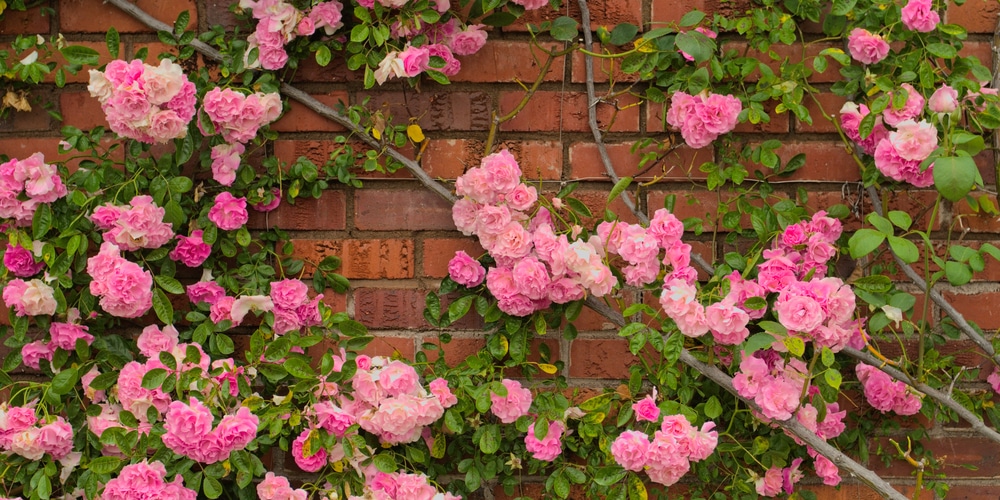 Climbing roses are attractive and often full of fragrance. They can grow over fences, walls, or aches. Here are the best climbing roses to grow:
1. Rosa Pippin
The rose gives warm pink double blooms with an orange hint on the petals. It is recommended for repeat flowering. Its flowers give a sweet fragrance, making the plant suitable for growing near seating areas
2. Altissimo
This floribunda rose produces tiny buds in clusters that become single flowers when they bloom. The flowers have bright red petals and yellow stamens. The plant can grow to 1-20 feet and 5-8 feet tall and wide. Feed your plant at least two times a year in the spring and summer for better blooms. Then, prune in winter.
3. Rosa Parkdirektor Riggers
If red is your favorite color, you'll appreciate growing this plant. It produces intense red flowers with a slight fragrance. The flowers are semi-double and can easily be pollinated. We recommend this variety for a north-facing wall as it's shade tolerant.
4. American Beauty
It is a dark pink rose that's shade tolerant. It produces long canes suitable for wall training or trellises. It grows to a height of 12 to 15 feet. Remember to prune it in the spring and shorten healthy canes by at least one-third of their total length.
---
Zone 10 roses: Conclusion
Roses are one of the easiest plants to grow. You don't have to spend too much energy or time pampering them.
Although they require little maintenance, they bloom for longer and more, which is why they are loved.
Related Article: White Spots on Rose Leaves