Virginia is a beautiful state, full of flowering trees in the spring and summer months. While driving along the highway, you may have spotted some magnificent trees in a lovely shade of purple among all the pinks, whites, and yellows.
There are a few possible varieties that could be. Read along to see if we have your purple flowering tree listed here!
---
Redbud (C. canadensis)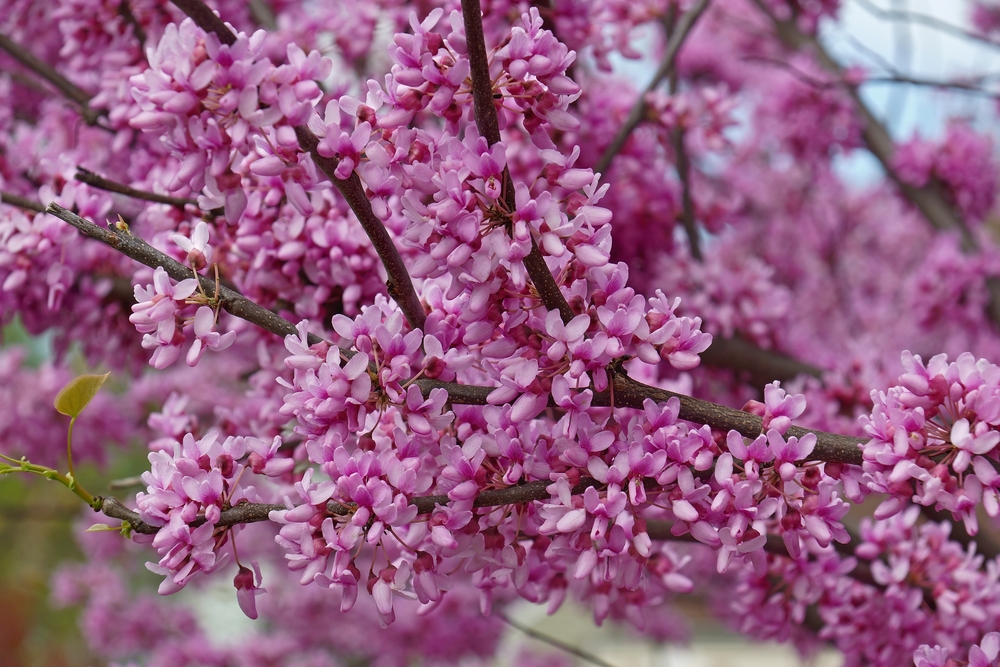 The Eastern Redbud is a tree with brightly colored flowers in the spring. Typically found in a rosy shade of pink, cultivators used in Virginia come in a deep purple. That particular cultivator is known as "Forest Pansy."
The Redbud is hardy in USDA Zones 4-9. It grows 20 to 30 feet tall with a spread of 25 to 35 feet. Between its brightly colored flowers and small size, it does spectacularly in a small manicured setting among spring flowers.
The Redbud is a native tree to the eastern and central United States. Other cultivators of this tree are:
Ace of Hearts

Alba

Covey

Hearts of Gold

Silver Cloud

The Rising Sun
Purple flowers change over to green leaves in the summer. Redbud does best in partial to full shade, grows at a medium rate, and prefers soils that are acidic, alkaline, loamy, moist, rich, sandy, well-drained, and clay.
As it's a local tree, it does well amongst the other trees by attracting insects and wildlife. Butterflies flock to the flowers, and birds like the Northern bobwhite and some other songbirds will come for the tree's seeds.
The Redbud is, unfortunately, susceptible to several diseases, such as canker, leaf spot, cotton root rot, and verticillium wilt.
---
Saucer Magnolia (Magnolia x soulangiana)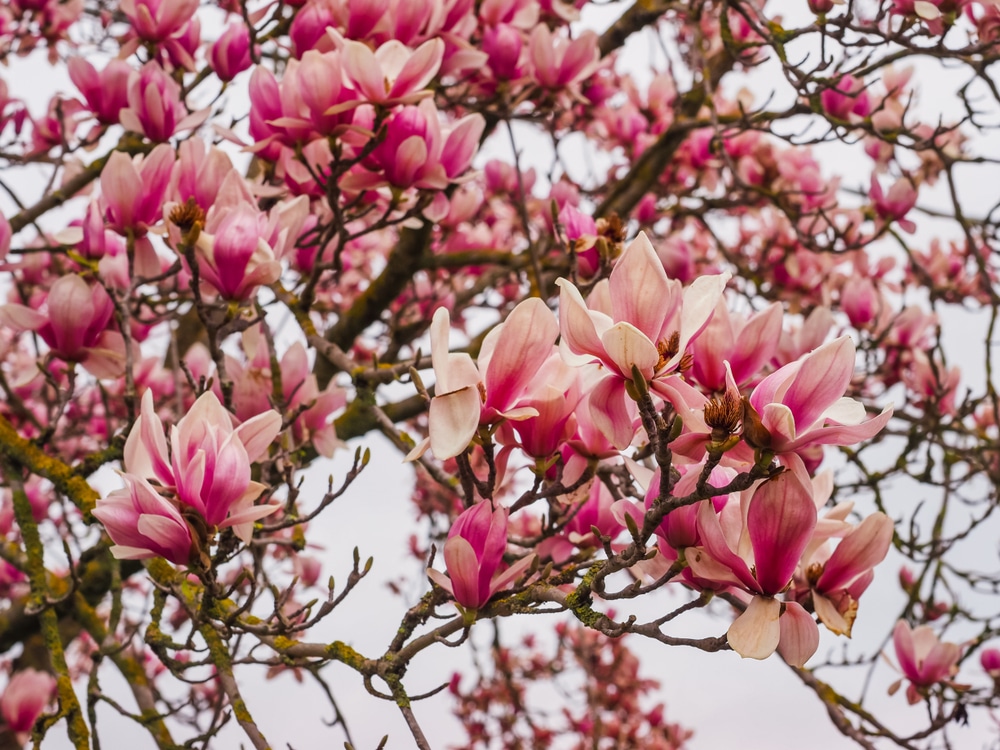 Less vibrant in color than the Eastern Redbud, the Saucer Magnolia is a hybrid tree. Its roots are the Yulan Magnolia and the Lily Magnolia.
Before the blooms open, the petals can have a deep, reddish-purple color. As they unfurl and lighten, the flowers take on a much lighter shade and are closer to a light purple-pink on the outside and white on the inside.
The Saucer Magnolia is not native to Virginia. Instead, its natural habitat would be considered China as that's where the trees it's hybridized from originate. It was developed in France in the 1820s and rapidly spread across Europe.
While the Saucer Magnolia is not native to the United States, it does well when planted in zones 5-9, making it nicely compatible with Virginia's climate.
Unfortunately, the Saucer Magnolia is prone to disease. It is frequently afflicted by bacterial and fungal infections and powdery mildew. It's a beautiful plant that will require vigilance to keep it healthy.
---
It's Probably Not Jacaranda
When you see those brilliant flowering purple blooms in Virginia, it's probably Eastern Redbud. Others might misidentify that deep burgundy color as belonging to another plant, Jacaranda, a native of South America.
While it also has purple blooms in the spring that can stop people in their paths, it doesn't grow well in Virginia. Instead, you'll find it in places like Florida. Landscaping attempts to grow it in Virginia's hardiness zones have only resulted in the tree dying when a frost hits.
If you're looking for trees with a remarkable purple color, your best bet is going to be the Eastern Redbud. And if you're open to other shades of color, that same species has different cultivators for you to choose from.
The Saucer Magnolia is an excellent choice if you're looking for a more subtle touch in color.
---
The Purple Flowering Trees in Virginia
There aren't too many genuinely purple flowering trees in Virginia, and none of them are going to be Jacaranda.
Instead, you're likely seeing the native Eastern Redbud or the unique Saucer Magnolia as you drive along highways and through neighborhoods. Both have lovely purple flowers that bloom in the spring, do well in small landscaping situations, and add value and beauty wherever they grow.