Muhlenbergia capillaris is an ornamental, perennial, warm-season, clump-forming grass that forms surreal cotton clouds produced by flower panicles whose color ranges from vibrant pink to red from early morning to late fall. The large, open, and airy inflorescences are half as much as the grass and float freely above the deep green foliage of fine-textured leaves.
They hold this beautiful color for quite some time before they fade to a lighter tan. They are the most sought-after members of the grass world and with good reason. The pink muhly grass is undemanding, has an excellent drought tolerance, and spectacular pink color. In September, the grass grows in mounds with blue-greenish foliage sprouting a stunning pink crown.
The grass is commonly found in open woodlands, prairies, and pine barrens. Its cotton-candy crown looks impressive, mainly when it's grown (and flowers) in massive clusters. The grass grows well in open woods with acidic soil (but tolerates various other types of soil) or in openings along roads, and it's wirily, glossy, thread-like stems and leaves form a basal clump that's about 2 feet tall.
---
Quick facts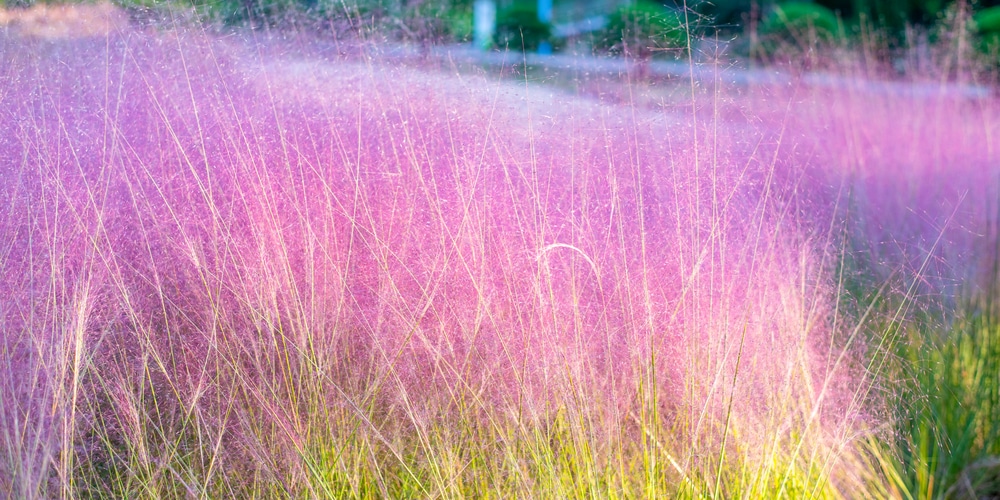 The pink muhly grass grows to three feet high and ninety centimeters wide.
It grows best in the sun or light shade, in rocky or sandy soils with medium to dry moisture levels. The grass is tolerant to low humidity, heat, salt, drought, and poor soils.
It's a fantastic addition to borders, beds, coastal gardens, rock gardens, and cottage gardens.
(As mentioned before) It's also a great addition to meadows and prairies
It's primarily found in the west-central United States.


---
Requirements
Heat zones: 3-12
Hardiness: 6-11
Climate zones: 4-24
Exposure: Full sun
Plant type: Ornamental grass
Season of interest: Fall and winter
Spread: 60 to 90 cm
Height: 60 to 90 cm
Water requirements: Low or average
Spacing: 90cm
Maintenance: Low
Soil pH: Alkaline, acidic, neutral
Soil type: Loam, clay, sand
Soil drainage: Well-drained
Characteristics: Showy, cut flowers, dried arrangements


---
Benefits of pink muhly grass
Pink muhly grass produces the most beautiful displays in the fall compared to any other type of grass. It's also relatively easy to grow and doesn't require owners to do lots of maintenance. All you need to do is plant it in locations that have enough sunlight, well-draining soil, and some water, and it'll grow in no time. The grass is also easy to propagate since you could dig it up, separate it at the roots and replant it elsewhere.
---
Uses of the pink muhly grass
People love the pink muhly grass because of its versatility. The grass can be used as a border, a wildflower garden, a formal manicured flowerbed, etc. Its uses can be classified into ornamental, erosion control, and wildlife cover.
Ornamental uses
As stated before, the pink muhly grass has great ornamental purposes. For instance, during the fall season, its beauty when growing and showiness (the pink cotton-candy crown) makes it an obvious choice for people looking for ornamental grass to plant. It's one of the best types of grass for public pollinator gardens for its beauty and pollinating value.
Erosion control
The Pink muhly grass has fibrous roots that have helped in erosion control, especially in the United States' South-Eastern coast. Thus, the plant can be used in stormwater management and stabilizing dunes.
Wildlife
The pink muhly grass provides lots of benefits to wildlife. For instance, it provides cover for small mammals and birds trying to hide from predators. Its seeds are also food to said small mammals and birds.
---
Pink muhly as a companion plant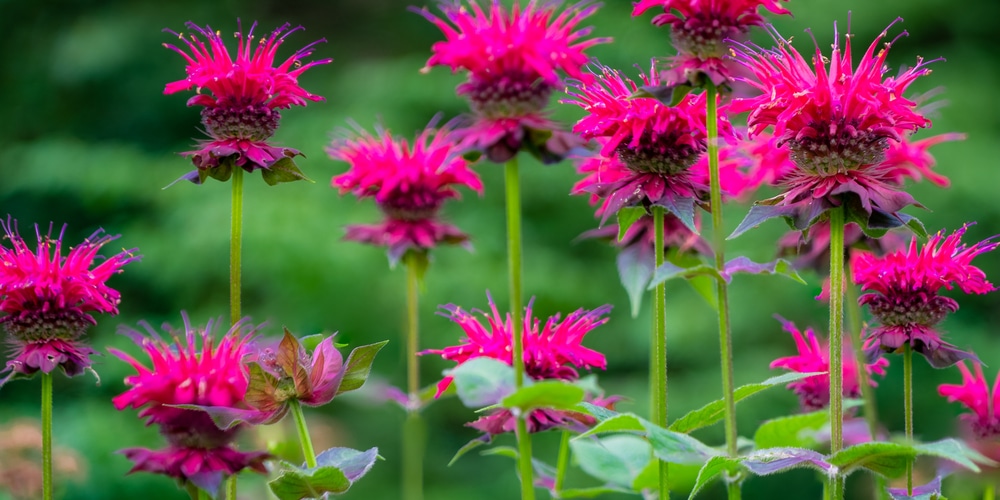 Pink muhly companion plants. The pink muhly grass doesn't offer many benefits as a companion plant. However, you could grow the grass with other plants like the Spotted Bee Balm, Aromatic Aster, New England Aster, Smooth Blue Aster. You could also grow it with the Perennial Black-Eyed Susan and Sneeze Weed so that they can bloom concurrently and bring out a wonderful mixture of colors.
---
Pink Muhly Grass Companion Plants: Conclusion
As stated earlier, the pink muhly grass is the best type of grass you could grow since it's easy to grow, has little need for maintenance, can grow in any soil, and requires little water. The grass also looks fantastic when it blossoms and has several uses. You could grow it in a garden and enjoy the beautiful views and birds that will come to peck at its seeds.