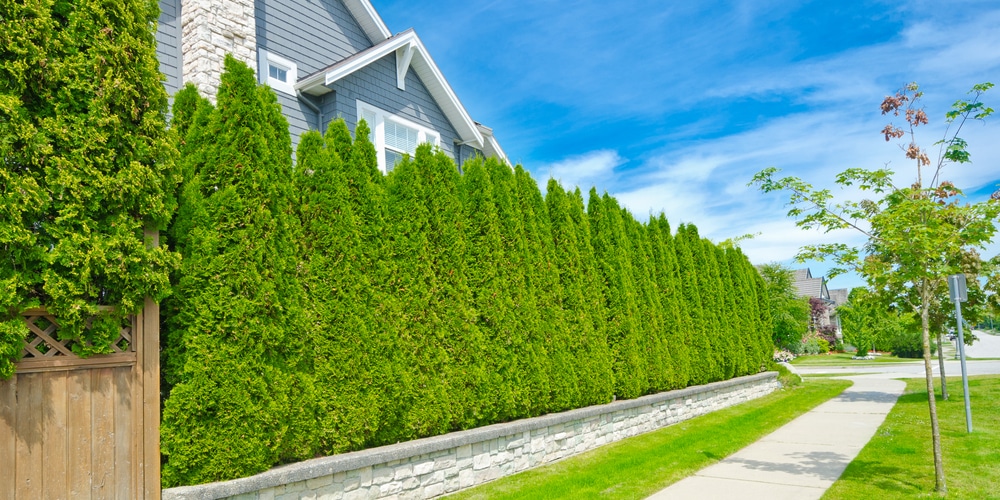 Adding hedge plants is a beautiful way to ensure you have the appropriate privacy from neighbors and street traffic. While fences might seem like the obvious choice, they are not as effective at improving the looks of your house. Not only that, but hedge plants can also serve as noise reduction and as protection from harsh wind.
While there is no size-fits-all option, knowing about the appropriate location and needs of the plant is the best place to start to select the right one. Plus, taking the proper steps in caring for your plant will have a considerable impact on its health. Keep in mind that hedge plants must have dense foliage, moderate growth, moderate size, and suit the style and aesthetics of your house.
If you live in a warm region, this guide can help you find the perfect solution for your home. Keep reading to find out about the best hedge plants to have in California.
---
Hedge Plants California
Cherry Laurel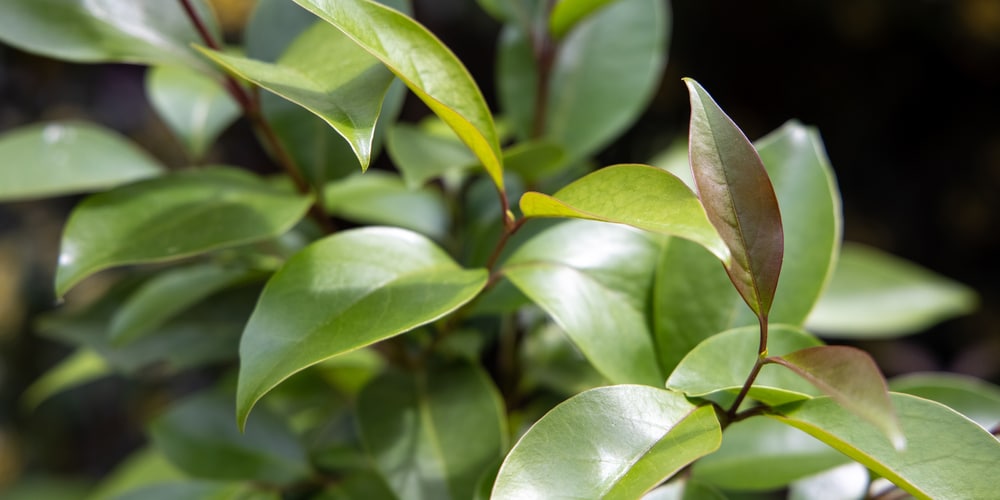 Cherry Laurel is an ideal hedge plant because of its dense foliage and rapid growth (30 to 60 inches per year). The white flowers that sprout in the spring and the festive red berries that come out in the wintertime add to the attractiveness of this plant.
Additionally, this plant can adapt to most conditions. It can tolerate shade and doesn't have strict requirements for the soil.
If you like nice-smelling plants, you'll love the pleasant almond-like fragrance of Cherry Laurel's leaves. However, under favorable conditions, this plant will spread quickly. To keep it under control, you will have to prune it frequently.
Italian Cypress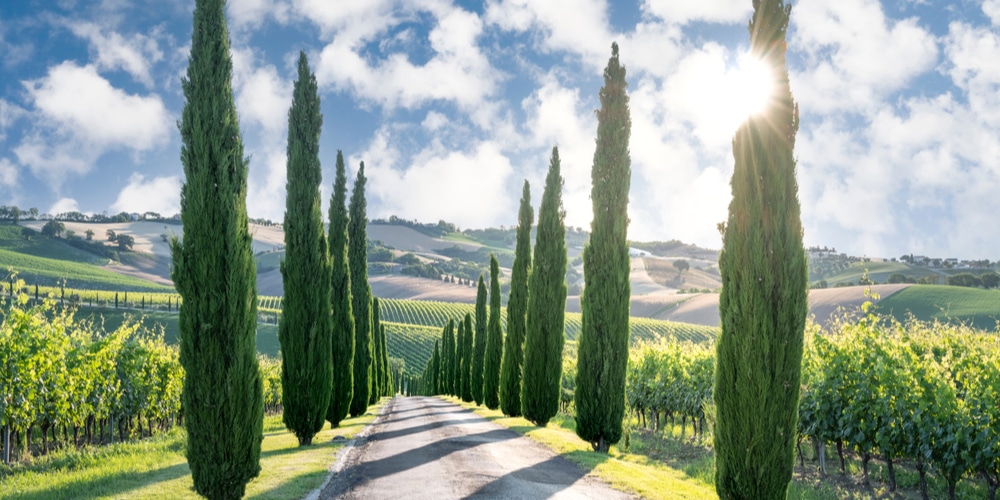 Despite being native to Southern Europe, these stunning trees thrive in the Californian climate. Not only do they look beautiful, but they are also easy to grow. After the first year, they usually establish themselves in your property and need little intervention. Because these trees can reach heights of 70 feet and more, they are the perfect choice for providing privacy for bigger houses. However, you may have to plant several of them as they only grow between 10 and 20 feet in width.
Ficus Nitida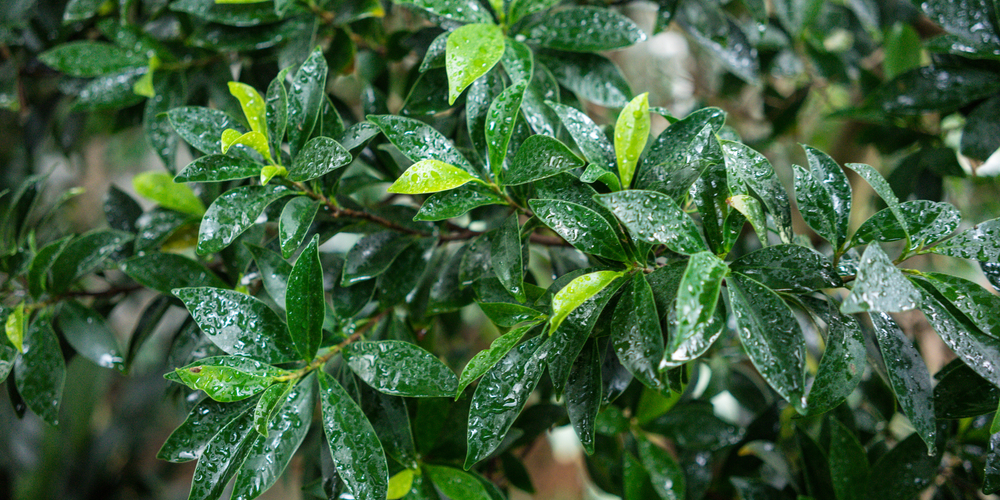 Ficus trees are popular hedge plants in California. These upright, fast-growing, and evergreen plants can grow over 30 feet tall. However, many people prefer to keep them much shorter. Their aggressive root system ensures rapid growth and makes them suitable for various soil and temperature conditions. But be careful when planting Ficus Nitida near a wall or a floor: their roots can get beneath them and cause severe damage!
If you find it problematic, you can select another hedge plant. Alternatively, you can consider installing some root guards.
If you wish to plant Ficus Nitida, you must ensure it gets direct sunlight and enough water. Additionally, avoid exposing them to cool temperatures, as they can damage these trees. Overall, this hedge plant provides considerable shade and privacy and is ideal if you prefer a low-maintenance hedge.
Privet Shrubs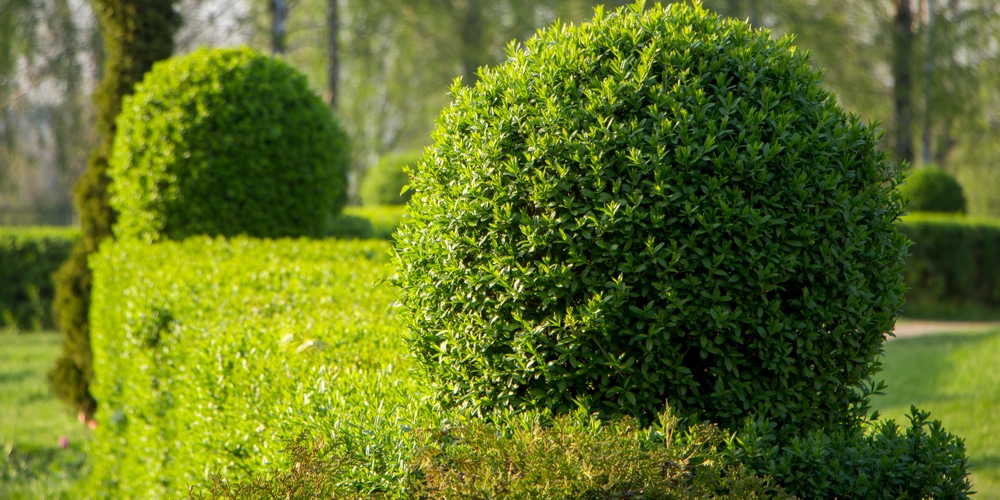 One of the most classic plant hedges is the Privet bush. These shrubs feature dense oval-shaped leaves that form a natural fence for privacy. They are easy to take care of, as long as the soil you plant them in ensures adequate drainage.
For vivid green leaves, place Privet Shrubs in full sun. Privet Shrubs are perfect for the Californian climate: with cooler temperatures, these plants typically drop their leaves and won't offer all-year-round privacy.
You can trim Privet Shrubs to give them the shape you prefer. For best results, prune after flowering to avoid eliminating the new buds that form during that period. Doing so in the summer will encourage denser foliage and increased branching.
Boxwood

This dramatic slow-growing evergreen shrub is the favorite option for those who like to shape their hedge plants to their liking. Boxwoods are versatile plants that don't require much attention besides regular pruning. Just make sure you plant them in well-drained soil under partial shade. You will have to water your plant weekly during the first two years. After that, a mature boxwood will thrive with regular water every two to four weeks. During warm summer, you might have to water your hedge plant more frequently.
If you do plant some, there are many boxwood companion plants that would improve their look.
---
Hedge Plants California: Conclusion
Hopefully, this guide helped you shed some light on which plants work best for this region's conditions. Now that you know what plants you can choose from, all you have to do is select the one you like the most. Of course, you must make sure you follow our tips to ensure getting stunning results!
Related Article: Best Time of Year to Plant Shrubs?