Flame Acanthus is a beautiful flowering shrub that attracts pollinators to your yard. It looks great due to its long orange flowers which you may find hummingbirds feeding from. Let's look at how to grow and care for a flame acanthus.
What is flame Acanthus?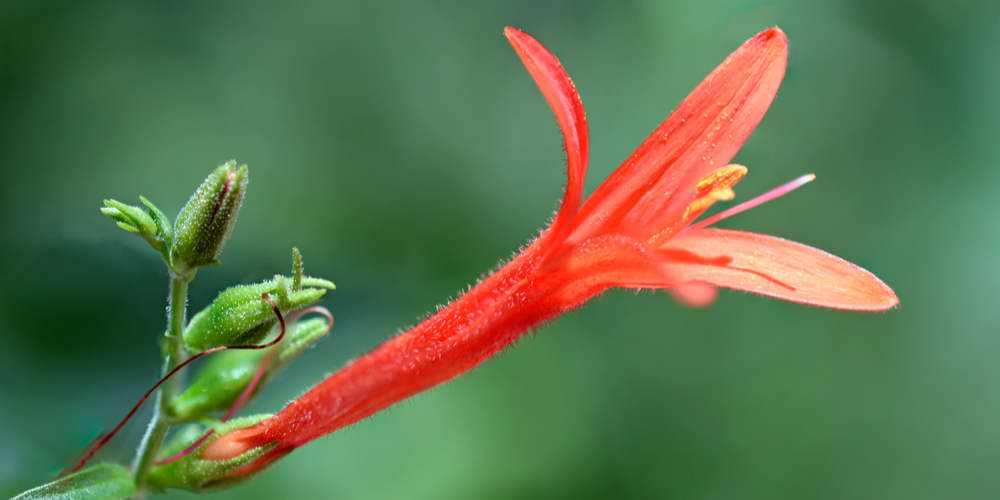 Throughout mid-summer to the cold seasons, flame acanthus is generally characterized by long, lean, orange, or red blooms loved by birds, particularly the hummingbird. It is a heat-loving and drought-tolerant plant within the perennial category.
Furthermore, it does excellently as a specimen plant or informal hedge. It has a flaky and light bark, creating a fascinating early spring and winter tone. Flame Acanthus tends to grow slowly during Spring, though it benefits from intermittent trimming or extreme shearing in early Spring.
It thrives in the Edward Plateau on floodplains and rocky banks, though it also does well in sunny, properly drained terrain throughout Texas. It is an excellent option for places with reflected heat and infertile soils. On the other hand, some water during the summer will promote flowering.
That being said, flame acanthus is hardy in zone 8, and in zone 7, it is root hardy.
Fast facts
Otherwise known as Wright Acanthus, Hummingbird Bush, Wright`s Desert Honeysuckle, and Texas Firecracker.
Scientific name: Anisacanthus quadrifidus v. wrightii
Type of plant: Perennial
Water requirements: below average
Light needs: A bit of shade, full sun
Landscape utilization: Container, deer resistant, rock garden, salt-tolerant
Wildlife value: birds like the hummingbird, butterflies (source of larval food and nectar)
Ornamental value: red, orange
Planting season: Fall, Summer
Evergreen or deciduous: Deciduous
Form of plant: bushy
Plant height and spread: 3 inches
When to plant flame acanthus
This shrub thrives with the usual winter rains and intermittent summer watering. You do not have to irrigate when the rain is enough during the winter months. The shifting of frequency of the rain means that flame acanthus can thrive with different water amounts; however, more extra water usually leads to an extended growing period and bigger size.
Moreover, flame acanthus will do well in full sun, though some shade is also acceptable. It can grow to a maximum of 5 ft unless you begin shearing. Cut it back to about 3 ft to retain a compact shape in the winter.
During the winter, it will die back though it will regrow in Spring from the roots. While it grows in the wild, precisely calcareous and rocky soils, it will successfully adapt to other soil types throughout Texas. So, when it rains in the summer, these shrubs tend to burst with color and nectar.
If you`re looking to add a hassle-free shrub, the flame acanthus is the ideal choice. When it`s dominant, you`ll have to trim it down, be patient and wait for the bright orange or red flowers to appear during the summer.
Additionally, you can plant this shrub with different natives, including black-eyed Susan and other similar plants that thrive in the sun, as they complement it perfectly.
Where to plant flame acanthus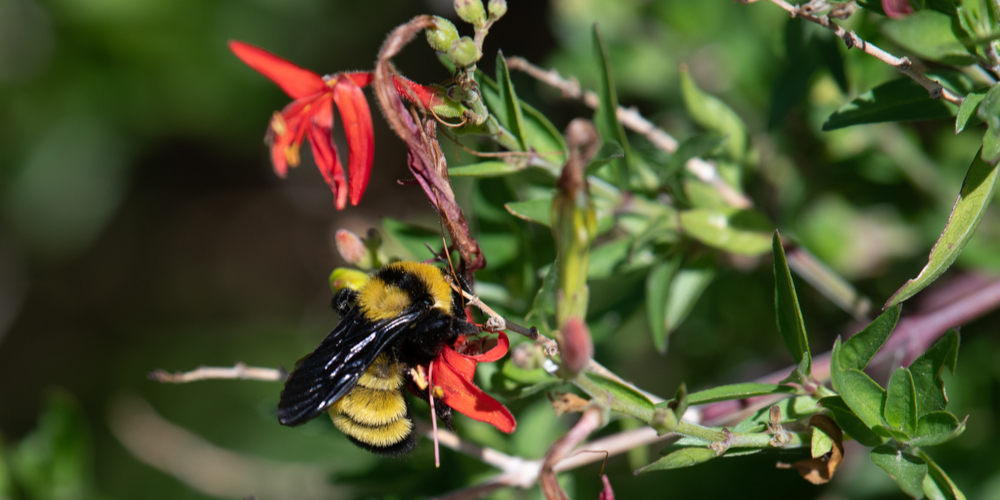 For best results, the flame acanthus will be healthier when planted in full sunlight or slight shade and properly-drained soil. This is a magnificent shrub to plant in your garden for that waystation look!
Design implication
The Texas Firecracker plant is perfect for the informal wildscape and is flexible enough to flourish in a semi-formal environment when coupled with structural flowers like agave and yucca.
Unfortunately, the flame acanthus might die during the extremely cold winters, though it will eventually make up for this under the summer heat. For the gardener who also minds theme, this excellent plant will ideally complement Mediterranean gardens with same style homes, sporting red or orange tiled roofs, as it makes them pop and look remarkable.
Maintenance
For the Wright Acanthus to look spectacular, prune it marginally to adequately shape and manage its size. Shearing during early Spring will promote more blooms and growth. And if, unfortunately, your plant dies during the extremely cold winter, shear it lightly above the ground during Spring, stay back, and wait for it to bloom.
Fun fact!
As mentioned above, Flame Acanthus is excellent for wildlife. Hummingbirds love feeding from it and come from different parts of the state season to season. On the other hand, deer don't appear to hold the same fascination; thus, this plant is seen as deer resistant. If you like butterflies, you should plant the flame acanthus in a larval host shrub for the crescent spot and crimson patch butterflies.