One of the most frequently asked questions by homeowners involves weighing the benefits of artificial turf. Can it be laid on decking?
Well, if you're just sick of the maintenance required to keep your deck looking good or resent the hassles of maintaining a grass garden, laying artificial grass is a perfect choice.
Installing synthetic grass on your deck eliminates the need to treat, fix and seal your deck now and then. Your new grass will only need an occasional hover or a simple scrub to remove dirt and debris. Here is a tested step-by-step guide on how to lay artificial grass on the decking to ensure you get the most out of this makeover:
---
1. Measure The Decking And Gather The Necessities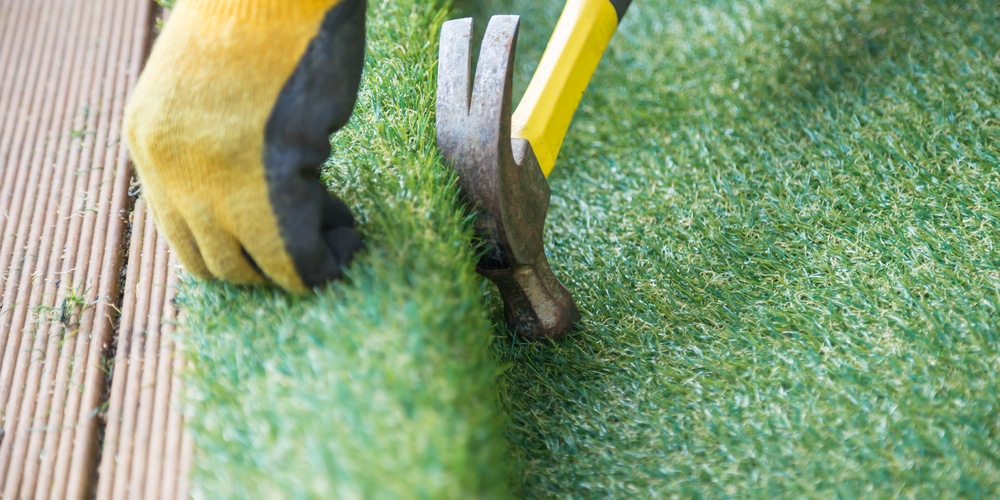 It'll be best if you measure your deck before ordering your turf. You can do this by calculating the square meters of the area. Then determine the number of artificial grass rolls you'll need.
You don't want to buy more than what your decking needs because many companies don't accept returns, so the excess turf will most likely go to waste.
Besides artificial grass, other tools and materials that you'll need for this project include:
Broom
Nail gun and nails
Utility knife
Jointing tape
Adhesive
Flat plywood (optional)
Underfelt (optional)
Weed membrane (optional)
---
2. Prepare The Decking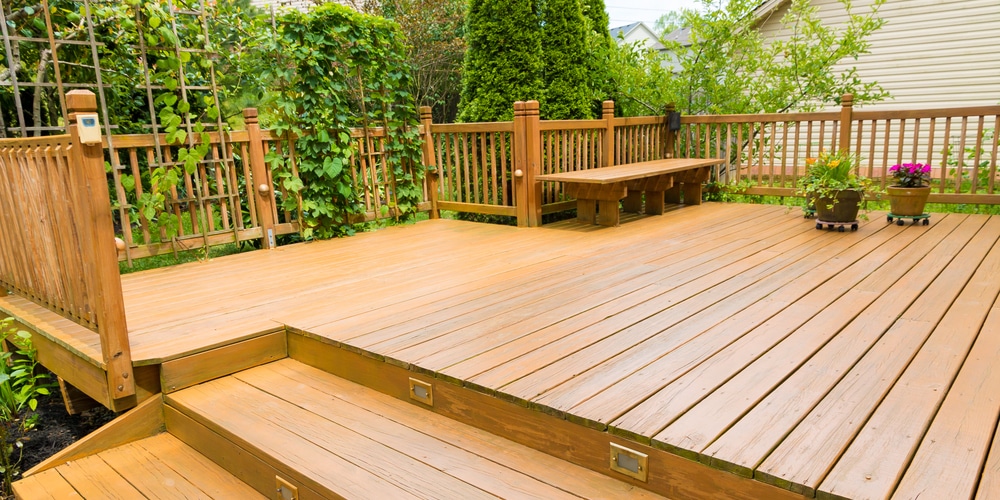 Start by removing tables, garden chairs, plant pots, and any other outdoor installations and replacing rotten and broken decking, if any. Also, grubby decking might have plants growing on it.
You need to uproot them and use clean water, your favorite deck cleaner, and a brush to scrub off the moss and accumulated dirt. Finish off by using a high-pressure hosepipe to clean and remove any extra moss or dirt on the decking, and then give it a day or two to dry.
Next, you ought to decide whether you want to fill the gaps by installing an underfelt or flat plywood. The underfelt has a cushioning effect that gives the artificial grass a natural feel.
They also block weeds and prevent unsightly grasses from growing through your beautiful new artificial turf.
However, the underlay you choose should have ample drainage, so your deck will easily dry up even after a heavy downfall. It should be capable of releasing moisture to prevent the pooling of water.
---
3. Fix the artificial grass
There are a plethora of options for putting artificial grass on decking, from gluing it down to stapling it around the perimeter. So long as there are gaps to allow sufficient drainage, the two methods have no significant difference. Here is a procedure of how to install artificial grass:
To start the installation process, unroll the turf and leave it out for at least an hour.
Using a tape measure, take measurements of the dimensions of your deck, and add two inches to the width and length to allow for some overhang. Then, use a utility knife to cut the sections of the turf to cover these dimensions.
Spread a layer of adhesive starting from the far end of the decking. Ensure that you lay the correct amount of adhesive with a notched trowel held at an angle of 45 degrees.
Lay the first section of the artificial grass on top of the adhesive so it extends two inches over the edge of your decking. Press it firmly into place using your hands. (for best result, use turf with thicker density and pile height of about 20mm)
Use the notched trowel to apply adhesive to the next section. Put the second section of turf down and butt it nicely against the first. Squeeze the bead of artificial grass seam sealer gently along the entire seam.
Keep on laying adhesive, installing sections of the turf, and applying seam sealer to the joints until you cover the whole deck.
Use the utility knife to trim off the excess turf along the edges of the decking.
You can flatten the turf by rolling a heavy lawn roller over it and then give it at least 24 hours for the adhesive to set.
Here's how to get rid of weeds on your artificial grass.
---
Bottom Line
It's possible– you CAN lay artificial grass on decking. As long as the decking is in good shape, you'll have no problem installing artificial grass on top. However, if you need more information or a helping hand, you can talk to an artificial grass installation specialist.
You can also lay artificial dirt on dirt or concrete.