Perennial Ryegrass is commonly used in agriculture and for lawns in coastal areas or states that have a colder climate and get lots of rain. It's also grown on sports fields and golf courses as it's a hardy variety that can withstand wear and tear. Ryegrass has been developed to a very high standard and is available as either seed or sod.
If you're planning to grow a Perennial Ryegrass lawn, read on. This article will tell why Ryegrass is good for your lawn. We'll also recommend some of the best perennial ryegrass seeds.
---
Top Perennial Ryegrass Seeds for Your Lawn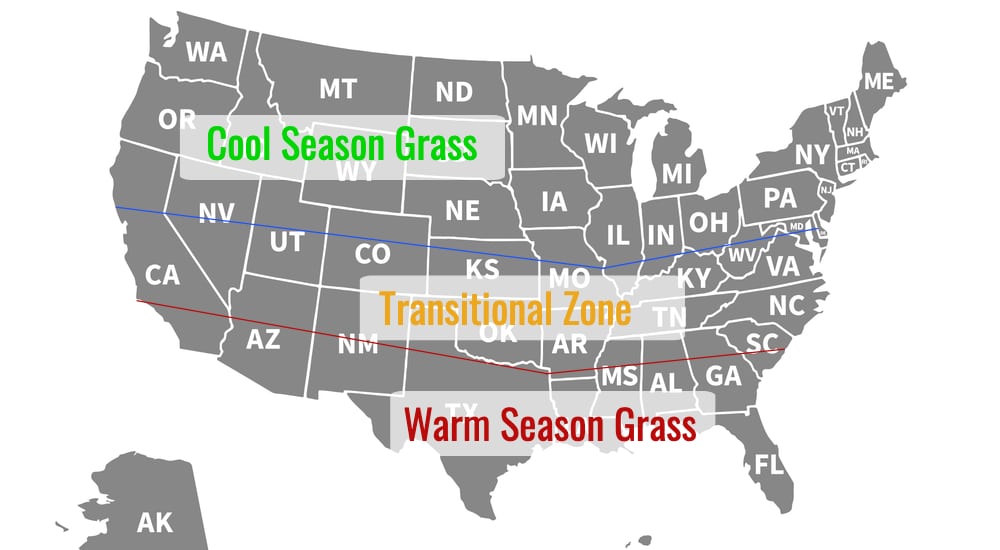 Ryegrass is a fast-growing cool-season variety of grass that's a popular option for overseeding. As a cool season grass, ryegrass does best where in cooler climates.  Check out the map above to see if you live somewhere that ryegrass would be a good fit.
If you do, here are some of the best perennial ryegrass seeds available:
Scotts Turf Builder Grass Seed Perennial Ryegrass Mix
Scotts Turf Builder Grass Seed Perennial Ryegrass Mix, Ideal...
Designed for full sun and light shade, fine bladed texture & low drought resistance
4 in 1 WaterSmart PLUS Coating absorbs more water than uncoated seed, feeds with essential nutrients and helps protect seedlings from disease
Includes Scotts best seed, helps protect seedlings against disease, keeps seed moist 2x longer than uncoated seed and feeds to jumpstart growth
Ideal for quick growth, erosion control and high traffic areas
Seeds up to 2,900 sq. ft.
Scotts Turf builder grass seed is a high-quality product that can be used for growing a lawn from scratch or overseeding patchy areas. The ryegrass seeds are best planted in full sun and also do well in areas of light shade. This grass has a fine-bladed texture and needs plenty of water as it has a low drought resistance.
Scott's seeds have a 4 in 1 WaterSmart Coating, which allows the seeds to absorb more water than uncoated seeds. The coating also helps to feed the seedlings as it contains essential nutrients, including vitamins and minerals. It also helps to protect the seedlings from common grass diseases.
These grass seeds are fast-growing and quick to establish themselves. They can be used in areas of high traffic as ryegrass is hardwearing. Ryegrass is also an excellent choice for erosion control. Scotts sells their ryegrass seeds in either 3lb or 7lb bags. The larger bag will cover an area of up to 2,900 sq. ft.
Coated to protect seedlings against disease
Water smart coating locks in moisture and feeds seedlings
Grows quickly
Great for erosion control
Can be used in high traffic areas
Available in two sizes: 3lb. or 7lb
Seeds up to 2,900 sq. ft
 Barenbrug USA 22205 Ryegrass Grass Seed
Barenbrug has created an excellent quality Perennial Ryegrass seed which is manufactured in the United States. It can be used for home lawns, and sports fields as the grass is hardwearing. This grass mix is commonly used to create a lawn or for overseeding thin and patchy areas. It's a cool-season grass that does well in colder states and grows well in partial shade.
Manufactured in the USA
High-quality product
Fast-growing
GreenView 2829354
Perennial Ryegrass Blend
Sale
GreenView Fairway Formula Grass Seed Perennial Ryegrass...
Perfect for overseeding warm-season grasses during the cooler months
Ideal for quick growth in heavy traffic areas
Provides superior resistance to drought, insects, disease, heat, brown patch, and heavy traffic from children and pets
Mixture of top-rated, premium quality seed blends that are 99.9% weed-free
Uncoated seed ensure maximum seed coverage
GreenView Perennial Ryegrass is an excellent choice if you want to see rapid growth. These seeds are able to establish themselves quickly and will germinate in just seven to ten days. They are recommended for areas that have heavy traffic and are also a good choice if you're seeding an area that has compacted soil.
GreenView Perennial Ryegrass can be used to overseed warm-season grasses during the cooler winter months. The seed blend contains good quality seeds and is 99.9% weed-free. The seeds are uncoated to ensure maximum seed coverage. They can be used to grow a lawn that up to 1 750 sq Ft. Or will cover larger areas up to 3 500 sq Ft if overseeding an existing lawn.
7-10 days germination period
Comes with a guarantee
99.9% weed-free
---
Is ryegrass right for your lawn?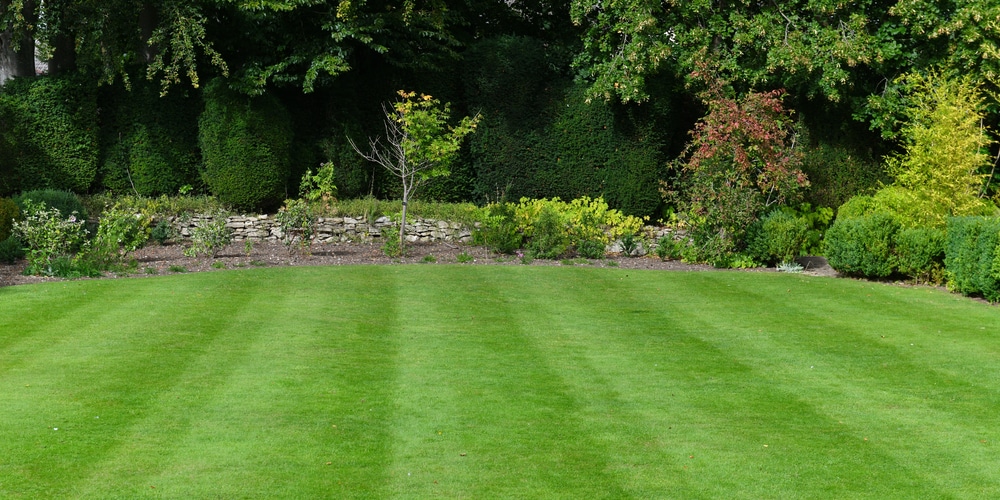 Ryegrass is a perfect lawn covering which is also used in many lawn mixtures. It can be grown in a variety of conditions. It's a great choice of grass for those who live in colder places as it thrives in cooler weather and damp conditions. Ryegrass is very fast to establish its self and is hardwearing. It tolerates being mowed with a cylinder or rotary mower.
Ryegrass doesn't do well in shaded yards or in hot, conditions so should only be grown in the correct climate. It's a broadleaf variety of grass, and some gardeners think that the species looks like a weed. Many homeowners prefer fescue or bent mixtures. You'll often see the term 'ryegrass free' on seed mixtures. However, ryegrass can produce a nice green lawn, and it's down to personal preferences as to whether you like this variety of grass or not.
You can make ryegrass thicker easily, and it'll spread pretty fast.  This makes it a very forgiving grass.
---
Conclusion
When used in the right situations, ryegrass creates a lush, green lawn. It's a cool-season grass that is best grown in wetter, colder locations. Using one of the above ryegrass seeds will allow you to create a healthy lawn. Ryegrass is also commonly used for overseeding.
Last update on 2022-10-23 / Affiliate links / Images from Amazon Product Advertising API