Love trees that produce white flowers? So do we. In Texas, you enjoy numerous benefits when you plant a tree in your yard or garden, including welcome shade and seeing white flowers in full bloom.
---
White Flowering Trees Texas
Add a swath of purity in your space with these 7 white flowering trees Texas.
Mexican Plum Tree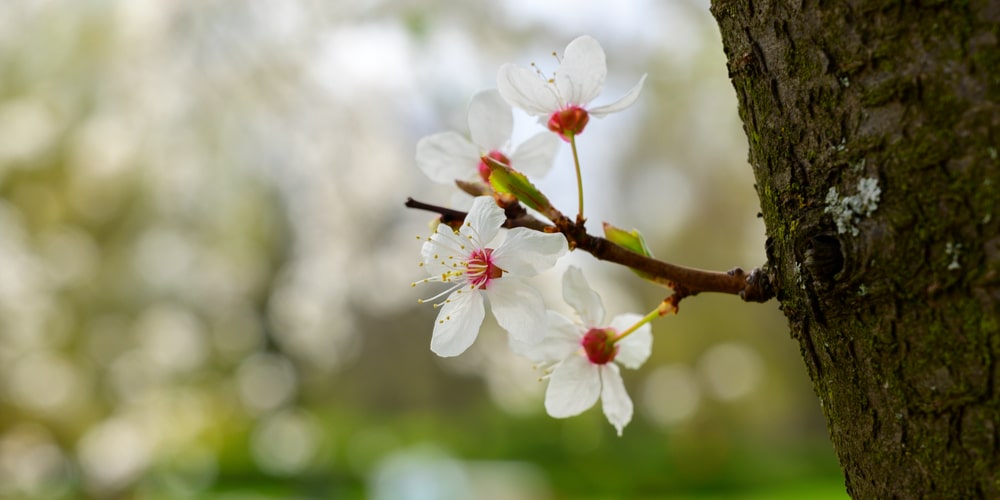 Mexican Plum Trees are often called Bigtree Plums and can grow anywhere from 15 to 35 feet. If you intend to grow one in your yard you'll have to put it in a place that gets full sun.
Clusters of white blooms that have yellow sprouts in the middle appear in early spring and signal the end of the cold season. The delicate flowers are a favorite among bees, while the plums the tree produces are eaten by wildlife. Mexican plums grow slowly at less than a foot per year and work best when installed in small to medium spaces.
Sweet Tea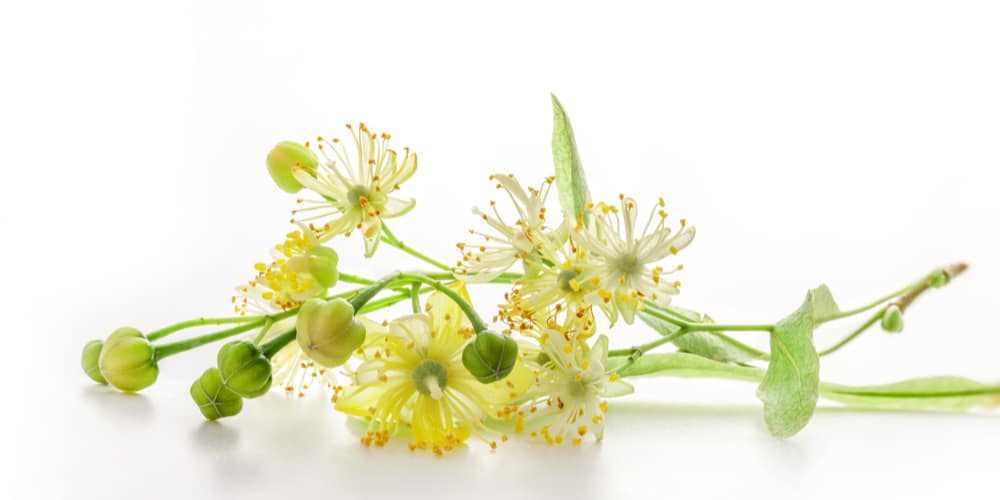 The name Sweet Tea might be a bit of a misnomer, since it's technically a hybrid that can be a shrub or a tree. However, it does grow in Texas and produces a shower of white flowers from July till September.
Mountain gordlinia can grow up to 30 feet in height and has a maximum spread of 15 feet. It's quite vigorous, and the flowers are similar to camellias except they have bright yellow stamens in the middle. For landscaping purposes you can use it as a centerpiece or supporting cast to other taller specimens.
Oleander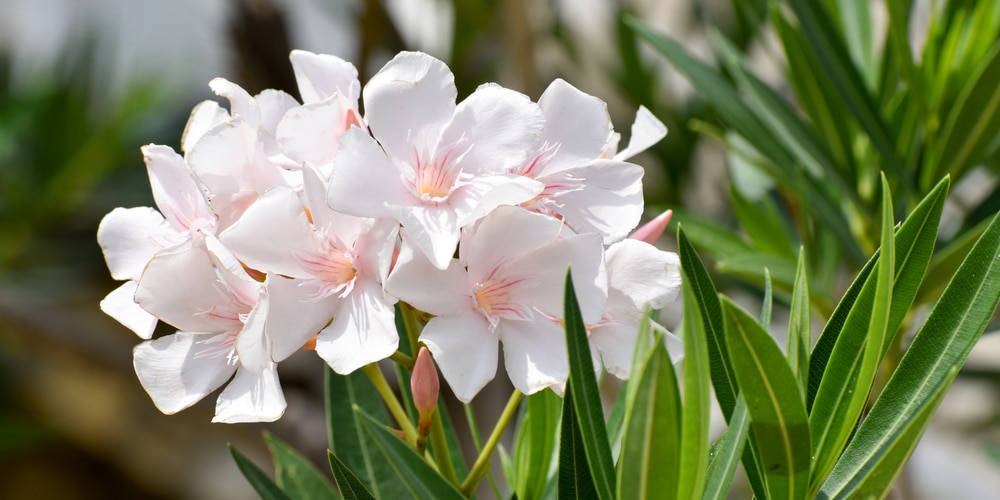 Want a white flower tree that doesn't let up and looks like a puff of clouds in full bloom? Look no further than the Oleander tree.
The good thing about oleanders is that they work well in hedges or as standalone components in your landscape. They're versatile and a colorful addition in any garden setting!
Bradford Flowering Pear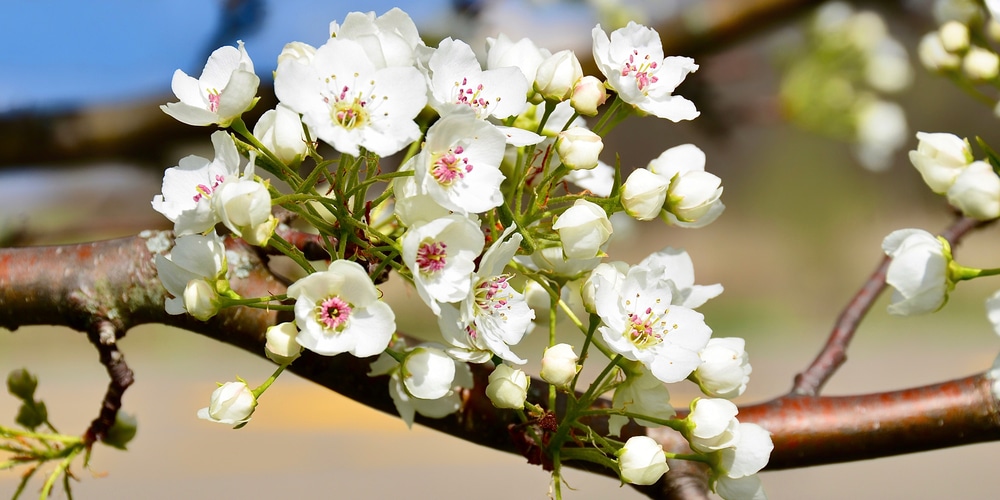 When it comes to aesthetics the Bradford Flowering Pear is a superb specimen. Its growth is symmetrical, and they tend to form an upright shape as they pass from adolescence to maturity.
The white pure flowers appear in clusters and are definite showstoppers in any garden or outdoor space. Then, during the fall season they put on another display with transforming leaves that turn from dark green to rich purple and red.
Despite the name, this flowering pear tree produces no fruits and it needs full sun in order to thrive. In some states this species is considered invasive so make sure to keep an eye on it from time to time.
Chinese Fringe Tree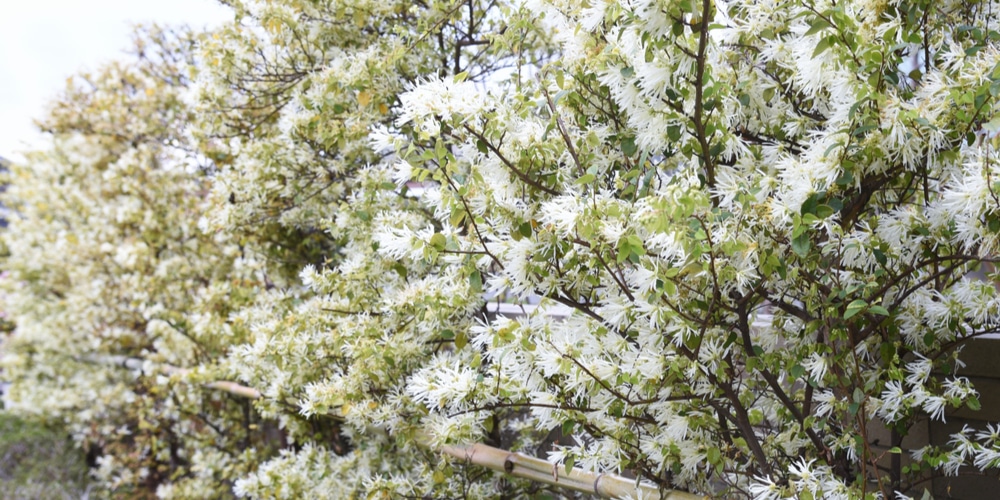 For a white flowering tree with bonsai-like structure, we wholly recommend the Chinese Fringe Tree.
The white-colored blooms are an excellent addition in any landscape setting, and you'll be treated to a fragrant scent once the flowers fully open. What's more, these tend to cluster together and resemble snow with a light-green background of foliage.
The tree is smaller than other white flowering species and branches out to provide dappled shade. For the best effect you can put them beside dark evergreens for a stunning and wonderful natural contrast.
Natchez Crape Myrtle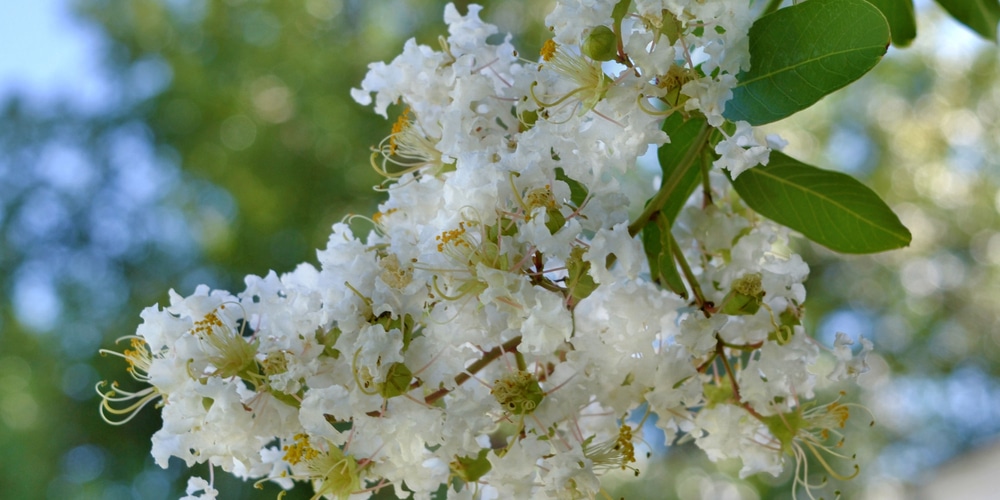 The Natchez Crape Myrtle is best known for its string of medium-sized white blossoms that tend to stay for months!
The white flowers come out in spring and last until early or mid summer. Aside from the main attraction, you can also witness unique characteristics such as cinnamon brown bark that puts an interesting contrast to the usual deep green foliage.
The deciduous shrub is infamous for being ultra tough and can withstand drought and high temperature conditions. It's also very adaptable and only has a low water requirement, to boot.
Magnolia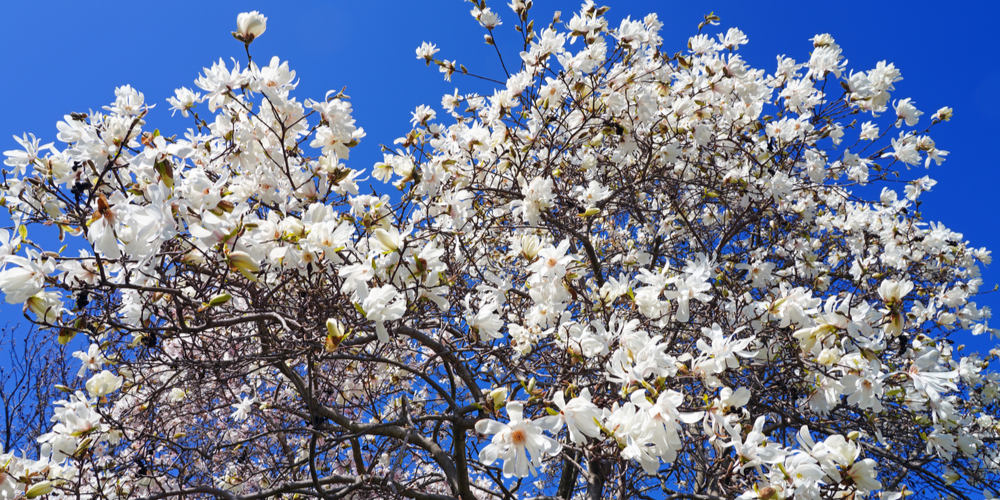 Magnolia trees are characterized by huge flowers with large white petals and a striking beehive-shaped center. If you want something that has long-lasting blooms then you should go for the Little Gem variety.
This tree can grow to become a magnificent centerpiece for gardens and yards and provide welcome shade for outdoor play. It only takes little to coax magnolias into producing buds- just put them in the right spot, water regularly and wait for the sweet-smelling flowers to appear and fill the air with its fragrance.
Magnolia flowers come in other colors as well, including yellow, pink and purple.
Related Article: When to Water Your Lawn in Texas?