Perhaps you want to landscape an area that remains soggy for a long time after a downpour. If there's nothing you can do to change the damp conditions, you might want to consider plants that like wet soil in zone 5 and that don't mind the muck.
Soggy soil can be the death of many plants not only because of the excess water but also due to the lack of oxygen. Plants that can withstand such a condition will soon die of suffocation.
Plants that like wet soil zone 5
We've compiled a list of plants that like wet soil zone 5. These plants soak up a lot of water:
Cardinal Flower (Lobelia Cardinalis) Zones: 3-9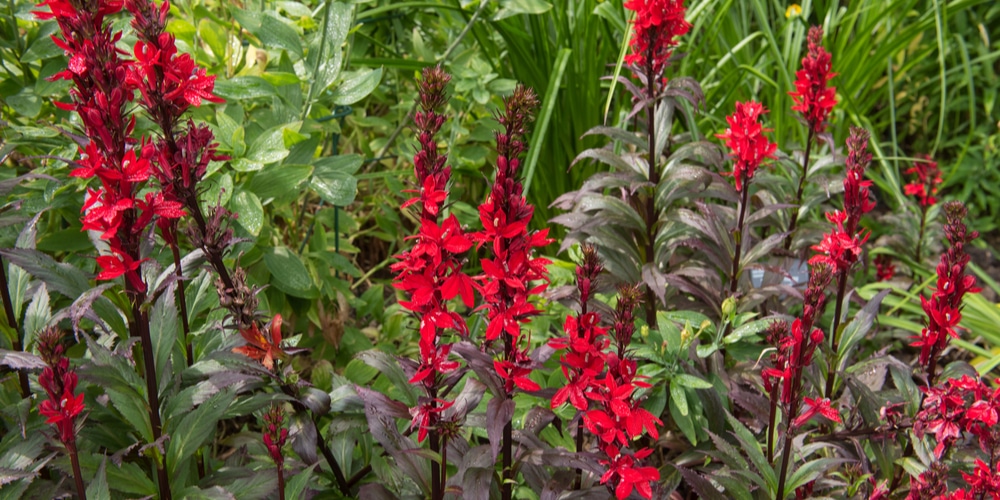 Cardinal Flower is a tap-rooted clumping perennial that sends up sharp, bright red spikes with white or rose flowers from mid-summer all through to fall. It's a Native American plant that's used as an ornamental garden plant. It is easy to grow in moist soils and full sun or partial shade. This gorgeous flower is highly attractive to insects, butterflies, and hummingbirds and is also rabbit and deer resistant.
Light: Full sun or partial shade
Water: Plant in damp soil or water regularly
Size: Grows up to 4 feet tall
Butomus umbellatus (Flowering Rush) Zone: 3-11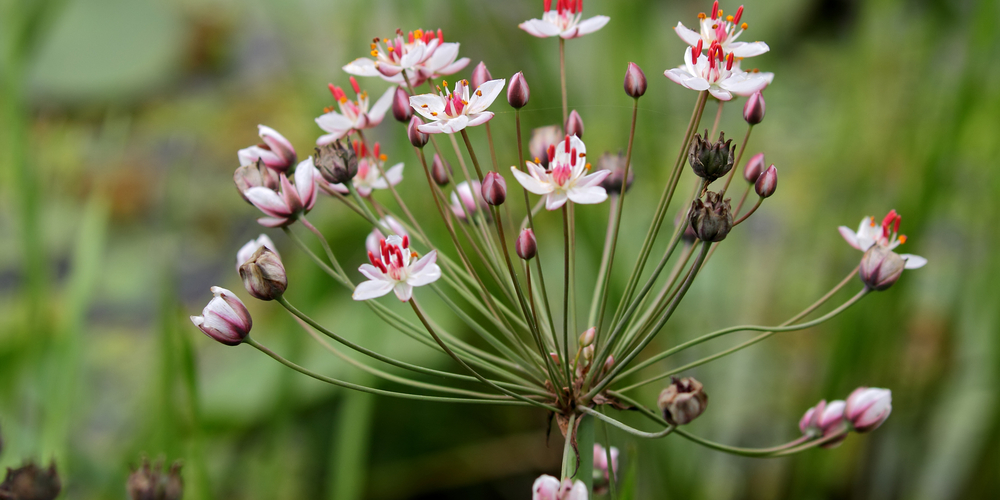 Butomus umbellatus is a robust perennial that grows to about 1-5 feet tall and 1-2 feet wide. This invasive aquatic plant resembles large sedge and produces aesthetically appealing, pink flowers that grow in a cluster that looks like an umbrella.
Plant Type: Aquatic Plants, Perennials
Native Plants: United Kingdom
Sunlight Exposure: Full Sun
Height: 30cm — 150cm
Spacing: 18′ (45cm)
Heat Zones: 5-8
Spread: 30cm — 60cm
Water Needs: Frequently
Maintenance: Low
Soil pH: Alkaline, Acid, Neutral
Soil Type: Loan, Clay, Sand
Soil Drainage: Highly moist, Poorly Drained
Tolerance: Wet Soil
Japanese Water Iris (Iris Ensata) Zone: 4-9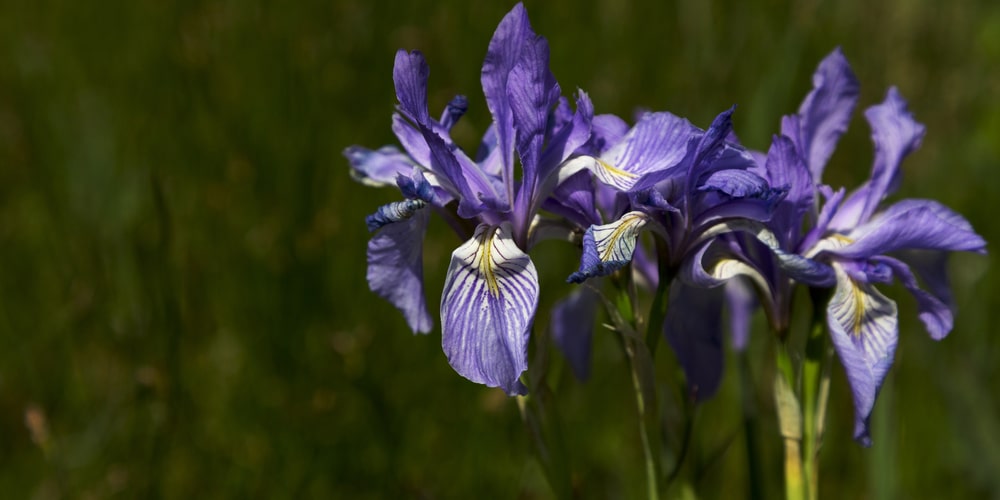 Also known as Japanese Flag, Japanese Sword-Leaved Iris, Water Iris, or Iris koempferi, Japanese water iris is a perennial that grows to a height of 3-4 ft. (90-120 cm). A member of the American Iris family, this aquatic plant is easy to grow and is an excellent choice for ponds or water gardens. The flowers are large and colorful, and the plant is great for borders and beds.
Sunlight Exposure: Full Sun or partial shade
Height: 3-4 ft. high (90-120 cm)
Heat Zones: 1-9
Bloom time: Early to Mid-Summer
Water Needs: Frequently
Maintenance: Low
Habit: Produces smaller purple flowers with white and green striped variegated foliage
Blue Flag (Iris Vericolor) Zones: 3 – 9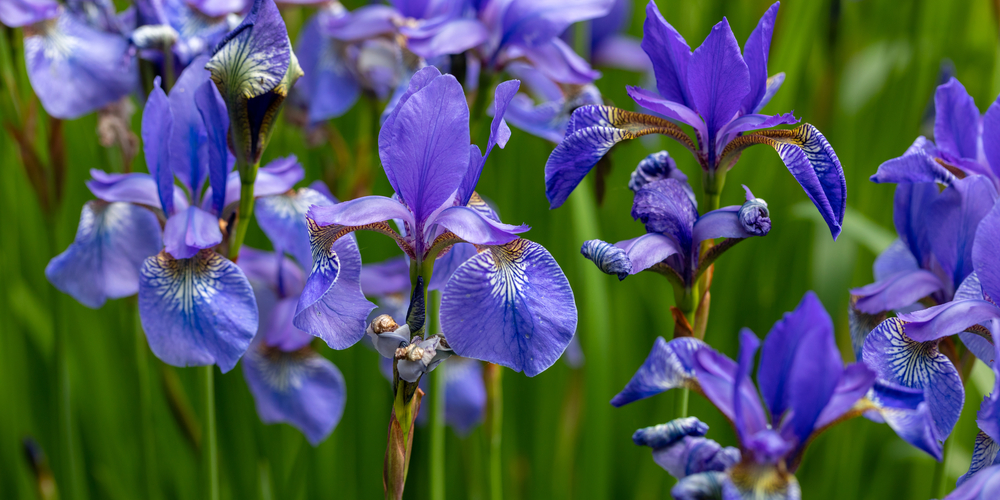 Commonly known as the harlequin blue flag, northern blue flag, larger blue flag, or poison flag, blue flags are a gorgeous perennial plant native to North America. Blue flag is excellent to use in your garden to add some color to any space and grows to 2-3 ft. tall. It has deep blue to purple flowers, the flowers are sophisticated and very showy, and the foliage is sword-like.
Plant Type: Aquatic Plants, Perennials
Soil Description: Moist, fertile soils
Sunlight Exposure: Full Sun or partial shade
Watering Tolerance: Wet Soil
Bloom Time: May, June, July, August
Bloom Color: Blue, Purple
Maintenance: Low Maintenance
Yellow Flag (Iris Pseudacorus) Zones: 5 – 8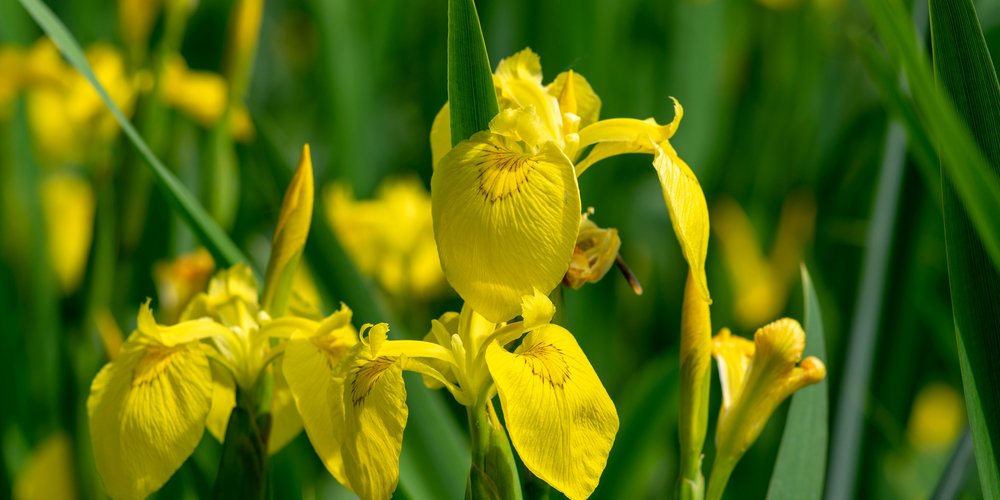 Yellow flags are another attractive perennial that can be a gracious addition to beds and borders, ponds and streams, bog gardens, rain gardens, water gardens, and wall-side borders. Also known as Yellow Iris, Water Flag Iris, Jacobrs Sword, Daggers, Flagon, Water Skegs, Yellow Feur-de-Lis, this herbaceous perennial plant produces bright yellow flowers ardoned with violet or brown veining. It spreads by rhizomes and is both deer resistant and salt tolerant.
Plant Type: Aquatic, Perennials
Native plant: United Kingdom
Sunlight Exposure: Full Sun or partial shade
Water Needs: Frequently Watering
Height: 3' – 5' (90cm – 150cm)
Spacing: 36" (90cm)
Spread: 2' – 3' (60cm – 90cm)
Tolerance: Wet Soil, clay soil, deer
Maintenance: Low Maintenance
Soil drainage: Water retentive, poorly drained soil
Bloom Season: Spring (Late), summer (Early)
Blue Violet (Viola Odorata) Zones: 4-9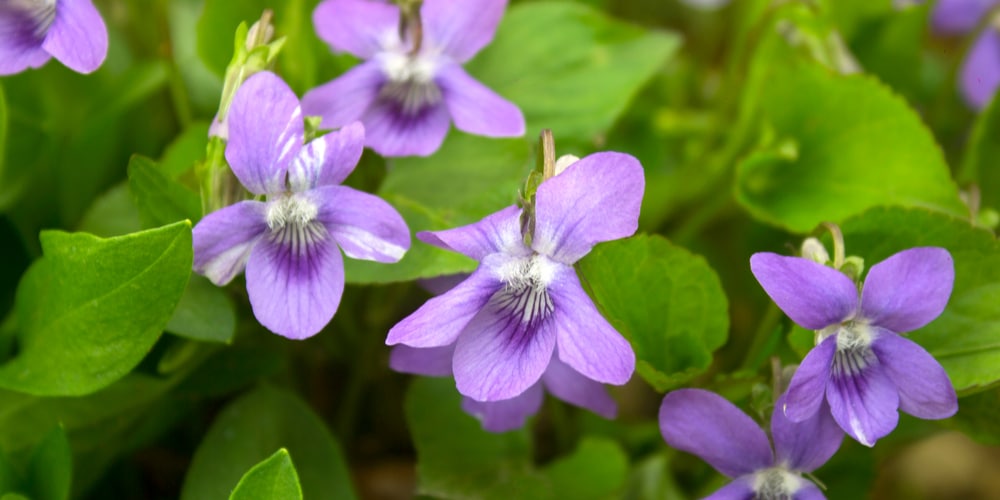 Also known as Sweet Violet, Sweet Pansy, March Violet, Wood Violet, Florist's Violet, English Violet, Garden Wolet, Blue-violet is a hardy perennial that is native to Asia and woodlands of Europe. It's a favorite plant for many people, thanks to sweet, strong fragrant, and deep blue flowers. This plant is versatile and can be a great addition in beds and borders, cottage gardens, woodland gardens, underplanting shrubs and roses, rock gardens, containers, or as ground cover Flowers.
Plant Family: Viola – Violets
Plant Type: Perennials
Sunlight Exposure: Full Sun, Partial Sun
Height: 6- 10(l5cm-25cm)
Spacing: 15"- 18(37cm-45cm)
Spread: V-2(3Ocm-6Ocm)
Water Needs: Average
Soil Drainage: Moist but Well-Drained
Season of bloom: Spring (Early), Winter
Maintenance: Low
Characteristics: Cut Flowers, Showy, Evergreen, Fragrant.
Plants that like wet soil zone 5: Conclusion
If you live in zone 5 and are looking to landscape a soggy area in your yard there are many plants to choose from. Plants such as iris and violets like moist soil and thrive in these conditions. They will also help to dry out your yard.
Related article: 6 Great Zone 5 Bulbs to Plant in the Spring