Blue fescue is a clump-forming ornamental true grass known for its fine-textured, blue-gray foliage and pale-yellow flowers. The foliage of this drought-tolerant species forms a dome shape with a tuft that reaches heights between 6 and 12 inches.
The blue fescue can introduce interesting color and aesthetic value to your landscapes, especially along the walkways. As a gardener, you will appreciate its hardiness and fine texture, which makes blue fescue great companion plants for more dramatic plantings. Below are the best blue fescue companion plants to spruce up and accentuate your outdoor spaces.
---
1. Blue Spruce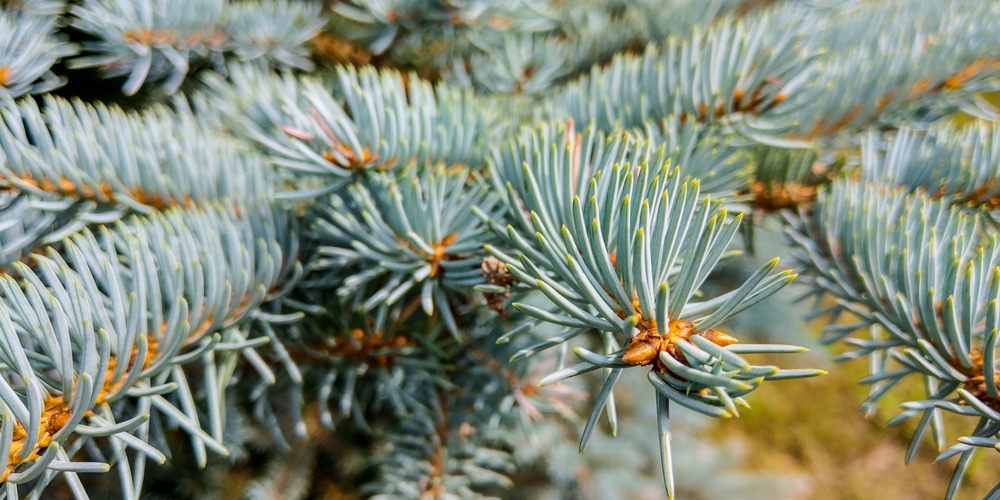 Blue Spruce trees are always an elegant addition to any landscape. This evergreen tree is hardy and will blend in well with your blue fescue plants. Also, they are easy to care for once established.
The blue spruce, also known as Colorado spruce, is native to North America. This tree is a popular ornamental tree in many places beyond its native range. Blue spruce is an evergreen coniferous tree with blue-green colored needle-like leaves.
Blue spruce trees grow slowly, but they mature to large sizes. What makes it a great companion plant for blue fescue is that the trees won't overwhelm the tall grass at maturity. When you place an elegant mix of small, medium, and large blue fescue plants carefully, they will help anchor the trees in your landscapes.
Blue fescue plants color-coordinate and flow with blue spruce trees, with both species showing off their foliage rather than competing. The yellow flowers of the blue fescue plants will do well to showcase the blue foliage of the spruce trees.
---
2. Bush Morning Glory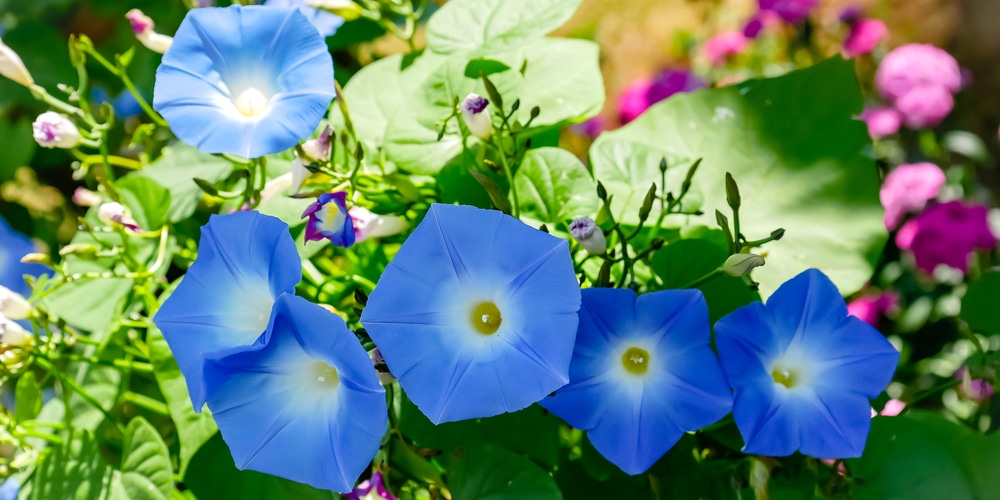 Bush morning glory is another plant that blends well with blue fescue. Also known as the silverbush, this evergreen shrub with silvery-green foliage is native to the Mediterranean. Bush morning glory boasts of a neat, dense round shape, making it a popular ornamental plant.
This drought-tolerant plant will thrive under the same hardy conditions as blue fescue, thus making it an excellent companion plant. Moreover, growing silverbush is easy, and the plant is easy to maintain. All this while rewarding you with copious blossoms and year-round foliage.
Bush morning glory reaches a height between two and four feet, with a similar width. You can plant silverbush and blue fescue as a rounded focal centerpiece in your lawn or entranceways. The white-pink flowers of the silverbush and the yellow flowers of the blue fescue can make for a colorful landscape theme.
---
3. Blue Daze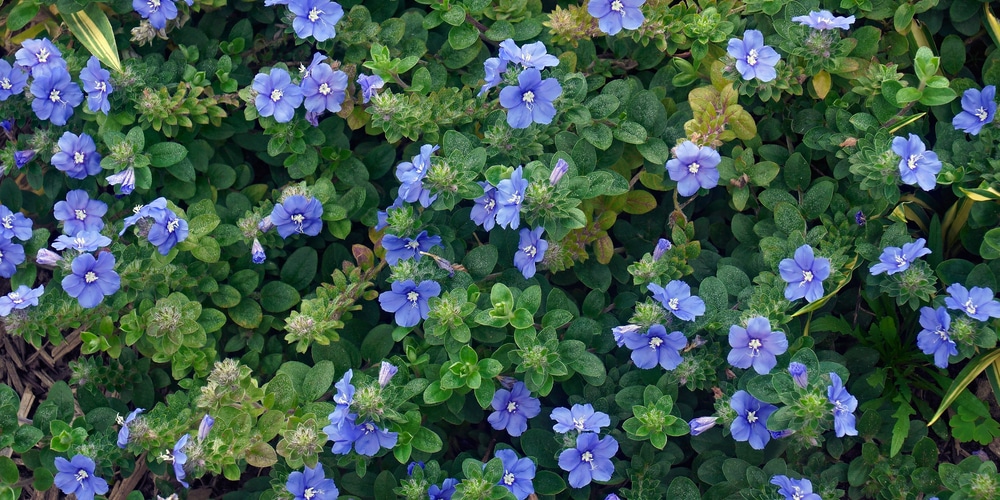 What better way to complement the blue-gray foliage of blue fescue than to pose it next to the rare clear blue flowers of the Blue Daze. Blue daze is a species that's part of the morning glory family, which are native to the Americas.
Evolvulus plants are perennial plants with non-twining stems and smooth-edged leaves. Blue daze flowers that give the species its name are borne in small clusters or singly. The clear light blue flowers bloom from spring until frost.
Blue daze reaches about a foot tall and spreads outwards about 2 feet. The low-growing nature of this plant makes it suitable for border fronts and allows it to blend well with blue fescue. It also has olive to gray-green leaves that will stand out next to the blue-gray foliaged blue fescue. Moreover, Blue daze thrives in hot summers, just like its suitable companion.
---
4. Rose Campion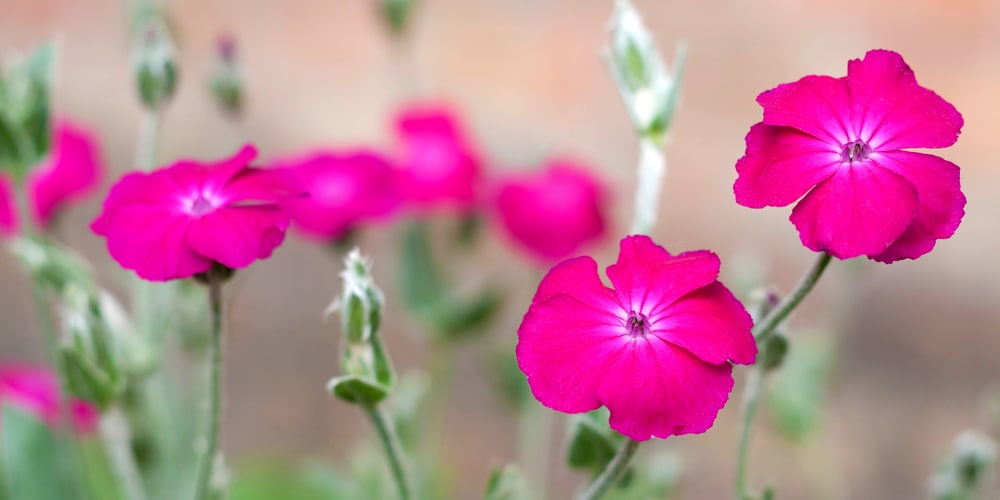 Pink blooms can complement blue fescue for a visually stunning and attention-grabbing landscape. One of the best companion plants to achieve this aesthetic with your blue fescue plants is Rose Campion.
Rose Campion is an ever-gray perennial plant that's a must-have in any bold landscape. It is exceptionally attractive with white flowering stalks boasting of radiant pink, white, or magenta-shaped flowers. This ornamental plant is popular with gardeners and landscapers not only for its decorative flowers but also for the basal rosette of its silver-gray leaves. The woolly evergreen leaves are especially striking for winter gardens.
Just like blue fescue, rose campion is easy to grow, easy to maintain, and not too choosy with soils and environmental exposure. Essentially, it is the perfect perennial and will thrive alongside your blue fescue, trouble-free.
Overall, there is no shortage of options when it comes to companion plants for your blue fescue. Its striking blue foliage compliments most colors and makes for a bold statement in any indoor or outdoor setting. Many ornamental plants that thrive under hardy conditions will blend well with this herbaceous perennial. These plants include dwarf, evergreen shrubs as well as hardy plants with complementary blue, white or pink blossoms.
References:
https://www.gardenguides.com/12540529-how-to-landscape-for-a-blue-spruce.html
https://naturewalk.yale.edu/trees/pinaceae/picea-pungens/blue-spruce-56
https://homeguides.sfgate.com/companion-plants-blue-fescue-83285.html