White flowers are fairly uncommon but you'll have plenty of choices if you want one in your yard or garden. Let's look at trees with white flowers!
---
Here are 11 trees with white flowers
Southern Magnolia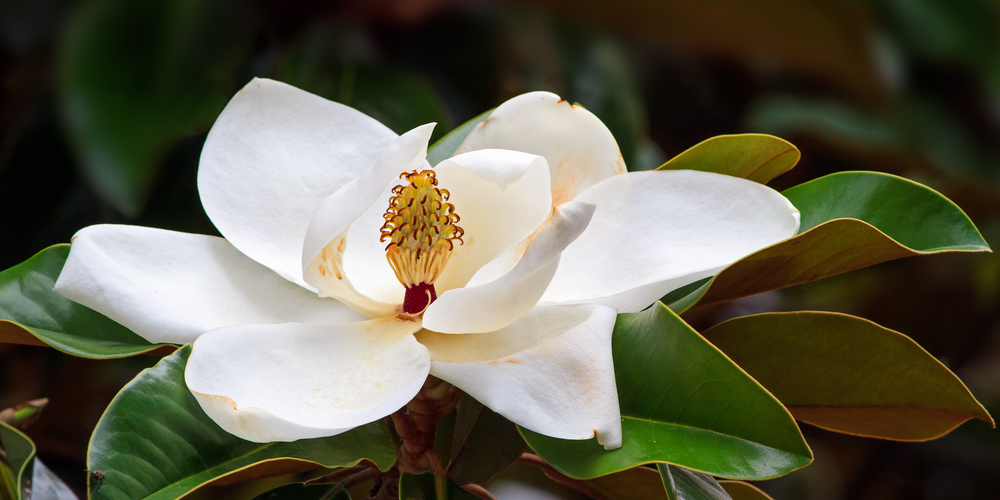 Native to the southeastern parts of the United States, particularly east Texas, central Florida and Virginia, Southern Magnolia can be grown in zones 7 to 9.
When it comes to white flowers, the ones Magnolia offers are hard to beat. The large creamy blooms can range from 8 to 12 inches in diameter and exhibit a fragrant aroma when you get close to it. It's an evergreen tree that you should put in full sun or partial shade.
Sweet Tea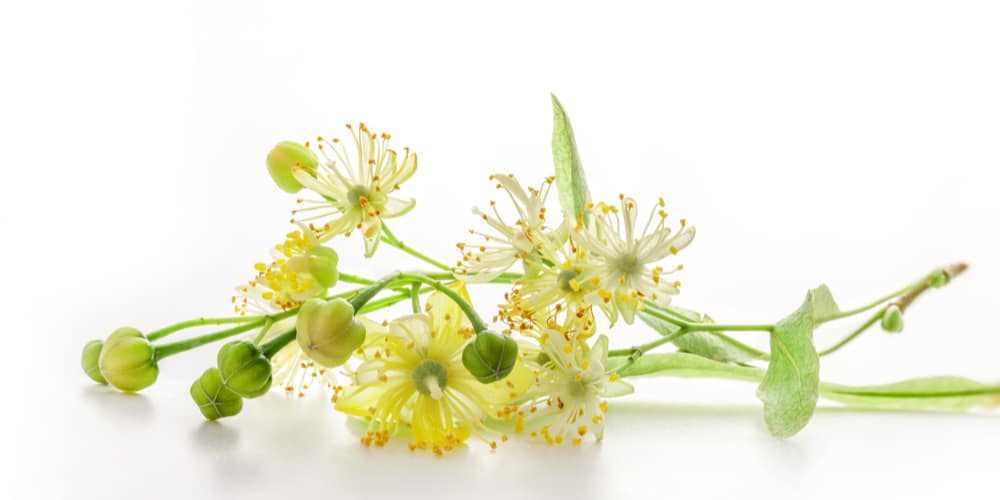 Gordlinia grandiflora is a staple in the Southern regions and gives out intensely sweet-smelling flowers in summer and spring.
'Sweet Tea' Gordlinia is actually a vigorous hybrid you can grow in zones 7 to 10. It can grow up to 30 feet high and 10 feet wide as long as you give it full sun and constant watering. It's an evergreen plant that comes back every year as long as the temperature and season allows.
White Redbud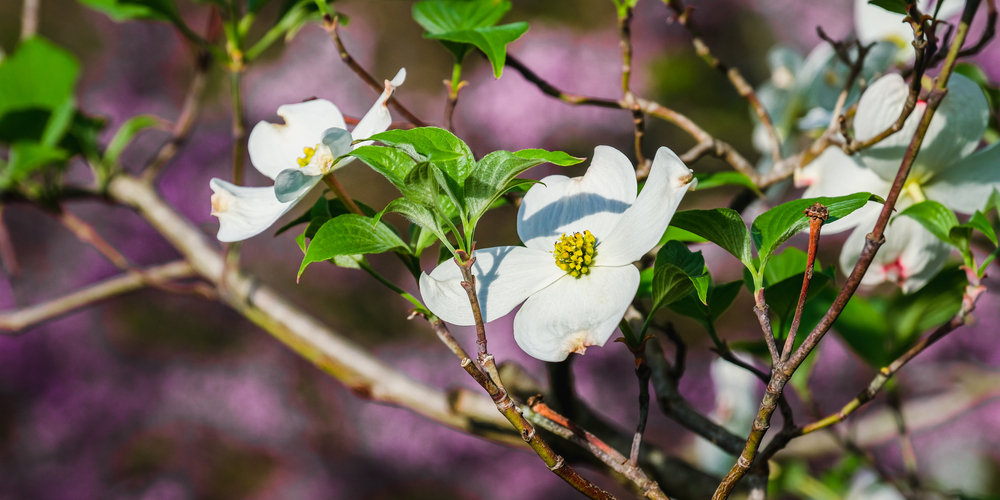 White Redbud, particularly 'Royal White' is an easy goer that thrives in nearly every state. It boasts an expansive growing zone (4 through 9), which speaks volumes about its hardiness and survivability.
Redbuds are known to grow as big as 25 feet tall and have a 20 feet spread. As for the color, you have to choose 'Royal White' to get the white blooms you need come April. The flowers turn to pale yellow, then yellow green in fall season and are curiously shaped like mini hearts.
White Dogwood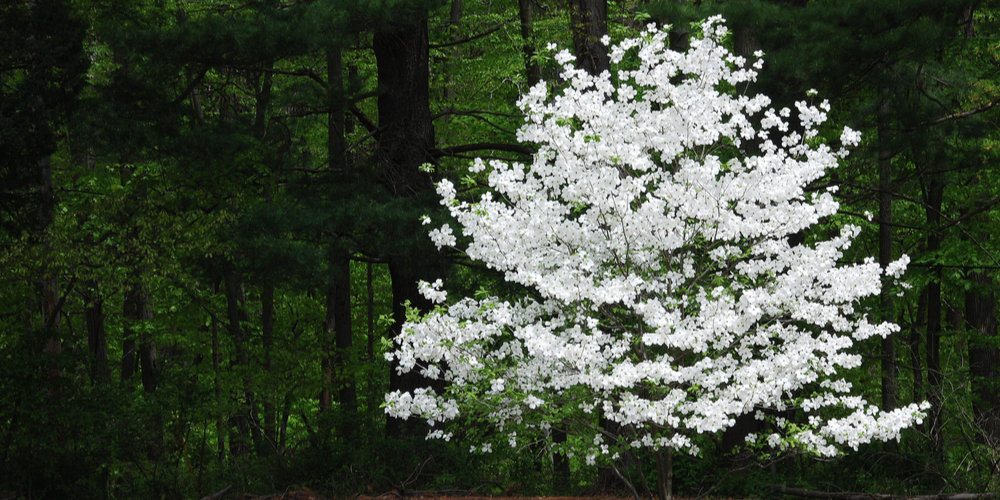 Perhaps the most famous tree with white flowers in the US, the White Dogwood can be found in yards and landscapes across the country.
Flowering dogwood is a species that's native to Mexico and the eastern part of North America. Unlike other shrubs and trees that only bloom in a single season, dogwoods are prolific all-year round and offer a shower of white starting in spring and all the way through fall.
White Dogwood is hardy in zones 5 to 9 and requires partial sun and shade. You'll also want a loamy and well-draining soil, as well as regular watering.
White Rose of Sharon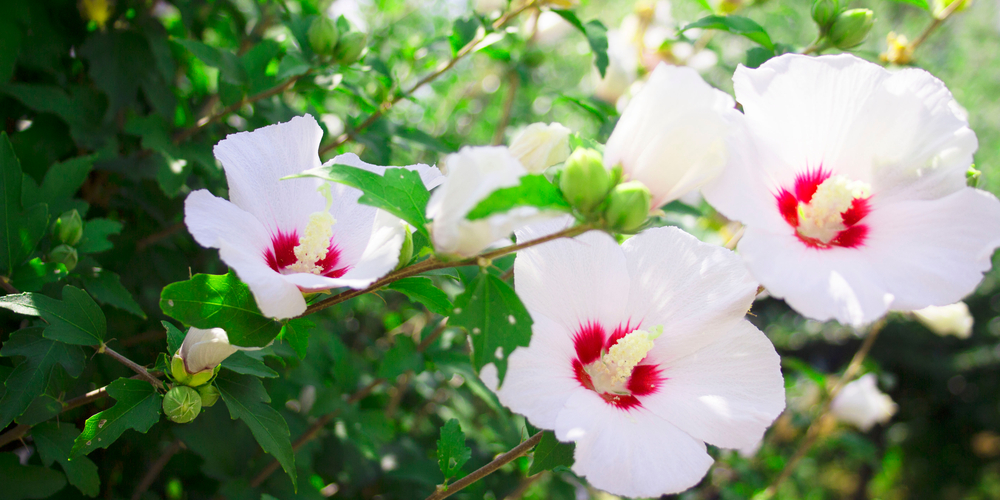 Part of the hibiscus species, White Chiffon is the term of endearment for those who are fortunate enough to have it in their yard.
It's worth noting that the shrub is considered invasive in many US states. If you could contain them in garden beds or pots then you'll have kept it from taking the spotlight in your yard or garden.
The white blooms are tightly packed together and last from June through September. It will need a location in your landscape that gets full sun in zones 5 to 8.
Japanese Lilac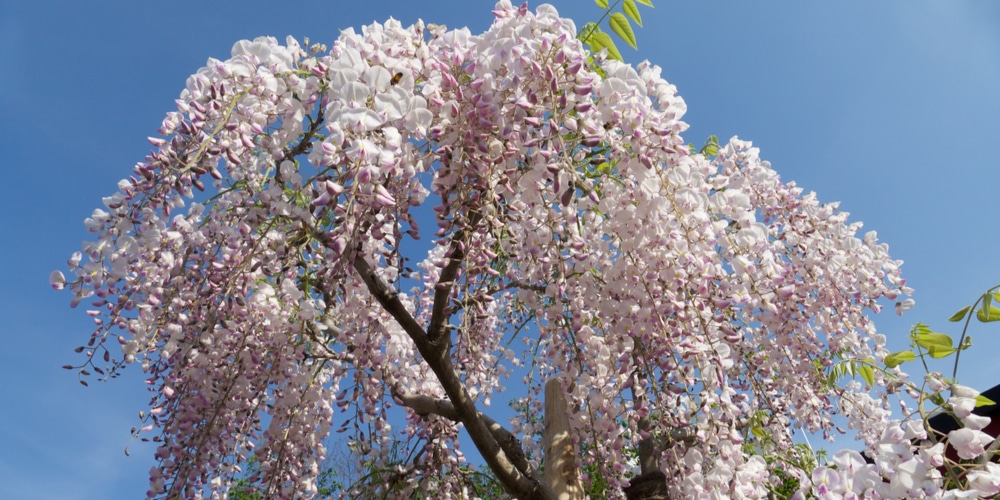 Although largely considered a shrub, growers can train their Japanese Lilac to assume a tree shape through careful pruning.
Japanese Lilac is hardy in zones 3 to 7 and grows better in colder climates. That said, you should plant it where it gets morning sun and shade in the afternoon. For landscaping options the choices are many- it works very well as a privacy hedge, a lawn or street tree or beside a patio or deck.
White creamy flowers appear in June and have a distinctly sweet aroma.
Spring Snow Crabapple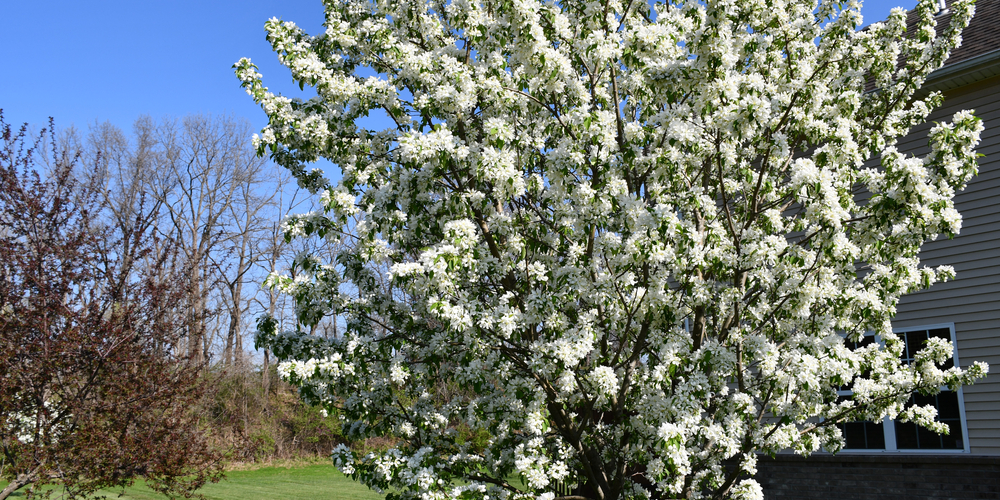 Spring Snow Crabapple is known as crabapple and a favorite ornamental tree by many US homeowners. The good news is that you can group them together or a standalone accent in your landscape.
'Spring Snow' is aptly named as the pure white flowers make the tree look like it was caught in a snowstorm. The tree blooms in April and requires full sun in USDA zones 4 through 8, and part shade in other zones. In the fall season, the mint green leaves turn yellow in preparation for the cold ahead.
Cleveland Pear Tree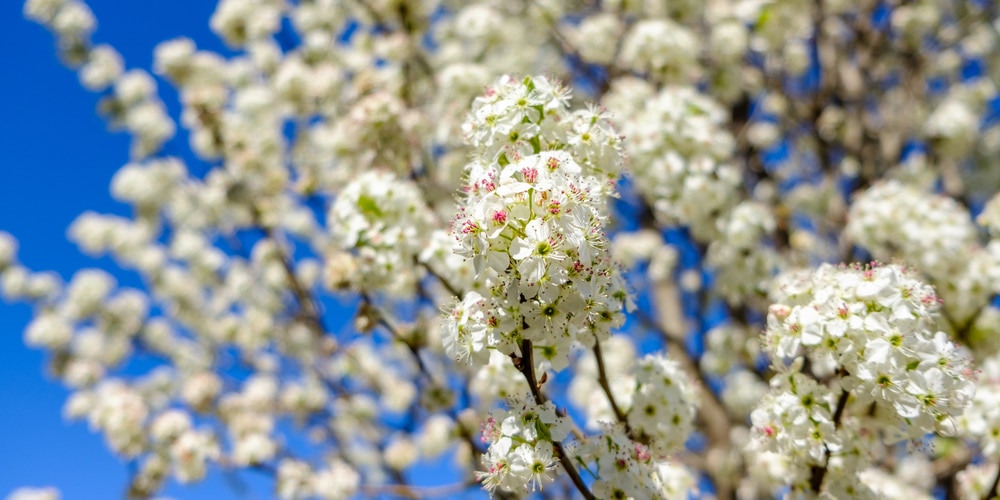 From afar you'll understand why the Cleveland Pear Tree is named as such- the shape of the foliage is a natural oval, and the leaves are a superb light lemon-yellow hue. It will surely become a topic of conversation whenever you have friends or relatives coming by.
This species is beginner-friendly and native to Ohio. It grows well in zones 5 through 9 but it's not recommended in California and Arizona. Aside from the white blanket of blossoms, the leaves changing are a spectacular transformation from green to mahogany in the fall season.
American Fringe
Those living in zones 3 through 9 will definitely want an American Fringe Flowering Tree in their yard collection. It's tough and will usually survive winters and cold temperatures and reward you with thin white flowers in late spring to early summer.
American Fringe White boasts elegant spear-shaped leaves that look great in borders and out in the yard. It does very well in partial sun and moist soil and doesn't want its roots to get too dry. Pruning is rarely needed and the tree shapes itself. Plus, you'll be able to see blue-colored berries when they're fully mature.
Washington Hawthorn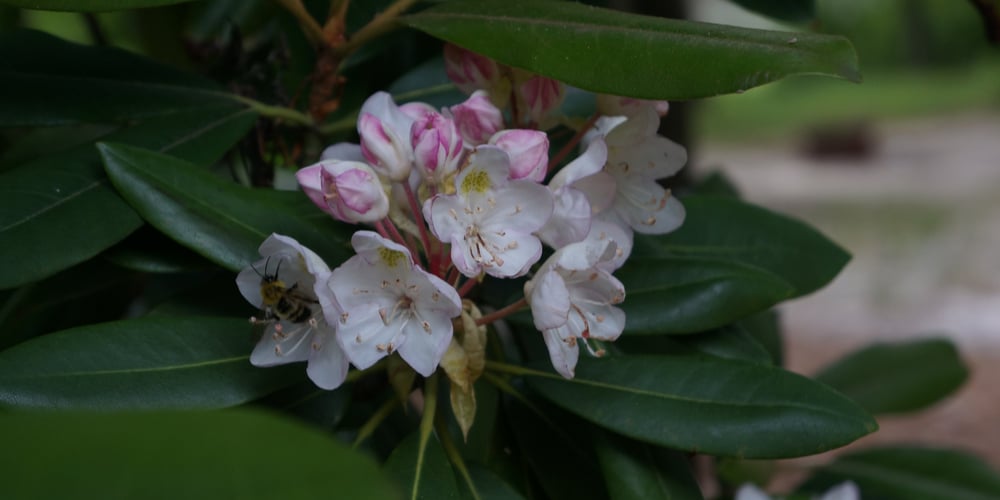 A compact tree that's made for small spaces, you can plant the Washington Hawthorn in a location that gets plenty of sun and bright light throughout the day.
When spring comes around you might find yourself staring at red-purple leaves, which eventually transforms into green. When flowers form they appear in packed white clusters, which then turns into red berries.
Washington grows well in the state and in zones 3 through 8.
Natchez Crape Myrtle Tree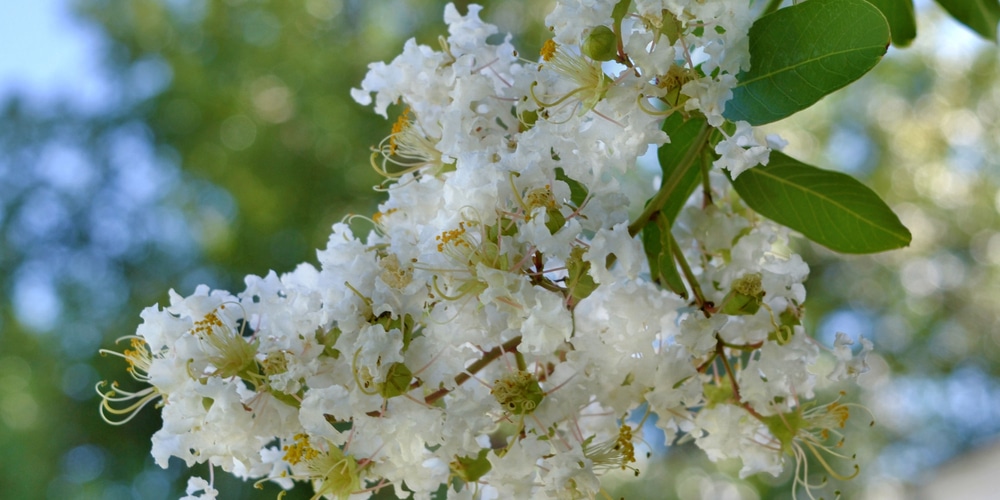 A fast-growing small tree, the Natchez Crape Myrtle has earned the nickname 'Lilac of the South' because of comparisons to the plant.
Natchez can grow practically anywhere in the US and in any type of soil. It loves getting full sunlight and without obstructions or shade from other trees.
Get the conditions right and you'll be witness to an amazing display of small white blooms at the ends of the tree's stems. Make sure to water every now and then for the tree to sprout flowers.
Related Article: 7 White Flowering Trees in Texas