Dahlias are grown for their stunningly beautiful and luscious blooms. Many gardeners and homeowners love them because they are relatively easy to grow. Unfortunately, they are not invincible. Dahlias attract a lot of insects, some of which are pests. You may be wondering, 'what is eating my dahlia leaves?'
If you suspect your dahlia flowers are being attacked by pests, read on.
---
What is eating my dahlia leaves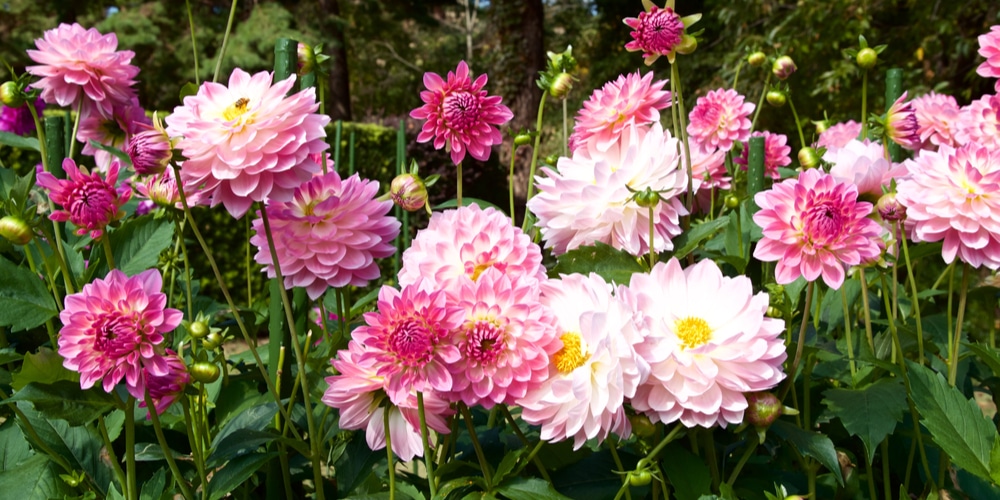 Insects and animals like to eat dahlia leaves. Here's a list of what may be eating your dahlia leaves.
Insects That Like To Eat Dahlia Leaves
Dahlias are best known for their colorful, pretty flowers. Even so, they have numerous pests that find their leaves very tasty and can strip the plant bare in just a night. If your dahlias leaves are eaten, with holes all over; here are potential culprits:
Snails and slugs
Snails are the main pests that eat dahlia leaves and are capable of causing tremendous damage to these plants, especially when the foliage is soft and tender. They chew large holes in leaves and are easy to spot as they leave a slimy mucus trail behind them.
Caterpillars
Caterpillars feast on dahlia leaves, leaving behind a distinct chewing pattern. Unlike snails that chew holes in the leaves, caterpillars often chew the leaves from the outside edge towards the middle, which creates 'stripes' in the leaves.
They also roll up in the leaves as they feed on them, so they continue feasting without being noticed. As such, rolled, curled leaves are a tell-tale sign that caterpillars are eating your dahlia leaves.
Grasshoppers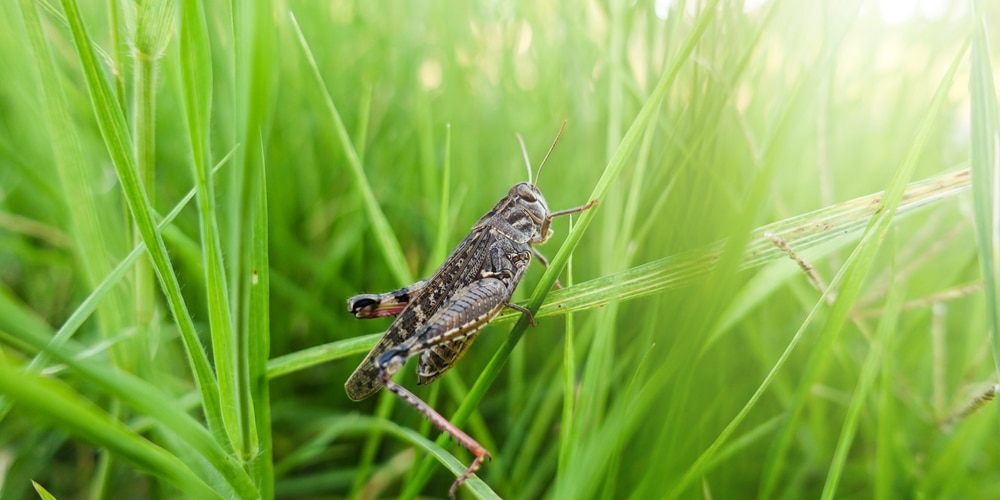 Grasshoppers are generally not a major threat, but they occasionally feed on dahlia and other plants' leaves.
Thrips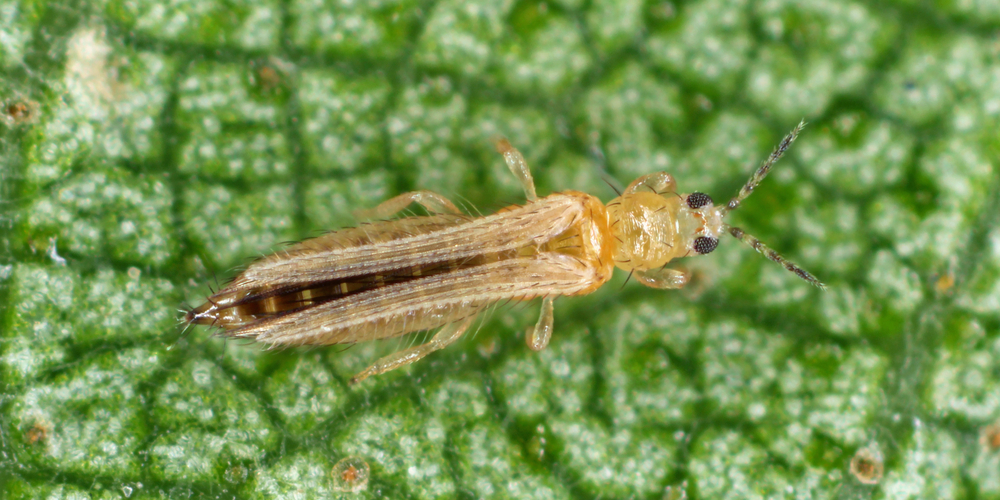 Known for their fringed wings, thrips are slender pests that attack dahlia plants. Although they do not necessarily feed on the leaves, they can tremendously damage them when left unattended.
Essentially, they puncture the leaves and suck out the leaf juices, which can cause the leaves to drop and stunt growth.
Earwigs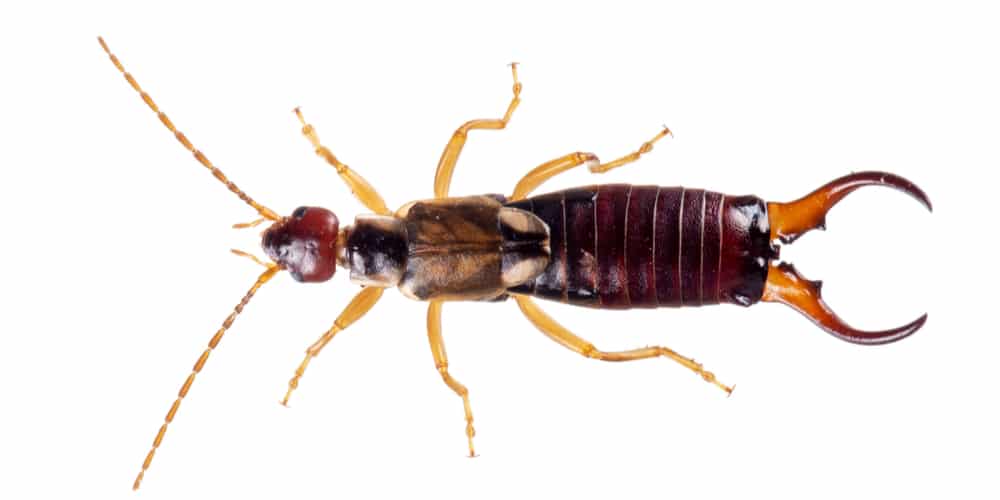 These bugs are usually active at nighttime and eat holes into dahlia leaves, but their infestation is not fatal. They may also be beneficial if you aphids as they prey on them, keeping their population under check.
Spider mites: Like thrips, these pests punch the leaves and suck the plant juices, which often leave the plant with unsightly patches.
---
How to Treat Dahlia For Insects
Healthy dahlia plants are relatively more pest-resistant, so taking good care of your plants is the best line of defense against pests. Although some insecticides may work effectively to control many pests, control methods may vary depending on the bugs you are controlling.
That said, here are some of the effective insecticides to consider:
Neem oil
Eucalyptus oil
Insecticidal soap
Sevin dust
While these insecticides can effectively control bugs that eat your dahlia leaves, they may hurt the plant under certain circumstances. If you consider natural control methods, then try:
Handpicking the pests and throwing them into soapy water
Trapping them
Introducing Bacillus thuringiensis (Bt) onto the plants
The best approach will depend on the pests you are controlling, but handpicking is generally preferred before turning into chemical insecticides. Also, consider ways of attracting birds, frogs, toads, and other predators of the bugs.
Considering that healthy dahlia plants tend to be pest-resistant, watering your plants properly and applying fertilizer carefully can help mitigate infestation. While mulch can be very useful, you also want to limit the depth to reduce hiding spots for snails, c\slugs, earwigs, and other pests.
---
Animals that Like to Eat Dahlia Leaves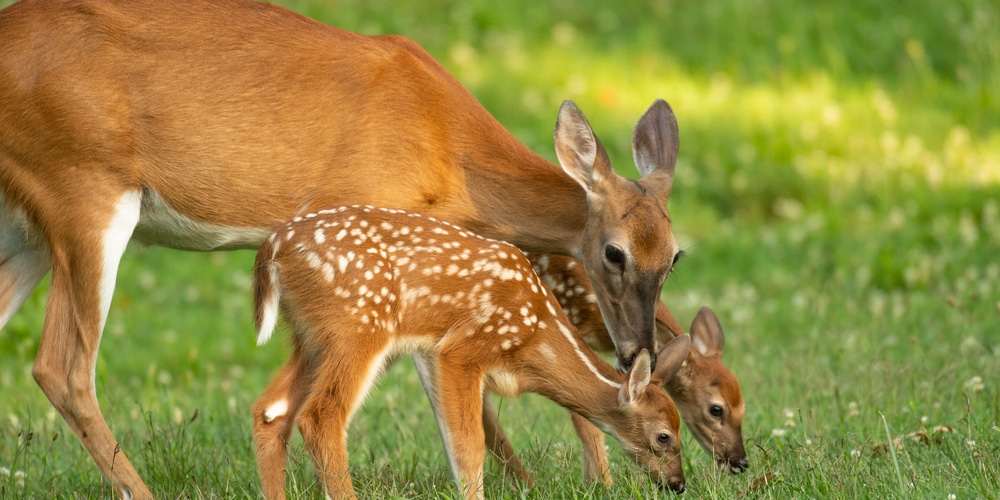 Besides the obvious pests, there are numerous animals that feast on different parts of dahlia plants. These include:
Squirrels – dig up dahlia bulbs and eat them
Mice – feed on the dahlia bulbs underground (without digging them up)
Rats – feed on dahlia flowers
Gophers – eat the tubers
Deer – eat only dahlias in certain conditions
Groundhogs – feed on the dahlia leaves
Moose – eat dahlia when they can't find a tastier alternative.
Voles – eat the bulbs
Chipmunks – eat the bulbs
How to stop animals from eating dahlia plants
While some animals are good at controlling caterpillars and other pests that attack dahlia plants, some feast on these beloved perennials. Depending on what animals are infesting your dahlia flowers, you can use various approaches to mitigate the infestation.
Here are some of the effective tricks to consider:
Fencing around the plants can keep deers away
Growing your flowers in a wire basket
Planting in a container with holes