While flowering plants are surely a sight to behold, there's something about a vine-covered in delicate blooms that feels particularly enchanting. Vines offer height and dimension to any space, whether you're growing them up a trellis or letting them spill over the edge of a pot. And when they're in bloom? Even better.
White flowers have a way of brightening up any space, adding elegance, grace, and a touch of whimsy. Combine it with a vine, and you've got a recipe for magic. From classic favorites like clematis to lesser-known varieties like silver lace vine, there are plenty of beautiful options to choose from.
---
List of Vine with White Flower Varieties: Our Favorites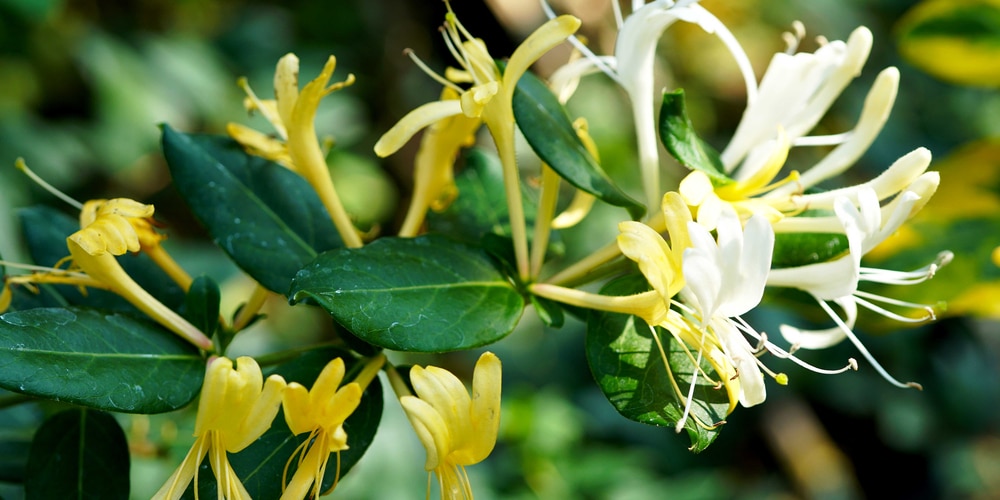 Have you ever seen a beautiful, intricate vine sheathed in delicate white flowers? If not, then you're missing out! These elegant vines are a sight to behold. They add a touch of beauty and elegance to any setting. Plus, the sweet fragrance of the white flowers is simply heavenly. If you're looking for a way to add some natural beauty to your garden or home, then be sure to plant an elegant vine with white flowers. You won't regret it!
Here are our top favorites:
1) Honeysuckle Vine
A climbing vine with sweet-smelling white flowers, honeysuckle is a classic choice for arbors and trellises. The vine is relatively fast-growing and easy to care for, making it a popular choice for gardeners of all levels of experience. Honeysuckle bloom from early spring to late summer and the flowers are often followed by berries that attract birds and other wildlife.
2) Sweet Autumn Clematis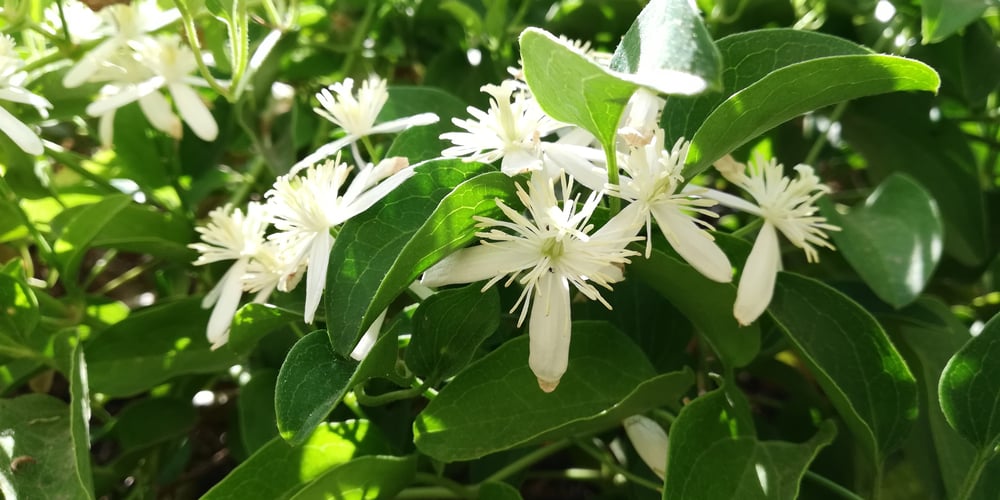 The sweet autumn clematis is a showy climbing vine with large white flowers, the sweet autumn clematis is a late-blooming variety that blooms from August to October. This vine is a vigorous grower and can quickly cover an arbor, trellis, or fence, reaching heights of 20 feet or more. Its beautiful flowers emerge from large, showy clusters and have a sweet fragrance that attracts bees and butterflies.
3) Climbing White Jasmine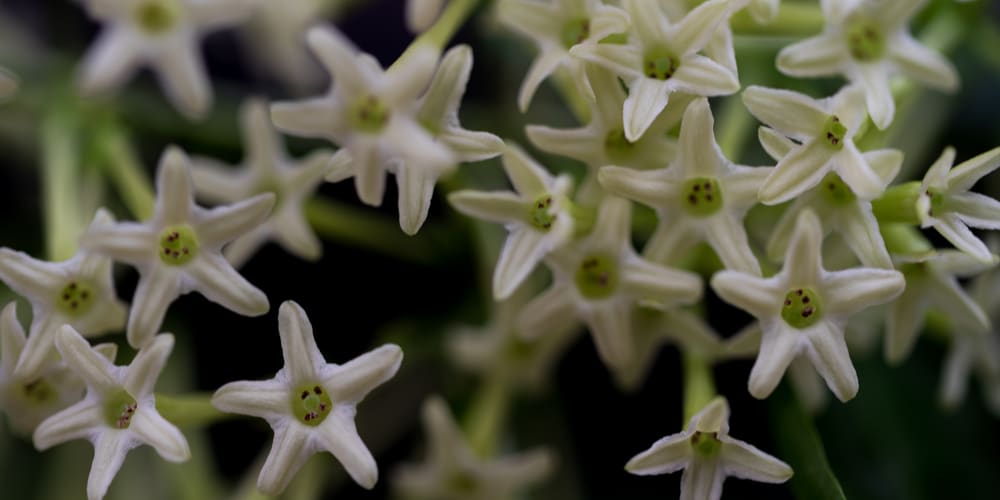 With glossy green leaves and delicate white flowers that release a sweet fragrance, climbing white jasmine is a beautiful addition to any garden. This vine grows up to 30 feet upon maturity and spreads up to 15 feet wide.
Ideally placed in a container garden, the climbing white jasmine can also be trained to grow on an arbor, trellis, or fence. These elegantly beautiful vines can also be grown as a perennial groundcover in some areas.
4) White Bougainvillea Vine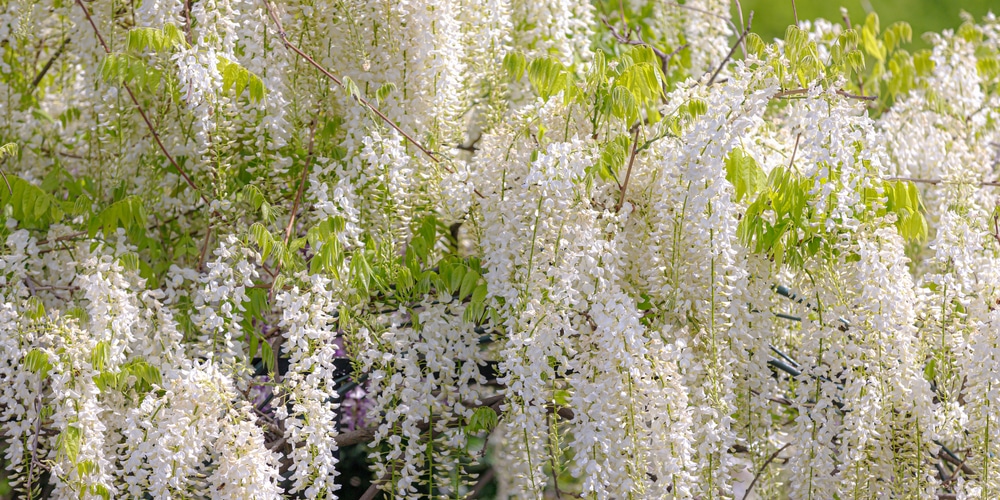 As any gardener knows, there is nothing more delightful than the sight of a beautiful vine in full bloom. While bougainvillea is typically known for its colorful flowers, this vine can also be found in a stunning white variety. Its woody stems can produce tubular, four-petaled white flowers that bloom throughout the spring and summer.
Bougainvillea is a tropical plant that thrives in warm climates. In cooler areas, it can be grown as an annual or in a container that can be brought indoors during the winter months
5) White Moonvine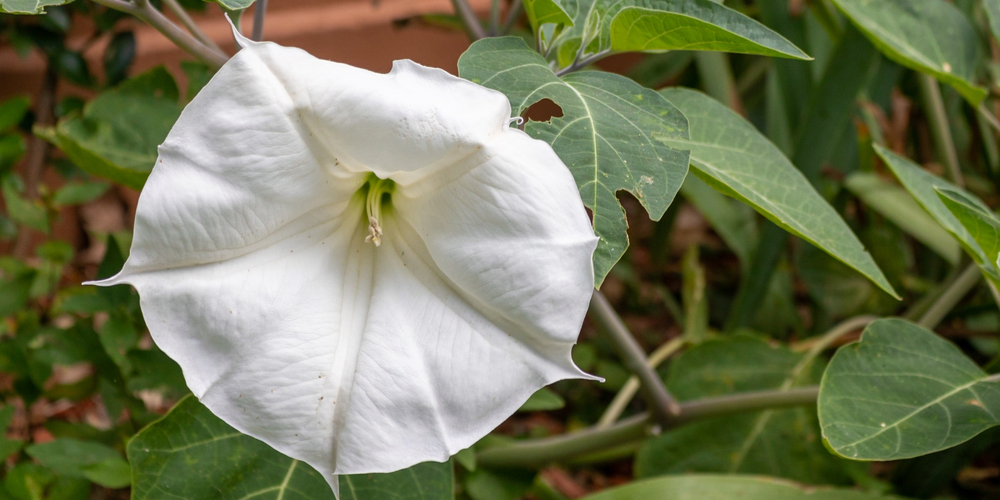 The White Moonvine is a beautiful flower that blooms in the evening hours. Its delicate petals are accented by a deep purple center, and its sweet fragrance immediately draws one in. The name of this flower is derived from the moon-shaped white mark that can be found on its leaves.
Thriving in USDA zones 10-12, the White Moonvine is a heat-loving plant that's perfect for adding some color to your summer garden. It typically blooms from June to September and can reach heights of up to 15 feet. It can be grown in container gardens, hanging baskets, or as a climbing vine on an arbor, trellis, or fence.
6) White Wisteria Vine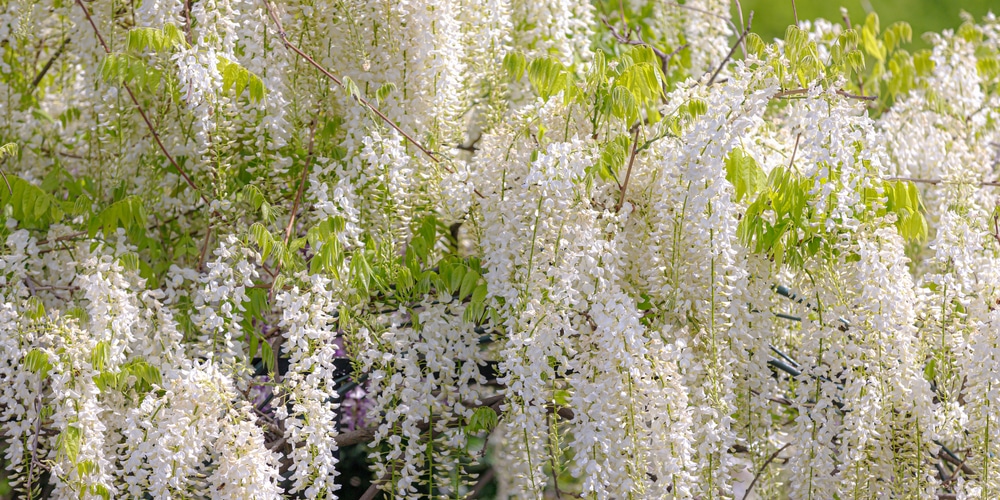 The White Wisteria Vine is a beautiful addition to any garden. Its cascading blossoms are perfect for adding a touch of elegance, and the vine is relatively easy to care for. The White Wisteria Vine is native to China and Japan, and it has been cultivated for centuries.
In addition, the White Wisteria Vine blooms in late spring or early summer. The flowers are white or pale blue, and they have a sweet fragrance, dangling in clusters of up to 30 blossoms.
---
Vine with White Flowers: Final Thoughts
Whether you're looking for a fragrant vine to attract bees and butterflies or a beautiful groundcover for your garden, there's sure to be a white-flowering variety that's perfect for you. Despite their delicate appearance, most of the vines on our list are tough plants that are easy to care for. So why not add one of these elegant vines to your garden today?