The spring season welcomes all kinds of beautiful foliage filled with rainbows of color. Purple is one color in particular that stands out among what used to be the empty branches of winter.
There are plenty of purple flowering spring trees to keep an eye out for, including the ones we've listed below.
---
Jacaranda Tree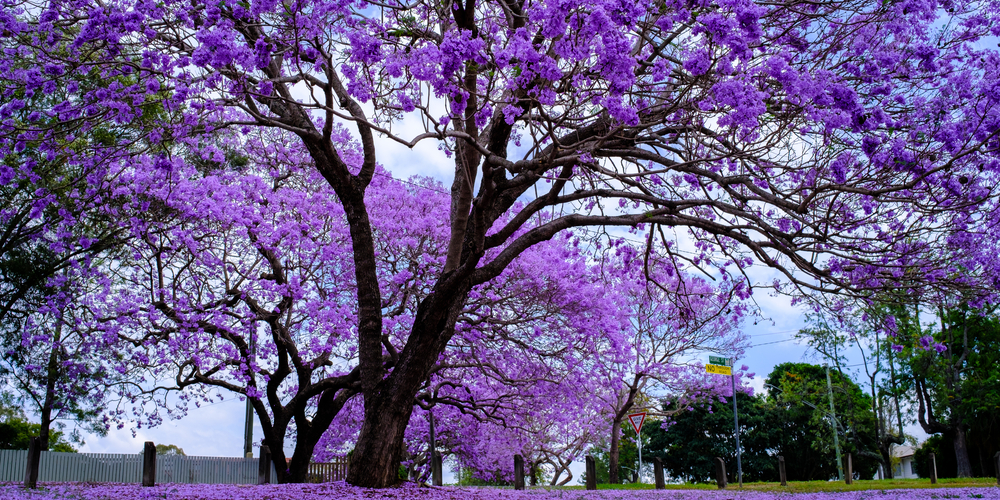 The jacaranda tree is a gorgeous tropical tree that brings stunning purple flowers in the spring. Its arched branches give the tree a canopy-like appearance and hold clusters of fragrant purple and bluish-purple flowers.
Scientifically known as Jacaranda mimosifolia, this tree thrives in hardiness zones 10 and 11 and grows quickly in tropical climates. The tree is native to South America but can grow well in warmer climates like southern Florida, Texas, and Hawaii.
---
Crape Myrtle Tree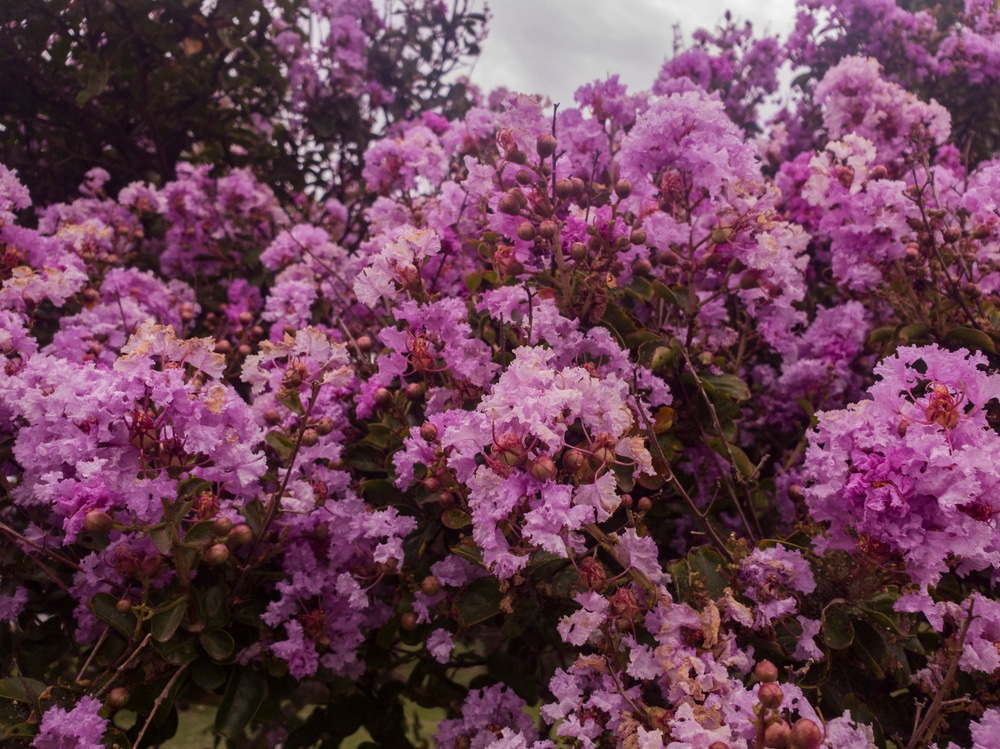 Formally known as Lagerstroemia indica, the crape tree is a medium-sized deciduous tree that's also described as a shrub. This tree shows off delicate, crinkled flowers that bloom in shades of pinkish-purple.
The crape myrtle tree grows best in hardiness zone 6 through 9. It can grow anywhere from 15 to 25 feet tall and has a pretty impressive spread that can reach 15 feet. Full sunlight and moist soil will give you the best blooms.
---
Desert Willow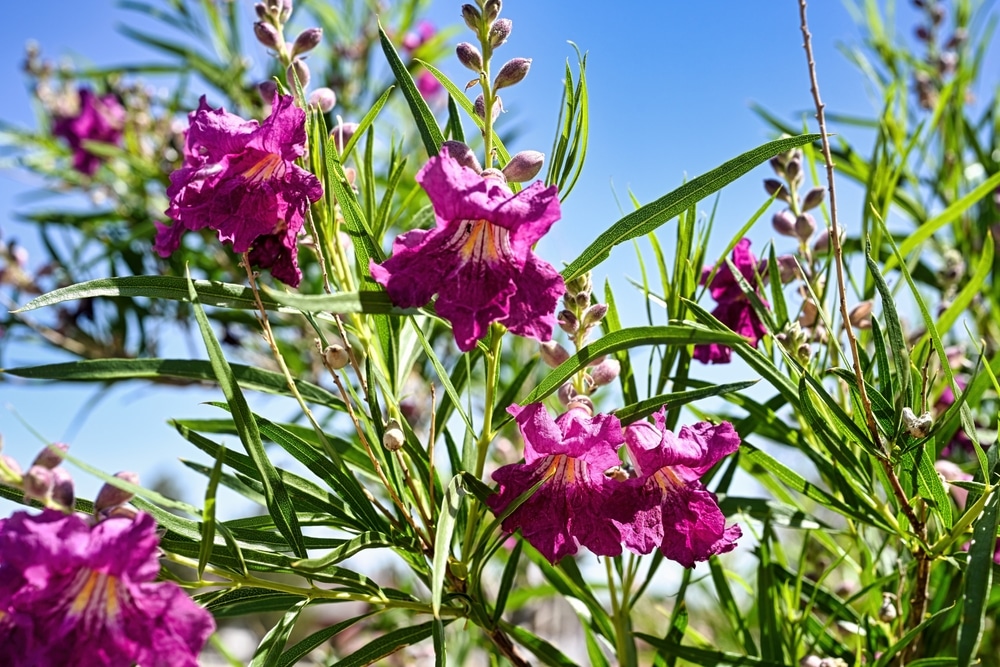 The desert willow tree is native to Central Texas, which tells us that it's a drought-tolerant plant that can withstand low rainfall and high temperatures. Despite being around harsh weather conditions, it still blooms beautiful purple flowers in trumpet shapes.
The Chilopsis linearis has multiple trunks, which leads to a wide canopy and an impressive spread. Its leaves are deciduous and fall off during autumn.
If you're a fan of pollinators like bees and butterflies, this tree is an excellent choice. It thrives in zones 7b through 11 and keeps its flowers throughout the summer.
---
Purple Robe Robinia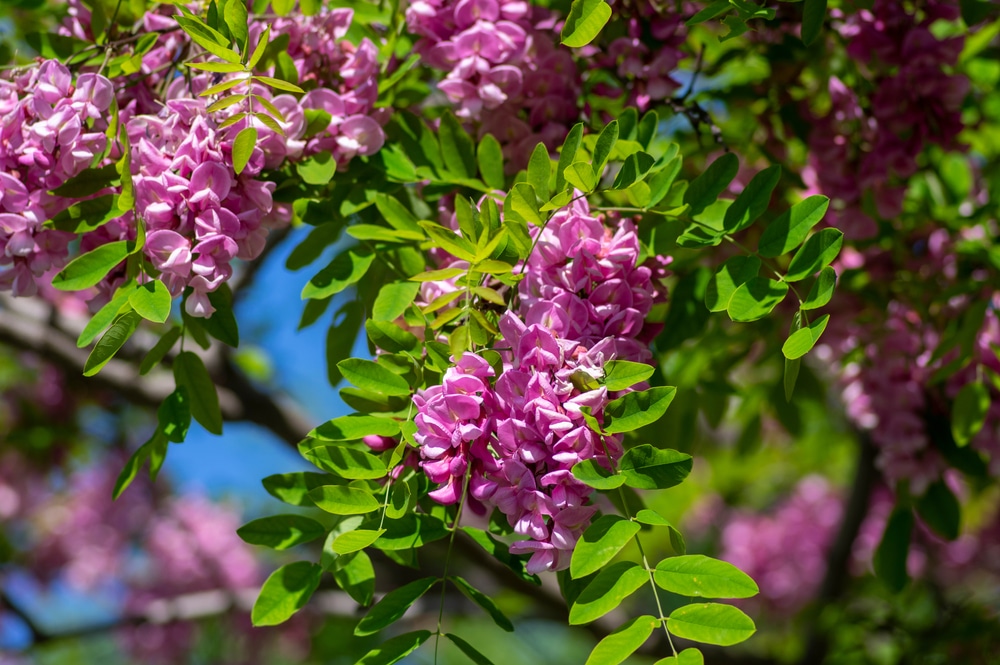 This next tree puts purple right in its name, so you know it delivers pretty purple flowers. The purple robe robinia tree, also known as the black locust, displays violet-purple flowers in the spring starting around May.
Although its flowers are showy, it's best admired at a distance as the branches sport sharp thorns. With full sun and medium watering needs, this tree is considered medium maintenance and grows well in zones 4 through 8.
You can expect this tree to grow up to 40 feet tall. It's tolerant of clay soil and drought, and deer tend to leave it alone due to its fragrant flowers.
---
Pride of India

Scientifically known as the Lagerstroemia speciosa, the pride of India tree is another tree with brightly colored flowers that bloom in shades of pink to lavender.
The pride of India tree is most often used as an ornamental tree. It grows in zones 10b through 11a and works well in areas it can spread but can easily become a problem in small yards, as it's quite invasive.
---
Dogwood Tree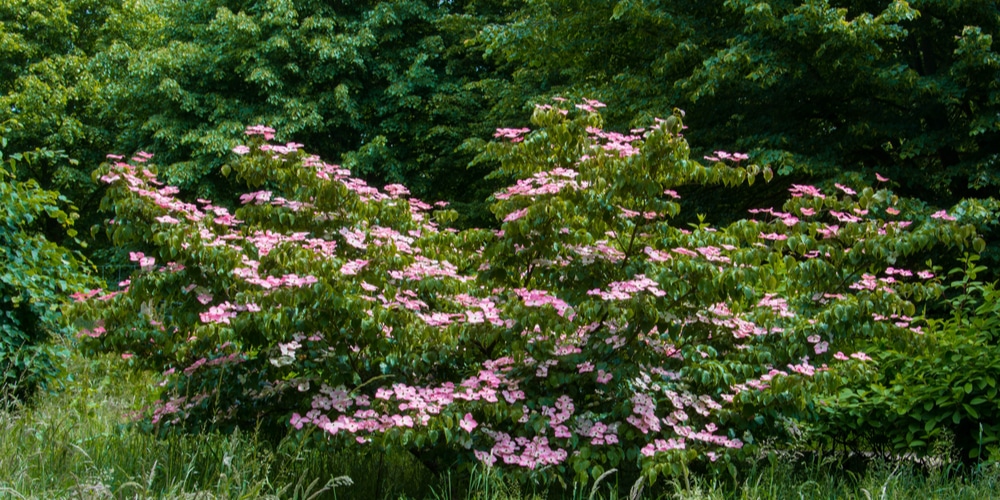 Dogwood trees are quite common throughout the US, but there are many different types of dogwood. But you can identify any dogwood by its smooth leaves, flowers, and opposite branching.
The Swedish cornel is one type of dogwood that blooms purple flowers. It grows best in zone 2. The flowering dogwood can also produce stunning pinkish-purple flowers and grows in zones 5 through 9. The latter of the two is the most popular dogwood for landscaping.
---
Final Thoughts
If you're looking to add some color to your yard this spring, these purple flowering spring trees should do the trick. Just be sure to check your area's hardiness zone to be sure the tree can thrive in your climate.