Growing fruit trees can be a great way to provide healthy, nutritious, and tasty fruit for the household. However, if nutrient deficiencies and soil problems arise, then yields can quite often be reduced. Here are some steps you can take to find the best fertilizer for your fruit trees.
---
Things to consider when choosing the best fertilizer for fruit trees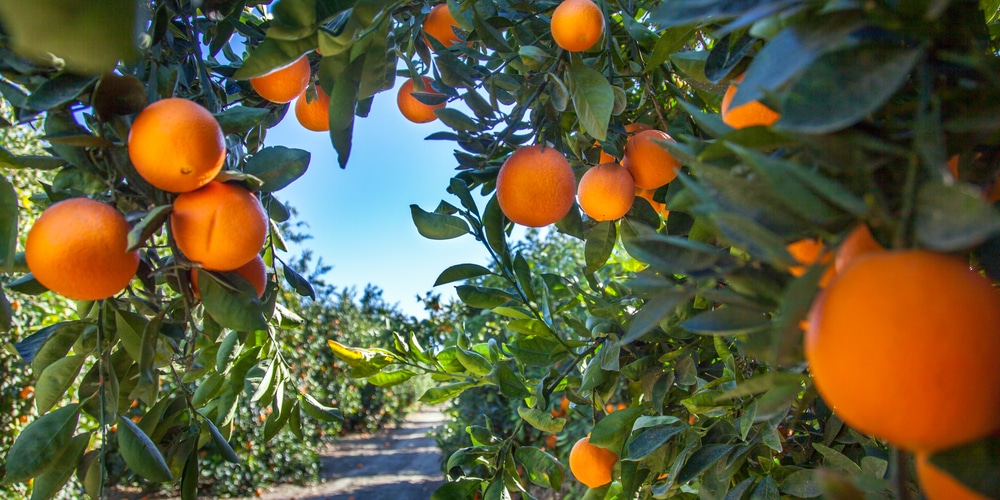 There are many different fertilizers on the market, and you should carefully consider the options before making a decision. The best fertilizer for your trees will depend on what type of fruit you're growing, the quality of your soil, and whether or not the trees are suffering from any vitamin or mineral deficiencies. Answer the following questions to decide what is the best fertilizer for fruit trees?
Which Nutrient is Deficient?
Before you apply any fertilizer, it is crucial to discover which nutrients are lacking in the soil. When the soil is deficient in a nutrient, the tree's leaves will begin to turn yellow, then brown, and will eventually die. A commercial fruit tree nutrient analysis or a home test kit can be used to assess whether nitrogen, phosphate, potassium, and magnesium are low in the soil.
If more than one of these elements is deficient, then an all-purpose fruit tree fertilizer is recommended. If there is a deficiency in one of these elements alone, you will have to choose a specific fruit tree fertilizer for that particular nutrient.
Soil Test
You can purchase a home soil test kit or send it away for a commercial soil analysis. This will tell you the soil's pH level, which can be decreased by adding sulfur to the soil and increased using ground agricultural limestone. Some soil tests also show any nutrient deficiencies and if there are pests or diseases. Tests can be purchased from a garden center or hardware store.
Regular Applications
It is also important to note that when you apply a fertilizer product to your soil, it soaks into the top layer of the ground. It will then be worked deeper into the earth by worms and other organisms. To keep your fruit trees in good condition and to allow them to yield a good harvest, it's essential to reapply fertilizer regularly. This will also help to replenish lost nutrients. It is best to apply a fruit tree fertilizer according to its instructions and, if possible, use slow-release fertilizers, which can reduce the frequency of applications.
---
Fertilization: Best Fertilizer for Fruit Trees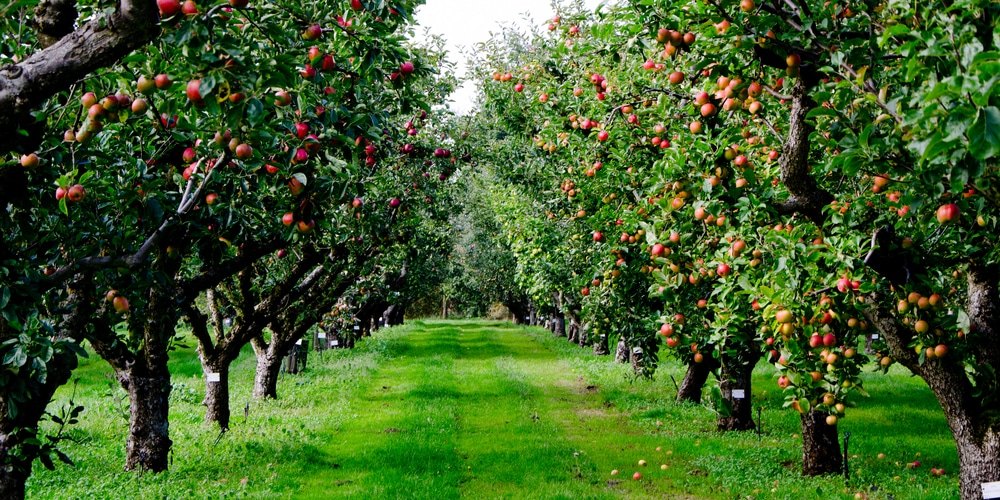 Fruits like peaches, plums, and apples require more nitrogen than other fruits like blackberries, grapes, and raspberries. An all-purpose fruit tree fertilizer will still work, but you may get better results if the correct product is used. There are also slow-release fertilizers on the market which can help reduce the frequency of fertilizer applications. Here are some products you may like to consider when searching for the best fertilizer for fruit trees:
---
Dr. Earth Organic Fruit Tree Fertilizer
Dr. Earth's organic fruit tree fertilizer is suitable for a wide variety of fruit trees. It helps the roots grow deep and healthy, allowing the tree to increase its fruit yield and grow healthier fruit. This, in turn, makes the fruits more nutritious.
This product has been formulated using 100% organic ingredients; it doesn't contain any GMOs, sewage sludge, or chicken manure. It contains probiotics, and beneficial soil microbes plus Ecto and endo mycorrhizae stimulate. These all help improve the health of the trees and allow for robust root development. Just one application of Dr. Earths' organic fruit tree fertilizer will feed your fruit tree for several months.
Pro's
Allows you to grow more nutritious fruits
Trees will have stable growth without spikes in growth rate
The product is 100-percent natural
---
Espoma Tree-Tone Plant Food
Espoma TR4 4-Pound Tree-Tone 6-3-2 Plant Food , 4 pounds
FOR USE ON: Use Tree-tone organic fertilizer for all shade, fruit and ornamental trees including apple and peach trees
CONTAINS: Tree-tone is a rich blend of the finest natural & organic ingredients enhanced with our exclusive Bio-tone formula; 6-3-2 Fertilizer analysis with 5% calcium. Tree-tone is environmentally Safe - No sludges or toxic...
WHEN / HOW TO USE: Best to use Tree-tone fertilizer spring and fall. Tree-tone is ready to use and requires no mixing
FOR ORGANIC GARDENING: Tree-tone is approved for organic gardening; It is a registered Organic Input Material meaning it meets all requirements for organic production
MADE IN THE USA: Product of the Espoma Company. The leader in natural organics since 1929
Espoma Tree-tone Plant Food is great for fertilizing both fruit and ornamental trees. This product helps with natural root development and allows the entire tree to become healthy. It's manufactured using organic ingredients, and no fillers or sludges have been added to the formula.
Tree-tone plant food provides your tree with slow-release feeding, which will help your fruit trees grow and thrive throughout the growing season. This product is best used twice annually; in the early spring and in the fall.
Pro's
The product is a slow-release fertaliser
It helps with root development and improves the health of trees
Made with natural ingredients
---
Miracle-Gro 1048291 Citrus, Avocado, Mango, 4.5 lbs Shake 'n Feed
Miracle-Gro Shake 'n Feed Citrus, Avocado and Mango Plant...
Contains added potassium, magnesium, sulfur and iron to help improve Common nutrient deficiencies
Use on new or existing in-ground citrus, avocado and mango trees
Feeds up to 3 months
Will not to burn when used as directed
Takes the guesswork out of feeding!
If you're searching for a product that can be used on citrus trees, look no further than miracle-Gro's product. This fertilizer has been formulated to feed established citrus, avocado, and mango trees. Miracle grow tree food contains essential nutrients such as potassium, magnesium, sulfur, and iron, which will help to eliminate nutrient deficiencies in the soil.
Pro's
One application will feed your fruit tree for up to three months
To prevent overfeeding or root burn, always use the product as directed on the label.
Fast-acting formula that removes the guesswork from feeding your trees.
Suitable for use on citrus, avocado, and mango trees.
---
Down to Earth Organic Fruit Tree Fertilizer Mix
Down to Earth Organic Fruit Tree Fertilizer Mix 6-2-4, 5lb
Down to Earth Fruit Tree is a five pound box of all natural fertilizer with 6-2-4 formula and is listed by the Organic Materials Review Institute (OMRI) for use in organic production
Specially formulated to encourage productive home orchards full of the delicious and nutritious tree fruits now popular in many backyard gardens
Fruit Tree fertilizer provides primary nutrients for plant growth plus added calcium for proper fruit development, so you can enjoy bountiful crops of home grown fruit
From apples, pears and plums to mangos, pomegranates and figs, Fruit Tree can be used on all varieties of fruiting canes, shrubs and trees
Ingredients: Feather Meal, Fish Bone Meal, Calcium Carbonate, Langbeinite, Potassium Sulfate, Alfalfa Meal and Kelp Meal
Down to Earth Fruit Tree fertilizer has been formulated using natural ingredients and is a 6-2-4 formula that has been listed as organic. This product is suitable for use on home orchards and contains calcium which helps to encourage fruit development.
Pro's
Comes in a five-pound box
Can be used on apple, pear, plum, mango, pomegranate, and fig trees.
Also suitable for fruiting canes, as well as shrubs and trees
Made with natural, organic ingredients
---
Conclusion
The best way to find out the best fertilizer for your fruit trees and discover which nutrients they need is by doing a soil nutrient test or having your soil analyzed. There are many types of fertilizers on the market, but it is essential to use the one that is right for your soil; otherwise, you are wasting your money. Some other essential things to remember are that regular applications are required and that you should only apply the amount of fertilizer specified on the label.
Related:
Do fruit trees need water in winter?
Last update on 2022-10-23 / Affiliate links / Images from Amazon Product Advertising API