Florida is one of the regions that are packed with beautiful flowers. Plenty of these are cross-state vines that you can find in almost any American state that has a cool climate. However, Florida boasts many wonderful and unique vines.
Whether you want something mild for the patio or a vibrant and full vine for the porch, there are various options at your disposal. Here are some of Florida's native flowering vines you can use as décor within your home.
---
Bouganvillea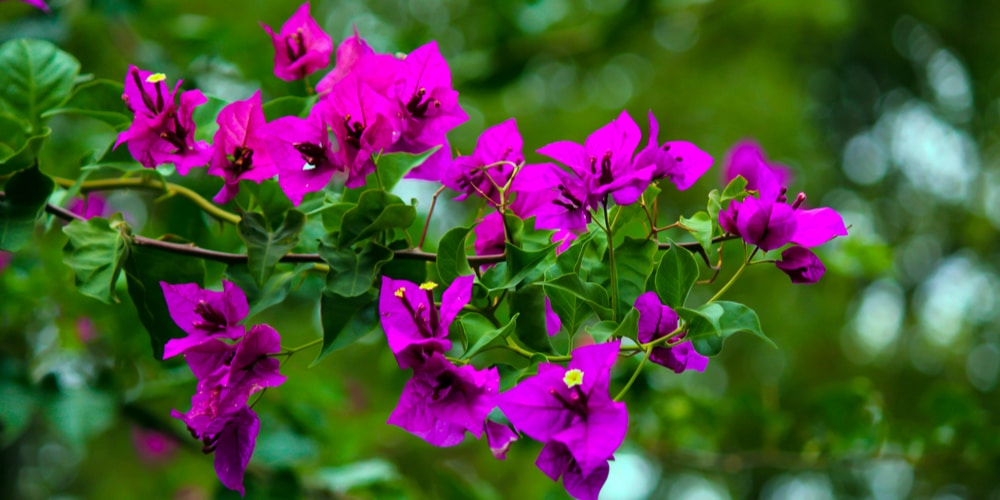 Warmth and sunshine are the key ingredients that accelerate the growth of these vines. Bougainvillaea requires at least six hours of shine for the sprouts to appear, which is why they thrive in Florida. Aside from sunshine, you only need to water your vine regularly when it is still young.
Once they sprout, you may not need to water them as much. A little trimming and hedging will allow these to grow in the direction you desire. If you want to keep your compound looking vibrant all year, this is the flower you should plant.
---
Florida flame vine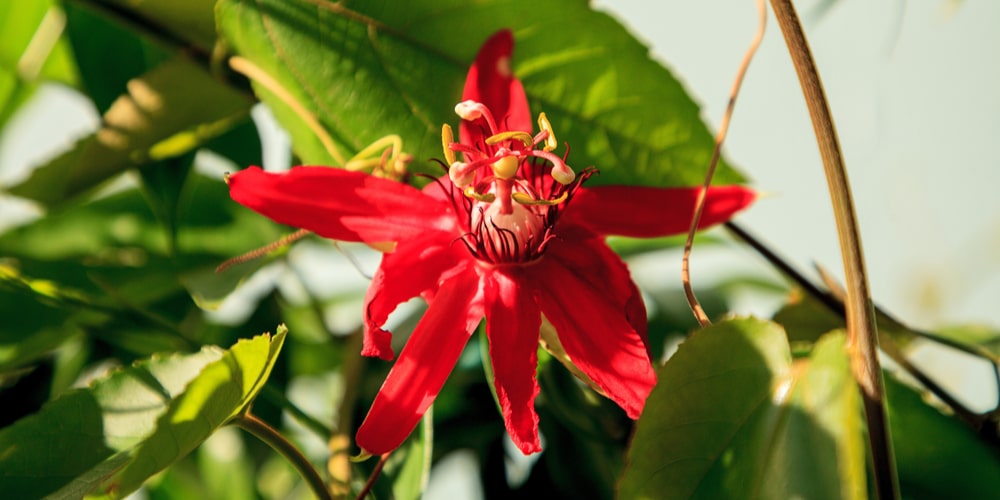 The flame vine has tubular orange flowers that will decorate your garden between fall and spring. These flowers will climb on anything that has firm support. And beautiful as it is, the Florida flame vine can be invasive.
So, while you may want to plant this vine around trees and other plants that will offer this support, avoid doing this around growing ones. They stand a chance of stunting their growth thanks to the overpowering climber.
---
Glory Bower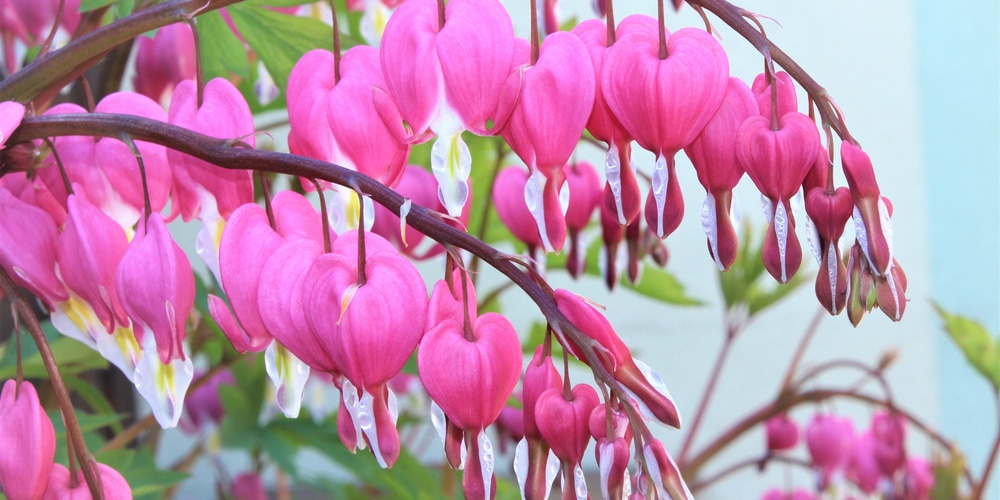 Also known as the bleeding heart vine, the glory bower is a peculiar flower with an even more interesting flowering pattern. It flowers two times within the same bud. A small, white flower with somewhat flat petals sprouts first, then pave the way for the inner flower to appear.
At the heart of the white petals emerge dark red petals, which have protruding white stamen. This flower allows you to enjoy its beauty for most of the year as long as they have enough water and sufficient sunshine.
Taking care of this plant is not an uphill task since not many pests attack it, and it doesn't need too much water to thrive.
---
Mandevilla vine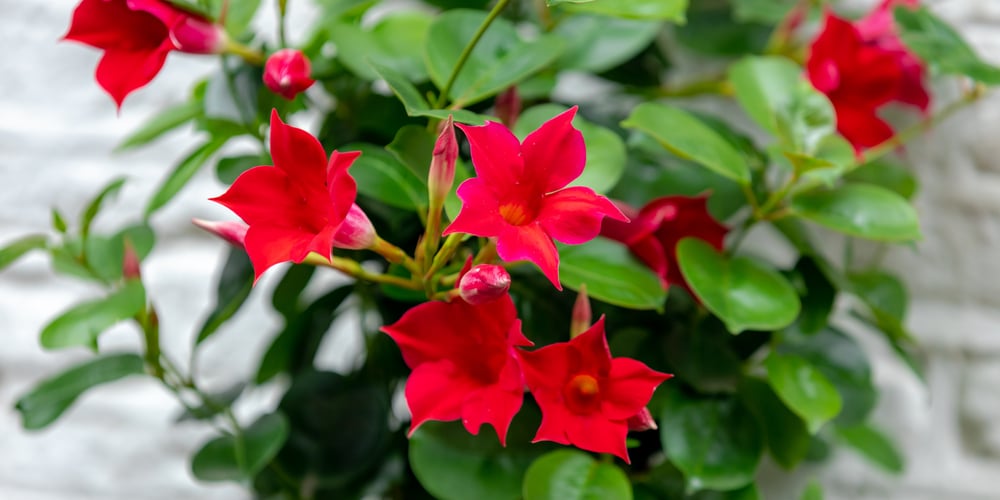 One glance at this plant will reveal why it is a favorite of many in Florida. It has an ombre pattern starting from the petals moving towards the center. Its glorious vibrant center gives it an alluring appearance, irresistible to the sight.
Well-drained soil and plenty of nutrients are the essential things that are necessary for the successful growth of this vine. More importantly, they require full sunshine but can also work well with a bit of shade. When you provide support, they cling to it and color your compound.
---
Railroad vine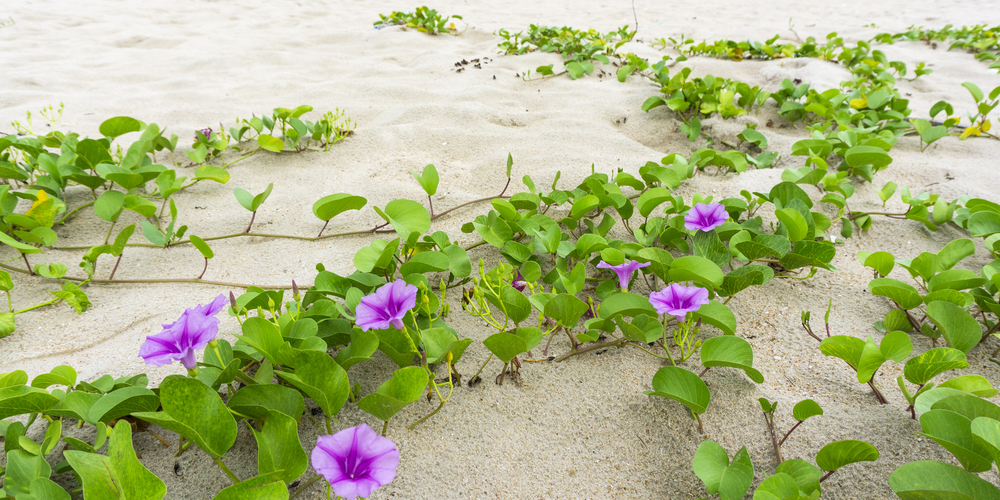 If you are looking for something mysterious to beautify your sidewalk, you can do that with the help of this plant. The railroad trail gets its name thanks to its trailing characteristics. It clings to anything along the floor and creates an attractive path anywhere it grows.
It has a white and purple ombre blend that moves to the center. This plant is common in South Florida, especially its sandy beaches. However, you can create a conducive environment in your backyard or porch by mimicking the perfect conditions essential for its growth. These plants are also called Morning Glory.
Related Article: When and How Long do Morning Glory Bloom?
---
Sensitive briar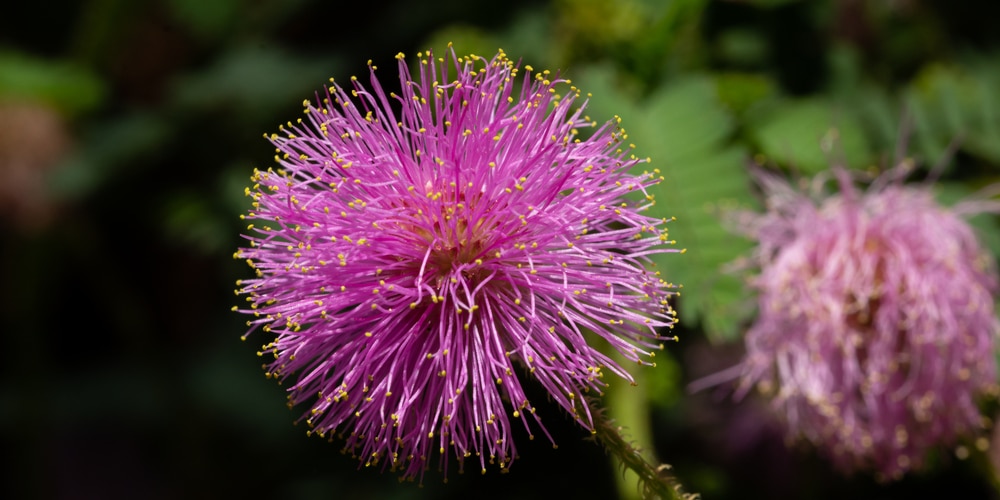 A thorny green stalk and hairy purple leaflets are the main components of this flower. White anthers stick out of the purple leaflets, creating an exquisite appearance. You are bound to bump into it in the dryer parts of Florida.
This flower is the reserved kind that blooms for a few months when it is hot enough. You can bask in their glory from May to September and wait for the next warm season before you enjoy their beauty once more.
---
Wild passionflower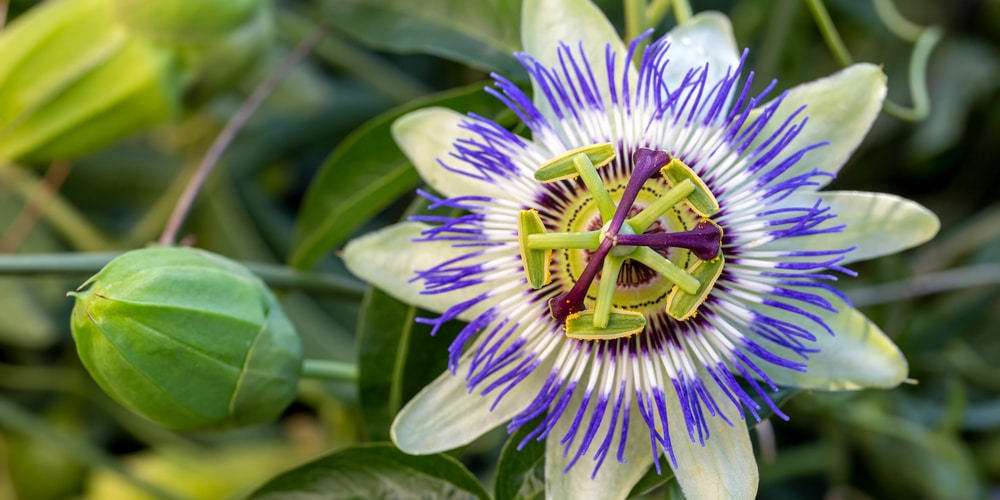 You are bound to smell these flowers before you see them, thanks to their strong fragrance. Thankfully, they look as beautiful as they smell. White or violet petals form the base that the flower rests. On top of the petals are wavy filaments that are either white or pink. They can grow up to 6 feet tall, providing a vast surface for blooming during the spring and fall.
Florida Native Flowering Vines: Sources
https://hort.extension.wisc.edu/articles/bleeding-heart-vine-clerodendrum-thomsoniae/
https://www.south-florida-plant-guide.com/railroad-vine.html
https://www.gardenia.net/plant/passiflora-incarnata-wild-passion-flower
https://mdc.mo.gov/discover-nature/field-guide/sensitive-briar