Flowering trees are ideal for throwing a little shade in the summer. And in USDA plant hardiness zone 8, they get plenty of sun and heat. So, you might be searching for flowering trees, zone 8 tolerant plants that will enrich your landscape, or put on a delightful flowering show.
What are some of the best flowering trees for zone 8? Some trees with spectacular flowers are Callery pears, cherries, Dogwoods, and Eastern Redbuds. Above all, you can find several cultivars for adding the splash of color you desire. But many other, more common species create floral sensations by nature.
---
Widespread Flowering Trees (Zone 8)
1 – Bodnant Viburnum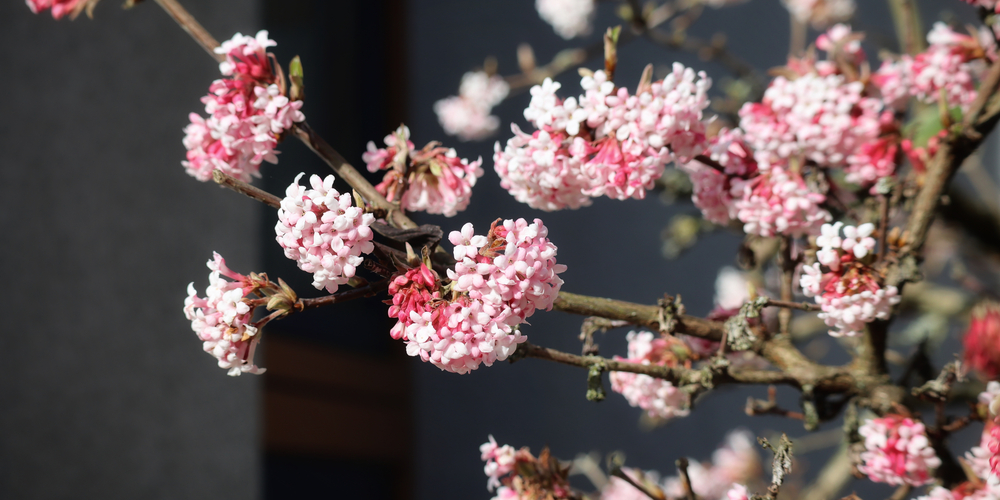 Bodnant Viburnum (Viburnum bodnantense) looks like a cherry tree. But it is more resilient. Among the 200 available species, this is one of the most suitable flowering trees for zone 8. Why? Because the carnation pink flowers last from fall till spring thanks to its mild winters.
Another interesting variety is Rusty Blackhaw Viburnum (Viburnum rufidulum), which has white flowers and glossy, leathery, dark green leaves. Or the showy, salt-tolerant Laurustine (Viburnum tinus).
These vigorous evergreens are deer resistant. Plus, they tolerate high winds and even coastal salt. If unattended, they will grow up to 22 feet in height. So, pruning them is almost mandatory.
2 – Eucalyptus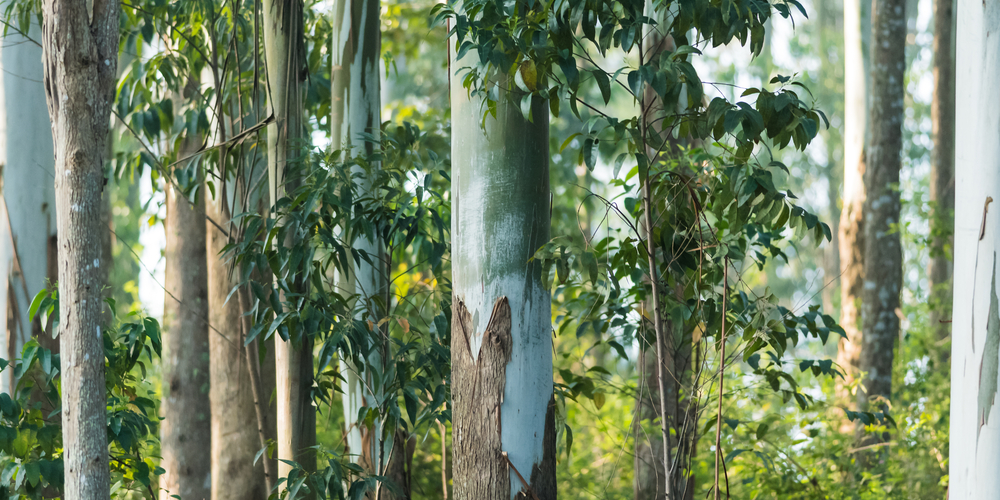 Young Eucalyptus plants grow well in full sun, as long as the temperature is not above 95F. More importantly, their leaves have an aromatic, balsamic scent. The colorful or white flowers emerge in scenic groups with dozens of stamens and appear from December till May. Usually, after the plant reaches 4-5 feet in height.
Some growers prefer to keep these plants in pots, mainly because they can measure up to 15 feet high.
With this in mind, bright light makes it grow quickly both indoors and outdoors. So, pruning the branches to keep the whole plant at a manageable size is highly recommended.
3 – Franklinia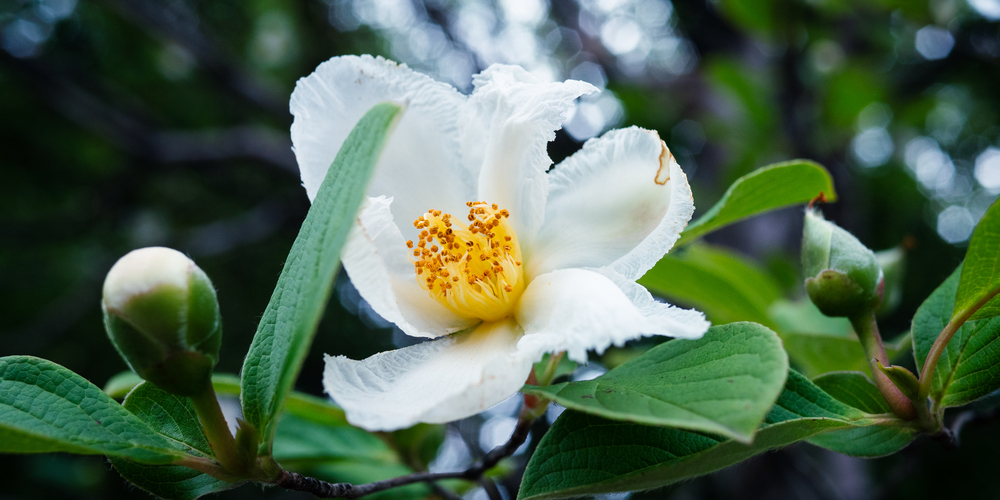 Franklinia (Franklinia alatamaha) is an exotic native plant, hardy to zone 5. Named after Ben Franklin, the Bartrams (The Royal Botanists) discovered this species along the Altamaha River in Georgia. The seeds John and William Bartram collected saved this tree from extinction because, in 40 years since its discovery, no other specimens have ever been found. And the original one died.
The genus Fraklinia has only one species. All the current cultivars are descendants of those seeds.
Thanks to its glorious bloom, Franklinia is one of the most beautiful flowering trees in USDA zone 8. As you might have guessed from its origin story, it is not the easiest plant to grow. Above all, Franklinia hates being transplanted. So, it requires some trial and error. But its Camellia-like flowers are a unique addition to any garden or yard.
4 – Loquat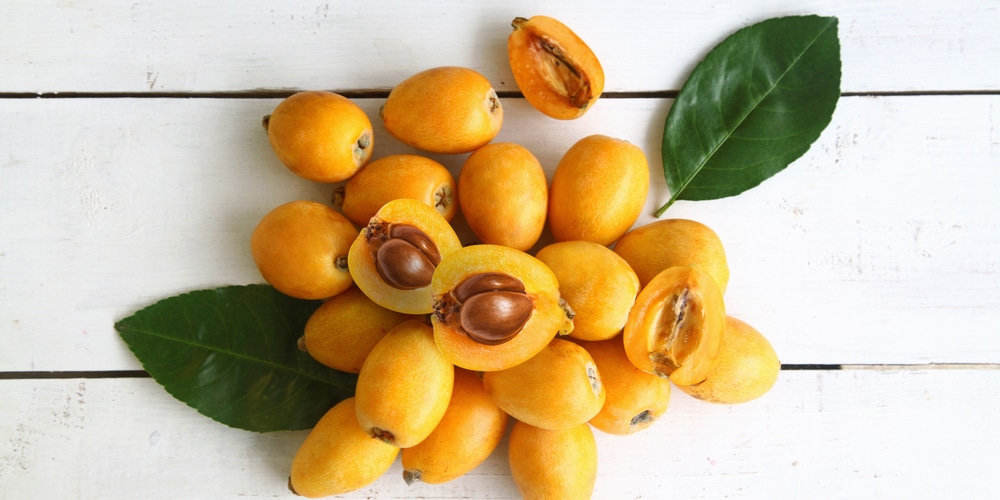 Also known as the Japanese plum, Loquat (Eriobotrya japonica) is a subtropical fruit tree that makes small beauteous flowers. The nectar has a redolent smell that attracts many pollinators and calms the erratic mind. You can think of these flowering trees, zone 8 native plants like natural air fresheners.
While it is true that the edible loquat fruits grow juicer in zone 9, you can plant this tree just for its fragrant buds.
As an ornamental plant, loquat is neither a drought- nor a heat-tolerant tree. So, you will have to water it during summer and fall to keep the soil moist.
This plant blossoms from September to January. In terms of aesthetics, it produces white blooms with five oblong petals each and lots of dusty yellow stamens.
5 – Magnolia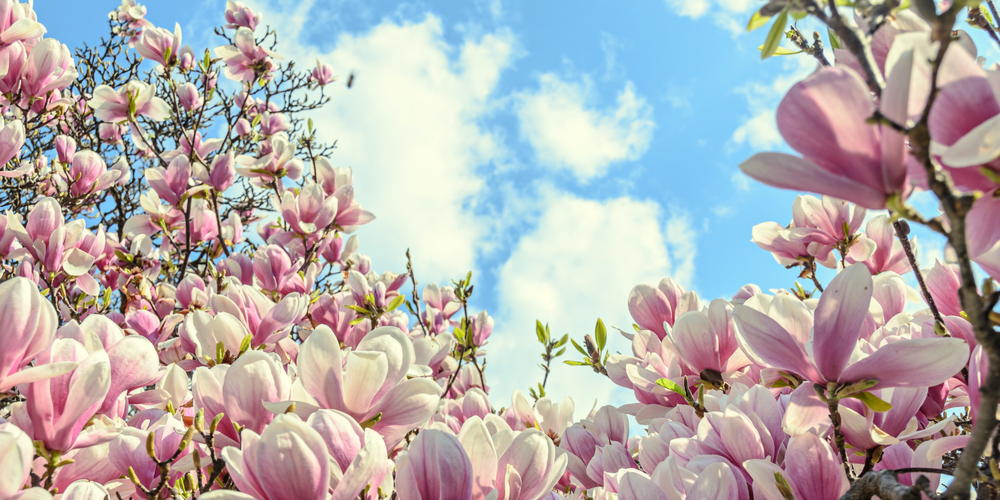 Some Magnolia cultivars (for example, Magnolia quinquepeta) are the ideal summer flowering trees for zone 8. In detail, they flower over a prolonged period, in the early to mid-summer. The flowers are not massive. But the tree keeps making them throughout the warmer season, which pays its way in the garden.
The flowers sit hanging downwards. From an aesthetic point of view, the best location for these flowering trees is near crowded raised beds. Or next to a patio bench. As a deciduous plant, it rarely grows past 20 feet. So, you can shape it to create a lovely archy canopy-type effect.
What colors are magnolia blooms? The color depends on the species. You can get:
brilliant white blooms (Anise Magnolia)
creamy white or yellow petals (Umbrella Magnolia)
soft pink flowers (Lily Magnolia)
You may also like: Ornamental Grasses That Grow Well in The Shade