The genus Anthurium Schott counts more than 900 species. But Anthurium gracile presents a distinct series of characteristics that place this neotropical plant in its own section (Leptanthurium Schott).
For one thing, this epiphyte has long, stiff leaves that grow in an orchid-like fashion. Most Anthurium species have patterns on the leaves or strange leaf structures. But this one has red pulvini and red-green stems. On top of that, all the new growth comes out of a red sheath, creating a pleasant contrast to the bright green leaves.
As the plant matures, the leaves spin around it instead of just sprouting out, facing the direction of the light. The contrast of colors between the red base and the green aerial parts make A. gracile stand out in any collection!
---
What you Need to Know About Anthurium Gracile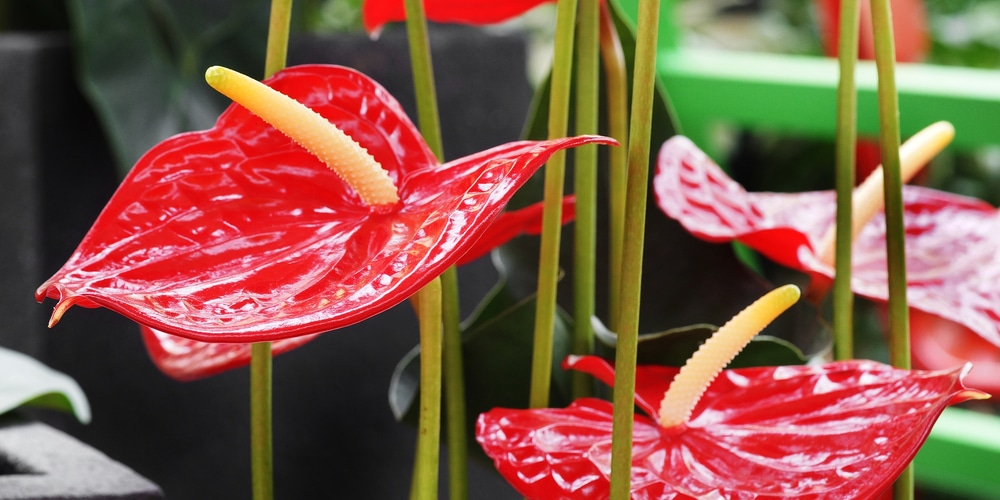 Anthurium gracile grows out of its very center. But as it gets old and starts to mature, it will fill the pot with new growth out of the sides.
Its orchid-like roots remain visible on the surface and add another visual aspect. In nature, the plant would use these roots to climb upwards. They would spread out to grip onto the tree trunk and branches.
This Anthurium puts out inflorescence all year round. Most likely, it will create three or four red stems within the first year before even maturing. The berries usually start developing over the next few months.
If you take a close look at the spadix, you can see the tiniest flowers and the pollen they produce. What's more, every inflorescence creates a dozen of berries. But beware! Its berries are toxic for pets and humans.
---
How to Care for Red Pearls Anthurium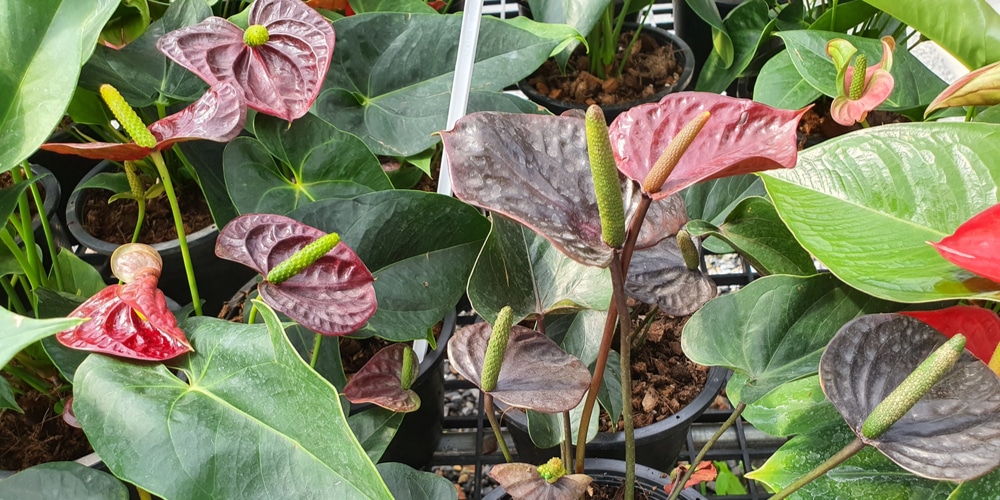 Here's everything you need to know about growing and caring for a thriving Anthurium gracile.
Light
Medium to bright indirect light is fine. When the plant can count on a high humidity level (>60%), it enjoys the morning sun. But the direct sun is generally is a no-go.
You do not need to rotate the pot but keeping the light source at a 45 degree angle from the top is highly advisable.
Direct light causes the leaves and flowers to burn. But this plant could also receive too much indirect light. You will notice your Anthurium gracile is light-sensitive because the leaves will have a bleached color. They will lose that bright green hue, and the leaves' tip might burn as well.
Water and Soil Needs
Like most Anthurium plants, the Red Pearls Anthurium needs a very airy and evenly moist media. Why? Because they can go towards root rot pretty quickly. A point often overlooked is that even with a commercial aroid soil mix, there always is a bit of a risk of root rot.
The medium pH will provide the plant with all the vital nutrients until it remains within the 5-8 range.
Anthurium gracile does not need much water. Of course, as an epiphyte, it does not want to go fully dry. But if you do not grow this plant in a relatively humid environment (Relative humidity of 40-60%), consider watering it once a week.
Temperature Requirements
The Red Pearls Anthurium's natural habitat is the lower Rio Nanay area. So, the recommended USDA zone is 10b. With this in mind, the temperature should never drop below 35F.
Fertilizer
If your Anthurium gracile plant suffers from a nutrient deficiency, an all-purpose liquid fertilizer (14-14-14) is generally your best bet. For the best results, weekly use about 1/4 of the manufacturer's recommended amount. But more importantly, do not overwater it.
Yellow leaves might be a sign of overwatering. For regular care, apply some granular fertilizer every six months. Just sprinkle a tiny bit over the potting medium. Above all, make sure to distribute it evenly.
Common Diseases and Pests
Besides root rot, this foliage plant does not experience noticeable diseases.
Spider mites love Anthurium gracile leaves. So, consider using Neem oil regularly to keep them off the plant.
Snails and slugs also like to eat the flowers and leaves of Red Pearls Anthurium plants. To prevent their attacks, crush some eggshells all around the plant so that they will scratch the snail's stomach when they try to come closer. Eggshells also supply Calcium to the plants.
---
Anthurium Gracile Propagation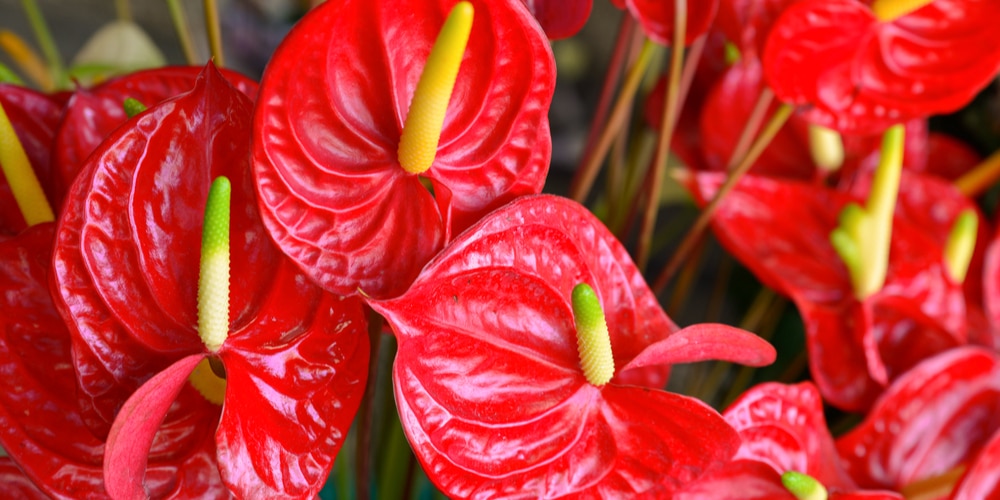 Anthurium gracile's seeds are tiny and cold-hardy. You can place wet peat moss in a container and set the seeds on the surface. By nature, the seeds would grow on trees. For this reason, do not bury them in soil. Instead, put the lid on the container and keep it at room temperature until they germinate.
Within days, the seeds usually germinate. After a couple of months, you will need to repot the individual plants in a potting medium. The potting medium should mimic the original habitat. So, you can mix:
cocoa husk
neutral soil
orchid bark
perlite
Sphagnum moss
You can also tear a group of stems from an adult plant and put it in another container with the same potting medium. In this case, use some fungicide on the exposed mother plant area. Also, add some in the potting medium and mix it well before placing the clone.
---
How to Prune Red Pearls Anthurium
Red Pearls Anthurium is a resilient plant. So, you might cut off all of its leaves and still see new growth. Of course, the best way to prune an Anthurium gracile is to push down on the petiole. That is, where the stems connect to the base of the Anthurium.
As you keep pushing, the stems will pop off. Once in a while, you might have to pull them off. But it is an easy procedure. You can also use sterilized pruning shears and cut near the stalk.
Remove older leaves and shoots that touch the container edges to reduce the risk of pests walking right on the plant surface.