The state of Georgia is blessed with a diverse environment and plenty of options when it comes to flowering trees. If you're interested in growing one (or more), then here are the 11 best flowering trees in Georgia.
---
Flowering trees in Georgia
Sweet Bay Magnolia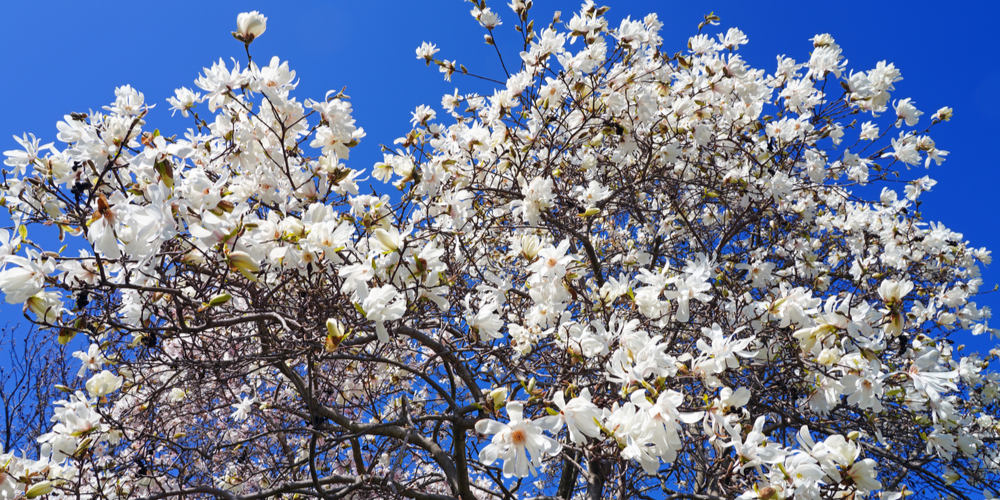 Magnolia virginiana is a classic, all-American flowering tree that's native to the southeast. It can grow up to 20 feet tall and does a showy display of elegant flowers when it's happy.
Sweet bay magnolias grow very well in the south where it's warmer, but they're tough enough to survive winters from USDA zones 5 through 10.
A compact flowering tree with interesting foliage and flowers, you'll want at least one in your yard or garden. The blooms exude a sweet and citrus scent while the twigs and leaves give off an herb-like aroma. Plant in bright areas and provide plenty of water.
Redbud Tree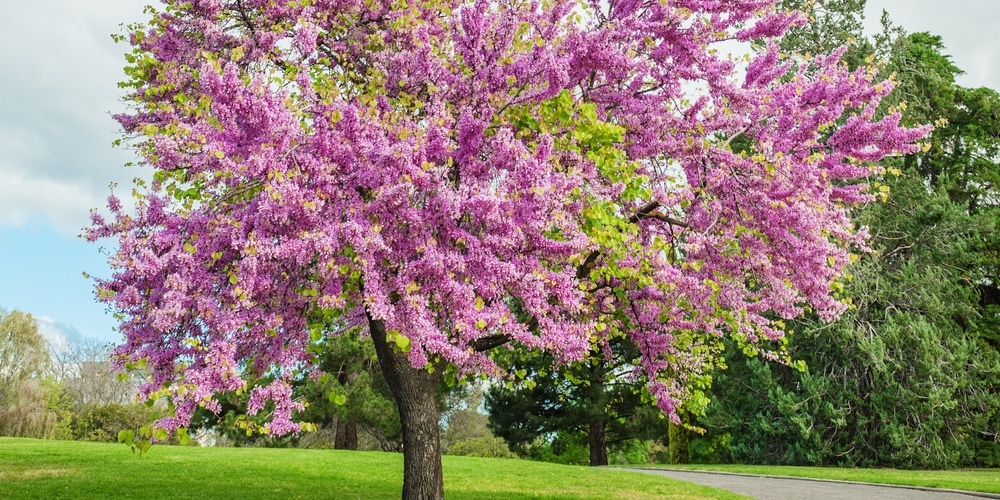 Another US native, Cercis canadensis grows quite well and thrives in the eastern regions of North America but is hardy enough to survive in USDA zones 4 to 8.
Redbuds are an excellent option if you want a splash of color in your landscape. When properly cared for, the entire foliage turns into a deep pink splendor that's sure to catch the eye of any visitor or passer-by.
Redbuds are compact and can max out at 20 feet in height, and you can use it as a shrub.
Flowering Plum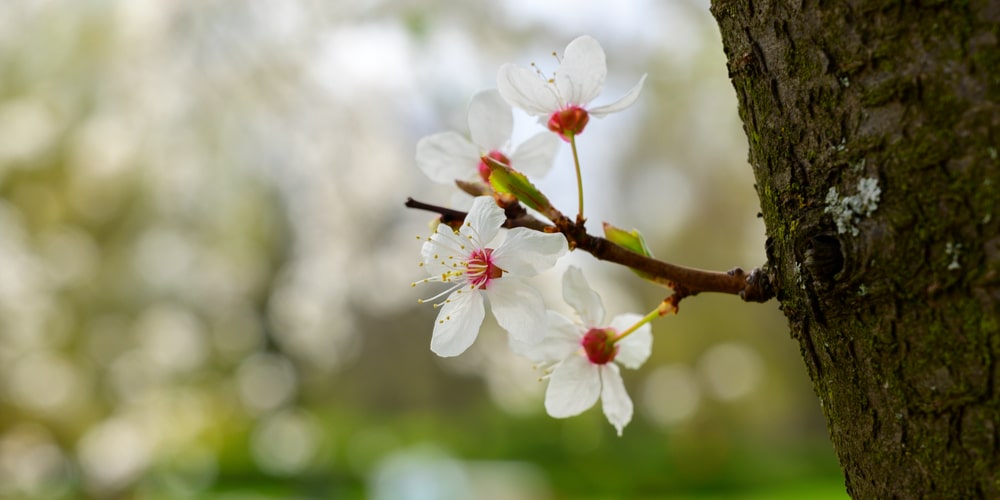 Flowering Plum is native to China, but there are some species that are native to the US. The deciduous shrub thrives in areas where it gets full sun and in loamy and well-draining soil. The flowering tree grows well in Georgia and in hardiness zones 5 through 8.
Those who want to be challenged can take on Flowering Plum. Pruning and regular cleanup is a must, as is watering and fertilizing. You may want to keep it away from urban pollution and in areas that get constantly high winds. Fertilize once or twice a year to get the best blooms.
American Yellowwood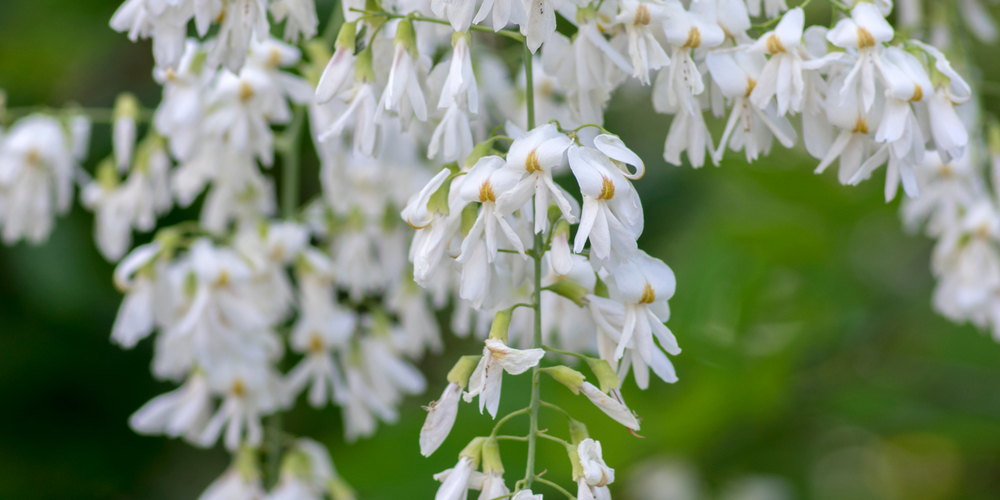 American Yellowwood is a stately tree with cascades of white and very fragrant flowers. More than that, the leaves themselves turn from yellow-green to bright yellow in the fall season.
The tree is native to Tennessee, Kentucky and North Carolina and looks wonderful in any landscape setting. The branches naturally spread up and it doesn't take up too much horizontal space.
Flowering Dogwood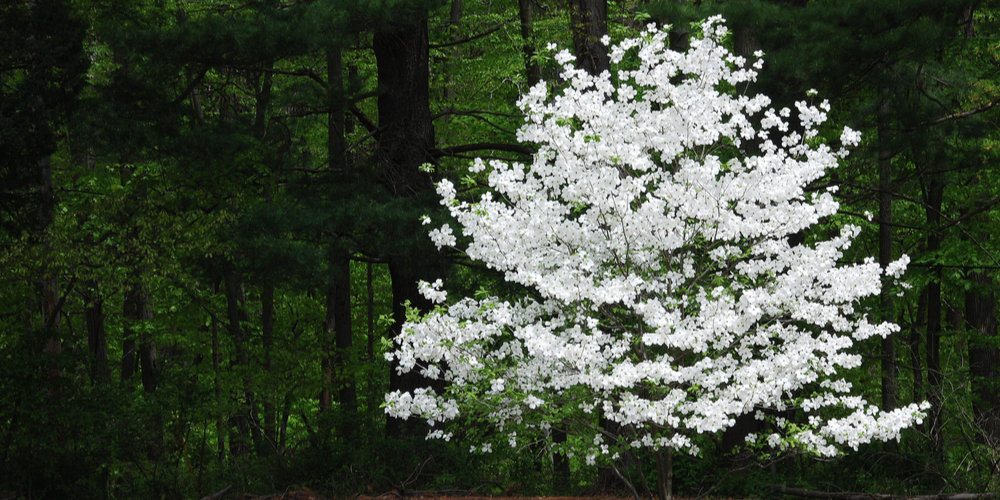 A magnificent deciduous tree specimen that grows well in eastern North America, flowering dogwood is a Mexico native and thus loves getting morning sun and speckled light in the afternoon.
The tree observes a rounding habit and features smooth green leaves that transform into a striking purple-red foliage come fall season. Small yet ornate white flowers hang from multiple branches. It can grow up to 25 feet and requires organic soil to do well.
Native Crabapple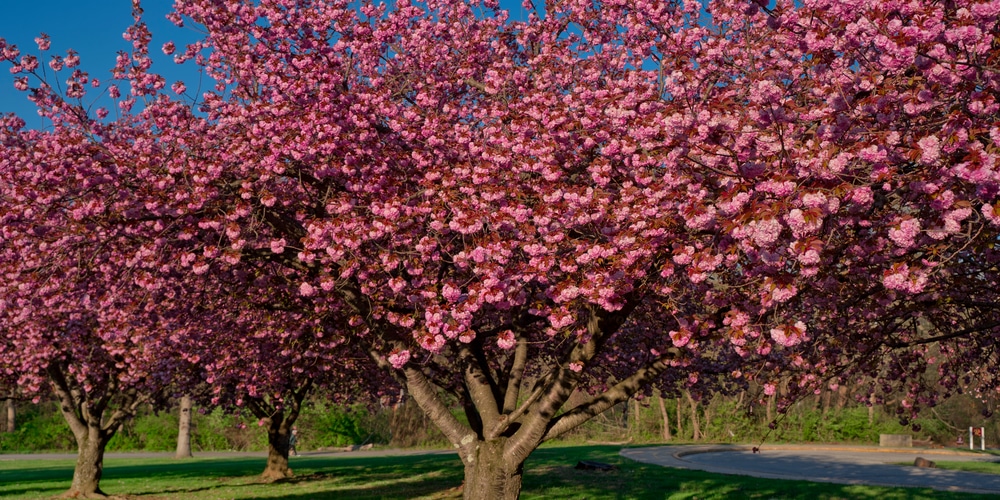 If you're into flowering trees with unusual names then the Crabapple is for you. It's native to North America, which means it's acclimated well and can grow in a variety of conditions. To make it thrive you'll need a sunny spot with loamy, well-draining soil.
Crabapple is rugged and features serrated leaves and crooked stems. When it flowers however, you get a massive showing of clustered flowers that are predominantly white with pink tinges. Wait a bit longer and the flower turns into a sour greenish fruit.
Cherry Blossom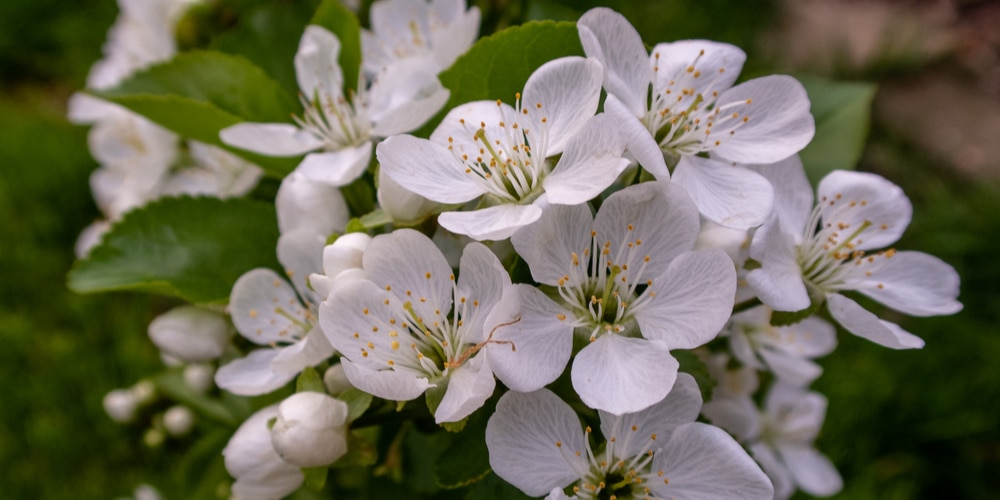 Is it possible to grow cherry blossoms in Georgia? The answer is definitely a yes. Prunus serrulata grows up to 25 feet and blooms in spring, with characteristic light pink and white flowers in single, double and semi-double forms.
Cherry Blossom or the Sakura tree grows well in USDA zones 5 through 8 and anywhere in the country. The fleeting flowers only last for several weeks but its growth and fall make for an absolutely spectacular show!
Witch Hazel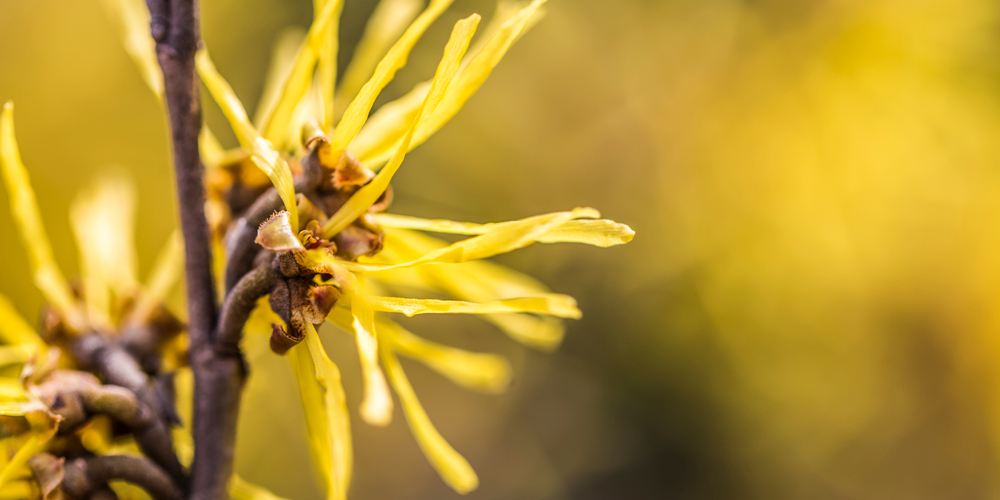 Witch Hazel is a shrub that produces wonderful warm-colored flowers ranging from red, pink or yellow. It's native to China, Japan and North America, particularly in the eastern regions.
Witch hazel is one of the few shrubs that can grow in a pot and do well as long as it's sitting in full sun and well-draining organic soil. However, if you want it to reach its maximum height of 20 feet then you should eventually plant it outdoors.
Hamamelis virginiana sports unusual thin and crinkly golden 'flowers' and oval wavy leaves. You'll need to give it full sun and regular watering if you want it to do well.
Serviceberry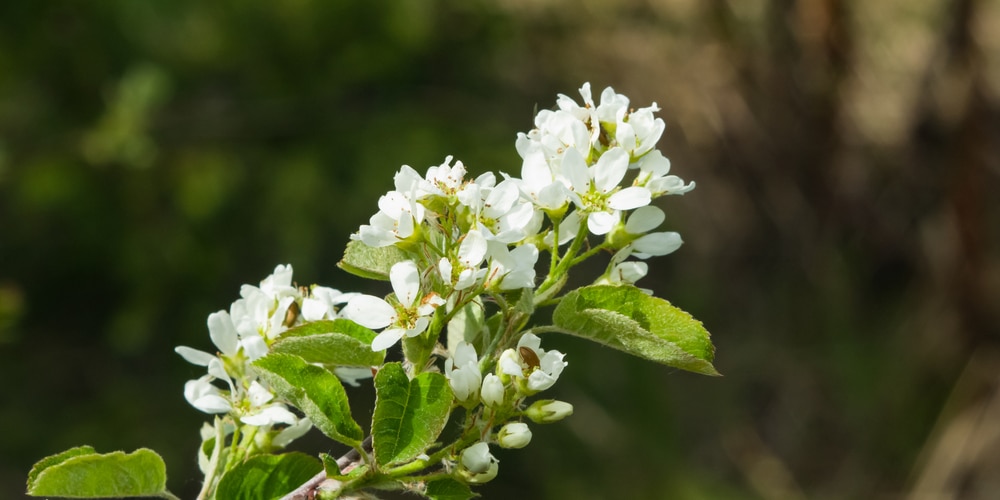 A small deciduous tree that has a spot in any garden, Amelanchier arborea can be grown as a shrub if you have limited space. It's tough and can grow in full sun or part shade and will thrive as long as you water it well and regularly.
Serviceberry produces berries that are 5-petaled flowers prior to that. Arguably, the foliage is the real highlight here as it turns from green to orange and then red in the fall season. Keeping it trimmed and proper goes a long way in warding off pests and insects.
Crape Myrtle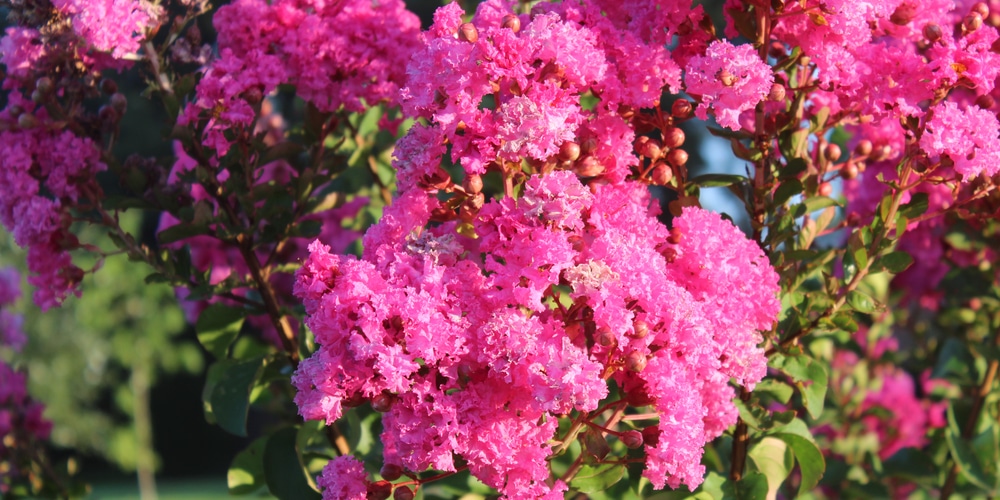 Crape myrtles are mid-sized trees that can grow up to 35 feet in height. Its claim to fame is that it exhibits a foliage show that initially starts at dark green, then turns into yellow, orange and finally in red when fall comes.
Hanging on branches are thick clusters of bright purple flowers that provide a nice contrast to the sky.
Azaleas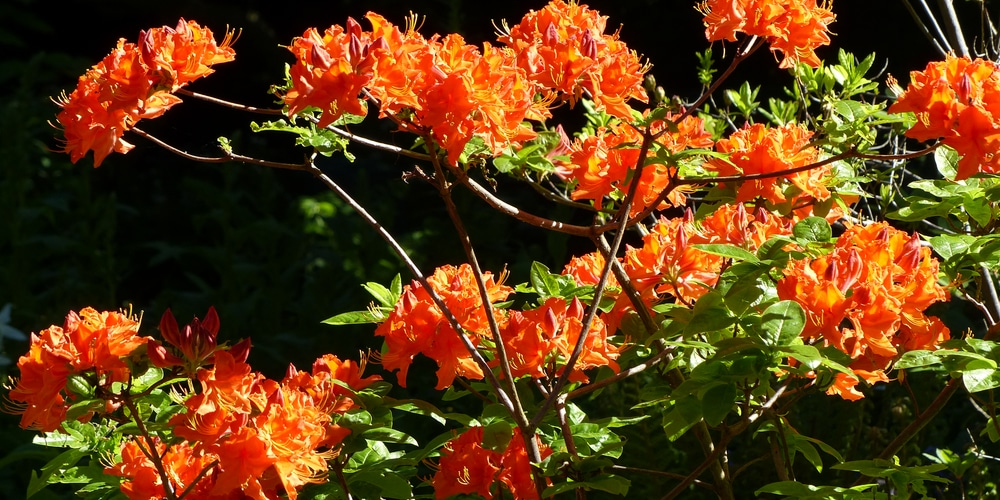 Azaleas are generally native to Holland and Belgium but they've been made to adapt in the US, and with excellent results. You can find them in Florida, Alabama, Mississippi and in southern Georgia growing and producing rich clusters of peach-red flowers.
Azaleas require rich, well-draining soil and a constant watering habit. Although they need morning sun it's best to shade them in the afternoon heat. You'll want to keep the temperature as cool as possible, preferably in woodland or shaded settings. Also, consider protecting your azaleas from strong winds and gales.
Related Article: Butterfly Bush Georgia